Monday December 28, 2015 Monte Rio CA.
Things looked good at first
As I drove through Monte Rio this morning headed for Jenner, I could see Darwin's truck and trailer parked in the parking lot, so I knew he was fishing. I was thinking maybe I should kayak at Monte Rio today, but continued on down to Jenner.
The water was flat as I drove into Jenner this morning and the sun was out. I put my boat in the water. As I was leaving the ramp two little girls on the visitor center deck said I'd see otters and seals.
Otters right away
Sure enough, just off the boat ramp, I saw a couple or seals just down the river, so I started paddling down that way and these two river otters popped up. They didn't stay long and were headed for the reeds in the background which were on Penny Island. They swam over to the reeds and went on to the island and I didn't see them again.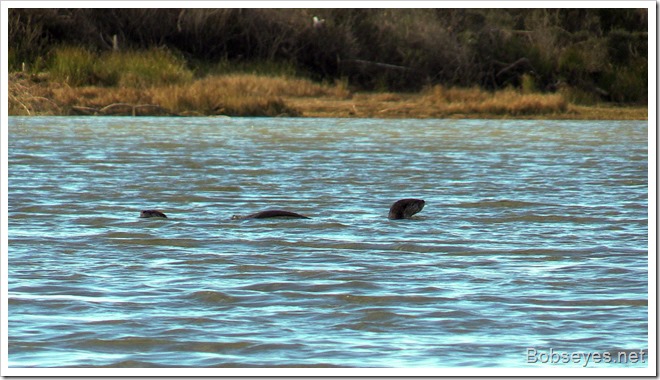 A chilly wind comes up
Just about the time I put my boat in the water, the wind picked up to about five miles an hour. Not bad, but it was coming off the ocean and it was chilly, penetrating my clothes.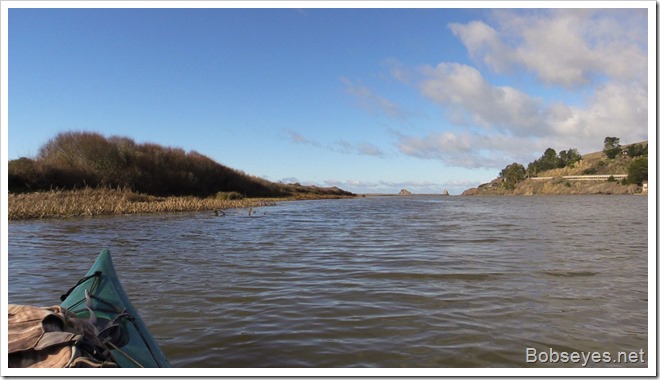 I paddled on up to the little channel on the upper end of the island. This great blue heron was getting some sun there and wasn't going to give up it's spot, so we shared it.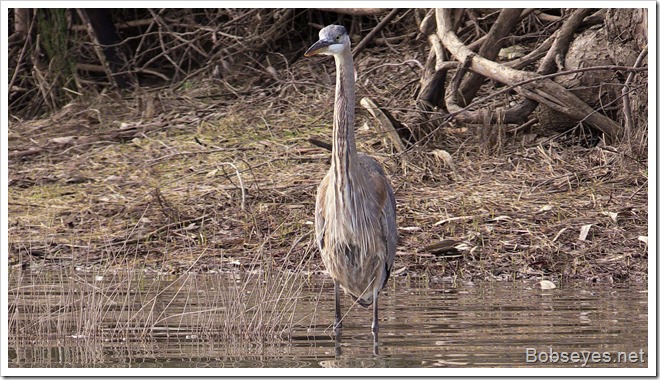 Headed back to Monte Rio
While sitting there in my boat, getting chilly, I was thinking I should have stopped at Monte Rio where it was likely a bit warmer. I was deciding which way to go up or down river and I finally decided to go up river.
I paddled back over to the boat ramp and pulled my boat out and put it back on the car and drove back to Monte Rio to kayak.
Mud on the ramp
The boat ramp was real muddy so first I had to curve a path through the mud to the water. The mud was real sloppy so all I could do was move it to one side, so that's what I did. I got a good start on it, maybe some young fisherman will finish it up for me? :O)
The boat ramp with lots of mud on it, with a trail down the left side, sorta.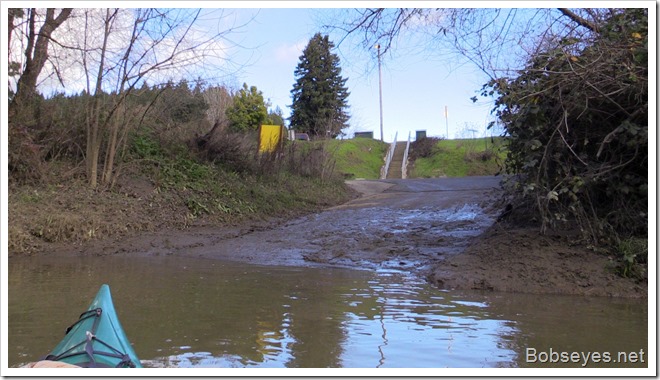 I could see Darwin down in the slot so I paddled down by him and stopped for a chat. He'd had some bites earlier, but no fish yet.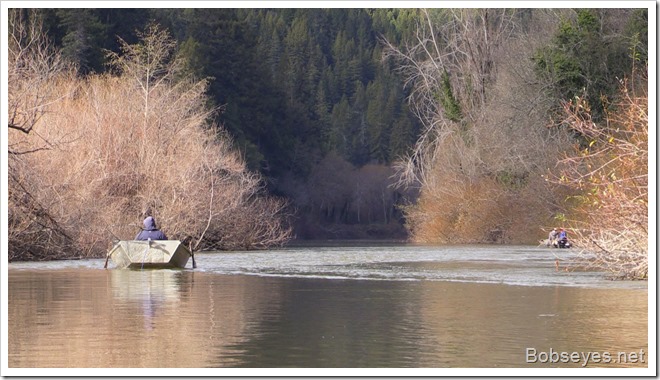 After chatting with Darwin, I headed on down the river, just drifting as the current was fast enough for a slow drift.
I went on by these three mallard ducks resting on the gravel just below Darwin.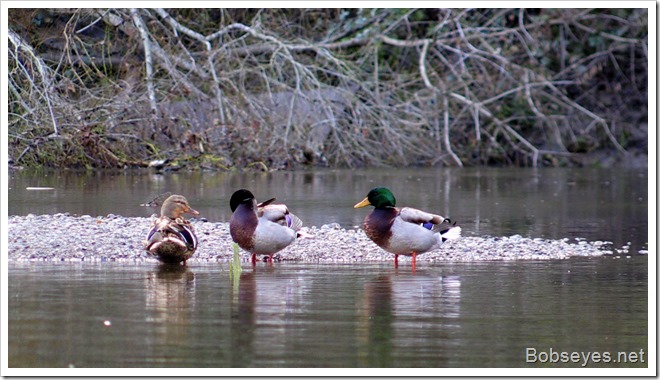 As you can see the river was mostly flat, without that cold chill that I had down at Jenner today, so I think I made a good choice.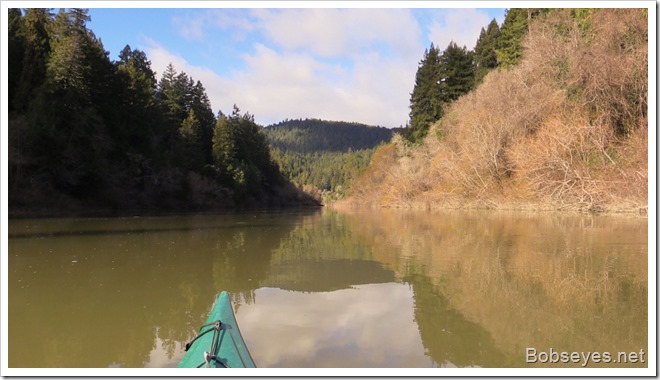 I paddled down to the Villa Grande hole, just up ahead and settled in there for an hour or so, just watching things and enjoying the sunshine.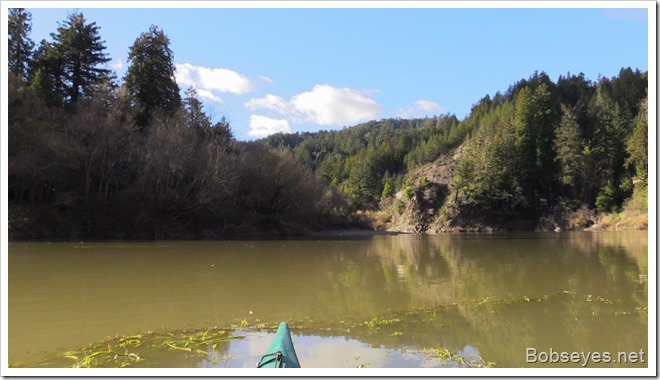 This group of mallards swam up to my boat and then went on by headed up the river.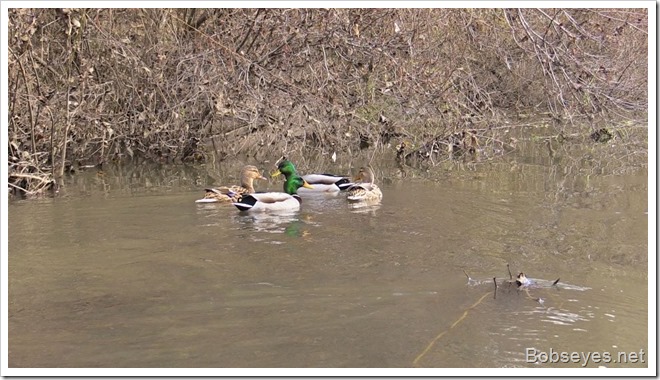 Eventually, I started back up the river pulling into a weed patch that was in the sun. There was a great blue heron in the spot, as they like to sit in the sun too. I paddled in close by it, about twenty feet and it was determined to stay, so we both sat there enjoying the sun, until my boat drifted too close and it got nervous and flew off down the river squawking all the way.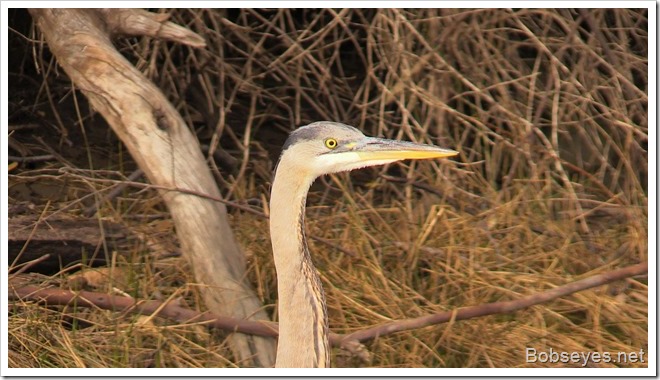 I continued on up the river and eventually met up with Darwin again. He was patiently sitting there enjoying the day, but no fish yet. Like he said, you can't catch fish unless you have a hook in the water. A relaxed fisherman. :O)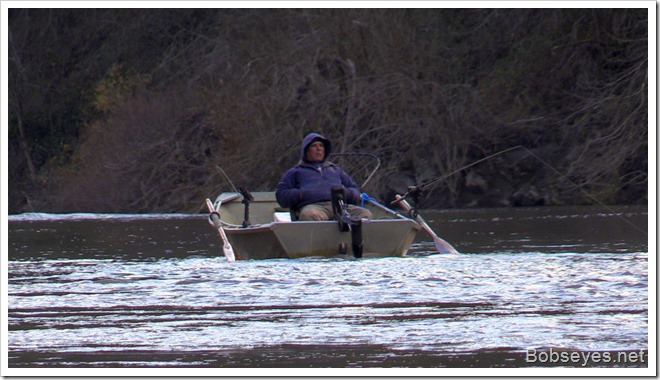 I left him at it and continued up the river. This female merganser went on by me just below the boat ramp.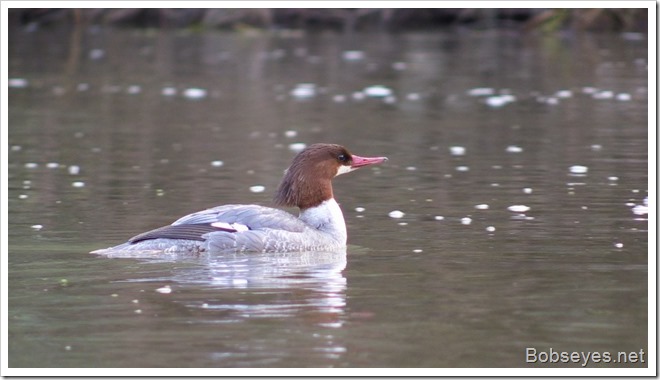 As I approached the Monte Rio bridge, these three mallards came over to say hi, or more likely looking for a handout which they wouldn't get from me. I just say hi to them and quack a few times.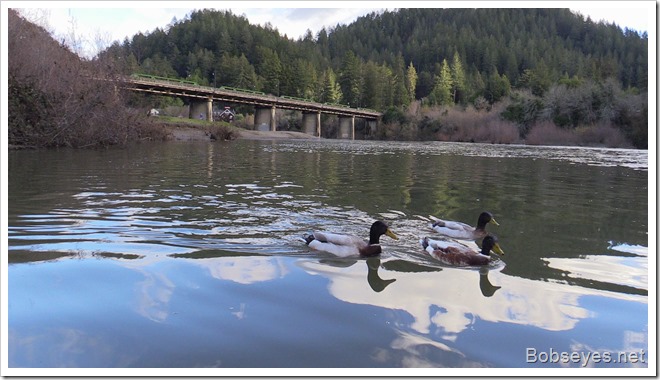 You got any goodies, Mister?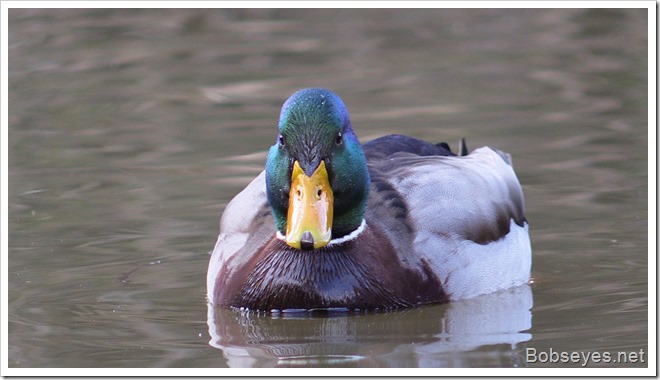 I headed on in to the boat ramp and took my boat out of the water and put it on top of my car and then shoveled some more mud for a bit before heading on home for the day.
It was cool at home today too, so I didn't hang around outside much and spent most of the rest of he day in the house staying warm.
And that was my day.
(Visited 127 times, 1 visits today)