Saturday October 17, 2015 Jenner CA.
There was a light drizzle as I entered Jenner this morning and it continued for about an hour.
I put my boat in the water and paddled over to the little channel on the upper end of Penny Island where some turkey vultures were sitting in the eucalyptus trees a little on the wet side. I sat with them for about a half hour deciding which way to go today.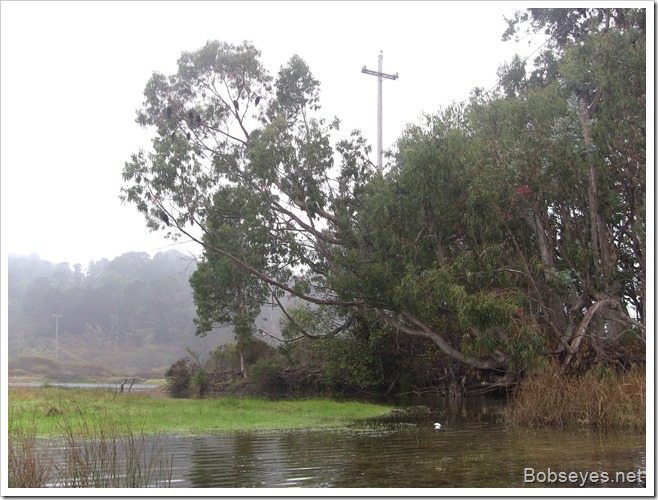 Ok, up the river it was going to be, so I headed on out going along the south shoreline.
Green heron
This green heron popped out of the brush in front of me and challenged me to get it's picture. Every time I would get close enough to get a picture it would fly off and land just ahead of me. Persistence pays off as I finally got a decent picture of it just as I was approaching the muskrat next area.. It dove into the brush as I went by.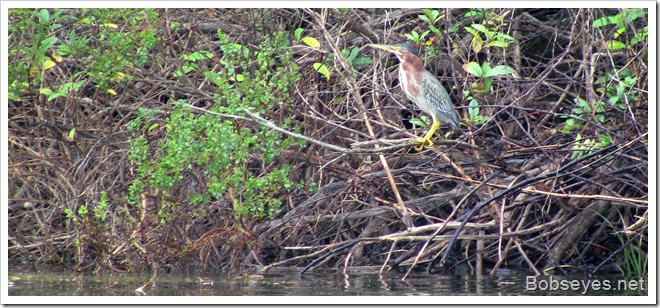 I continued on heading up to the bridge going by here. The drizzle had mostly stopped by now so things were pretty nice.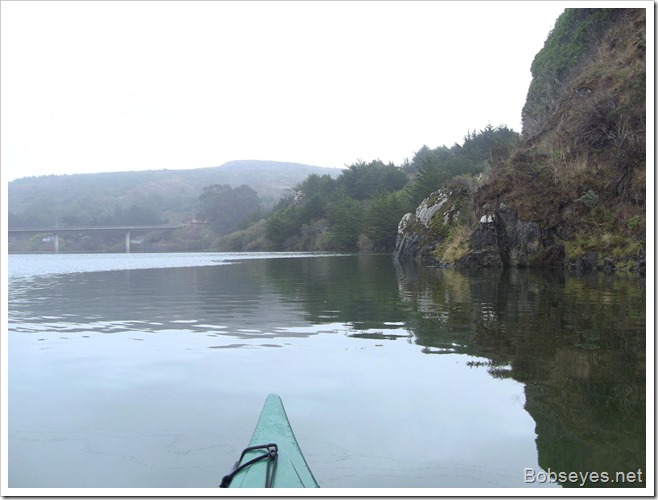 I sat in the this spot for a bit before crossing over to the other side of the river and started back down along the shoreline.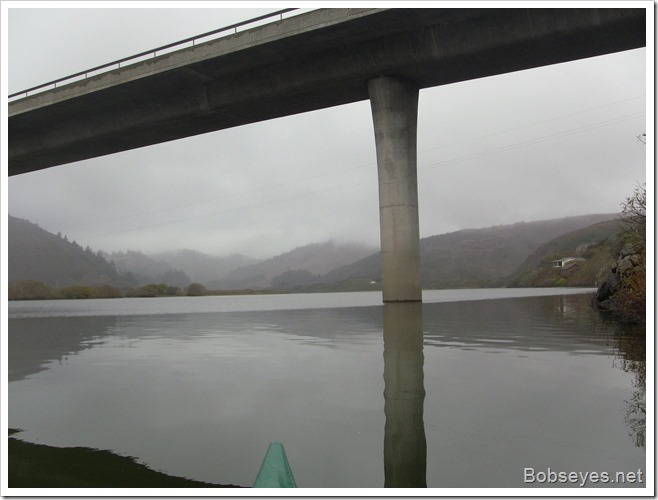 These mallard ducks moved out in front of me as I paddled along the shore.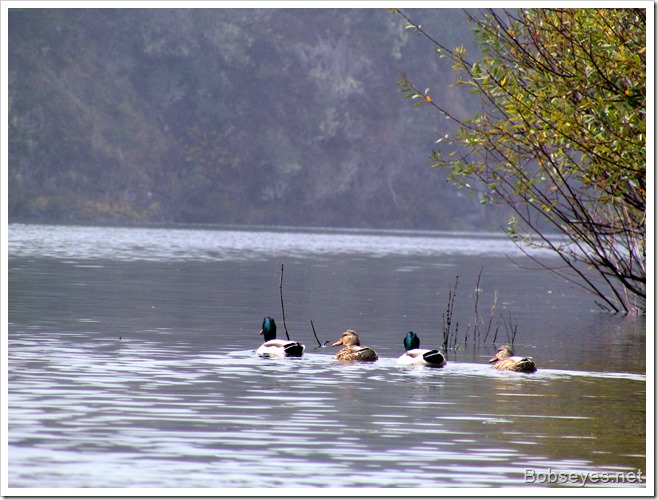 I paddled along here approaching the Paddy's rock area. Some mud hens moved out in front of me making those splashes.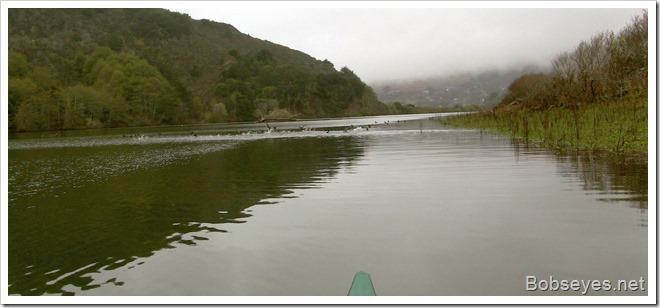 A cow and a duck
Just past Paddy's rock I saw this cow checking out this male mallard duck and was wondering what it might do. These particular cows have only been on this pasture for about a month so there were a lot of new things in this area they hadn't had any experience with as they came from somewhere else.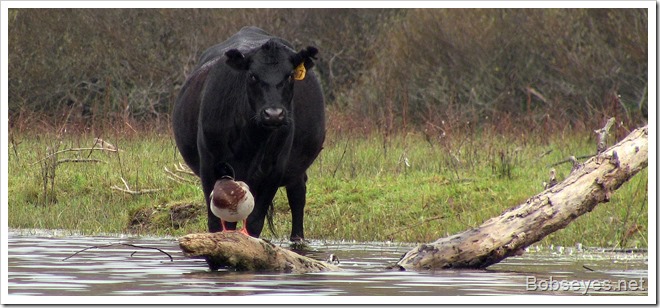 The cow checked out the duck and continued to feed as more ducks moved in. Peace.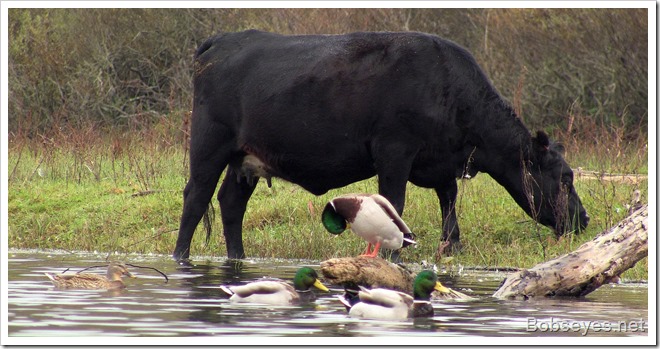 Egret and a mound
Just past them, I saw this egret fishing along the shoreline when I noticed the mound of fresh dirt in back on it.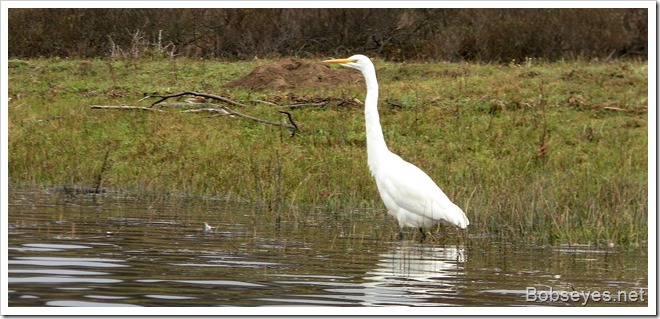 That sure is a fresh dig. I wonder what dug it? Maybe a rabbit as there are a lot of rabbit holes in the pasture. I've never seen a rabbit in the pasture, they must just come out at night. I'll have to remember to keep an eye on it. Some critter burrowed in there just recently that I'm sure of.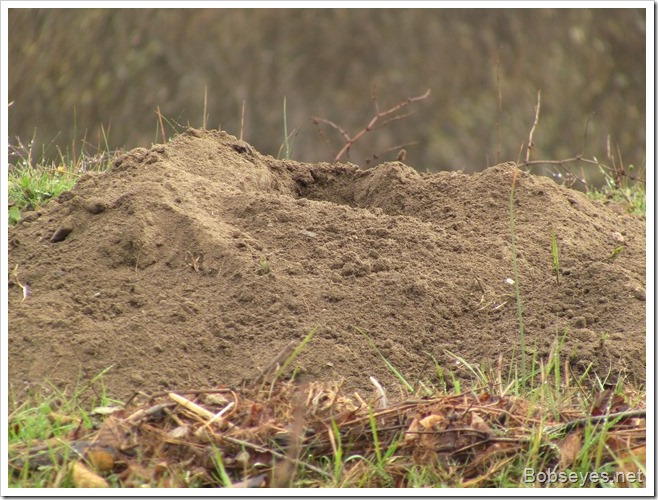 Good luck fella
While paddling along I saw this guy going slowly on the paved road that leads to Jenner and was wondering what he was doing. It's about a half mile to Jenner. It seems he is on his bike. His bike is loaded down with camping gear and he is holding his back tire in his hands. I'm not sure how he is making it as he has no back tire on the bike only a front one.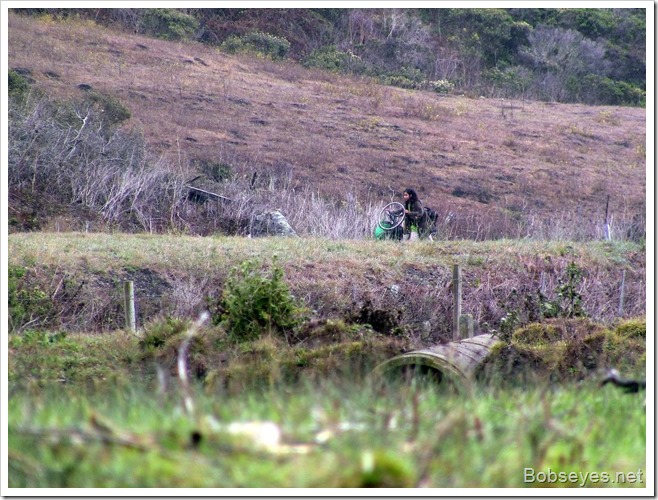 Headed to the mouth
I continued on down the river and decided to go to the closed river's mouth area which I did.
There were some seagulls and brown pelicans in the area, both on the sand and in the water which looked like this.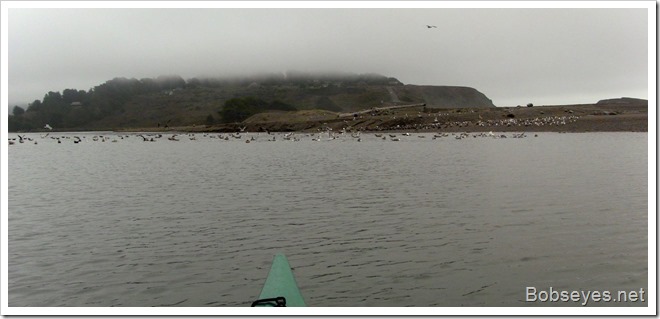 Here's a couple male brown pelicans with a few seagulls that are taking a bath. Lots of birds come into the estuary to take baths in the fresh river water.
Little grebe
There wasn't' much happening in the mouth area so I didn't stay long and headed on over to the lower end of Penny Island where I ran into this pied billed grebe. They are little guys that dive for their food and some of them are sorta friendly as I've been by them often.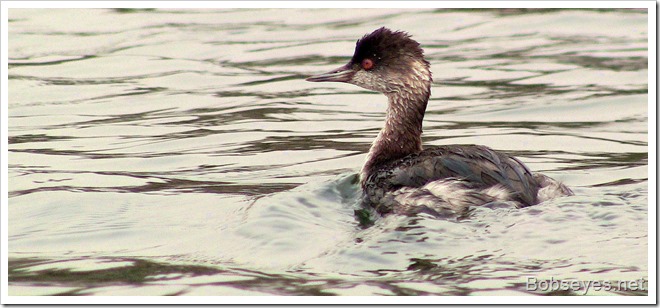 Headed home to do some digging
I headed on in for the day and went on home.
I had some digging to do today that I wanted to get done so I grabbed my shovel and headed over across the street to get her done.
I worked about two hours digging these pipes up and prepping things to rearrange this in the near future as soon as I get some supplies to do the job. These pipes lead to the creek crossing that washed out last winter and I want to get this job done before winter.
Old steel tank
That big steel tank used to be our pressure tank for five houses, but it's no longer used as we have spring tanks up on the hillside that provide our water, which is gravity fed to provide fifty pounds of water pressure. No pump or power needed.
I've been thinking on how to get it out of there to get rid of it and came up with a plan during my many breaks in the digging process. Note my chair that I needed to use often.
I think I can chain it to our bulldozer blade to get it out of there.
Most of he ditch has been dug now, so I need to figure out what supplies I need, get them and get this job out of the way.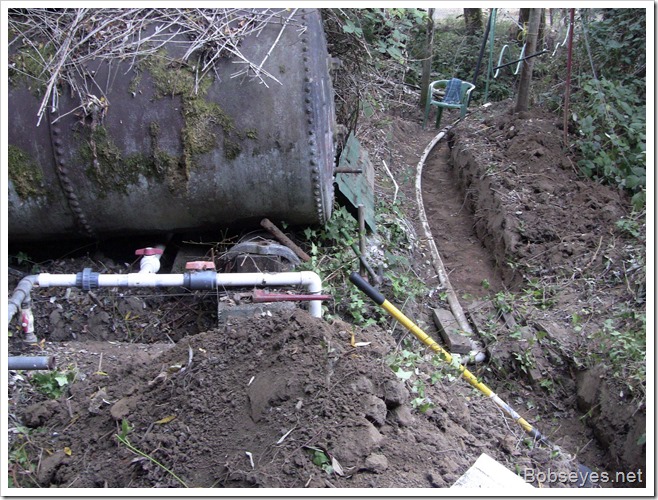 Unfortunately most of my digging jobs are in places a backhoe can't get, so I end up digging things by hand which is good exercise……………I think. But I sure get warn out at my age.
When I was done, just before dark, I gathered my tools and was barely able to drag myself back to my house and that was it for the day. Boy was I beat.
(Visited 106 times, 1 visits today)