Saturday July 30, 2016 Guerneville CA.
Mechanicing day
Yesterday the power went out and didn't come back on until this morning so I didn't get around to writing a blog. I picked up the exhaust manifolds yesterday and then came home and worked on figuring out the motor mounts to see if what I had was going to fit. At first, I looked at the mounts I took off the old six and thought I would have to do some serious modifications to get a mount to work on the new engine.
But while trying to figure out how to do some modifications, I realized all I needed to do was throw the six cylinder metal mounts away and only use the rubber part of the mounts and they would bolt directly to the new V8 mount points. At least that's how it looks so far. I won't know what will work for sure until I try to install the new engine.
Motor mounts look good to go
Here's one of the rubber motor mounts from the six cylinder engine that bolted right onto the new V8's mount area. It looks like it has the right angle to it and hopefully will bolt right up to the van's mounts.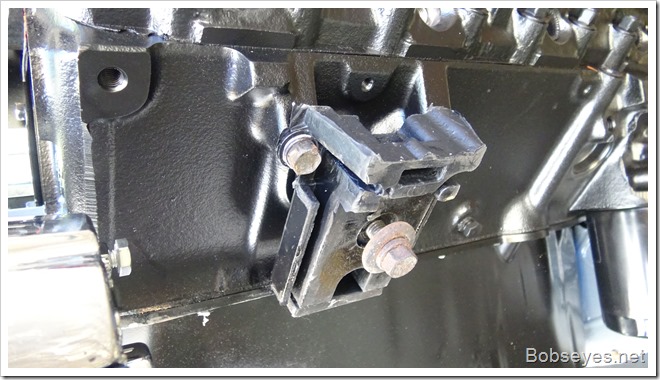 Modified the alternator bracket
Here's the alternator mount. I bought part of it and had to make the gray spacer on the right side of the mount to get the pulley's to line up for the belts.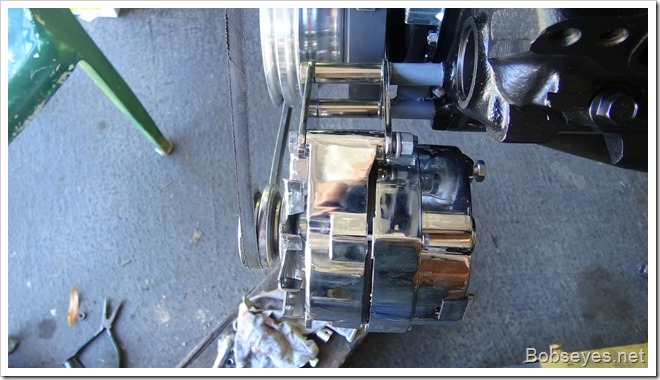 Today, it looks like this. I need to change the valve covers so the fill spout is in the front instead of the back and I need to install the intake manifold and put the exhaust manifolds on.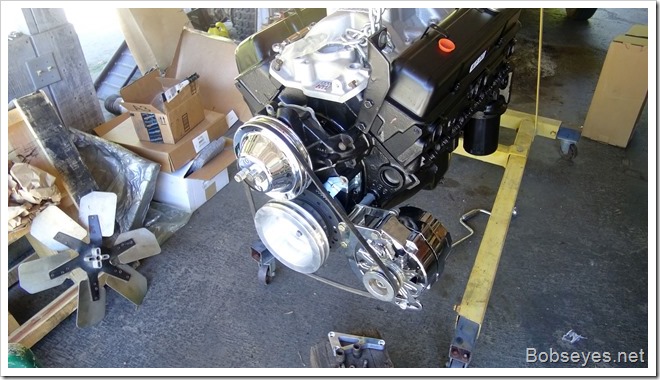 New type starter
I purchased one of the newer type starters that has a smaller motor and a compound gear. It bolted right on, but I haven't been able to test it yet.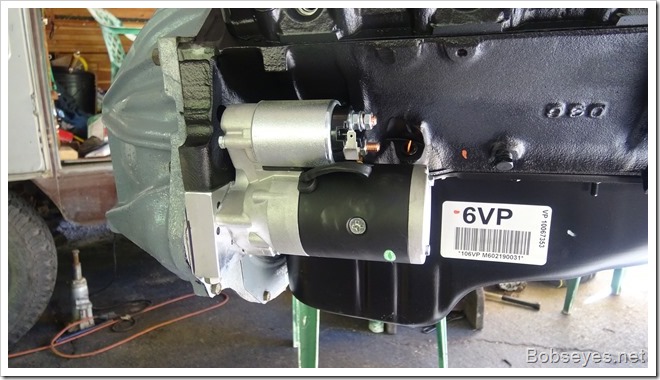 Almost ready to go
At the end of today, it's almost ready to install in the van. I've sealed the intake manifold and torqued it down and changed over the valve covers.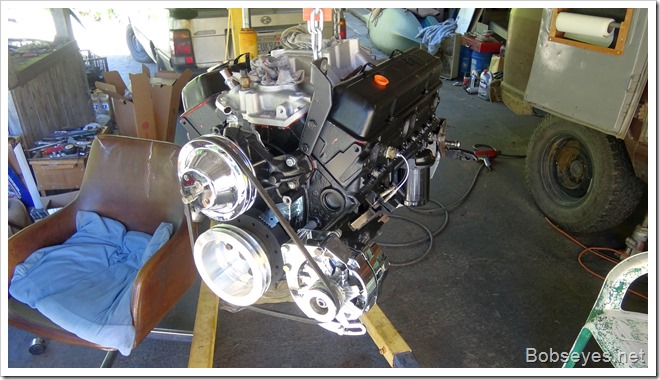 All the engine needs is the exhaust manifolds bolted on. I painted them and am waiting for the paint to dry.
Once I install the exhaust manifolds the engine will be ready to put in the van.
(Visited 349 times, 1 visits today)