Sunday May 29, 2016 Guerneville CA.
Blueberries are getting ripe
I took a look inside my blueberry cover yesterday and noticed quite a few berry's were ripe. I ate a few and decided I'd need to over haul this temporary cover or fight it to pick the berries, so today, my project was to pick the blue berries and fix the cover.
The old cover
This is the temporary cover to keep the birds from eating all my berries. It does a good job of keeping the birds out but is a bit hard to deal with.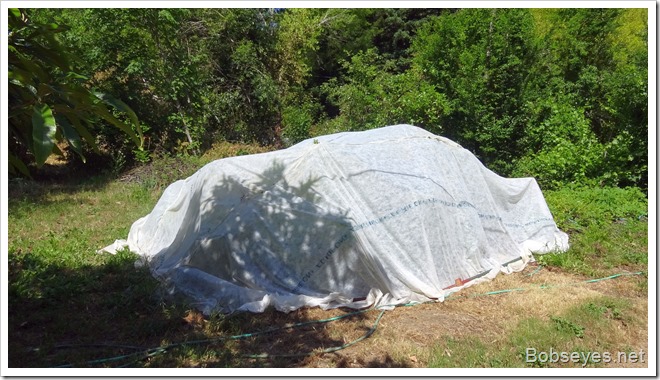 I rounded up the tools and found some old steel fence posts to use to hold it up.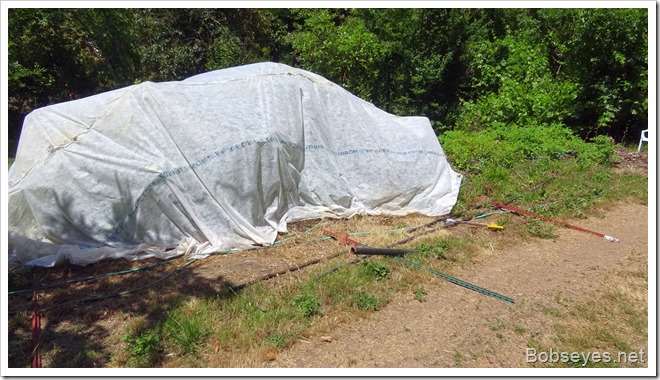 Yellow jackets
I lined the posts up a bit by eye and drove them into the ground a bit. While I was pounding the third one in on the right, some yellow jackets started flying around me, but didn't attack.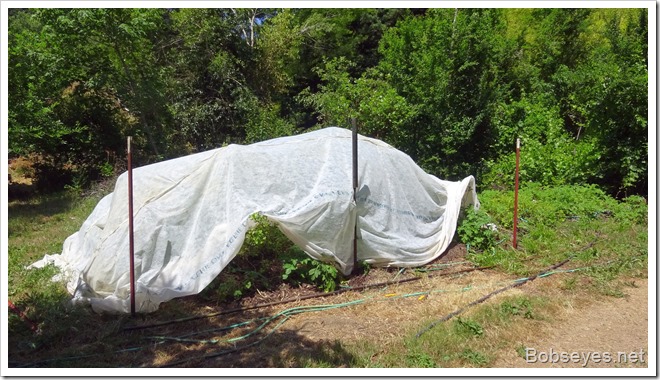 I backed up to make sure I didn't get attacked and looked for the hole I knew they must have here. I watched them until I saw where they were going in by some grass and thought, they aren't too aggressive and seem to have just started a nest as there weren't too many of them. So, I moved to another part of the cover and started working on that forgetting about the yellow jackets.
Bamboo from the patch
I needed some bamboo so I went over to my black bamboo patch and cut some which you can see here as I'm trimming the branches off it.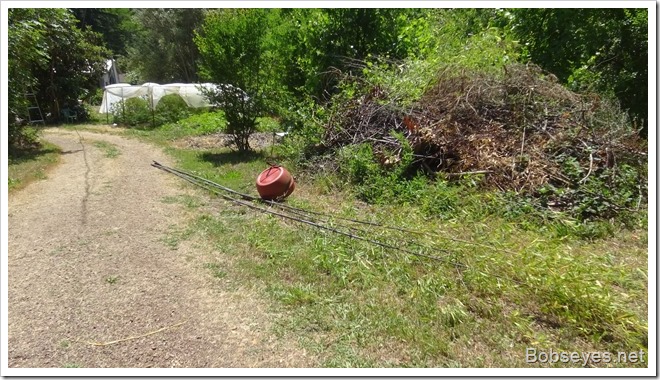 I started putting up the bamboo pieces for framing remembering the yellow jackets which I was careful about.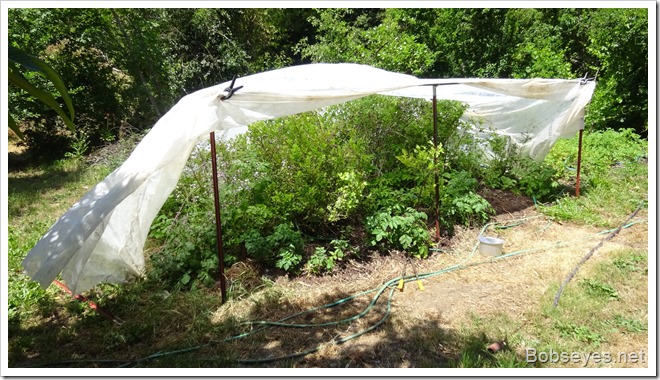 Forgot about the yellow jackets
I had it this far putting more bamboo in and forgot about the yellow jackets and was getting a measurement by where they were and I was told by them to pay attention.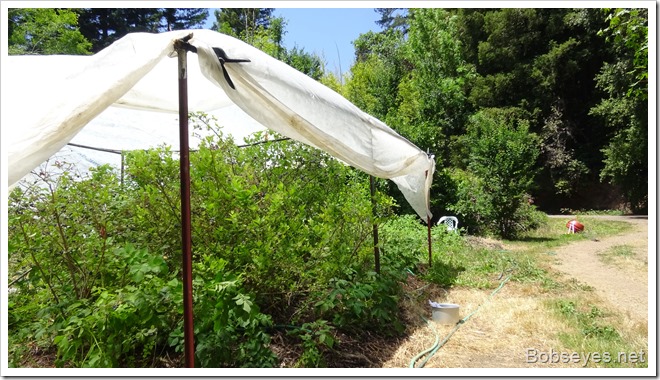 One of them bit me lightly on my finger, ,but just barely, so I backed up again thinking these are nice yellow jackets, but…………they are in the wrong place. So I got the hose and ran some water on the ground in the area where their hole was for about ten minutes. Some buzzed over the hole for a bit, but soon they were gone. As I said, it was a very small nest, just a couple dozen or so yellow jackets, I think.
Too hot to pick berries
Now that they were no longer a danger, I thought about picking the berries, but it was too hot. I did pick a few to eat.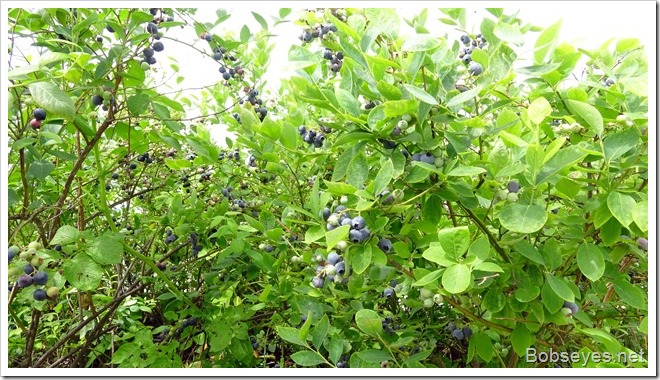 I took a break a good part of the afternoon while waiting for the sun to go down a bit.
Time to pick some berries
Later in the day I started picking berries when I realized there were more ripe blue berries then I could pick so went over to my brother's to see if Dominique wanted to pick some and she did so we both started picking when some friends of theirs came by and started picking too.
We got all the ripe berries picked and I started working on the cover again as it had cooled down some with the sun low in the sky.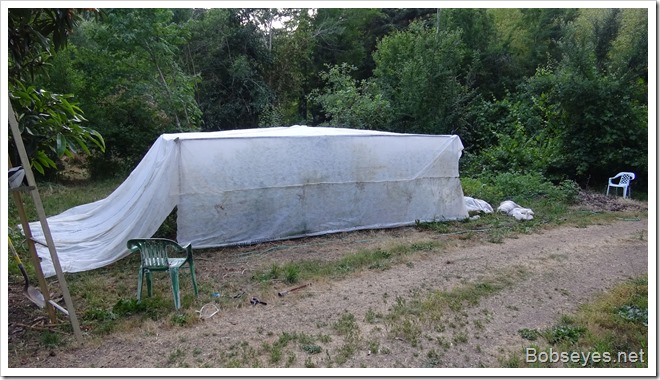 I cut some more bamboo and made a frame for the end I can roll up or down. I can roll up the front on a piece of bamboo I put in there to hold the bottom down too.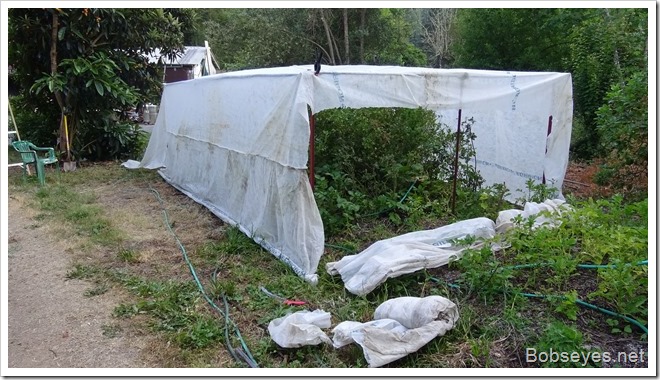 Looking good
I still have the back end to fix up right, but here's the mostly finished product.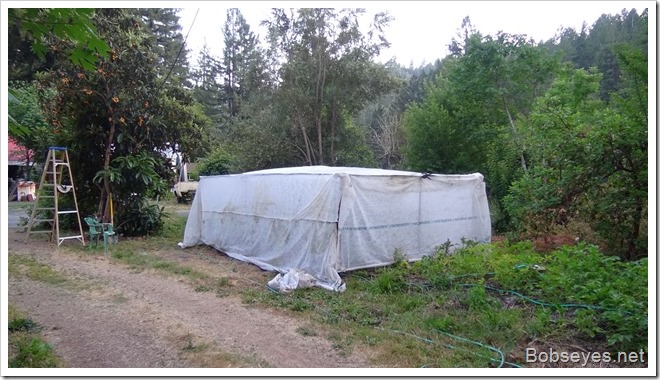 I only need this cover for a short time during when the blue berries ripen about this time of year, then I don't need it.
So, the pieces of bamboo that weight it down on the ground can also be used to roll the whole thing up so I can put it on a wall somewhere for storage for when I don't need it.
Staples to the rescue
One of the problems I needed to solve in order to work with this plastic garden sheeting was how to attach it together and I solved that by using a paper stapler and just stapled it together which worked quite well.
I thought that this was going to be an easy project and it mostly was, but it tweaked every muscle in my body from stretching and now I can sure feel it.
That was my day.
(Visited 134 times, 1 visits today)