Tuesday September 29, 2015 Guerneville CA.
We were on the road this morning by eight headed west on highway eighty west of Reno Nevada. It's a long drive home from here, so off we went. Traffic wasn't too bad. We turned onto highway 20 west when we got the chance as we didn't want to deal with the fast traffic through the Sacramento area.
Your brake lights are out
Shortly after turning onto highway twenty, I got a CB message from Marty saying my break lights weren't working. He had been following me. So, when we could find a place to pull over we did to have a look at what the problem might be.
I looked at all the glass fuses and they looked ok, so I slid under the van and measured the voltage at the brake switch and there wasn't any. Hummmmmm.
Time to measure the voltages on the fuses. I did that and I found one that measured bad. I broke the tip off my pocket knife blade trying to get the fuse out. No big deal. I got impatient and pried the fuse and broke the fuse in pieces, but at least it was out now.
I thought I had some of these old glass fuses, but couldn't find them, so Marty came to the rescue with one he had. One of the advantages of traveling around with vans that are almost the same is we carry similar things for repairs. I put the fuse in and pushed the brake peddle and asked Marty to check the brake lights. On. Good.
We continued on west on highway twenty
At Colusa, we turned into a wild bird refuge to take a break and have a bite to eat.
The road out to the refuse had a sign on it that it was closed so we just pulled over in this spot in the shade.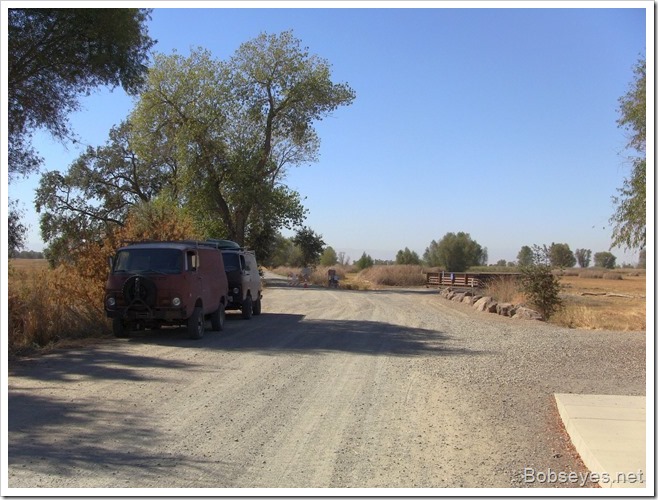 While we were there we could hear a couple hawks squealing up in a tree near us, so I had a look and this is what I saw. Some kind of small hawk.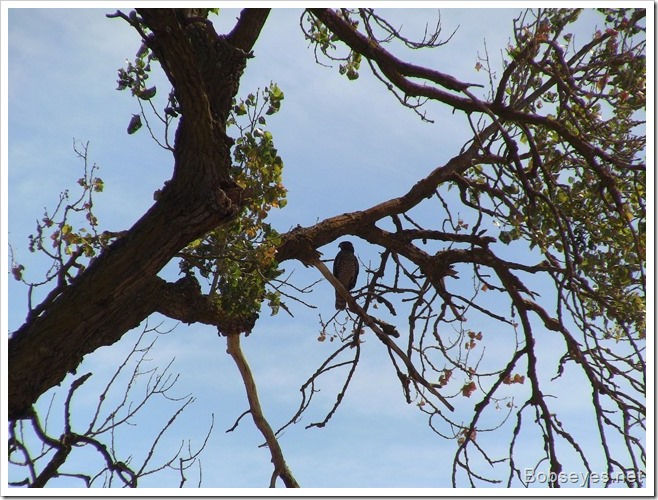 We decided to take a shorter road through the mountains to get to highway 101 over a mountain pass which I think they call Hopland Grade. It turned out to be a steep, curvy and narrow road that took much driving and a lot of braking too, so it wasn't the best choice. Next time we'll go the long way, highway twenty all the way to highway 101 just above Ukiah.
Water problems
I got home just after five PM. My brother shouted from across the creek at his house that his garden water wasn't working. It seems our new well has run out of water, so I had to do some checking to confirm this. I wasn't in much of a mood to check it out, but I did. It appears the water level has dropped and that well is out of water.
I'll have to pull the pump this weekend and see what is going on with the pump to be sure. Lucky most of my brother's needs for water for his garden are mostly over for his year, so he can get by. We also have some other possibilities to supply more water to his garden if the need arises.
Now I'm worn out from our trip, mostly from the drive home so I'll have to rest up a bit to get back to normal whatever that is. :O)