Sunday June 5, 2016 Guerneville CA.
Worked too hard yesterday
I was slow getting it going today. I over did it yesterday and was still a bit tired out. I was puttering around the yard and went in for a break when I found an email from John saying he was taking his carb apart again if I wanted to come down to have a look.
I went on down and took a look.
Here's John taking the carb off the bike.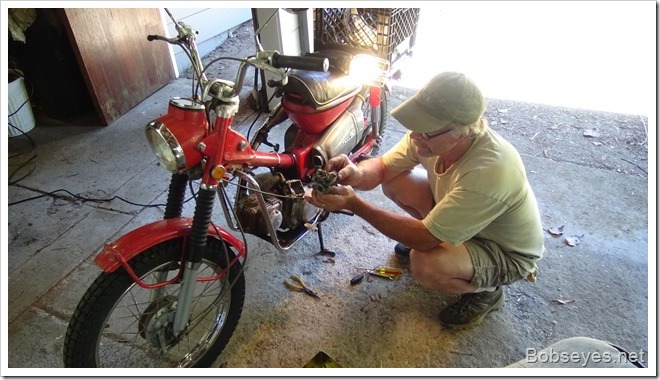 Figuring out where to set the float
I had a look at the float setting and was a bit perplexed to where to set it as right now it was set wrong and not letting enough gas into the carb. After looking at it for a bit, I could see lines on the side of the floats caused by gas staining it, so I decided to use this line to set it by figuring the line was made when things were working right. So I set the stained line on the float so it as parallel to the carb flat where it bolts to the other part of the carb, figuring that's how things should be when things are right.
John tests out the bike
John put the carburetor back on the bike and took it up the hill to test it out.
When he returned he said it was working good, but still had a slight gas leak around the carb gasket on the bowl which would need a new gasket to fix.
Shooting the bull
I sat and watched John put all the stuff back on the bike he'd taken off to get the carb off, then we sat around and shoot the bull for an hour or so.
Back to taking it easy
I went on home and went back to taking it easy for the day.
Eventually I did dig up some potatoes from my potato patch.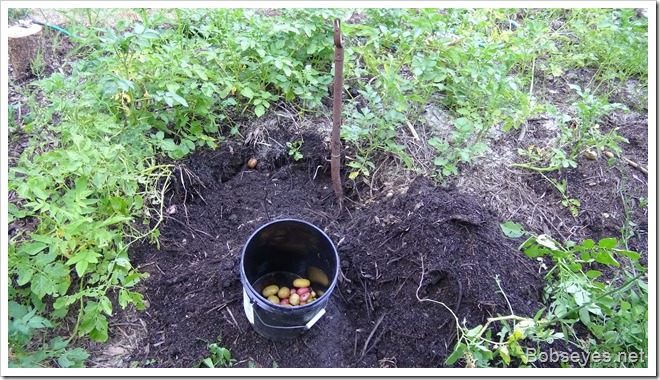 They will go well with the ocean fish John gave me for dinner tonight. And my brother Tom gave me some fresh zucchini today too. Yummmm.
I mostly spent the time puttering around in the yard the rest of the day. I did cut a bunch of wild blackberry vines which come up all over the yard which I need to beat back every so often.
Raspberry patch
This is my brother's raspberry patch. The berry plants are just starting to come up, so I don't think we'll get any raspberries until next year.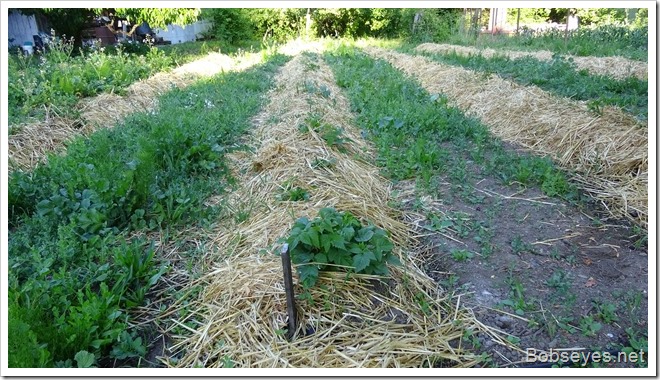 Lots of wild plums
I've been eating a lot of different kinds of plums and now most of them are ripe. I wish I could get cherries off my trees like I can get the plums. The birds are having a good time eating them too. It's a good thing there are lots of them.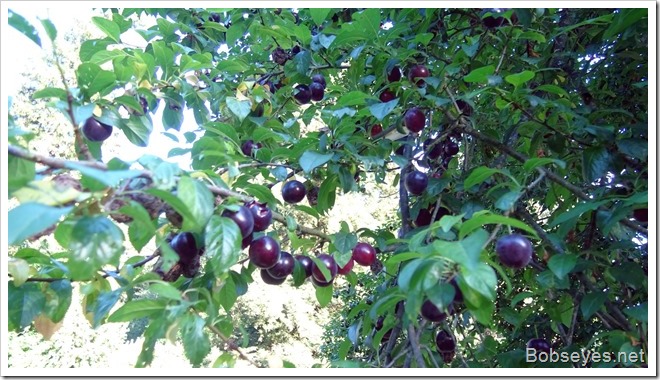 Other than doing some watering around the yard, that's about it for the day.
OK I'll get some new springs for the old van
I have been thinking about the old warn out front springs on my van, especially after a commenter jacked me up about them and think I will look into getting some new ones as the ones I have are pretty bad and bottom out pretty hard sometimes. It doesn't look like it would be that hard to get something to fit the van from a spring place, so I'll be checking into it.
Nice lazy day.
(Visited 88 times, 1 visits today)