Friday September 23, 2016 Usal Creek CA.
Getting ready to go
I stopped in Guerneville and gassed the van and did a little shopping. After that, I was off up highway 101 headed towards Boonville and beyond to Fort Bragg, then Usal Creek to camp for the night and test out the van.
I took my time cruising up the highways, stopping a couple times for breaks. I didn't need anything in Fort Bragg, so I cruised right through there too.
Going up the coast road
They were doing some paving just above Fort Bragg, so I had to stop for a bit.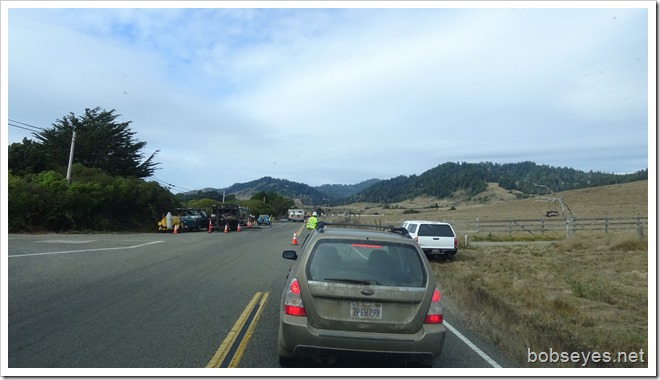 I thought I missed the turn off, but
I never know exactly where the Usal Creek Road turn off is and it's easy to go by if you're not paying attention. I thought for awhile I'd missed it, but I kept going thinking I couldn't of missed it as I was watching carefully for it.
I finally came to it and drove on the dirt road for a bit in high gear just to see how the new V8 would perform and it did well, but a bumpy road like this one, one should be in four wheel low just to take it easy on things, including me.
It's a ways in on the dirt road and I finally came down to this first camp spot almost to Usal creek. I stopped just for the view and to get some pictures.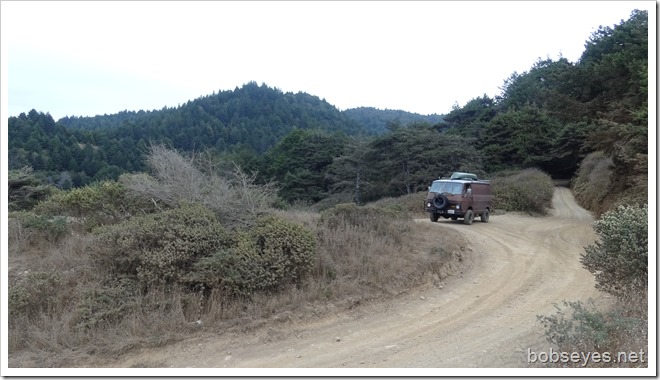 From this spot, this is the Usal Creek main camping area.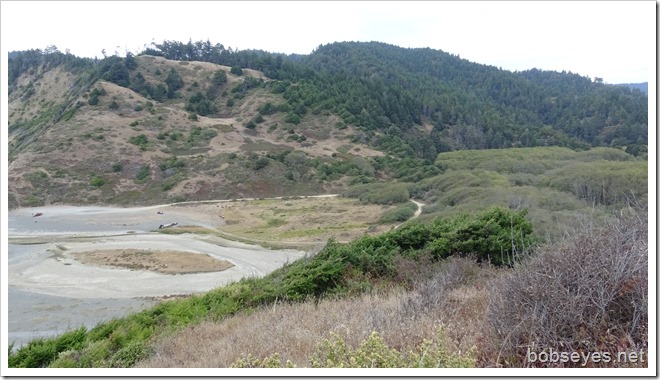 And to the left of that is the Pacific ocean looking North.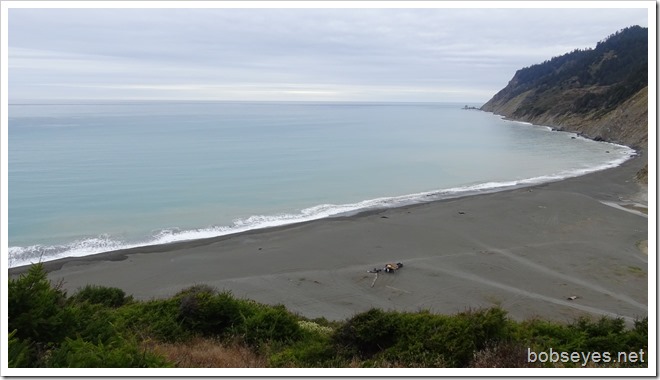 Looking for a camp spot
I wasn't sure where I wanted to camp, so I drove around seeing who was where and I finally settled on this spot in the trees back off the beaten path.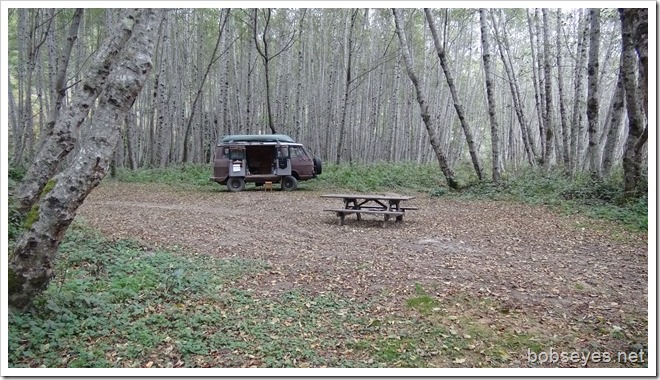 Comstock Lode
I got out a Louis L'amour book called the Comstock Lode and spent a good part of the night reading.
Moved the van to here the next day
I sleep in today and after getting it going drove on to here and parked to take it easy and write this blog. I can hear the ocean pounding the surf not far off, just over the sand there.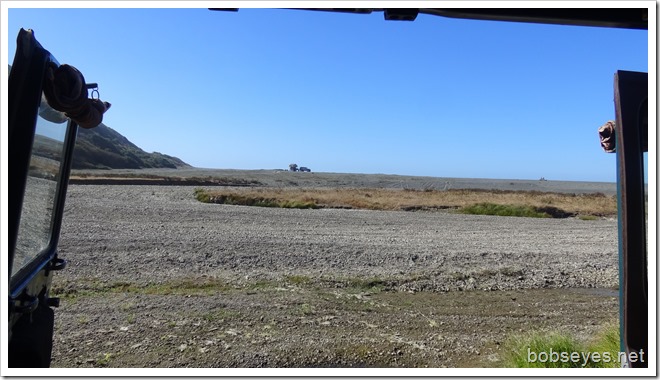 Changing plans
I've been thinking what I want to do since my plans are mostly Jello as they say. And I've learned it's best to play things by ear when traveling as it makes things go better, usually.
I will try to explore Rockport
It's fall here and fairly dried out, so I'm not into a hike as I liked the spring here more. So, I'm thinking of leaving here and going back to highway one and look for access at Rockport, which is just below here. But I think I'll mostly find gated roads with no access to the area.
Back to Boonville
In that case I will most likely head for Fort Bragg this evening and post this blog and then head on to the cabin outside of Boonville where I plan to spend a few days or so, before going back home.
So I will head to the cabin at Boonville for the night unless I find a spot at Rockport.
How's the van doing
The van is performing well. I was able to give the new front springs a good test on the way in and they are a pleasure compared to the old ones that were too long in the first place.
So far, I haven't had to tighten anything up that might be leaking and I hope it stays that way. :O) Cool with a breeze as I'm right by the ocean.
Nice fall day up here at Usal Creek.
(Visited 228 times, 1 visits today)