Sunday, Monday, Tuesday, Wednesday, October 9, 10, 11, 12, 2016 Gold Lake CA.
Van's loaded up and ready to go
I had my van loaded by ten in the morning on Sunday and I was off shortly headed to Gold Lake up in the Sierra's near Downieville CA. Being a Sunday, most people were going home so the traffic was light in the direction I was going. It's about a six hour drive. I found the place and I spotted Steve's rig, so I pulled in, but he wasn't around, so I looked around a bit.
This is Steve's camp.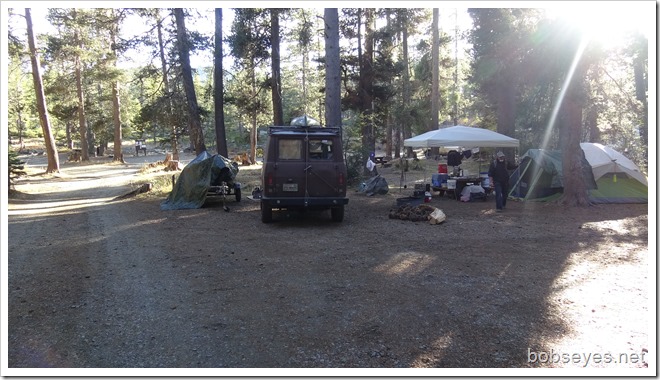 Looking for Steve
I looked around but couldn't locate him, so I asked the two guys sitting by their campfire next door. After some smart ass answers they said he was just up the shoreline fishing and pointed me in the right direction.
I didn't have to walk very far when I saw Steve sitting in his chair fishing, but not catching anything.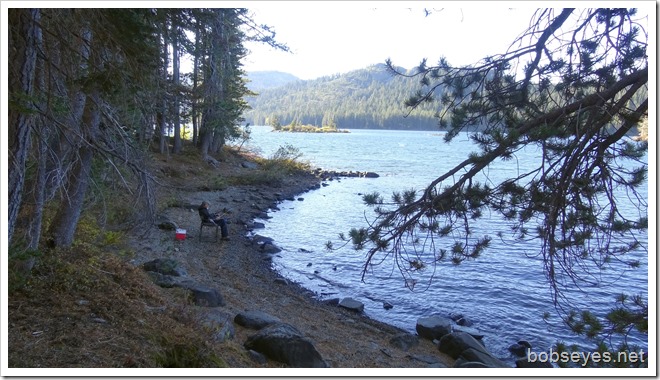 My camp spot
We went back to camp and he showed me the camp spot he'd been holding for me next to him so I moved the van into it and put out a chair. In a van that's all it takes to make camp.
Getting stuff for the campfire
Steve wanted to show me around a bit so we hopped in his jeep and drove down a dirt road that went around the lake a little ways, then we headed off on a side road looking for pine cones and firewood for the campfire.
Pine cones burn good
Steve had a big bag for the comes and used gloves as they had pitch on them. He said they burn real good when you need some heat and they did. He filled that whole bag up while I looked around a bit and found some fire wood all cut up.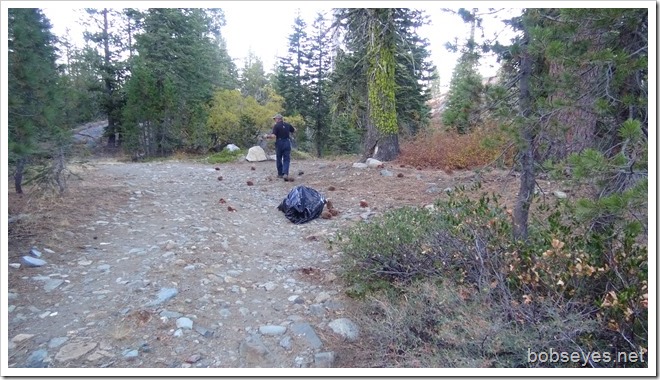 Someone cut it all up for us
Steve loaded on some of the fire wood I found and we headed back to camp with plenty of wood for a few days.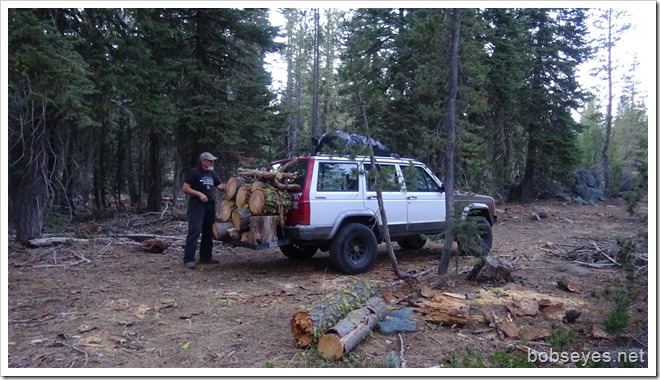 We sat around the campfire that night shooting the bull until late.
Monday
Kayaking Gold Lake
After we got it going around noon, Steve and I headed out into the lake in our kayaks. The wind was picking up so we pulled into this little island for a break for awhile.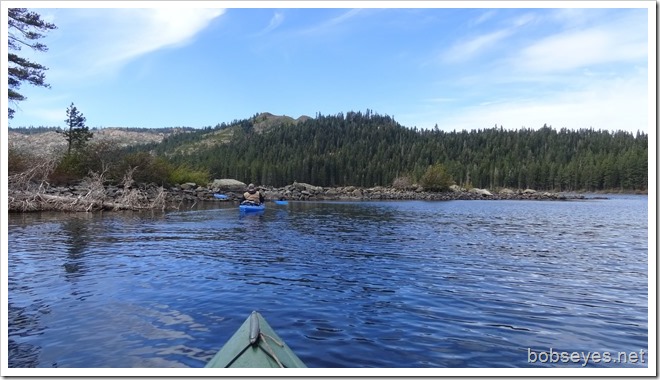 As we started to go around the edge of the lake the wind picked up more and so did the waves, but we kept going until Steve cried Uncle and we headed on in going around about half of the lake. Steve fished some of the way with no success.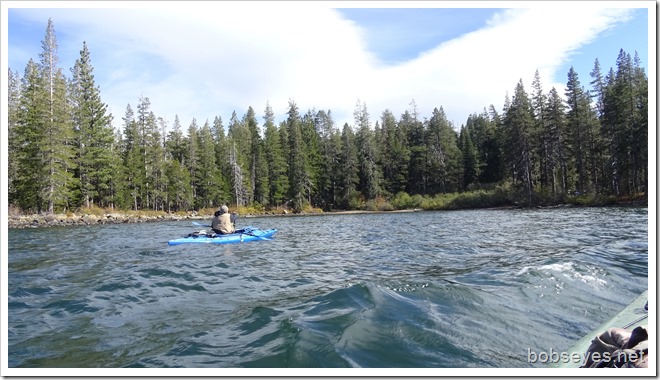 We went in for the day and I had a nap.
Crawdads for dinner
Later Steve said they had some crawdads in a basket in the water and I could have some for dinner, so we went over to the neighbors where they were cutting up some firewood. We continued on down to the beach and retrieved a pot full of crawdads.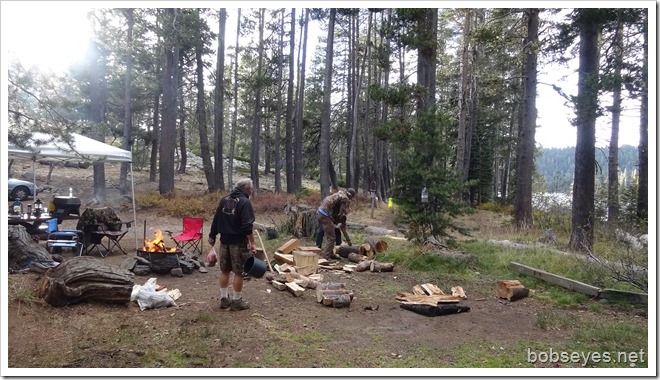 I ate these crawdads for dinner.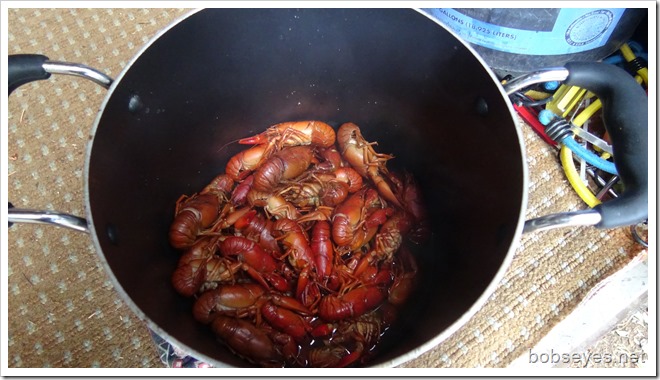 We sat around the campfire again, but because most of the guys partied last night, they didn't last long.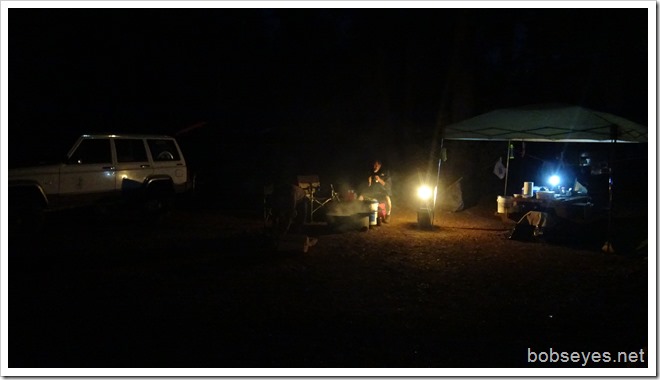 Where's the mice when you need them
I came back to the van and started the propane heater and got the computer out to write the blog. I did have a real hard time finding my little mouse that I use with it. There's only so many places it can hide in this little van, but it alluded me until the forth time I searched the van. Such are little mice's.
Nice day.
Tuesday
The sun is out, but it is crispy out
After taking our time getting it going this morning, Steve and I head on out onto Gold Lake so he can do some fishing. He hooked this one fish and let it go and that was it for the day.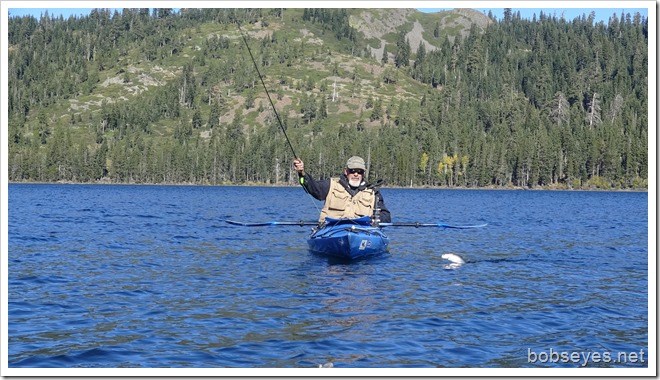 Solving the van's idle problem
When we got back I popped the hood on the van to check things out for leaks and stuff. Then I called Steve over to do some trouble shooting on the van's new engine. It's had a problem idling smoothly since I installed it. Steve is a trained mechanic so I put him to work on it. After some time he disconnected a sensor on the TBI unit and the idle smoothed right out.
Steve checking his meters to find the problem.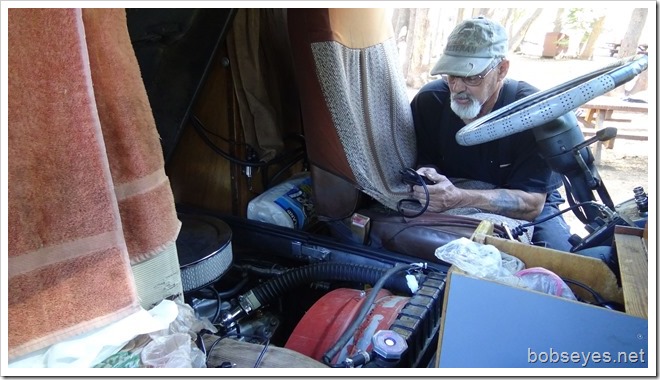 All fixed
Steve said to throw the part in the trash, but I said I wanted to take it off and check it all out, so I removed the part and found it had filled with engine oil when the old engine failed and the oil wouldn't clear out because I had shortened the hose so the oil got into the part in the first place. I cleaned out the oil and installed a longer hose and started the engine and it was all good, so now that's fixed.
Went yakking again in the evening
Towards evening we went out on the lake again so Steve could fish. We had a nice paddle, but no fish were caught.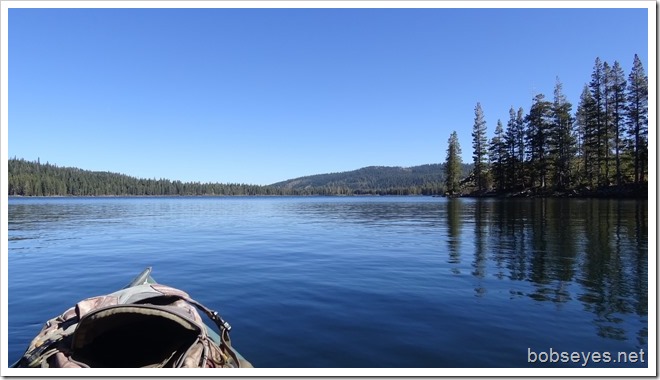 We returned to shore here where our camp was and I put the boat back up on top of my van.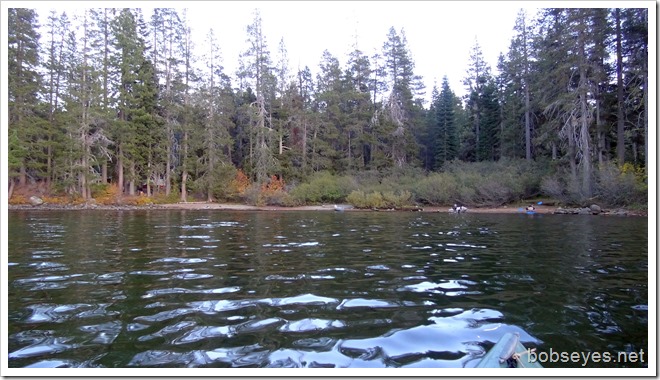 Heading east tomorrow
Tomorrow I will leave heading east through a little town called Doyle on Highway 395 where I will continue east headed to Pyramid Lake and eventually make it to Winnemucca where I should be able to post this blog.
Nice days at the lake.
Wednesday
Headed towards Pyramid Lake Nevada
I left Gold Lake after saying my good byes to the guys and was out of there around eleven AM. I headed east towards highway 395 and then headed a bit north to the small town of Doyle where one of the guys up at the lake lived. He advised to go east on one of the gravel roads east of town that would come out at Pyramid Lake.
While I was traveling east looking for the right road as there were a bunch of little roads intersecting so I had to watch my GPS closely, but unbeknownst to me, the computer locked up and I got off the main road and so I spent most of the afternoon going slow on not so good roads trying to get back to the road I wanted.
I finally did get back to the road but not until I was almost to Pyramid Lake and I was a bit tired out by that time so I was looking for a place to spend the night.
I went by a sign that said it was an Indian reservation and I needed a permit to use the area, so I turned around and took the first dirt road up into the hills just before entering the reservation.
It turned out to be an old mining area, so I drove around a bit looking for the best place to park for the night and found this place just up above the mining area.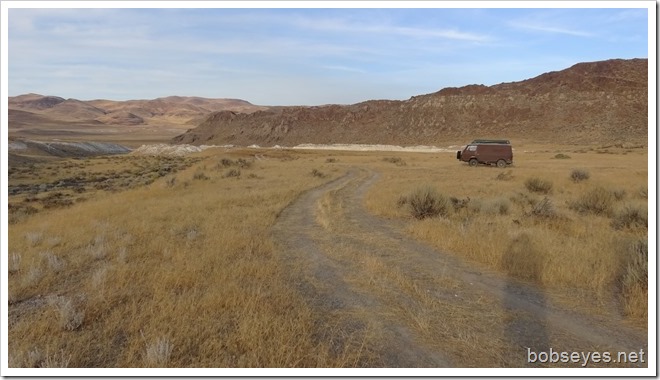 I think it will be a nice peaceful place to spend the night, so here I am.
Tomorrow, I hope to post this blog in Lovelock or Winnemucca Nevada where I will gas up and shop a bit before heading back out into the desert again.
That was my day.
Thursday
I made it to Lovelock Nevada by about noon where I did some shopping and am now posting this at McDonalds.
I will continue east to Winnemucca where I will gas and get a new Maps sensor and then be off to Golconda where I will head back out to the desert with no internet access for a few days or so.
Having fun.
Couldn't seem to post at Lovelock, so I continued on to Winnemucca. They didn't have my maps sensor for the van at Napa parts, but it's not needed that much so I'll do without it and use the old one for now. I'm posting at Burger King, once I figured out how to do it, so now I'll see if I can post, or not. :O)
(Visited 760 times, 1 visits today)