Wednesday April 15, 2015 Jenner CA.
A nice day for a paddle
The sun was out as I arrived at Jenner this morning. I put my boat in the water and paddled across to Penny Island and decided to head on down to check out what's going on at the river's mouth.
Here, I'm cruising along the edge of Penny Island heading towards the mouth.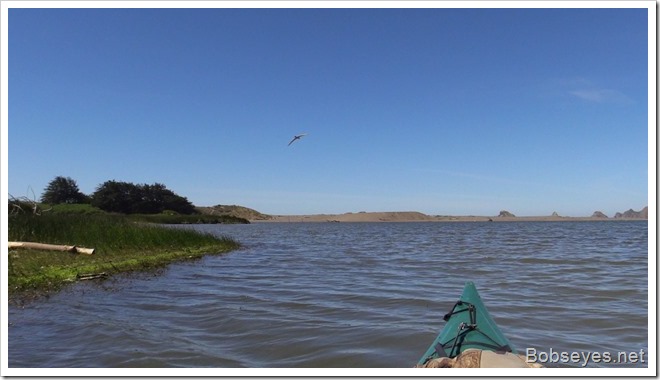 Merganser tries to eat big fish
I could see something low in the water off to my right. It looked like some bird trying to swallow a fish it just caught, so I headed over to check it out, hoping I'd get there before it got it down.
As I got closer I could see it was a female merganser with some kind of fish it was trying to swallow.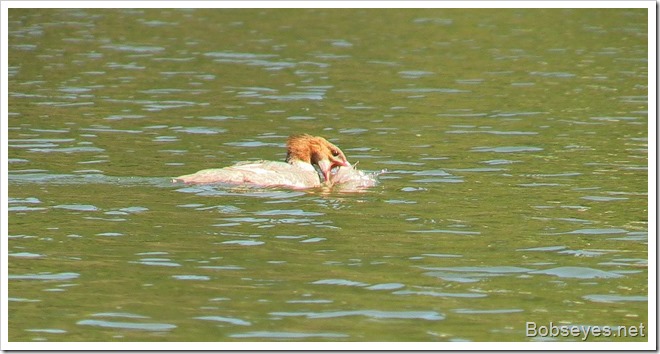 I watched it for about ten minutes trying to swallow that fish. The fish looked to me like a star flounder. Sometimes these fish come into the estuary by the thousands to feed and get bigger before returning to the ocean. Mergansers normally eat smaller fish and don't seem to have the capacity to expand their necks to swallow larger fish like some birds do. Click for a better view.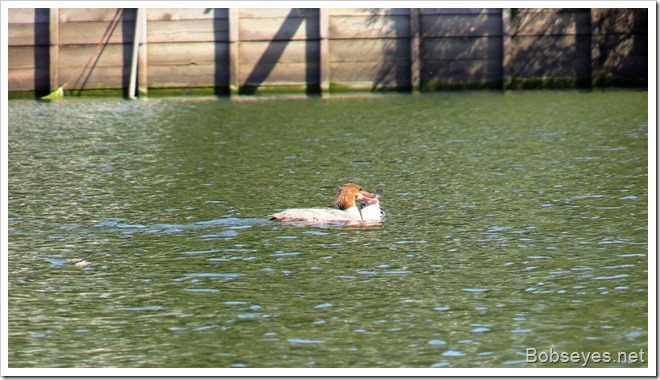 I left the merganser still trying to get the fish down and continued on to the river's mouth area.
River's mouth area
This was my view as I approached the open river's mouth area. Some harbor seals and seagulls resting on the beach.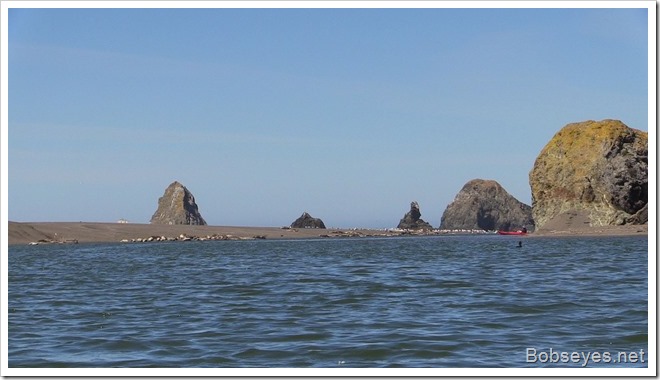 I pulled in here and sat in my boat and watched a bit. This is where the river goes into the Pacific ocean, about the center of the photo.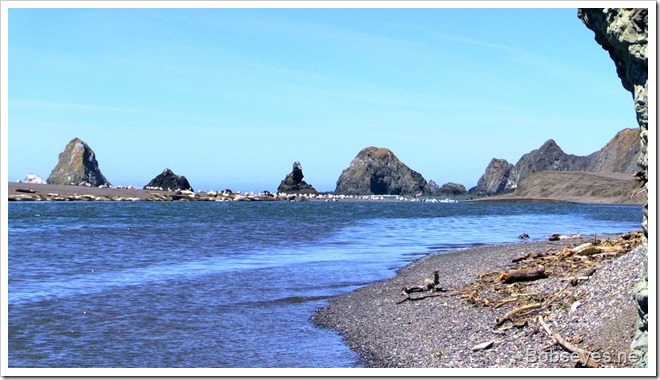 Pupping time
There were a bunch of harbor seals on the beach. I noticed there were a bunch of new pups resting with their mommas off from the main bunch of seals.
There's three pups in this picture.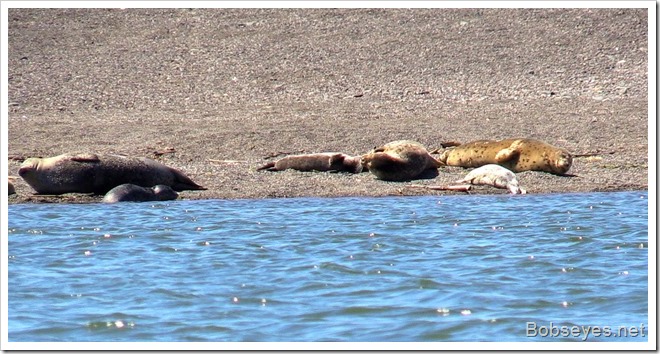 Here's another momma harbor seal with her pup resting on the beach.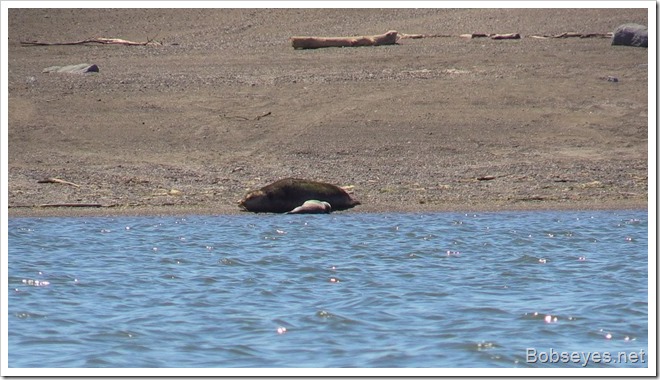 I'd say that most of the harbor seals have been born from the number I was seeing on the shore. Many more than I saw a few days ago, or when ever I was last at the mouth, maybe that was about a week ago.
Terns
After a bit, I headed on up the river and went past these terns resting on the lower end of Penny Island. These birds are feeding in the estuary and eat small fish as they can't expand their throats to eat larger fish, the same as the mergansers. From watching them eat, these birds like their fish long and skinny so they go down easily.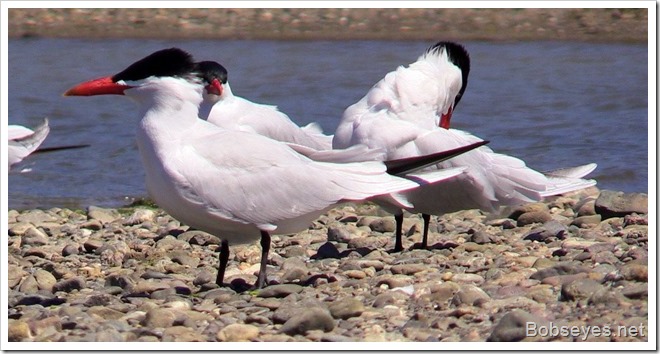 Another bird with a swallowing problem
I paddled into what I call the slot near the end of the island and was sitting there when this bird caught my eye. It was almost out of camera range. I could see it was a cormorant that seemed to have swallowed a fish that wouldn't go down.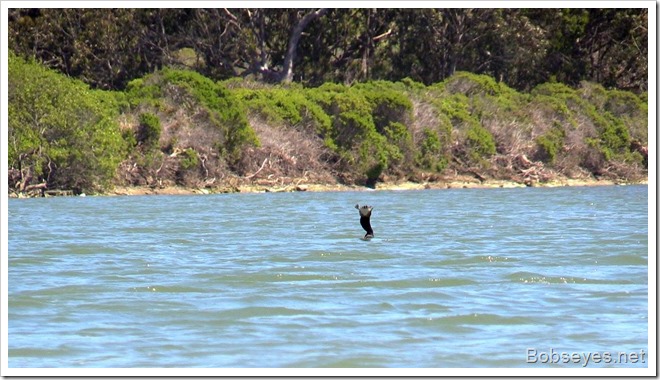 It spit it out and tried again. It seems it takes a bit of time to expand their necks to swallow larger fish.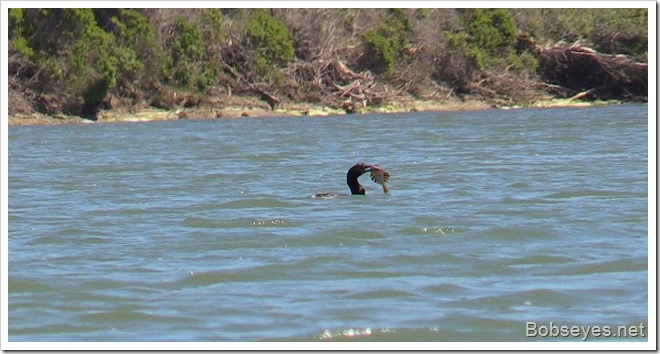 I watched as it tried over and over to get it down and it finally got it down this far, making it look a bit weird.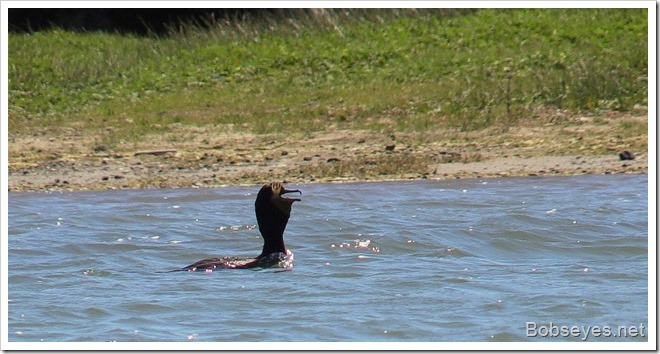 It took a bit longer but it finally got the fish to settle into it and it did the, I got a fish dance on the water.
Headed up the river
I headed on up the island back channel working my way up the river to muskrat nest beach and sat a for a spell, then headed back down the river.
Checking out the berries on Penny Island
As I was going past the old milk barn on Penny Island I decided to go ashore at this spot to see when the berries would be ripe that grow on the island.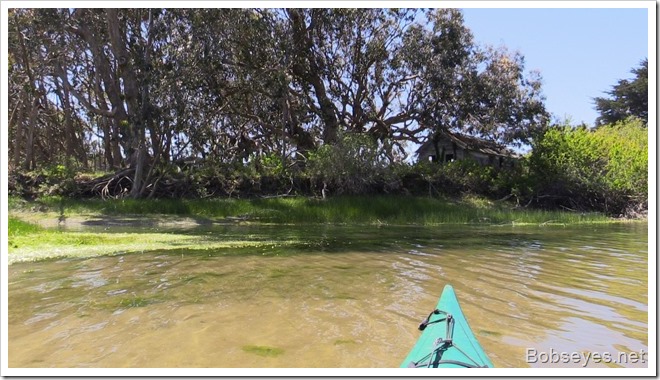 I walked around the island checking out the berry bushes and found the berries just starting to form, so it will be a week or two before any are ripe enough to eat.
I could see the town of Jenner as I walked around looking for berries.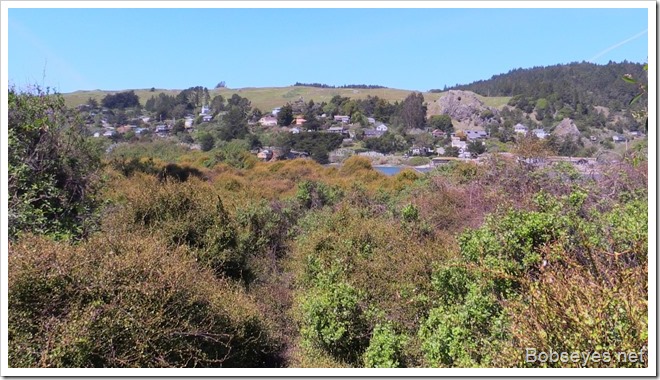 I got back in my boat and headed on in for the day and went on home.
After having something to eat and a little nap, I went out in the yard where I puttered for the rest of the day.
Nice day.