Friday October 2, 2015 Jenner CA.
Pulling pumps
I'd told my brother we'd pull a couple well pumps this morning thinking it was Saturday. When I woke up this morning I realized it was Friday, so I got up a bit early since I'm still waking up too early since my trip.
I went out in the yard and set up the well pump to pull when my brother drove up in his golf cart, so we pulled the new well pump out so I can test it later once I round up the stuff I need to test it.
Than we went over to my Aunt's whose property my brother is acquiring and we pulled the pump on the old family well that hasn't been used in years. I knew from checking this well out earlier that the pump was frozen up and needed to be replaced.
Off to kayak
That done, I headed down to Jenner to kayak for the day.
I put my boat in the water and paddled across the river to the upper end of Penny Island and sat in this spot for an hour or so. Nice day, low wind and the sun was out. Looking over to the town of Jenner.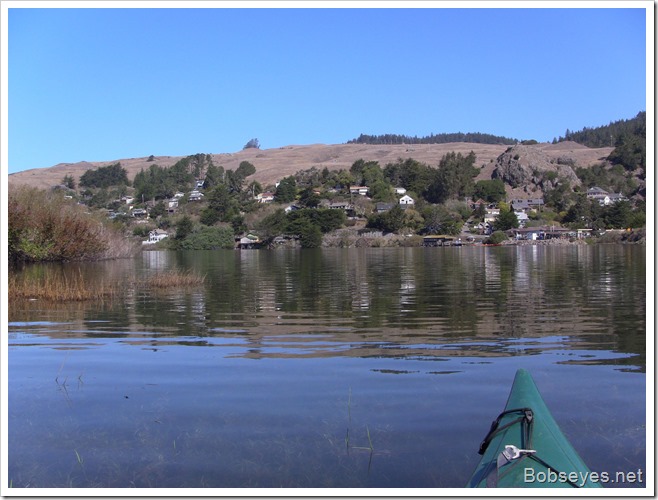 Eventually, I headed on up the river by Paddy's rock where I ran into these bovinosaurous. They were just getting some water and didn't attack, but kept their eyes on me as I passed.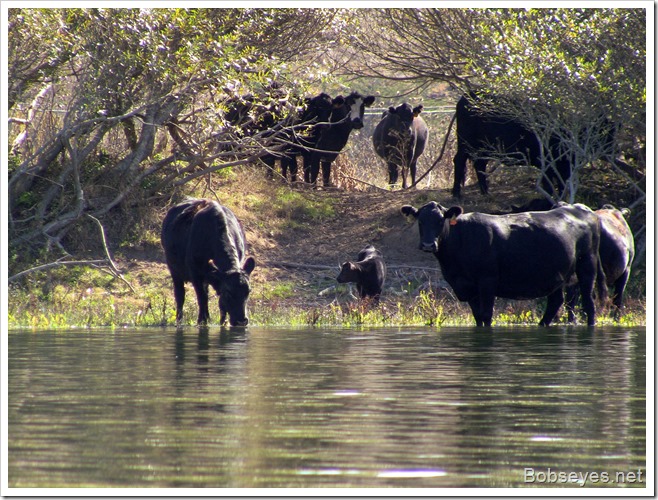 Harbor seals hunting
I had been seeing these wakes in the water the last couple days, from seals racing after a fish, I thought.
I was paddling along and all of a sudden this wake showed up just in front of me.
It came right towards me headed for my bow and turned at the last instant, went out in front of me in a circle and came back straight at me and went under my boat very fast.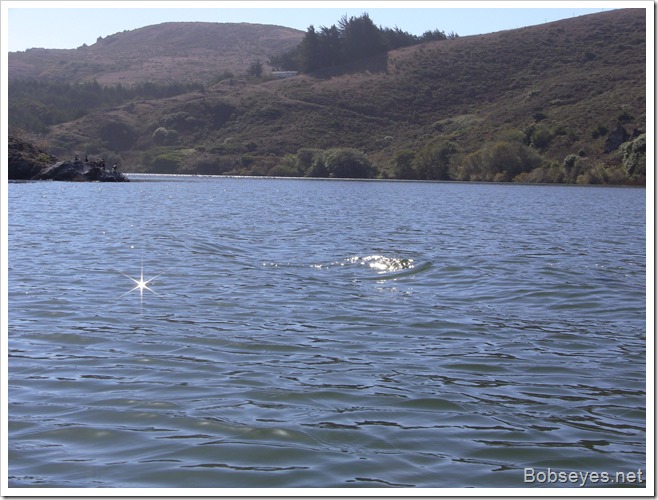 I could just barely make out a fish which was no more than a big black spot with the seal in hot pursuit.
I tried to take pictures as I watched this all happen in just a few seconds and this was the best I could do. That's the seal on the left swimming very fast after the fish.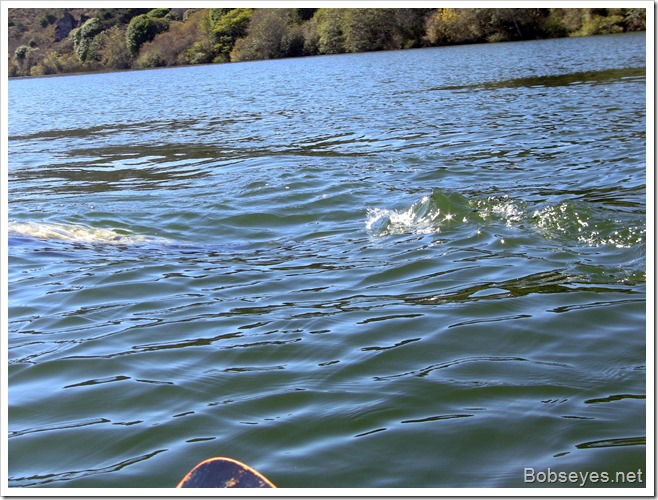 I couldn't tell what kind of fish it was chasing. Not likely salmon as the mouth is closed and I don't know if it got it or not.
After that, I continued on up the river taking my time as I went.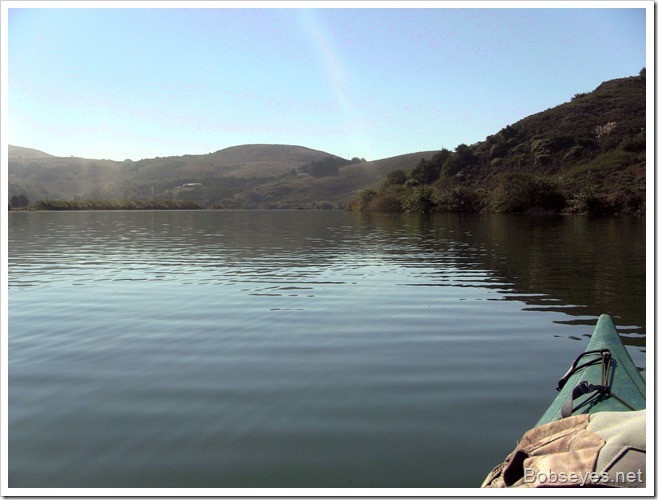 I paddled up to this spot, dead deer grotto. The ferns are just starting to green up again as the last time I was here, they were all brown.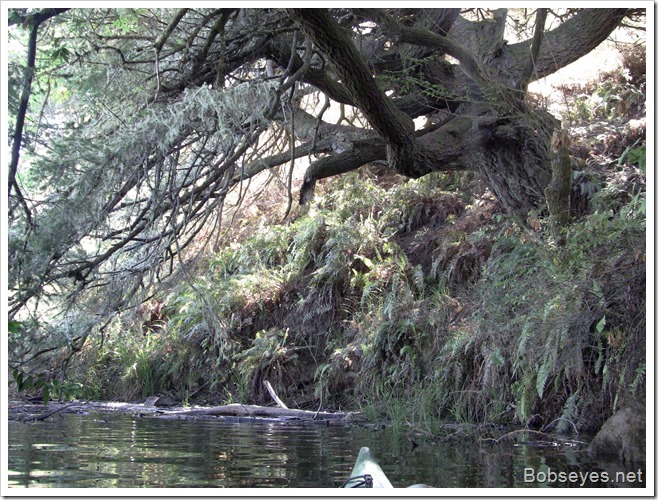 This is what it looks like looking out from that spot. from under the overhanging trees.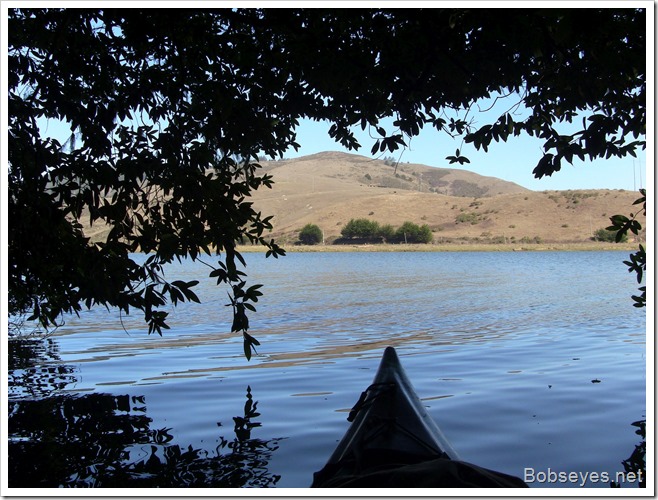 Osprey
After a bit, I started back down the river along the south shoreline when this osprey caught my attention. It flew on down the river as I approached it.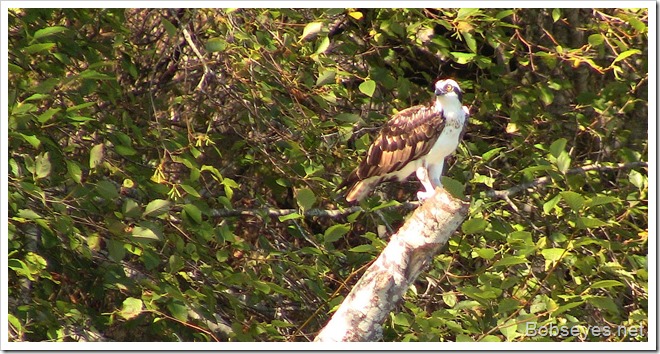 I paddled on, headed down the island back channel and stopped in this spot which I call the slot and sat for a bit, looking over to the town of Jenner.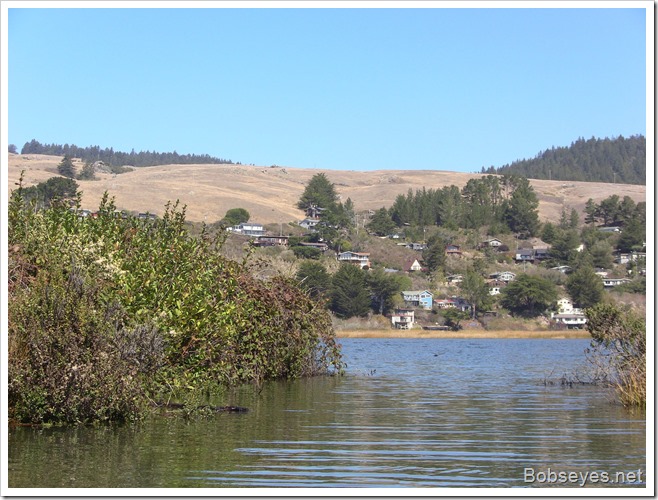 Closed river's mouth area
From there I headed on down towards the river's mouth. I saw John who lives down there by his house, so I went over to chat with him for a bit, then headed to the closed river's mouth.
I carefully worked my way in among the birds and sat here in front of the closed river's mouth looking out into the Pacific ocean.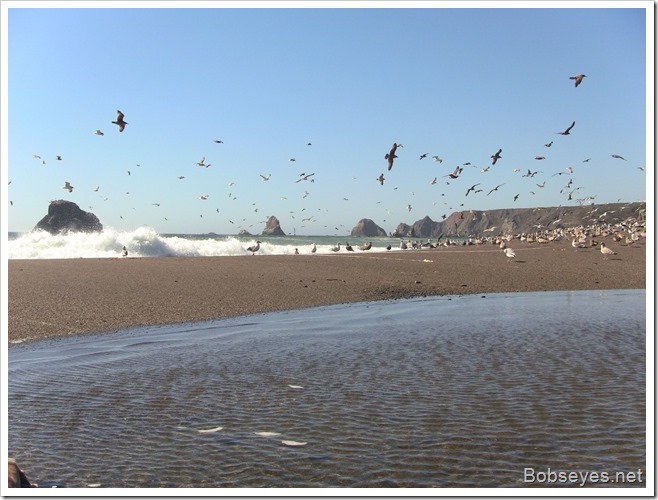 It was almost high tide and I wanted to get a picture of the high tide waves coming into the closed river's mouth to show that if this flow is big enough, such as during a storm, big fish can still get into the river.'
Here, I'm just showing a wave breaking over the sand into the river, during a storm, this flow could flow in just as if the mouth was open, letting the big fish in to spawn, at least some of them. Of course when this happens, the harbor seals are there to take their toll of the big fish, which sometimes have to struggle to get over the shallow sand.
So, I'm sitting there at the sand dam as the ocean wave breaks on into the river right in front of me washing my boat back a bit.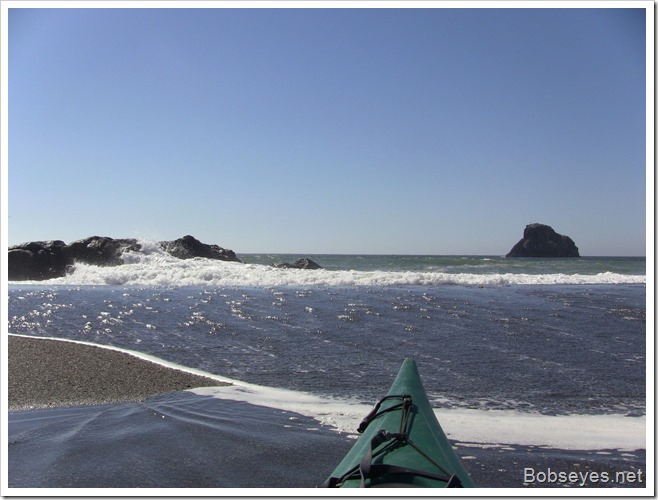 Pelicans
I sat around and watched the birds flying around me. Here's a couple pelicans coming in for a landing.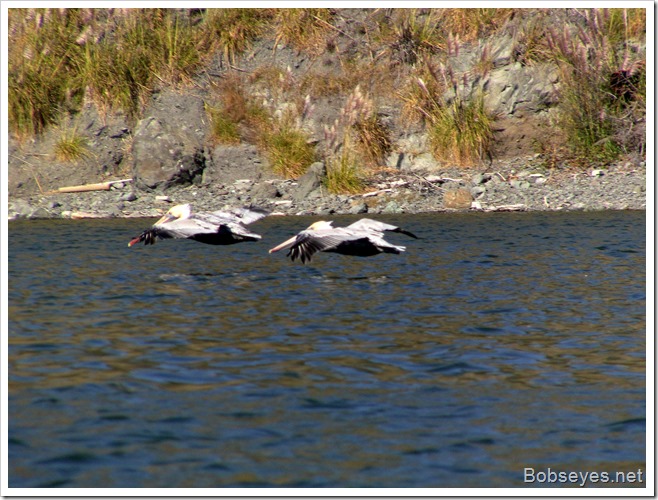 It's not so easy for a big bird like that to make a graceful landing. This one is just setting down for a big splash.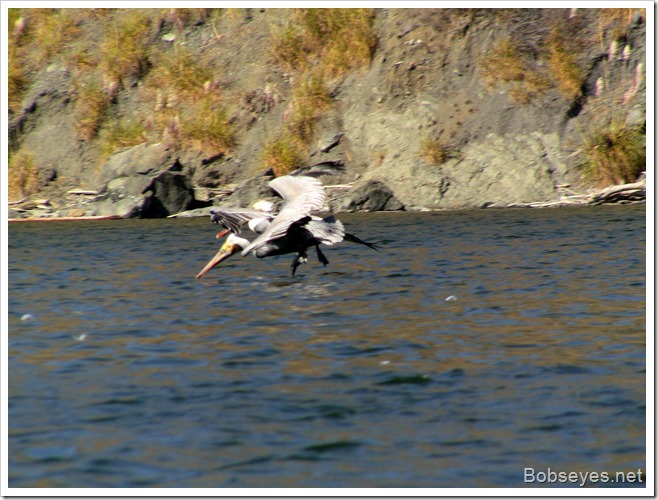 There were lots of pelicans and seagulls preening on the sand in front of me.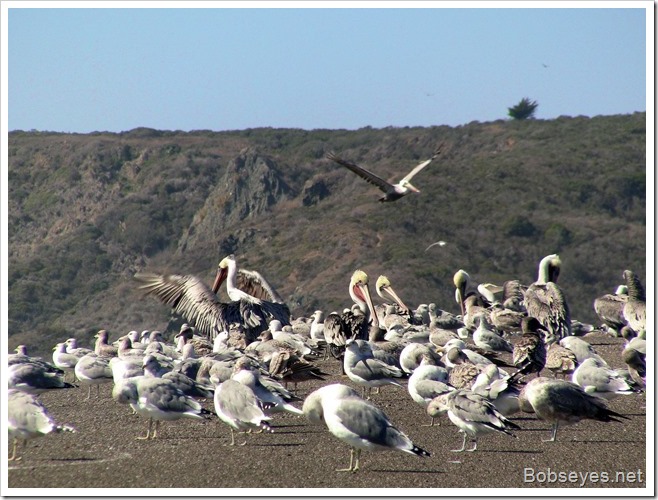 I spotted this pelican doing something with it's bill. I think that is some seaweed in it's bill, not sure what it was up to with it.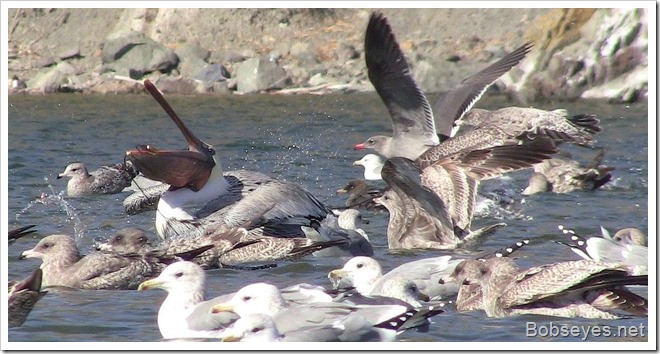 I sat around watching at the mouth area for a good hour or so before heading on in for the day and going on home.
I just sat around the yard for the rest of the day and took it easy.
Nice day.
(Visited 177 times, 1 visits today)