Sunday November 15, 2015 Jenner CA.
Rained good and hard last night
It rained hard last night, but by the time I got it going this morning, it had cleared but the weather guy said it was going to be windy near the ocean. About twenty miles per hour, I can do that.
And the wind was up
It was windy alright as I pulled into the Jenner parking lot. Should I go back to Monte Rio where I knew there was less wind? Naw, it wasn't that bad. So I put in my boat in the water and crossed over to Penny Island. I was sitting there when I saw a guy put his kayak in the water back over by the boat ramp. Not many people put a boat in the water on days like this. I thought it looked like John, Ray's brother, so I waited. Sure enough, he paddled right over to where I was sitting and we shoot the bull for a bit. He wasn't staying as he needed to get home for a ball game. but had just put his boat in to come by and chat for a bit.
Here's John as he's paddling back across the river. It's choppier than it looks out where he is.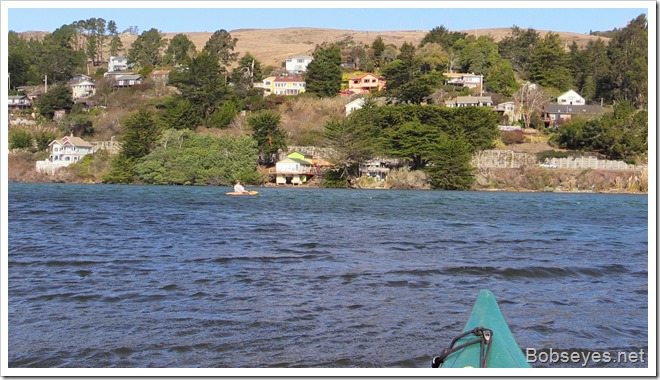 I paddled up along the side of Penny Island which looked like this. I'm headed into the little channel in the big trees where there isn't much wind.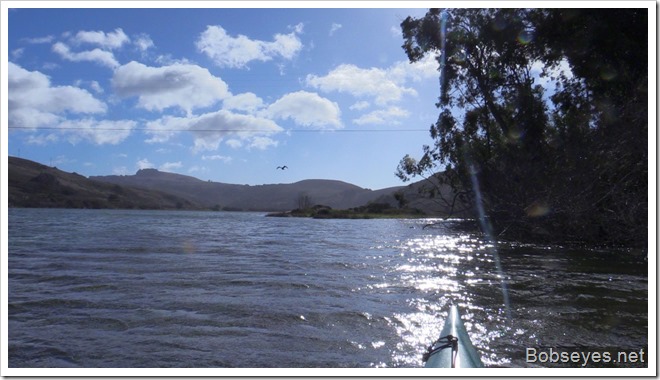 I sat in this spot in the little channel for some time. The wind was blowing good out there so there was no reason to hurry anywhere.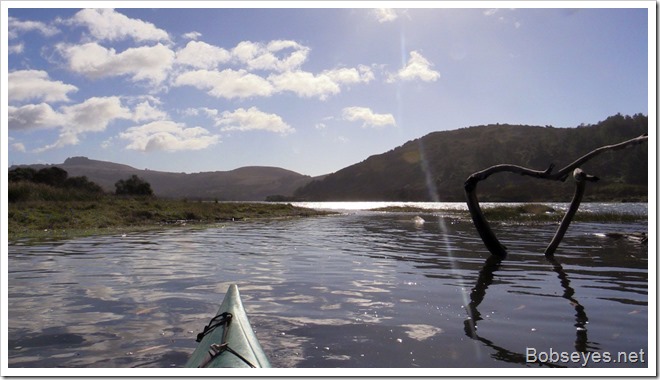 The next place there was less wind was up the river. I thought this spot by the big old redwood log might be good, but no, the wind was blowing in this spot also.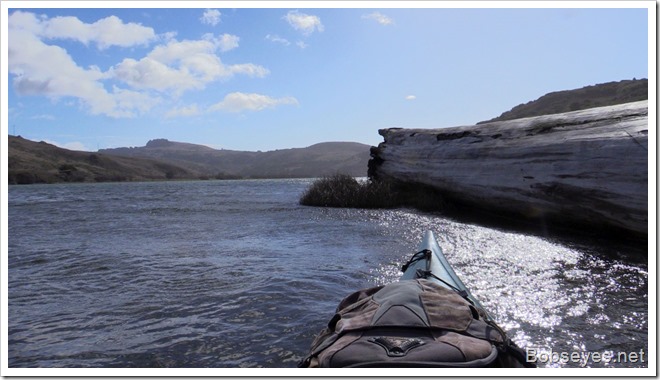 Identifying harbor seals isn't easy
So, I paddled out in the wind and crossed the river to it's south shoreline where I ran into this harbor seal. I know this is one of the seals that stays in the river a lot, but which one. I was thinking this was Blacky, but Blacky was more of a two tone black and this one is more mottled. Maybe this is Coco?
It's hard to identify harbor seals as their fur gets replaced twice a year and their colors seem to change a bit. The fur appears to be different when they are wet or when the sun is shining on them or not. Put all these combinations together and it's really hard to identify most of the harbor seals.
But now, I'm thinking this must be Coco. :O)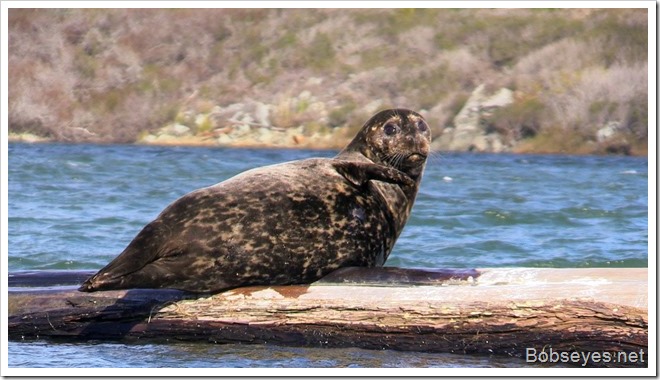 I left Coco on the log and continued up to the Otter's log spot, where I sat for awhile as it's mostly out of the wind, although today, the waves seemed to be coming into the shoreline.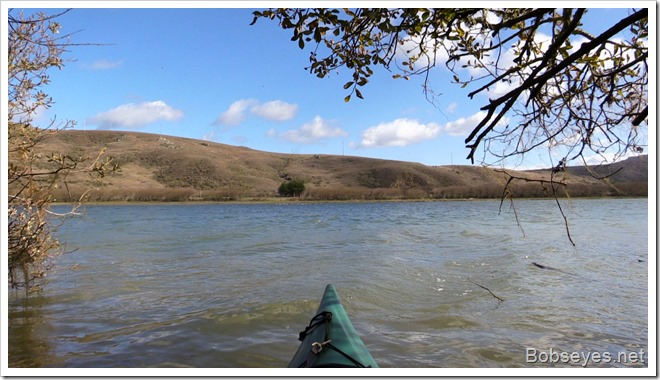 Eventually, I moved up to this spot, Telescope, where I was sitting.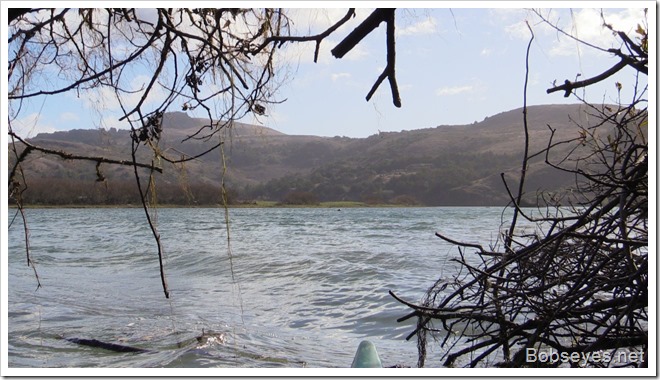 An otter
All of a sudden I heard a splash directly behind me about five feet away. When I turned to look, all I could see was were some critter had gone under the water. I thought an otter, so I looked and was watching to see if it would surface somewhere and it appeared just to my right under a dead tree. Looked at me and went back under the water to disappear.
Across the river from me, I could see some seagulls floating around on the water, resting I think. They've found a spot where there was a little less wind.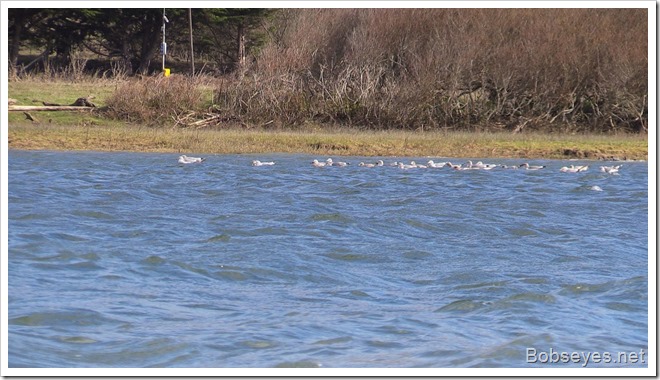 Finding the best spot
A lot of times, the reason birds and critters sit in a spot is because there is something real nice about that spot as compared to another spot, so they are good indicators that a spot might be a nice one. For instance, I have a spot up the river a bit that I call Muskrat Nest Beach. It's mostly sunny and out of the wind. I had been using that spot for a number of years when I noticed a bunch of muskrats started building nests by it, because it was a nice spot and that's how it became the Muskrat nest area.
By now the wind was up a bit more and it looked like it might be a bit calmer across the river. I paddled on up to Eagle's landing. The wind was in all my spots here, so I crossed over the river by Paddy's rock and started back down along the shoreline where I could see the wind wasn't really any better on this side of the river.
Here I'm paddling down along the north side of the river and just about ready to head back over to the south side again.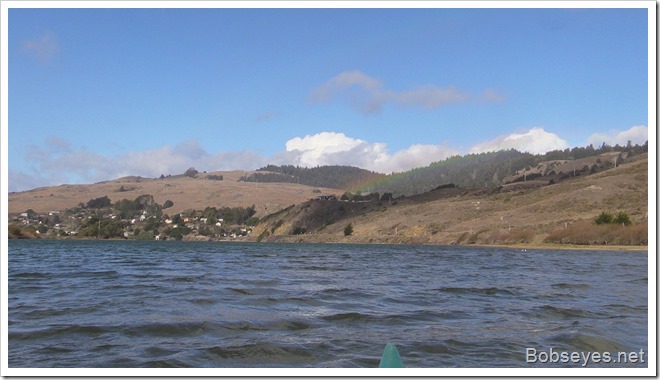 Not a good camera day
With the wind and the waves, it wasn't easy to get the camera out and take pictures, bobbing up and down on the water with the wind trying to steel my paddle.
Another otter
I crossed the river and was just pulling into the Telescope spot again when I saw an animal sliding into the water. It was another otter in the same spot I'd seen the other otter. The other otter was a bit smaller than this one. This one slid into the water and was gone. With the waves and the wind, I didn't even try to get a picture. My camera was in my pack, trying to keep it dry.
I moved on down along the shoreline and stopped in this spot for a bit. There's a seal on the log where I left it earlier.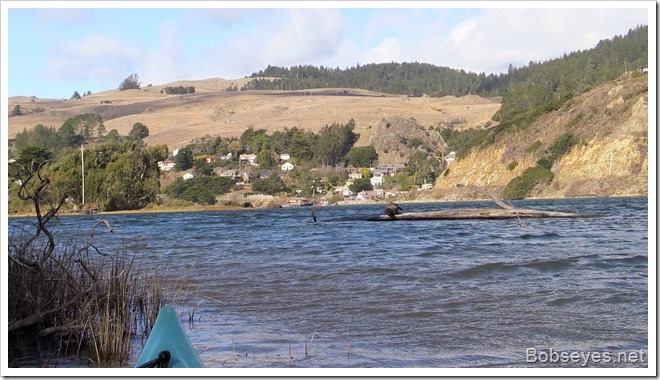 We watched each other for awhile, then I paddled by it and headed for a spot with less wind.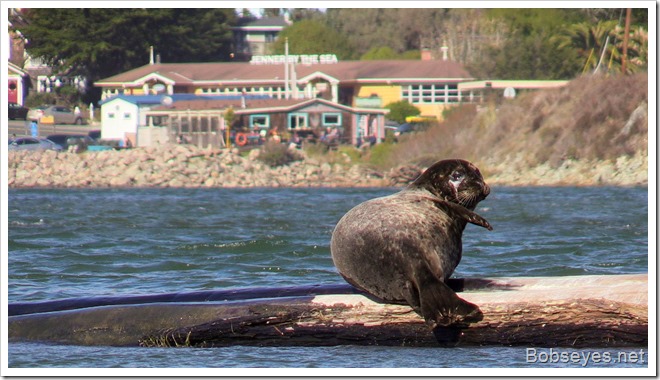 Out of the wind
I pulled into this little channel again on the upper end of Penny island. Here I sat and did a bit of day dreaming, before venturing out into the wind again.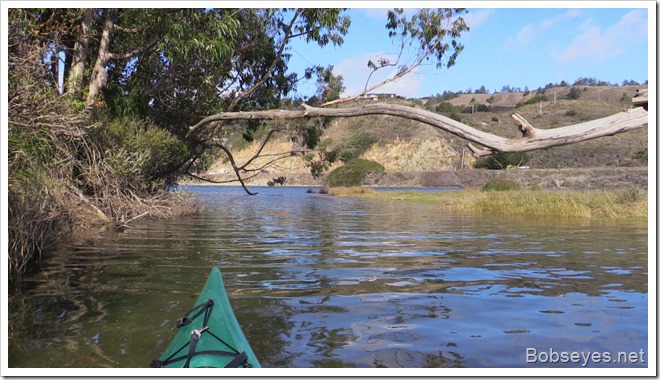 Where to go
I knew it was too windy to head down towards the rivers mouth. I could make it, but I'd have to work hard so that didn't seem like a good idea. I paddled out along Penny Island's north shoreline and beat against the wind a a bit, then started crossing over the river to the boat ramp at the visitor center. The waves get pretty good right out in front of the boat ramp and one has to be pretty careful not to let waves come over the side, which I did ok, even playing a bit in the waves, before going to the boat ramp for the day.
Careful at the boat ramp
Now the wind was blowing waves into the boat ramp, so when my boat hits the ramp, it stops and waves try to come over the side to get me wet. To counter this, I run my boat up onto the ramp hard to make sure it's grounded good so I can stand up quick and get out of the boat fast and turn the boat before waves come over the side. Sometimes, I'm more successful at that than other times.Today, only a little water got into the boat, but I was already out of it.
Cool day at home
Anyway, I put the boat on the car and went on home. At home it was cool without much sun shining, so I wasn't eager to do much. But I did get out in the yard and did some puttering around. I cut some berry vines and did some prep work on getting my next repair job ready to go. As cool as it was, I didn't stay out long and besides it was getting dark early now, so I went in for the day and that was my day.