Thursday, October 1, 2015 Jenner CA.
I published two blogs today. This one and the one below which is from yesterday which you may want to read first.
Feeling better
I was feeling a little better this morning but I was still waking up much earlier than I like to.
I got it going and was off to paddle Jenner. The boat ramp was empty today except for one guy launching who I had a a chat with later when I met up with him again by the name of Dan, I think. :O)
Cormorants
I paddled across the river to Penny Island and started on up the river when I ran into these cormorants resting on this submerged redwood log. Can you spot the harbor seal there too?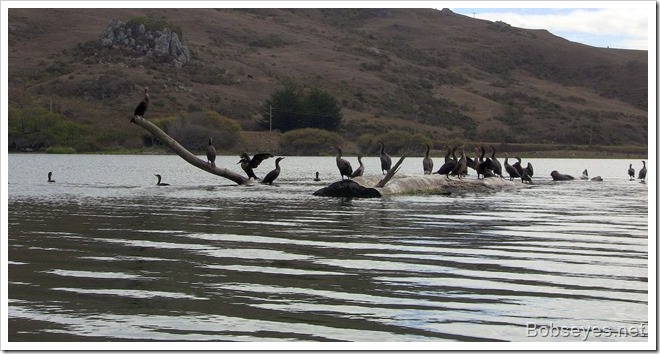 Geese
From there I paddled across the river to the north side to see what birds might be there resting along the shoreline.
These geese and a cow where there.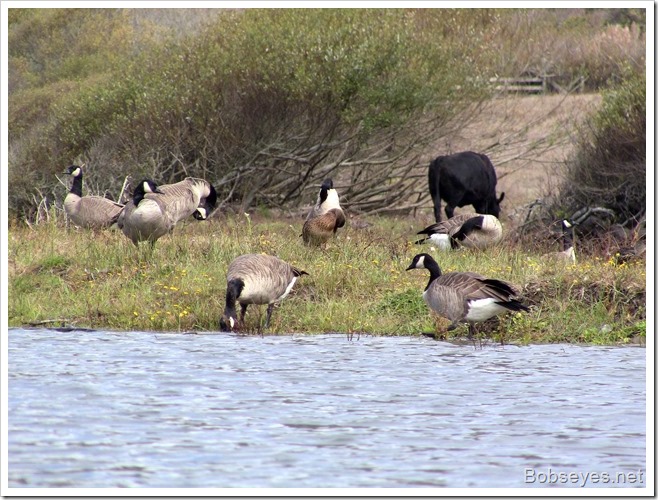 A chat with Dan
While I was taking pictures of the geese, Dan who I met at the boat ramp this morning paddled up. We had a nice chat before we parted and went different ways.
I paddled up the river a bit, not too far before turning back as I wanted to check on what the coming high tide would look like down at the closed river's mouth, so I started back down the river when these geese caught my eye, so I paddled on over to have a look as these ones are different from the other geese that have been hanging around here.
Kingfisher
I was watching the geese when I noticed this kingfisher on a dead limb not far from the geese. Normally these kingfisher's fly off just as their picture is going to be taken, but this one was still there after I had taken some pictures of the geese, so I focused on it and got some nice shots of it without it flying off.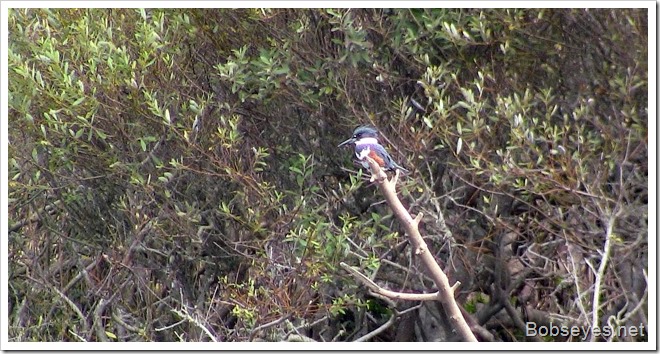 Fishing heron
I continued on paddling down the river along the islands north shoreline when I ran into this great blue heron fishing, catching some small little fish about an inch long.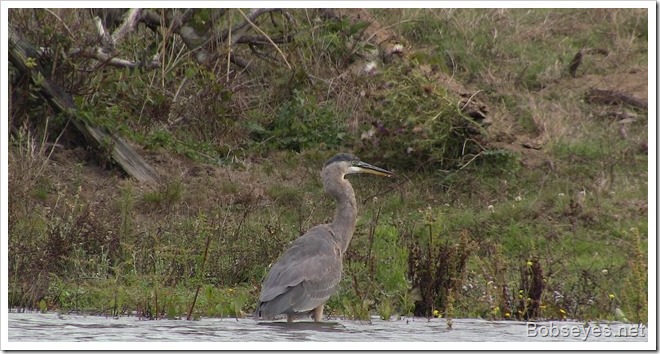 Dead deer
I saw the turkey vultures feeding on the dead deer from yesterday.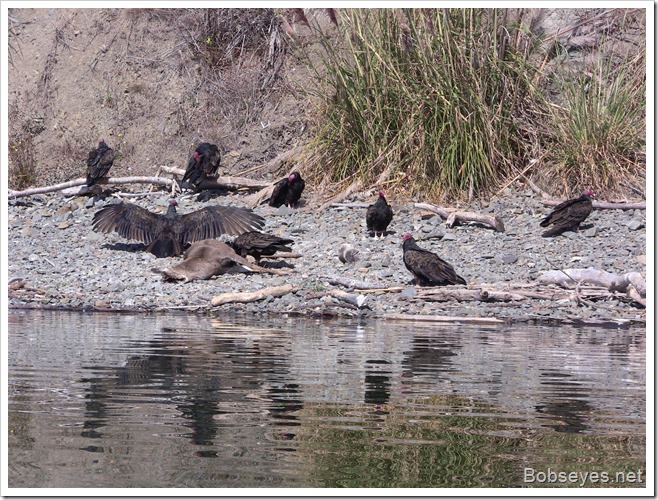 Not sure why that one has it's wings out sunning.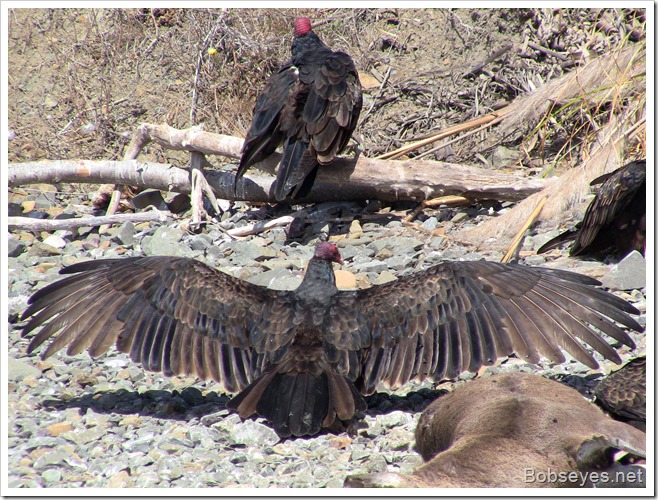 I didn't see my young turkey vulture from the nest here today. Maybe there were too many adult birds there today and it's pecking order was too low for it to be around until these older guys finished feeding?
The river's mouth is still closed
I turned to head over to the closed river's mouth which looked like this as I paddled.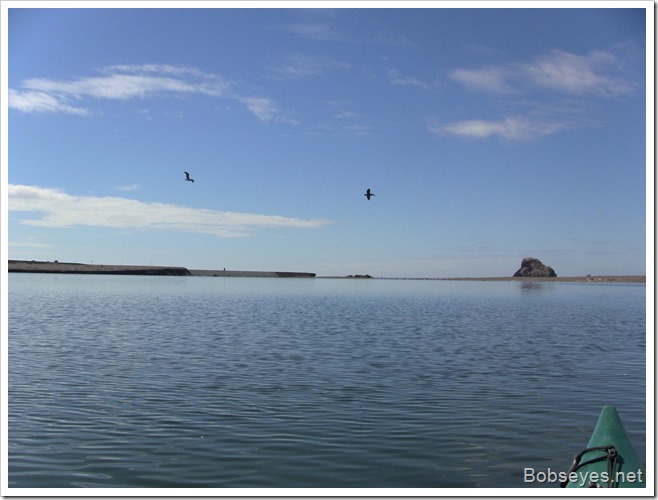 A couple pelicans where sitting there with some seagulls. The pelican on the right is an immature one.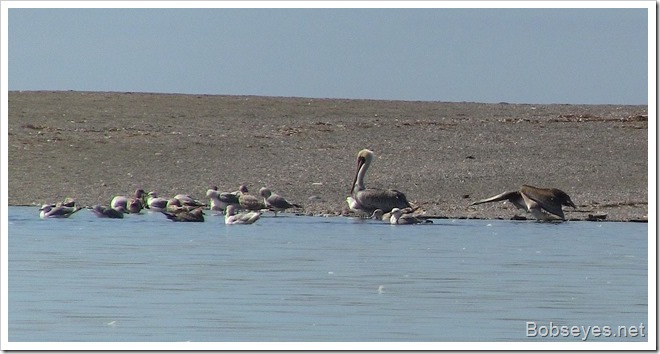 Closed mouth
There were a lot of seagulls resting on the sand at the closed mouth. I was able to get fairly close without them flying off. Here are some of the seagulls resting on the closed mouth as I looked over it into the Pacific ocean.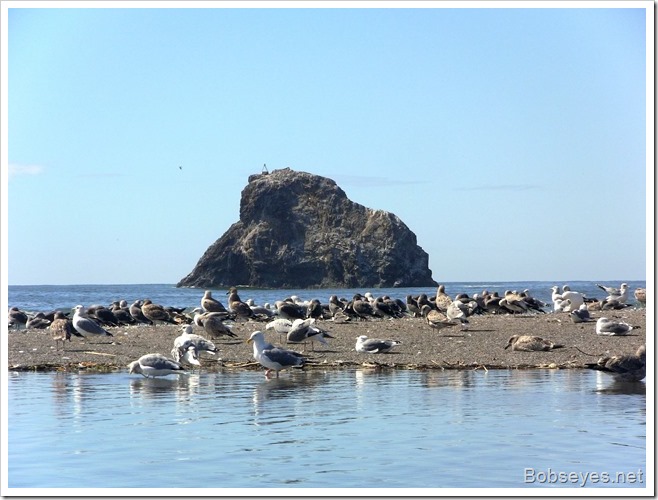 Now this is something
I hung around the mouth area for a spell, then started heading back up the river along the sandy beach when I spotted some more turkey vultures doing something up ahead.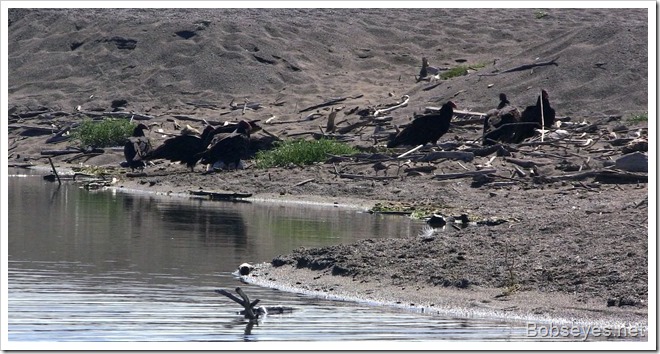 Sand shark?
I was surprised to see them eating this little shark as I've never seen any types of sharks in the estuary before. The vultures kindly stepped back as I approached to inspect what they were eating. You can see the shark just in front of my boat.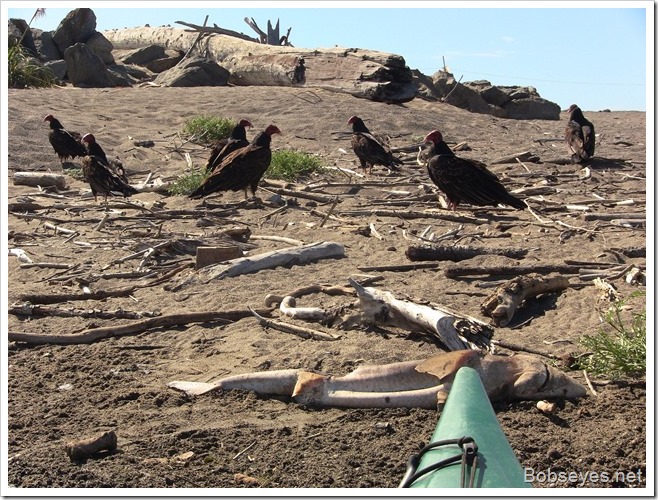 I told the vultures I'd only be a minute as I turned the shark over to record it's presence.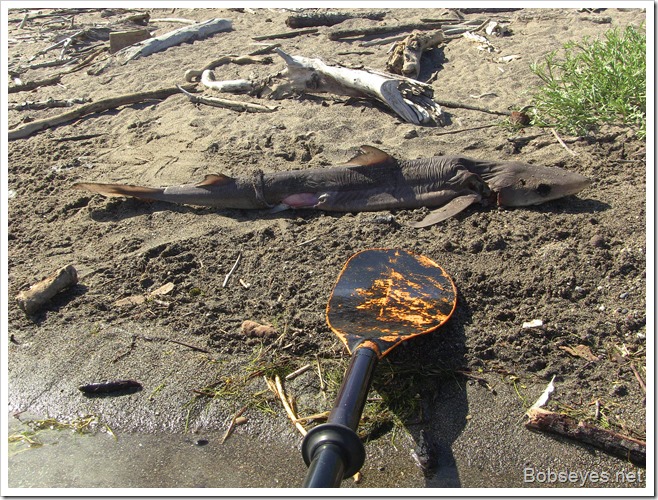 Some things can't be trusted
Like I said I'd never seen a live shark of any kind in the estuary, so this was a surprise, even to see a dead one. However, I've learned not to trust what you might see in the estuary, especially when it's dead.
I've seen ocean type fish in the estuary before that were dumped by humans. I've seen fisherman clean their ocean caught fish at Jenner and throw the remains in the river at the visitor's center. I once saw a big harbor dolphin in the river with it's head cut off which I later learned was from a guy who collects specimens for universities and scientists that pay him for the samples, so I'm not sure this shark was in the estuary or not, although, from where I found it, it may have been. I'm still skeptical though.
I paddled on in for the day from there and went on home.
Feeling better
Since I was feeling much better today, I did some puttering in the yard and put some more of my stuff away from my van from the recent trip.
Nice day.