Wednesday August 12, 2015 Old homestead near Mountain City Nevada
We broke camp and headed down out of the hills. We were headed to Owyhee, a small town on an Indian reservation. It has a small store and gas.
This was our view as we headed into the town of Owyhee.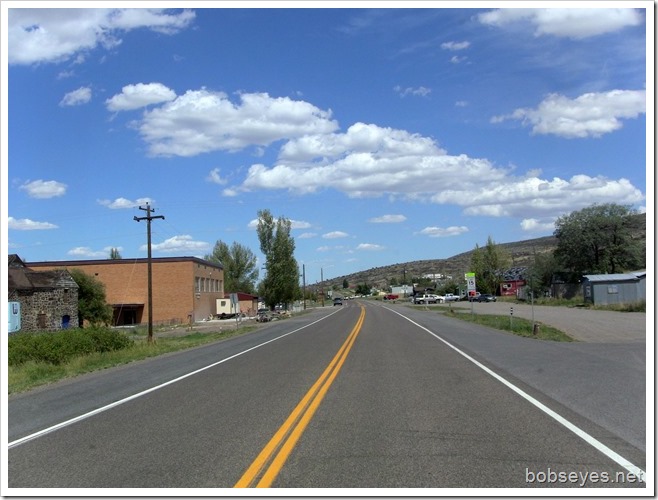 I knew I might get onto the internet at the local computer lab, which provides internet for the schools and some of the locals. It's sorta like computers in a library without the library.
I pulled right up in front of the building. It's not marked should you have to just know about it. The front door was closed, it seems they have a long lunch this time of year. So, I checked for a Wi-Fi signal and it was on so I got in the van and posted my blogs and checked email.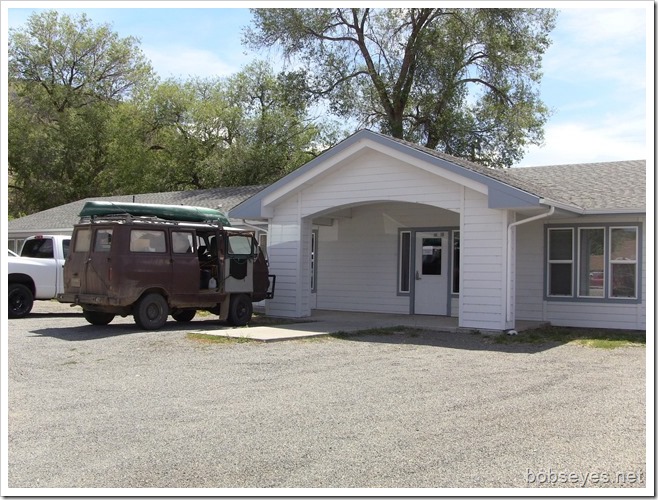 After that, we continued on through town to the Tribal store which also has gas. That's the store off to the right.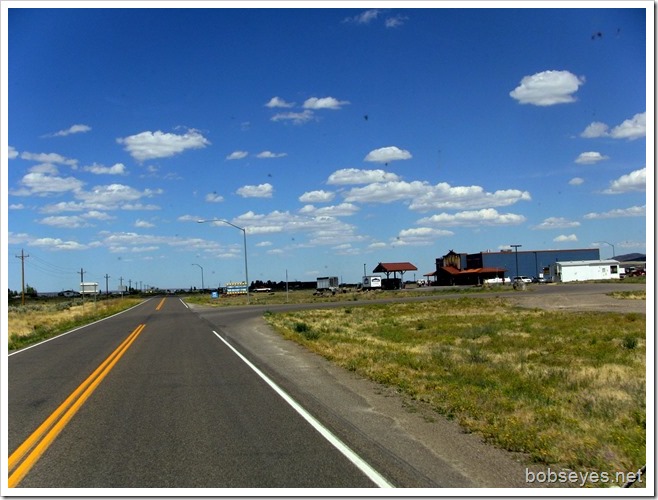 We gassed up. The gas pumps were pumping real slow as they always seem to be here, just slower today. A contractor driving though was complaining a lot about the slow pumps. At least he was able to get gas out here. He must of needed a lot as he was still there when we left. Steve iced up. I don't use ice, so I didn't need any.
After that, we headed back down the road south, the way we had come in and turned back up into the mountains just south of Mountain city where we had been earlier before going in for gas.
We are traveling back up in the mountains headed for a place they call Sunflower Flat where we'll find a camp for the night by a beaver area I found on the last trip up into this area.
Here we are traveling up this road, up into the higher mountains.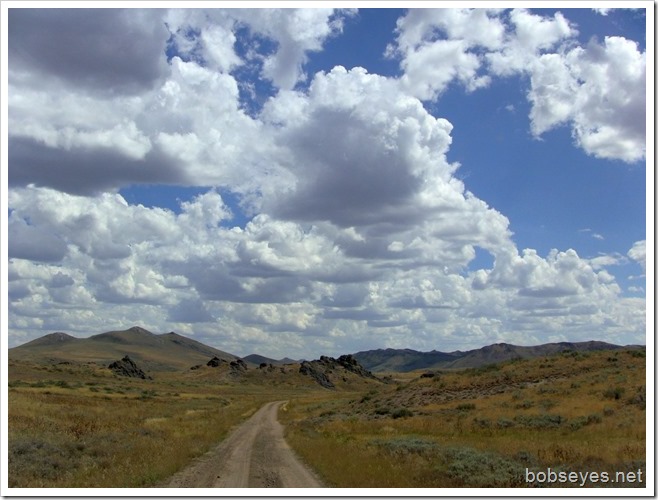 We pulled into the old home site there to see about camping in the spot. We then drove round a bit checking a couple more possible camp spots, before returning to the homestead spot to camp for the night.
I watched Steve pull up against this old house set up camp. I was wondering what can of critters would come out from under the house at night? We'd find out.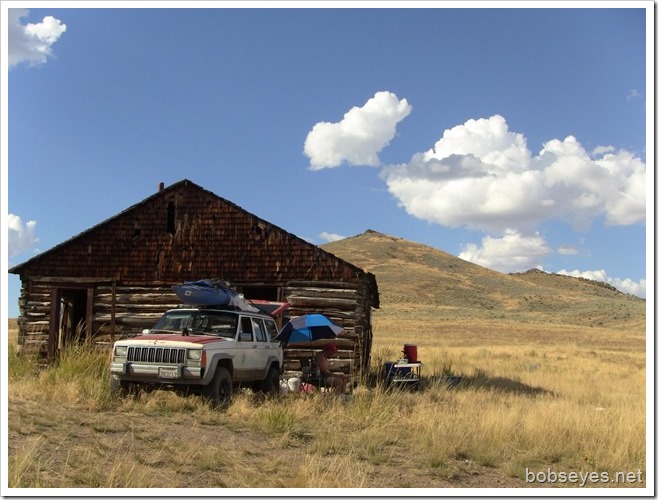 This was my view of the beaver ponds down below us where we went of a walk in the evening after the sun was low in the sky.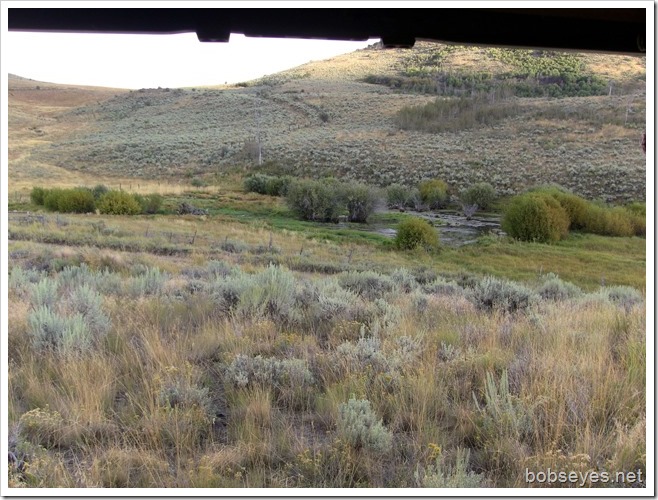 This is one of the beaver areas we saw when we went for our walk in the evening. There were some beavers here, but they weren't as active as other places. Lots of the beaver ponds in the area had been abandoned and some of them, the water had drained out of the pond area, so I could just walk into where the pond had been and look at all the old stuff the beaver had under the water in it's pond. You could see all it's runs and places they had dug out for mud and stuff like that, so I learned a bit more about beaver.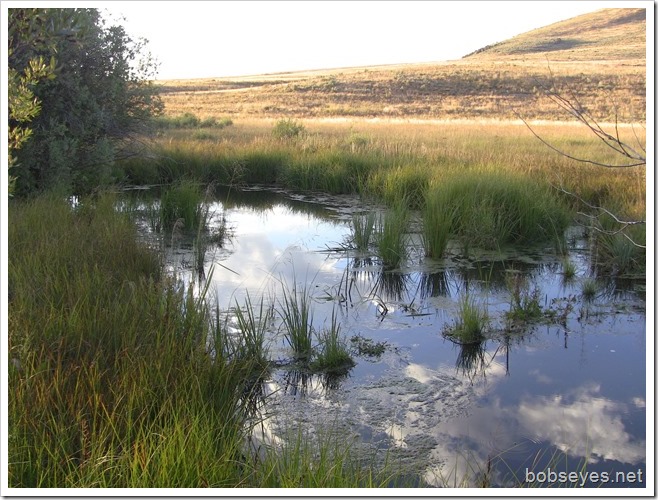 We had started looking up the creek first. When we got back to the road, Steve elected to  go back to camp while I continued checking out the area down the creek from us.
Here's Steve headed back up to where we are camped at the old home site.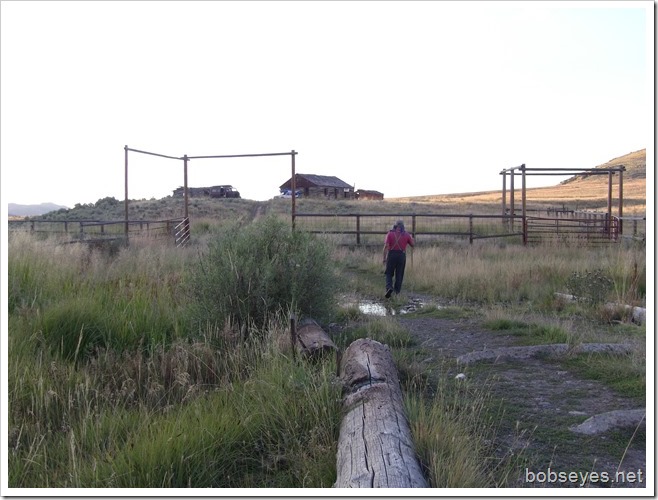 I walked down along the creek looking for beaver ponds to this area. You can see I'm below our camp at the old home site to the left of this picture.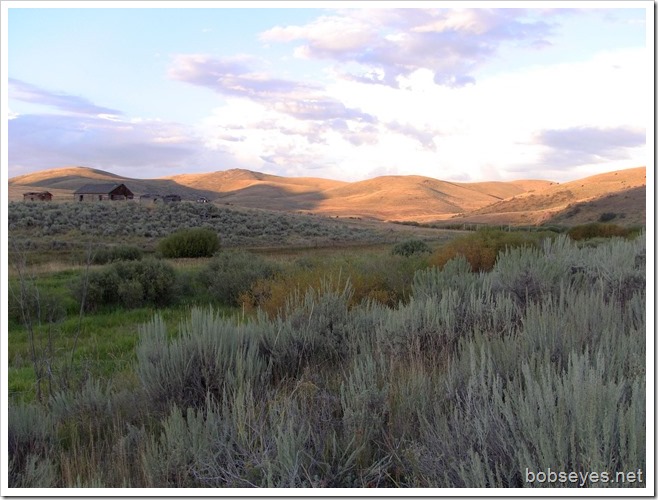 I was walking through this tall grass when I realized I was standing in the middle of an old beaver pond that was now, mostly dry.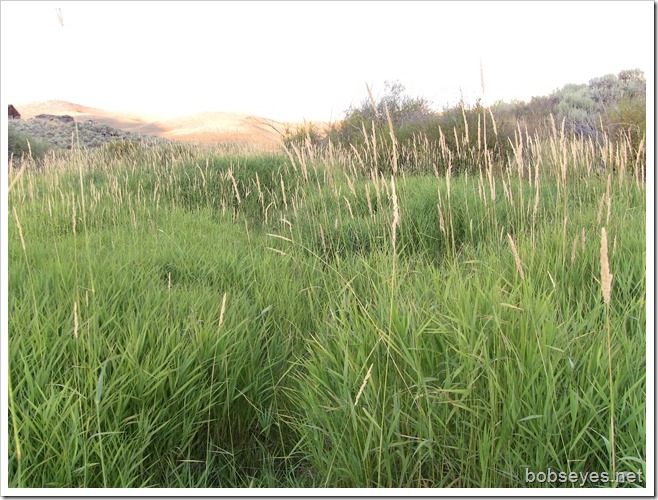 I stared looking around in the grass for the old beaver runs and just checking out what beaver do under the water in their ponds. The grass was thick so I could only see some of it.
I spotted their old lodge which is now high and dry. I'd say this lodge was about thirty feet across, a large one. I walked over and checked it out.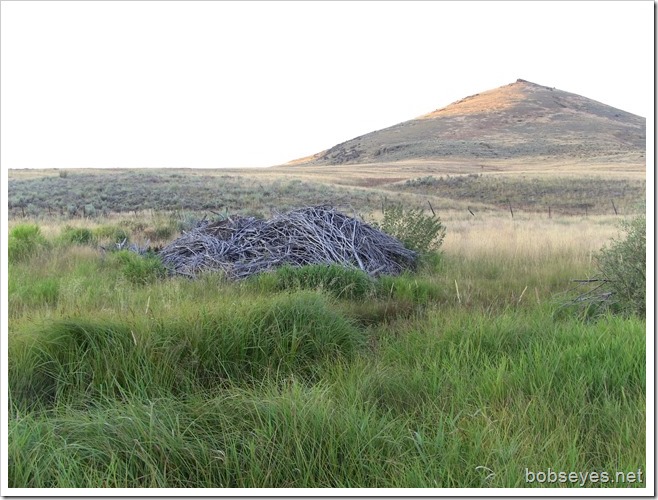 About  that time, these three large birds flew in looking for a place to roost for the night. I'm not sure what they are? Maybe Storks or some type of crane. I'm leaning towards storks. They where flying around circling, making interesting clucking type sounds as they went.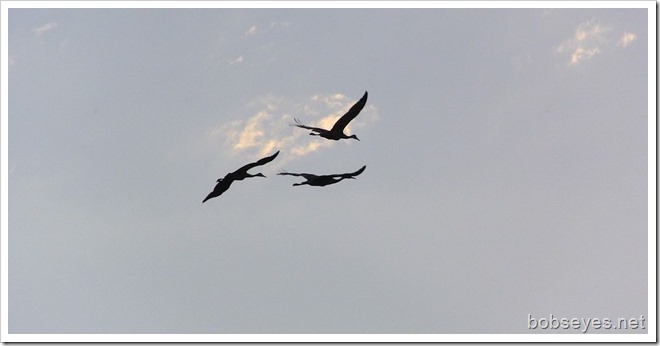 They finally settled down close by with quite a chorus of clucking.
The day was starting to cool down. This was my view back towards the camp site just before I started back  to it from my walk. The afternoon clouds were starting to build.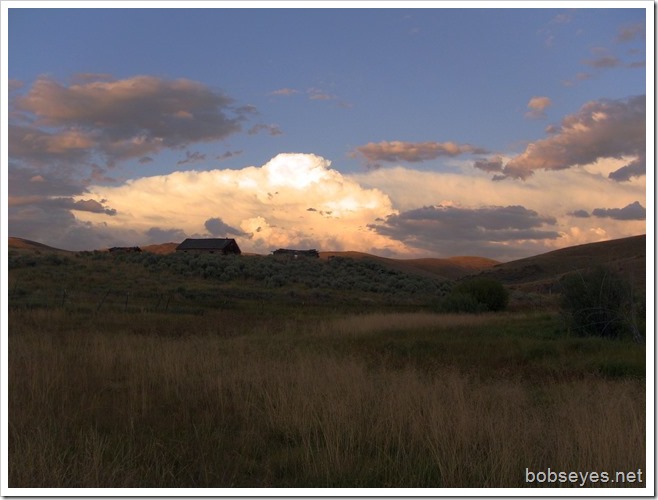 As I approached our camp spot, I could see Steve sitting in his chair enjoying the evening.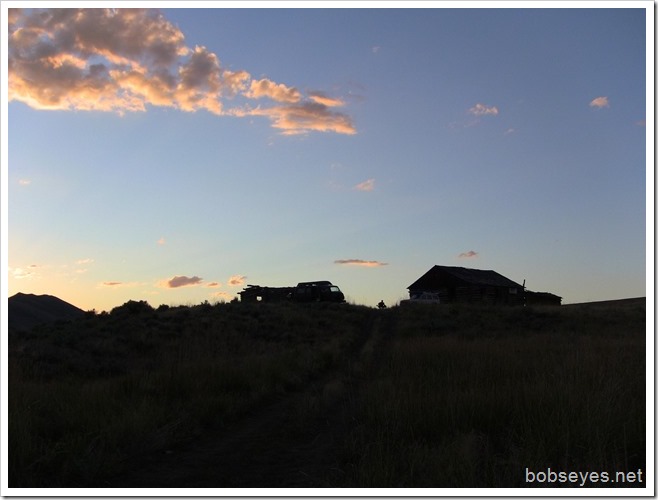 When we first got to this camp spot it wasn't too exciting, partly because it was hot and there aren't any trees for cover.
But as evening set in and it started to cool, this camp spot really started to shine. It was very pleasant sitting under the stars with a cool breeze and lightning and big clouds off in the distance.
Steve was over pocking around the cabin with his light when I heard him exclaim. Wow, big rats in here, bigger then he'd see before. I looked and I just barely saw one of them which I think were marmots. Later we did see some big rats too. Steve says there go some little mice. They shot around in the grasses like little rockets.
Eventually we went to bed and didn't have too much trouble with all the critters.
The plan for tomorrow is to maybe stay here or move to Scott's homestead on the Bruneau river. We'll see what we feel like doing tomorrow.
Nice day.
(Visited 130 times, 1 visits today)