Wednesday February 25, 2015 Jenner CA.
Nice day at Jenner
The wind was down as I drove into Jenner this morning and the sun was out. Sure looked like it was going to be a real nice day out and it was.
As I was putting my boat in the water, some seals were making a lot of splashing noises right out from the boat ramp. I put my boat in the water and followed them all, working our way up to Paddy's rock.
This was what some of the seals splashing looked like. They seemed to be frolicking or maybe chasing smaller fish, such as smolt. I did see one ten inch trout looking fish jump out of the water, but I can't really be sure what the harbor seals where doing.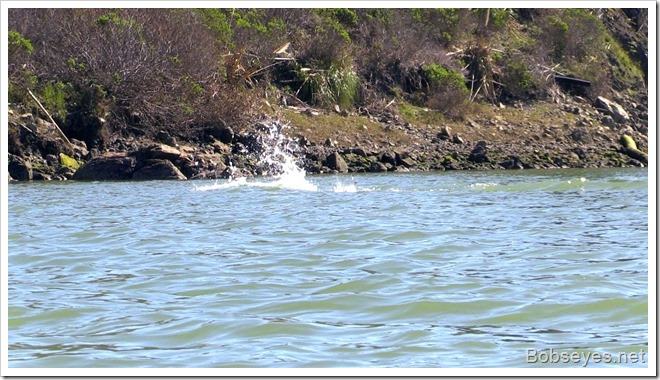 They would come to the surface once in awhile and then all shot off again moving rather fast in the water. I don't think they were chasing steelhead as there were no seagulls around to eat the scraps from a bigger fish, that's why I think they might have been chasing schools of fish that were smaller and could be swallowed whole under water where I couldn't see what was going on.
Here's some of the harbor seals I was watching as I paddled on up the river.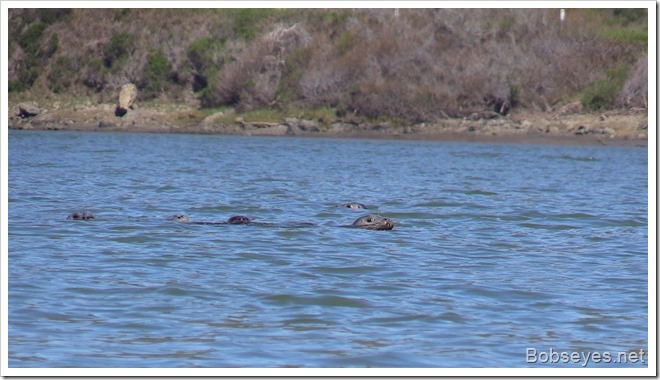 I stopped in this spot for a rest and watched the seals.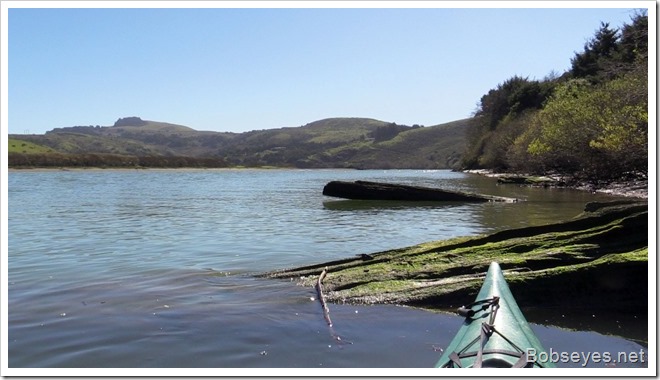 I passed this great blue heron fishing.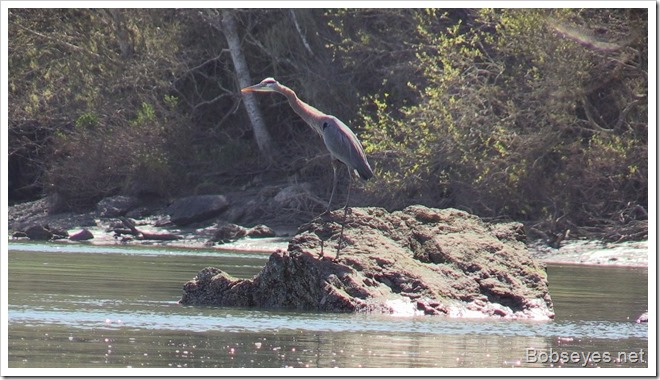 Made it to Muskrat Nest Beach
I made it up to the muskrat nest area where I could see two kayakers coming down the river toward me. It turned out to be Mary and Rob who live just up the river. We shoot the bull for a bit, then they continued on down the river which is what you see in this picture.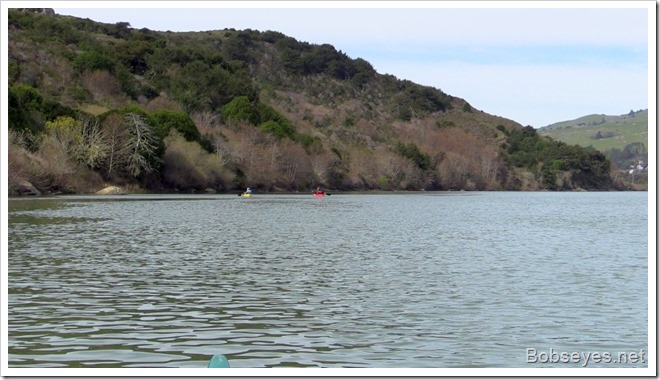 Hike up the hill
Eventually, I followed in their path to Eagle's landing where I intended to go for a little hike up the hill to Lower Lookout Point. I put ashore at Eagle's landing and finally made up my mind to start up the hill to the lookout point.
There are some deer trails I followed up the hill going through this area of ferns with lots of poison oak in it too. Lots of poison oak in this area.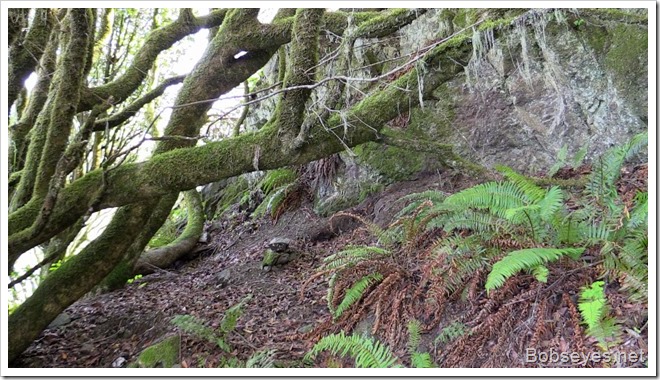 I sat on this little rocky spot for a good while watching the river below.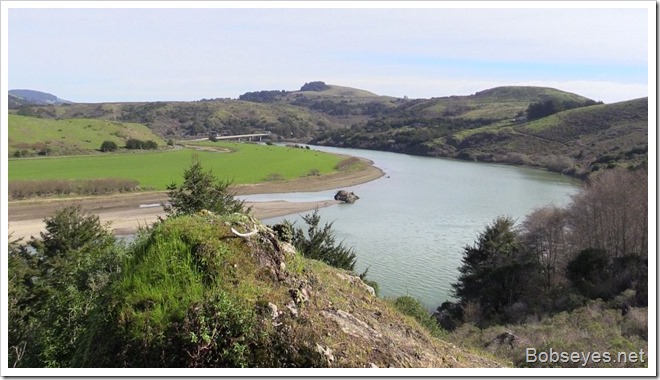 Across the river, up on the ridge top, I heard a big thump and looked over to see this dump truck dumping dirt at the dump site there.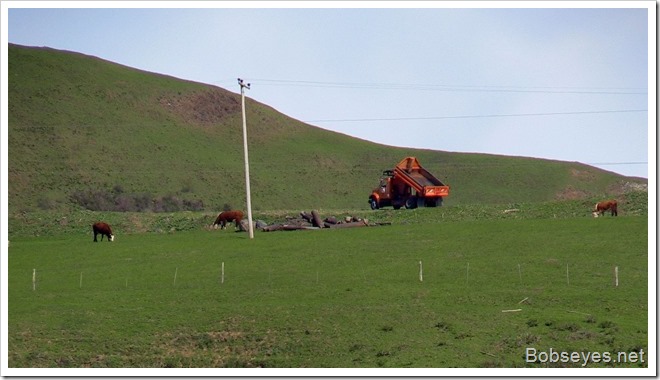 I continued on up the hill, resting often as it's mostly up.
Lookout Point
This spot s Lower Lookout Point. I sat just behind the flowers about in the middle of this picture and watched the river below for quite a spell, just enjoying the day in the nice sunshine.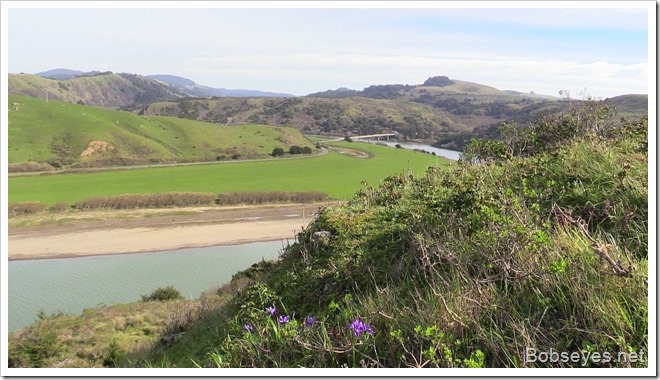 Here's a closer view of the wild iris flowers at this spot.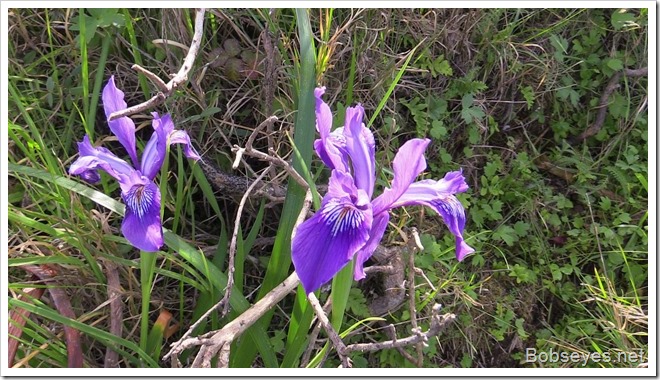 Jenner
This was my view of Penny Island with the town of Jenner behind it.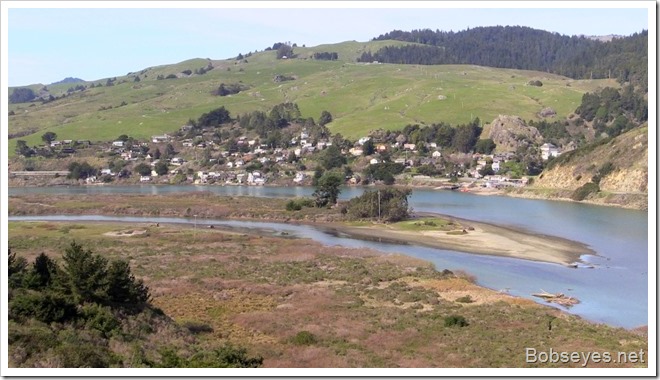 Merganser ducks
I must have been up on the hill for about an hour before I started back down. When I got back down I sat on the shoreline for a bit, resting. There were a bunch of merganser ducks across the river, making chittering noises and darting around. There was some kind of frolicking going on.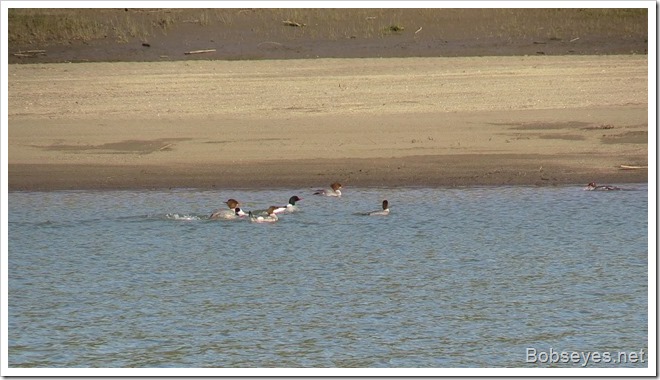 Headed to the river's mouth area
I got back in my boat and headed down the river going through the Penny Island back channel headed down to the river's mouth area to see what was going on.
There were a least a couple hundred harbor seals resting on the beach and a lot of seagulls too.
Here's just a few of the harbor seals sitting just inside the open river's mouth with haystack rock in the background.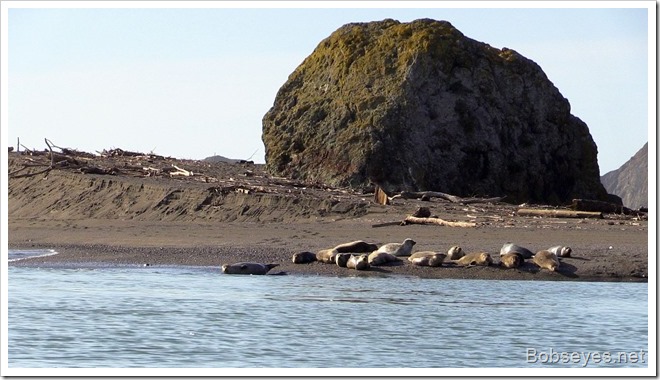 There were quite a number of cormorants resting on rocks down there too. Here's just a couple of them.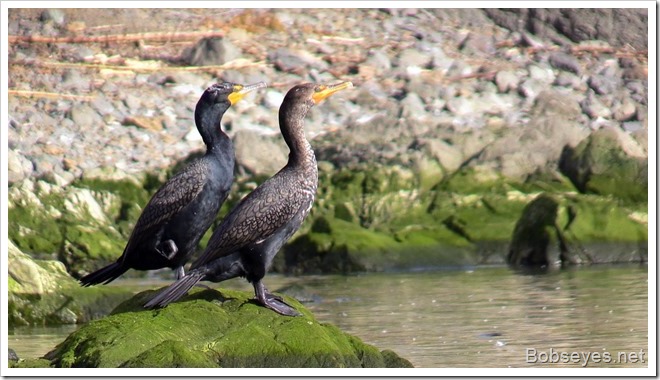 It was about four PM when I started back in for the day. I passed by these goldeneye ducks as I was headed to the boat ramp to the left of the picture.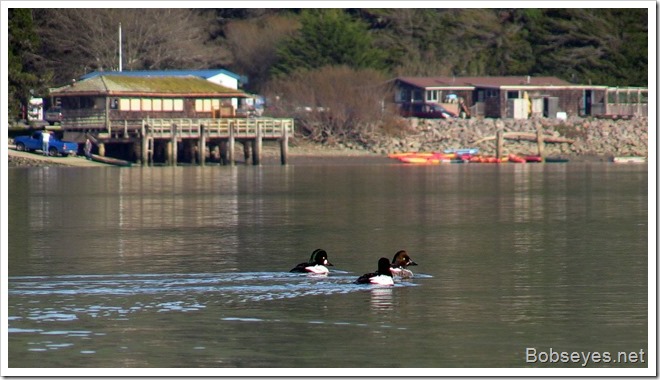 I went on home and hit the couch for a nap as I was plumb tuckered out and that was it for another nice day at Jenner kayaking away.
(Visited 113 times, 1 visits today)