Wednesday July 27, 2016 Jenner CA.
Tired out but going anyway
I was tired out when I got up and got it going this morning and I could of just stayed home, but I made myself get it together and head out to kayak Jenner today dragging my butt all the way.
The fog was moving in and out waffling around as I put my boat in and paddled across to Penny Island. I could see Steve sitting over there by the reeds in his kayak waiting for me to catch up.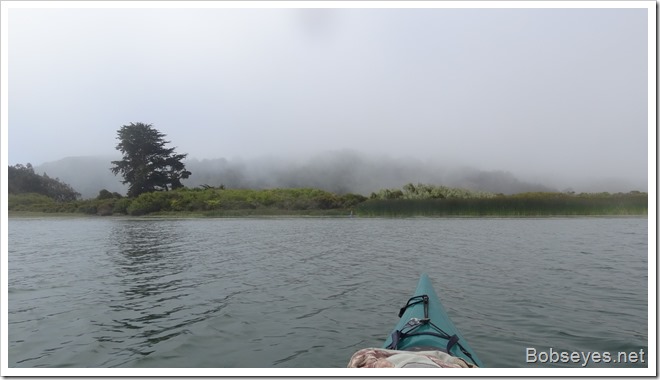 We sat around there by the island taking it easy while I tried to wake up a bit more, but no doubt about it, I was tired out today, so I informed Steve I was going to take it easy, which I usually do anyway. :O)
We headed on down towards the river's mouth as the fog would come and go. I heard it was hot everywhere else, but not here.
There were plenty of harbor seals down that way, here's a few of them laying in the sand in the shallows in front of the jetty. The river's mouth is open, but is starting to close.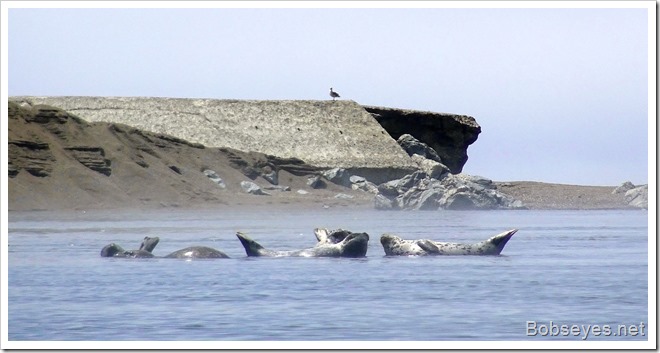 Sat at Haystack rock
We paddled on down to the side of Haystack rock and sat for a spell just resting up and checking things out.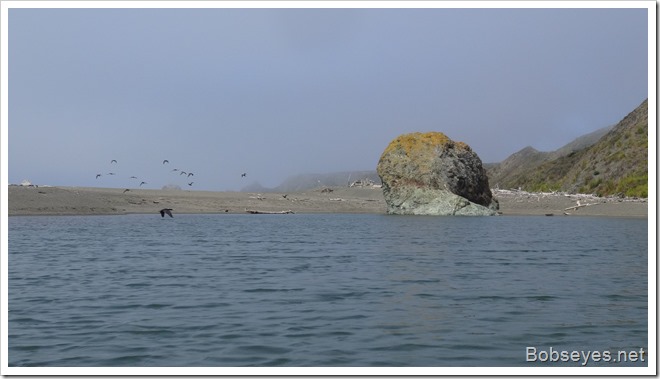 Here's our view from Haystack rock looking back up the river.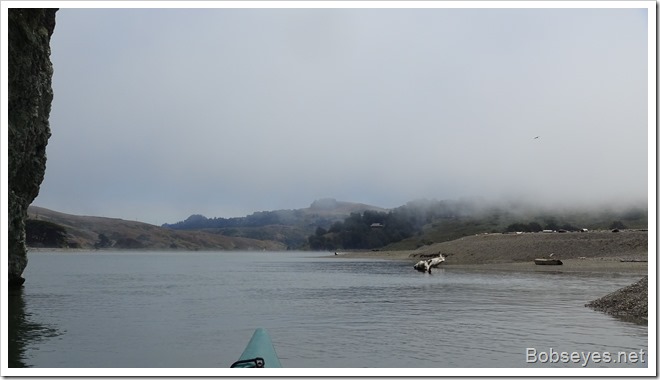 Eventually we moved on back up the river going up Penny Island's back channel where we went past some geese resting on the shoreline on the island.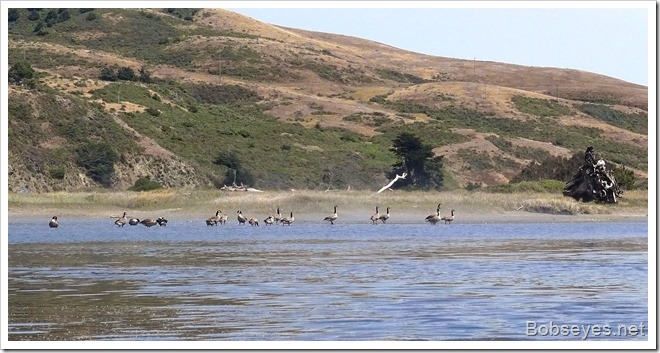 We paddled on up the island's back channel headed up the river a bit. The fog had lifted for a bit as we paddled along.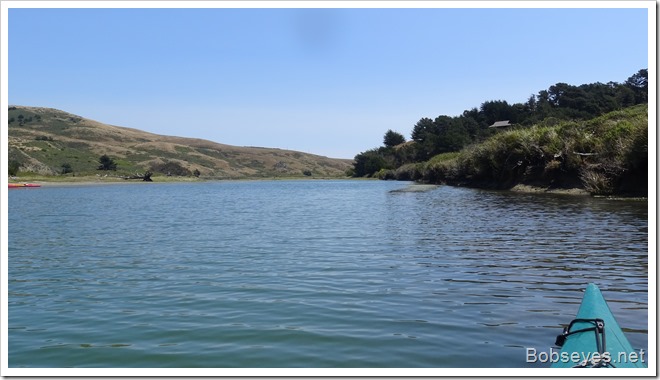 We could see some pelicans and cormorants and some merganser ducks resting by Paddy's rock as we paddled on by.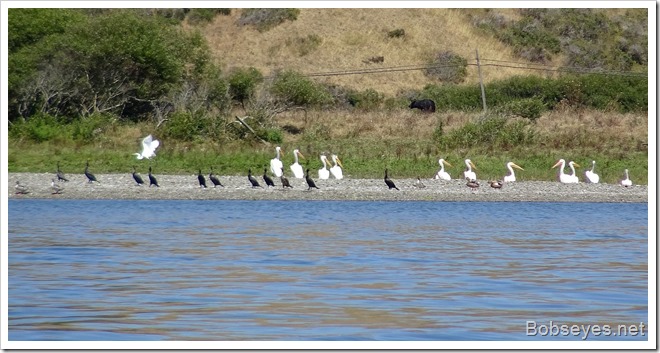 We continued on up the river along here taking our time and looking for shady spots along the way.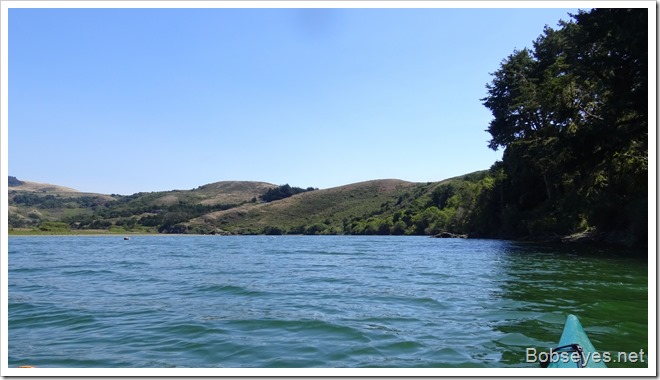 My friend the turkey vulture
We went up to a place I call the Grotto and spent some time. The fog was starting to come back in so Steve wanted to go ashore at Paddy's rock to put on his wind breaker. While he was doing that, I was sitting in my boat just behind Paddy's rock when my friend the young turkey vulture landed just in front of me. It was just resting and got a drink of water and sat there with us for a half hour or so.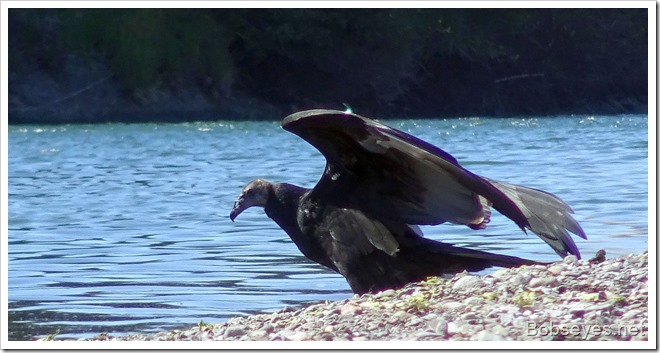 We left and the vulture took off. Not far down the river we paddled by these birds resting on the shore.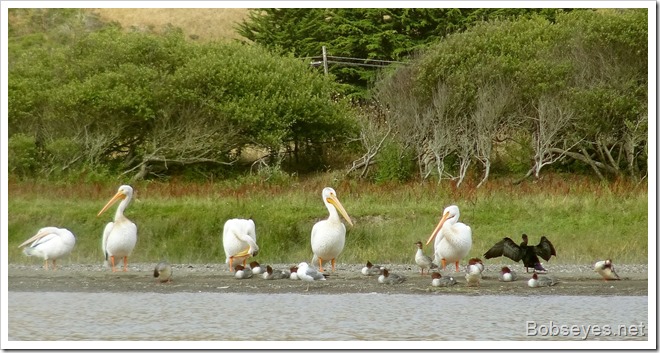 Fogs moving back in
The fog moved in for a bit and it looked like this as we paddled along just above Penny Island where you see the trees in the fog.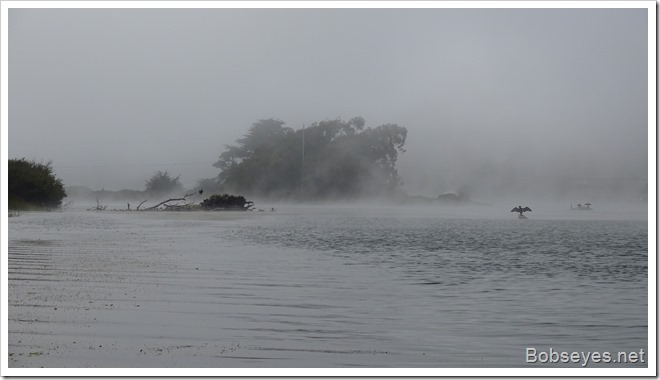 We passed some merganser ducks. This one was keeping a nervous eye on us.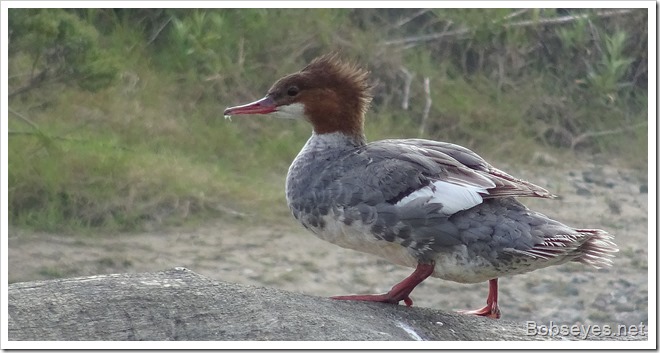 The fog had lifted a bit as we came around the island and were crossing over to the boat ramp at the Jenner visitor center just across the river from here. Mallard ducks were feeding in the weeds just in front of us.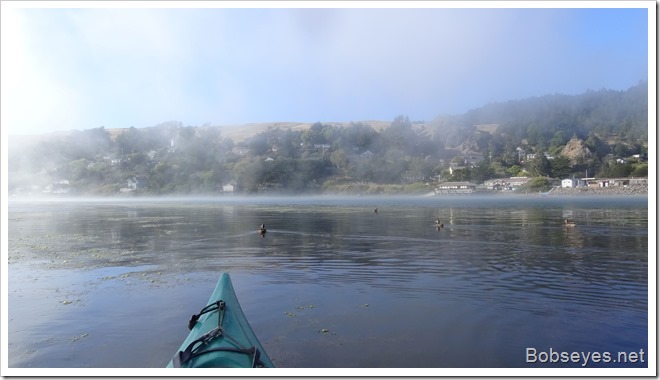 Working on the alternator mounting bracket
I went on home for a nap and eventually went out to see what I could do with the new engine. I didn't have much energy, so I wasn't planning to do much, but I needed to study things to figure out how to mount the alternator to line up the duel pulleys. I found a cardboard box on the ground that was just delivered that had some alternator brackets I had ordered. I discovered early on that one of the sets was for a long water pump, not my short water pump. I wasn't sure any of the parts would work, but I figured I could make something work out of what I had so I studied away and couldn't figure anything out, so I used the internet to find alternator mounting bracket images and found some pictures that showed how the mounts I had should work.
I got the alternator mounted on the lower side of the engine with the mounts I had, but the pulleys where offset an inch and a half. I decided that will work. I just have to make two, inch and a half pipe spacers and find some longer mounting bolts and I should have a good alternator mount.
It got dark on me while I was figuring that out, so I finally had to quit and go on in the house for the day.
That was my day.
(Visited 205 times, 1 visits today)