Tuesday December 13, 2016 Guerneville CA.
Drilling the new well continues
Eight AM this morning I heard the Fisch Brother's drill rig startup. I was already up so I went out to see what was going on. They were warming up and getting ready to get started drilling.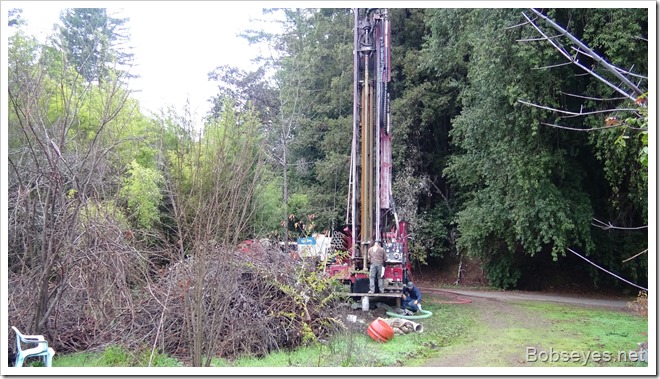 Drilling to two hundred feet
The plan was to drill to two hundred feet if necessary, so they started drilling with air today, that's why all the mist in the air.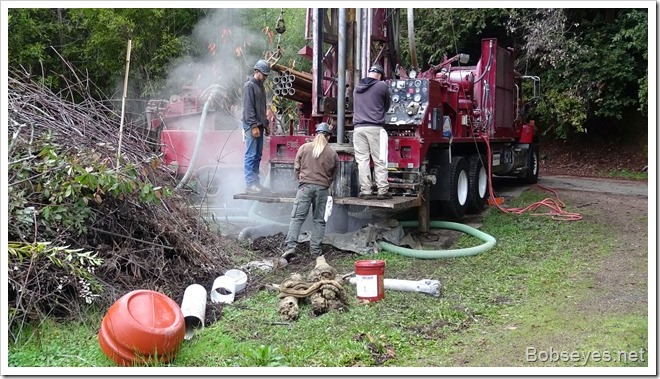 They drilled away and my brother Tom who is partners in this deal came by to check it out.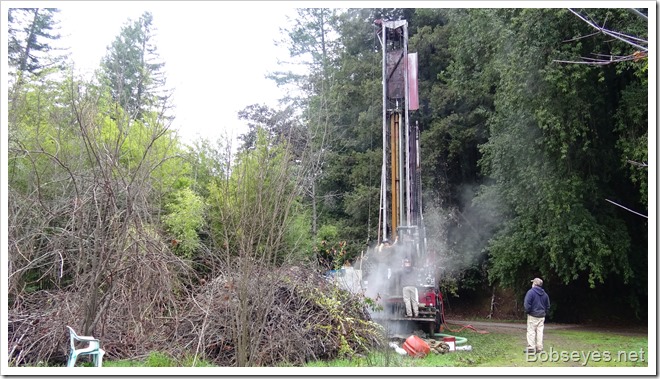 The roll of the shaker
This is the shaker that separates out the stuff they drill from the water that they are using with the air.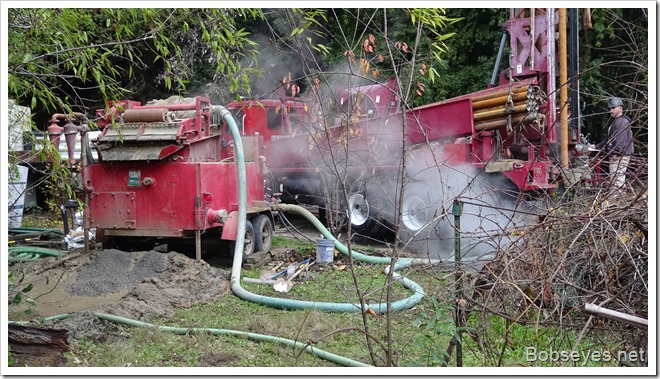 Whatever they are drilling in comes down this shoot. The material is watched closely to determine what's going on in the new well.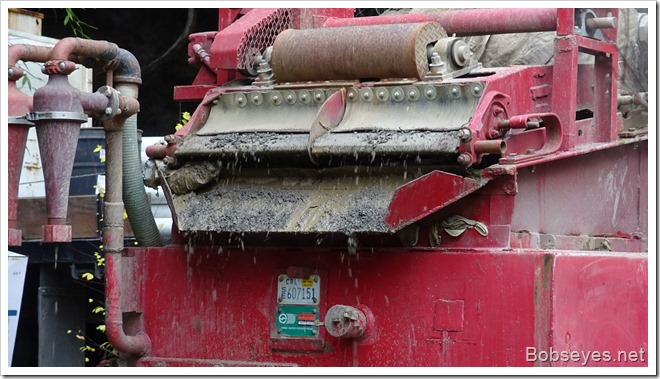 They look at this from the shaker. This is the right kind of rock, but no water so far.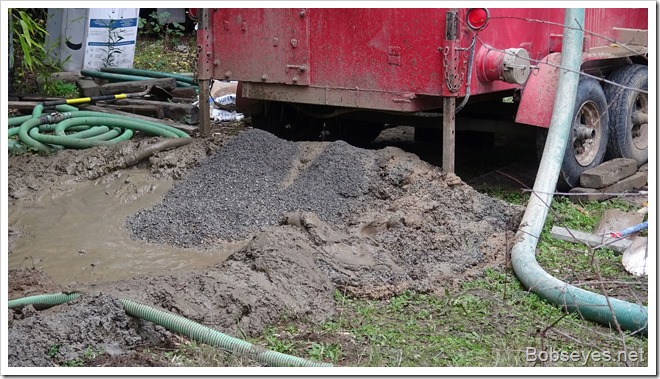 We drilled to two hundred feet
They drill to two hundred feet in an hour or so, but no water, so I have to make a decision. Sitting there watching them, I'd decided to go to a maximum depth of 300 feet if necessary.
Steve came over to talk with me about it and I said lets go to 250 feet and take another look, so they kept drilling away.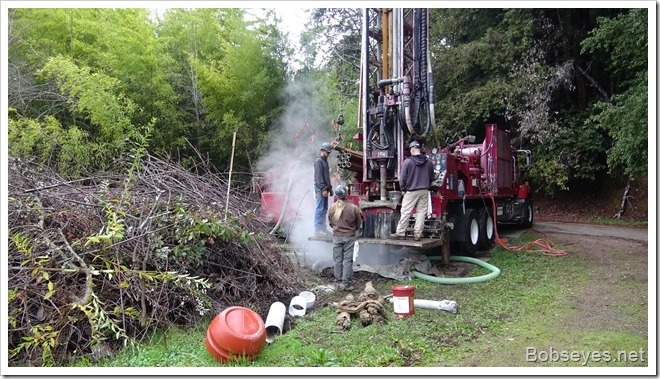 Quite a bang
Just as they started drilling again a loud bang whet off and for a bit I thought they must of hit gas, but no. The upper hose that air was going through to the drill bit blew out, which is the black thing in the picture.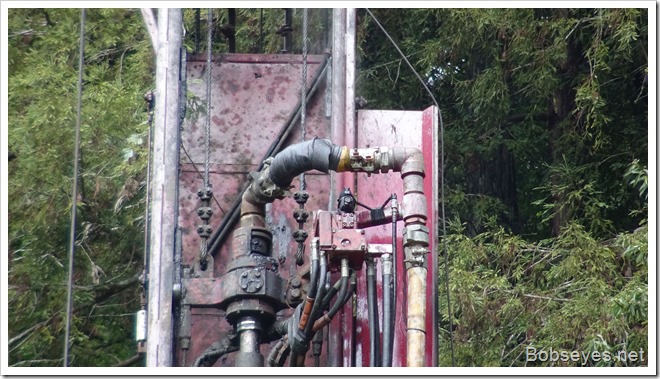 They got their big wrenches out and worked on removing that busted air hose.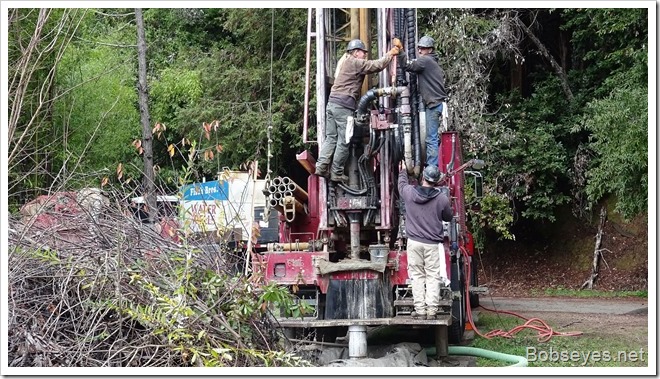 They had a spare on the truck so they worked on installing it.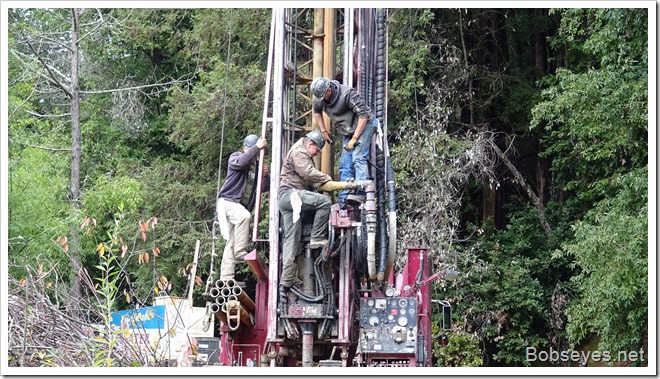 Going for broke
That done, they continued to drill to the 260 foot level and still no water. Even though it didn't look good, I told them to drill to the maximum of 300 feet as we already had a pretty good investment, so we might as well go for broke.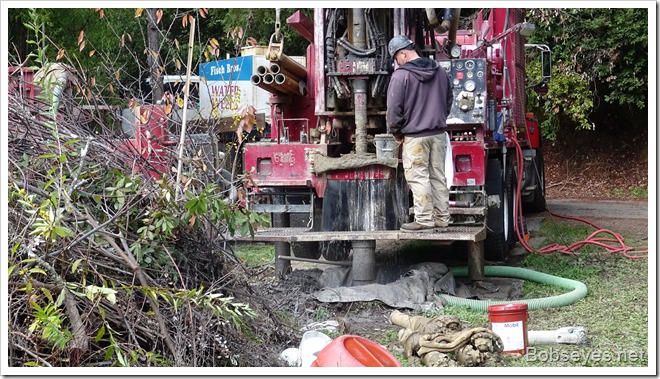 They continued drilling and in a short time they were at three hundred feet.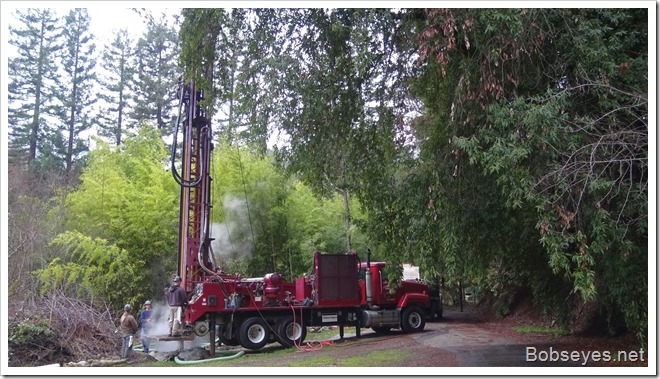 No luck and they fill the hole in
But still no water and that was the limit as it's mostly a waste to try to hit the Franciscan fault below that point, so they pulled the rig out and backed the truck in with gravel which they put in the hole to fill it back in.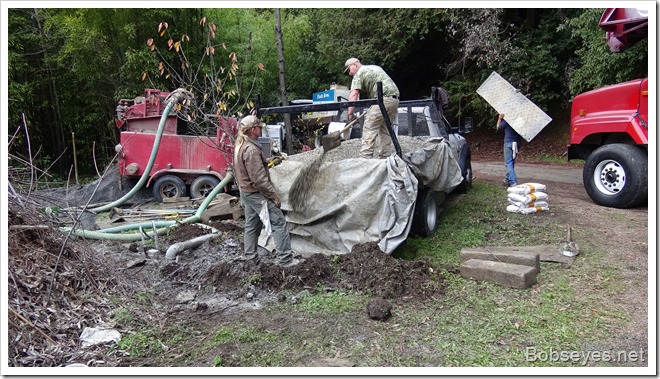 Chip sealing the hole
They put chip seal in on top of that to seal up the hole.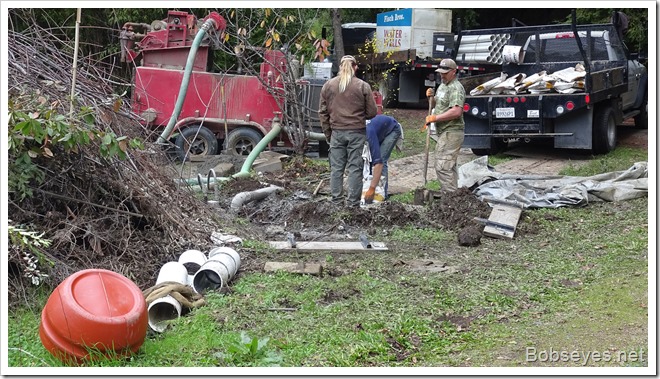 Cleaned up and went on home
That was about it. They did some cleaning up and went on home for the day.
Fortunately, this wasn't a must have well as we have plenty of water right now from other wells and springs, so things aren't really too bad not hitting water except for the hit on the pocketbook. :O)
I got lots of drilling going on
Between the well driller and the dentist, I'm really into the drilling this month and next month too with my dentist.
Tomorrow if weather permits, I hope to be back on the water kayaking. And tomorrow, I hope the telephone company gets my phone line back to the right number so my internet access will return.
Posting from the golf cart
As it is I go over next door to my brother's and sit in his golf cart and connect with wireless to his internet connection. It's raining a bit now, so I'll put my coat on and go give that a try.
(Visited 209 times, 1 visits today)