Friday July 1, 2016 Jenner CA.
Engine hunting
This morning I got it going enough to make a couple calls to see about getting a new or rebuilt long block engine for my van. I'd like to put a new one in there so I called the local Chevy dealer to see if anything is still available. No, Chevy doesn't make anything to replace that old of an engine and I always wonder if the kid looking it up really knows what he's doing or just laughing at me. :O) Dead end there.
Next I called a guy in Texas who rebuilds them and he says the 250's are real scarce and hard to come by. He recommended I switch over to a 350 V8 as they have more power and there's lots of them around for a reasonable price. That engine would mostly drop in, but I'd still have to change some stuff so even though I can see a V8 would be good for the van, I'm not really into it, at least yet.
So after thinking about this all day, it seems the best thing to do is pull the head off this engine to see how bad things are messed up in there. If the piston is in good shape, I might just get a rebuilt head or have this one done.
So tomorrow my job will be to pull the engine head and see how things look.
Headed off to Jenner for a paddle
I drove on down to Jenner and put my boat in and was relieved to see not too many people kayaking here yet for the holiday.
I paddled across the river to Penny island and sat around in the mossy shallows for a bit deciding which way to go for the day.
While sitting there I noticed this little crab just sitting there. I think it's some kind of rock crab about two inches across.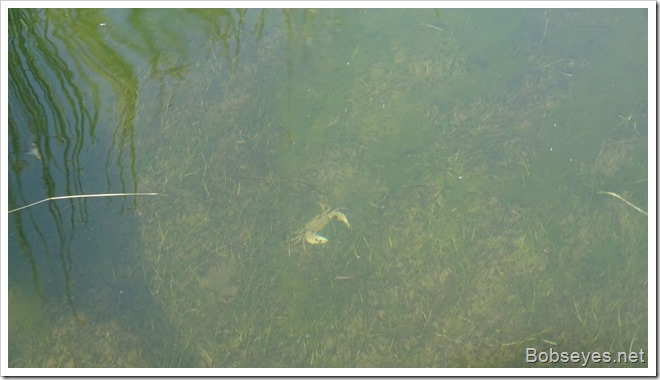 I decided to head on down to the mouth area and stopped at the bottom end of Penny island here for a bit before heading across to the mouth area.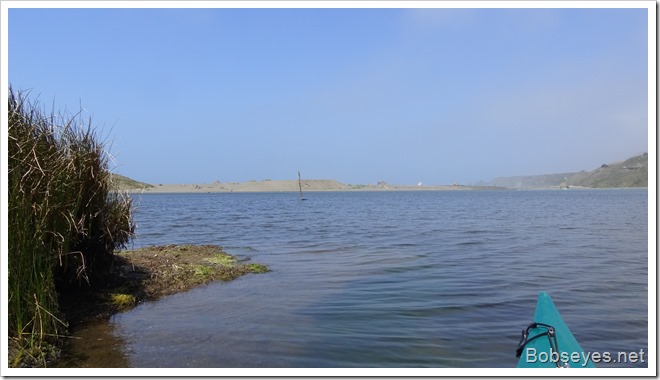 Headed to the river's open mouth
This is my view as I cross over the river and head to the mouth. The open mouth is on the left where the white ocean water is splashing off the jetty rocks.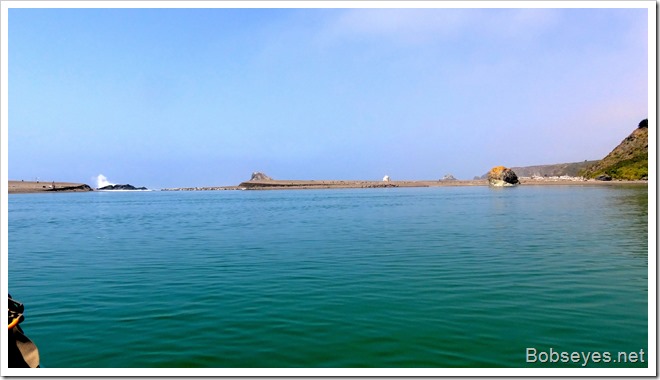 As I watched these brown pelicans flew in from the ocean from the south and landed here and started preening. This is the first time I've seen the brown pelicans around here for awhile.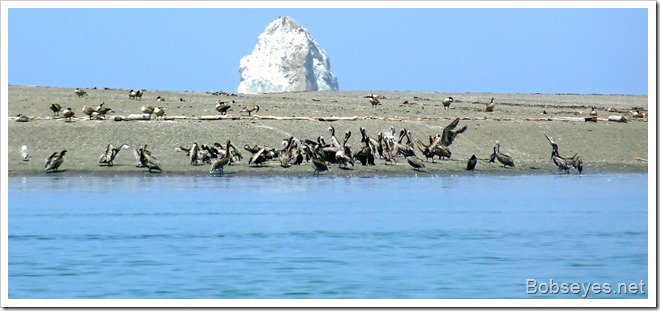 I spent some time sitting in front of the open mouth watching the ocean waves break over the jetty rocks.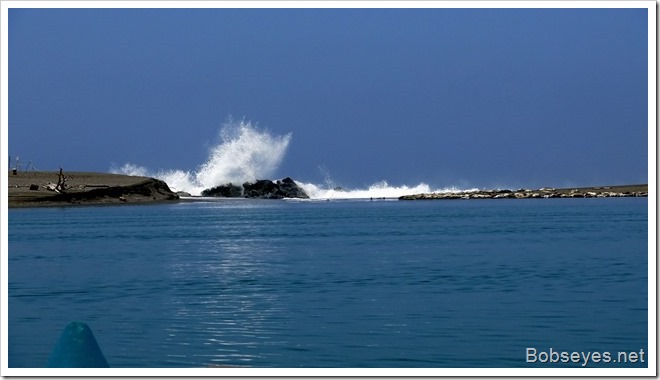 There were lots of harbor seals resting on the sandy beach.
Seagulls diving for crab
From there I went over by the shoreline just under the overlook area to watch some seagulls diving for little crabs. They float on the surface until they spy a crab under the water, then jump into the air and dive like this to get the little crabs in the shallows. This one missed.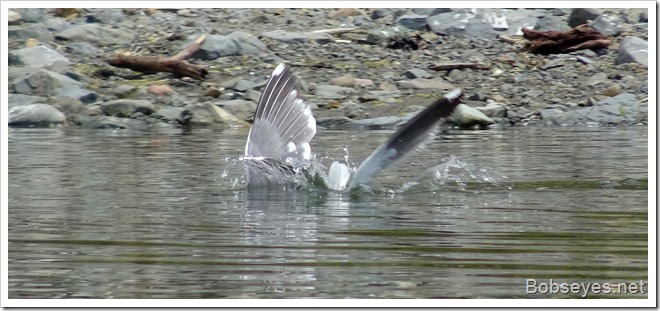 While I was watching the seagull in the rear jumped up and chased the other gull off with a lot of squawking and they flew off.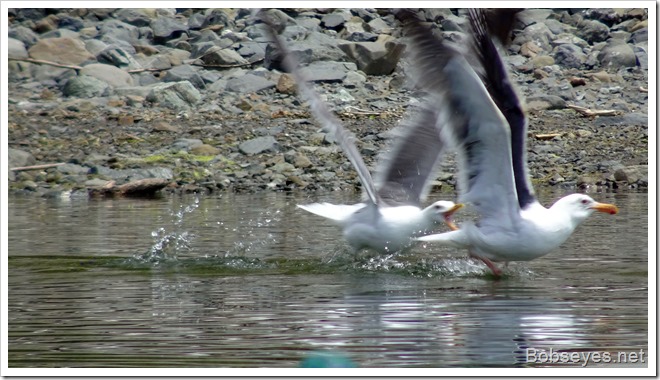 And the bobcat
I thought it was just chasing the other gull off, but I'm not so sure as next I saw this.
Just above them was this bobcat watching them. By the time I got my camera up, it turned and this was all I could get.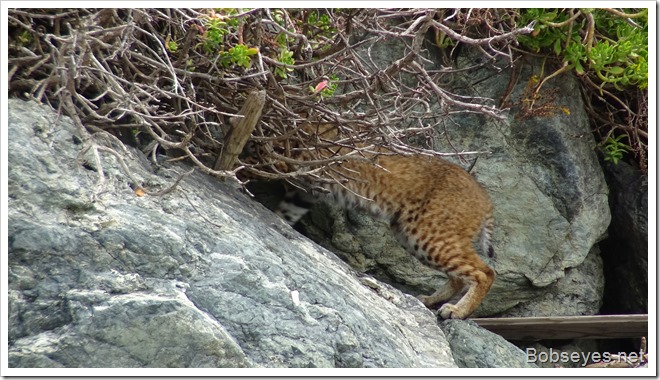 From there I made my way over to the back channel of Penny Island and paddled up it along here. That's the island on the left.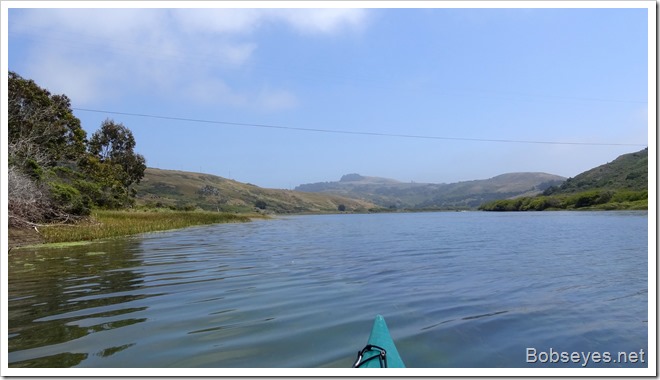 Going for a walk where I haven't been before
Near the upper end of Penny Island, I decided to do something different and go to shore here on the south shore of the river by where the houses are in this area. I was thinking there might be some wild blackberries there.
I went to shore here.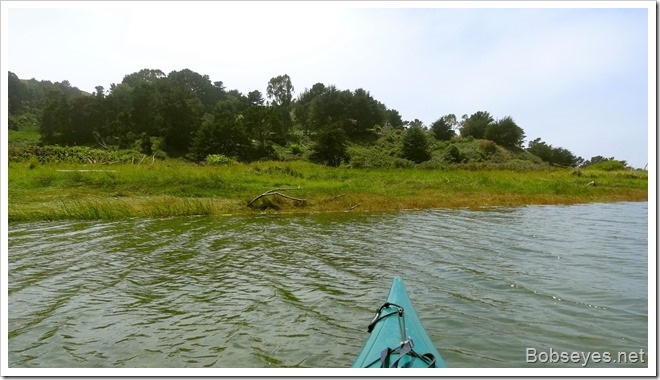 Eating blackberries
Sure enough I found some blackberries to eat and I explored around a bit.
I found a mound of dirt that was piled up long ago and went to the top of it and took this picture looking over to the town of Jenner across the river from here.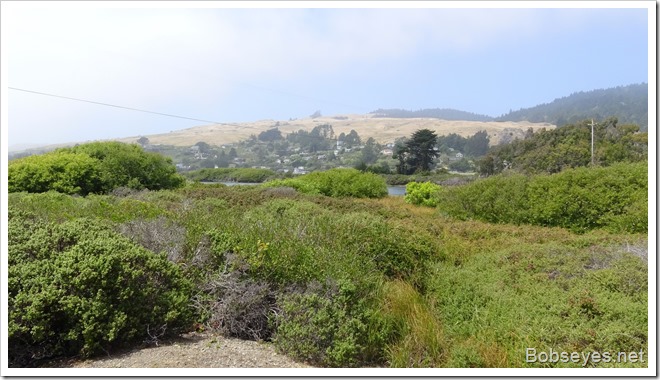 After getting my fill of berries I went back to my boat here.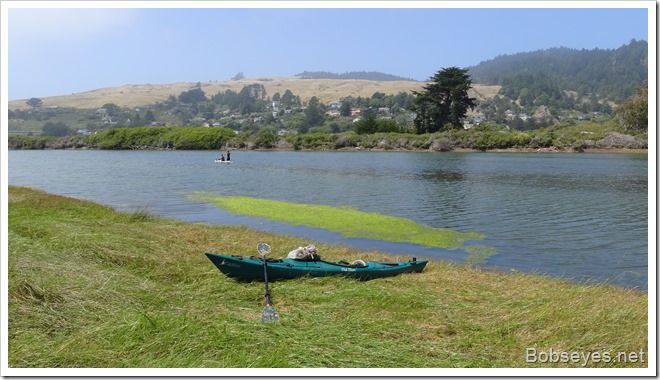 I headed on in for the day and went on home. I didn't really feel like working on the van and besides I have all weekend to work on it so that's what I'll do tomorrow and let t he tourists have the river.
Walked over to the strawberry patch
I walked over to the strawberry patch and ate a few strawberries and picked some squash for dinner.
Ford Tractor has a gas leak
I walked by my brother's old Ford tractor and noticed the fuel filter bowl with the petcock below the gas tank was leaking gas which wasn't good.
I got my flash light and inspected it carefully trying to determine just where the gas was leaking from. I tightened a couple things up and gave it some time and it was still leaking so I looked some more with a flashlight and saw that a plug for another outlet on the bowl wasn't tight, so I tightened up that. I dried it all off and so far, so good. I'll keep an eye on that. It's a new fuel filter, but the shutoff valve isn't very good on it as it doesn't shut all the way off an fuel drips into the bowl even when the gas is off which wouldn't be a problem if this darn filter didn't' leak in the first place. Anyway, I hope I got that fixed.
That was my day for another good one.
(Visited 165 times, 1 visits today)