Wednesday March 2, 2016 Guerneville, CA.
Nothing like itchy hives
The ol hives were kicking in last night, so I itched instead of doing the sleeping thing until about six this morning when I finally went out. So, I was up just before twelve noon and needed to decide what to do today.
Meat from Salmon Creek Ranch
I needed to go to Salmon Creek Ranch to get some more meat, but phone tag wasn't working. I had to make sure someone was there before driving clear out there to their ranch.
I also needed to go to a hardware store to get some electrical supplies to replace the old wiring in the old family well that I'm helping my brother get going again after a number of years not using it as we switched over to spring water a number of years ago.
Let's try to move the big steel tank
As I was going out the door to get the electrical stuff I ran into Tom, my brother, who needed some help moving a big steel water tank. We used to use this steel tank for a pressure tank for five houses in the old days before we hooked the springs back up. So now it was just in the way, a heavy old steel tank.
There is a well there by the chair and we used his tractor to pull the tank off it's mounts and to this spot where it stopped and wouldn't budge anymore.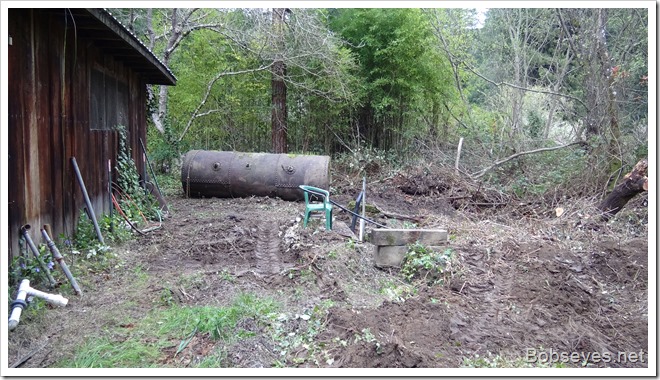 Well, at least we got it that far for now. We'll have to switch to plan B to get it out of there, likely using some cables and pulleys to get some leverage.
Still no Salmon Creek
I tried Salmon Creek Ranch one more time, but still no answer, so I decided to head to a Home Depot to get the electrical supplies as I could visit with my friend Joe on the way back home. I'll try them again tomorrow. Actually, I beat the phone and just sent them an email. ;O)
Shopping and a visit
I was able to find what I needed at Home Depot, so I bought the stuff and then headed on over to Joe's house. I found him home and working on putting new tines on his rototiller, getting ready for his garden. We shot the bull for awhile, then I went on home and unloaded my electrical supplies.
Making plans to hook the old well up
After a break, I went over to the well area and went over what I need to do to hook up a new electrical supply line to the well pump which we don't have yet. Once I get the electrical line hooked up, I plan to install an old pump to see how the well is working.
Armstrong Valley Farm
I could hear my brother working his tractor in his garden across the creek so I walked over there to have a look.
Tom's on his tractor tilling rows to plant stuff in.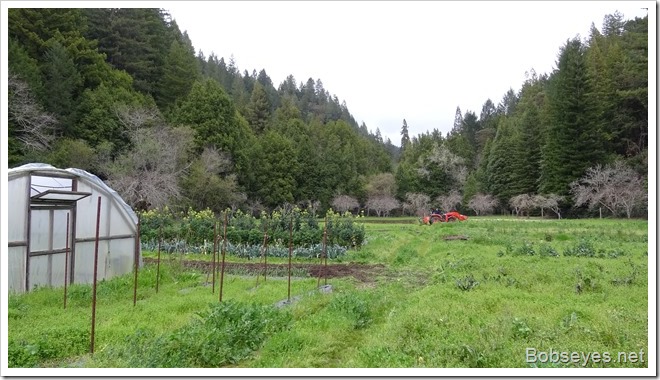 I'm not sure what he is going to plant in the newly tilled area, but that area that is green in front is new strawberry plants. Yum.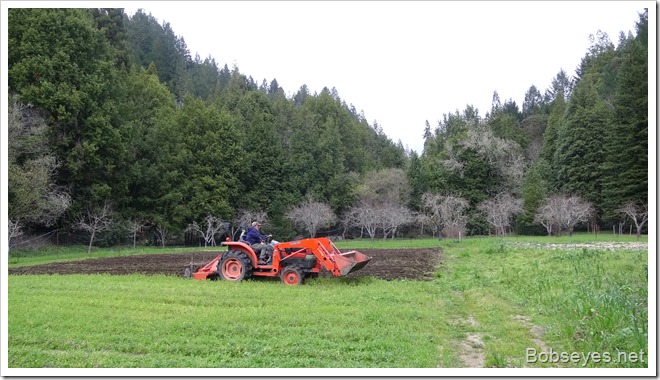 The newly tilled dirt looks good.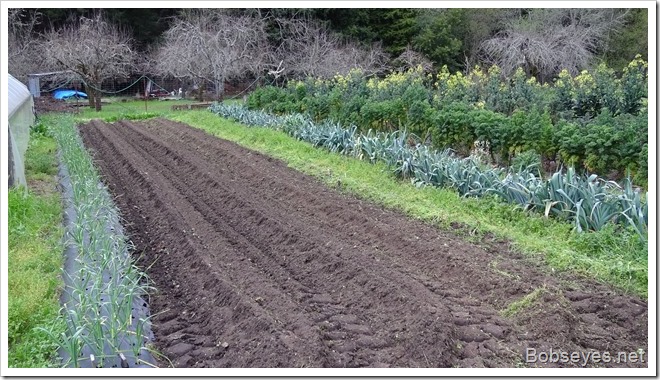 Here's a picture of one of the gardens of my brother's Armstrong Valley Farm. It's spring and there's a lot of stuff he needs to get in the ground soon. A busy time for a farmer.
More repairs on the gate
The gate I repaired yesterday was dragging on the ground when it was opened and closed so I had Tom remove some of the dirt the gate was hitting. That fixed that.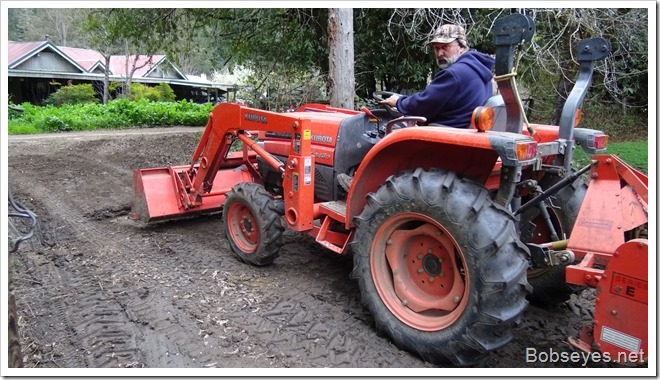 That petty much was my day