Friday January 2, 2015 Jenner CA.
When I arrived at Jenner this morning I was surprised to see almost no one there, as yesterday, the place was very busy. I saw Ray's truck in the parking lot as I entered.
I put my boat in the water and headed across to Penny island where I caught up with Ray.
We headed on up the river's edge at our usually slow pace stopping along the way until we got up to Muskrat where we sat for a spell here.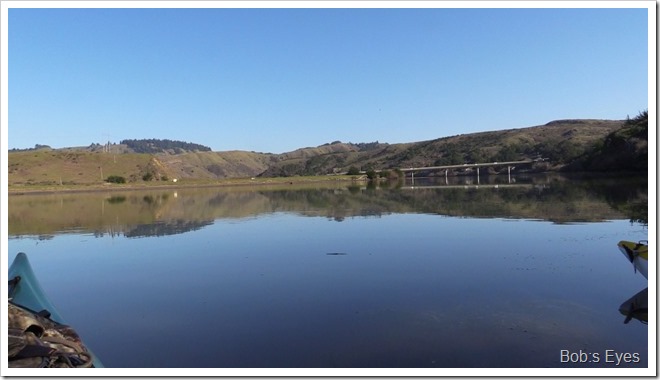 Hunting harbor seals
We had lunch there and then headed across the river where we were sitting when we noticed some wakes around Paddy's rock. Two harbor seals appeared. We watched as they methodically hunted around stumps and along the shoreline working the area for steelhead fish, passing right by us not caring about our presence.
They hunted as a team seeming to know where the fish might be hiding. The fish move up the river in the swallows a lot to evade the seals, as the seals have a hard time getting into the swallower water the fish can get into. However, if a seal spots a fish, it will chase it, sometimes pushing the big fish right up on shore.
Today, we watched, but they didn't have any luck as they disappeared up the river out of sight.
This is one of the seals as it first popped up in front of us. Paddy's rock is in the background.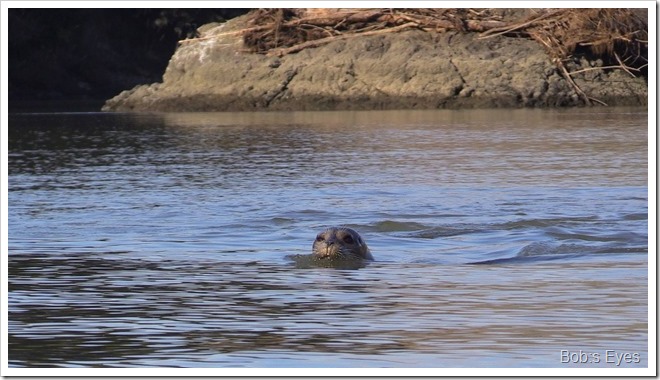 At least some steelhead are running up the river
The fact that the seals are hunting this way means there are some big fish headed up the river to spawn. We also saw some sea lions hunting later in the day.
Not too many cormorants right now
There were some cormorants resting on Paddy's rock as we went by. Right now, there aren't a lot of cormorants fishing in the estuary, but that will change in February when the hatcheries start to release fish for the year. Then there will be over a thousand of them.
This goldeneye duck was resting on the gravel just past Paddy's rock.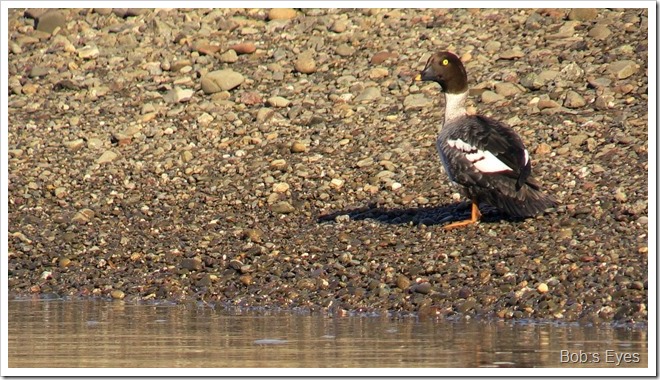 We crossed back over to the other side of the river and continued on down and this was our view of the little town of Jenner.
This little duck popped up beside us as we crossed. I think it is a bufflehead duck.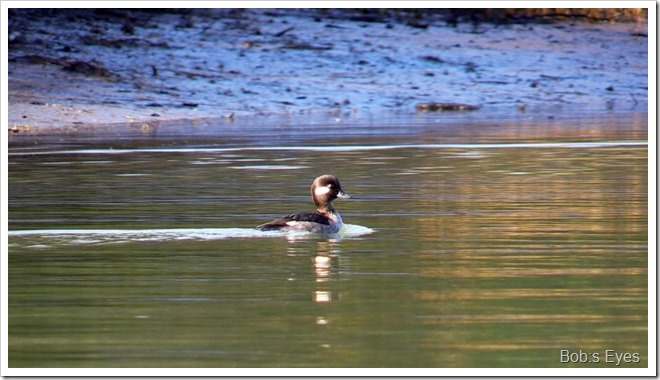 Pulled into swamp rock trailhead to walk
Ray wanted to go for a little walk, but the shores are mostly on the muddy side. We decided Swamp rock trailhead might not be too muddy, so pulled in here.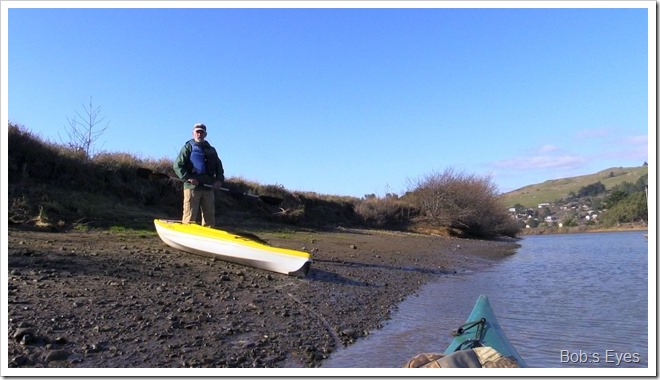 We got on Poison oak alley trail which heads on up the river. Ray was following me through the grasses.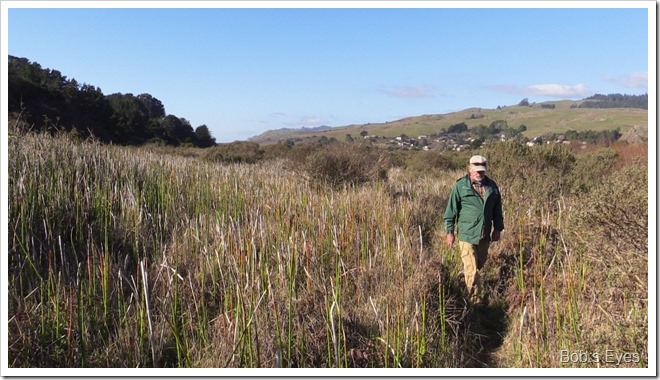 We made it up to the eagle's landing area here where we rested for a bit before turning back.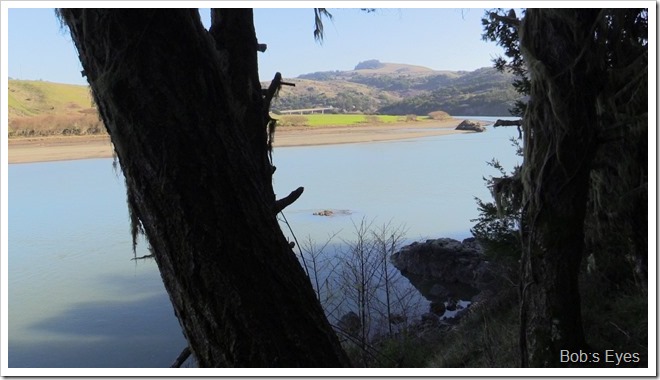 Here we are heading on back down the trail as you can see it's a nice day.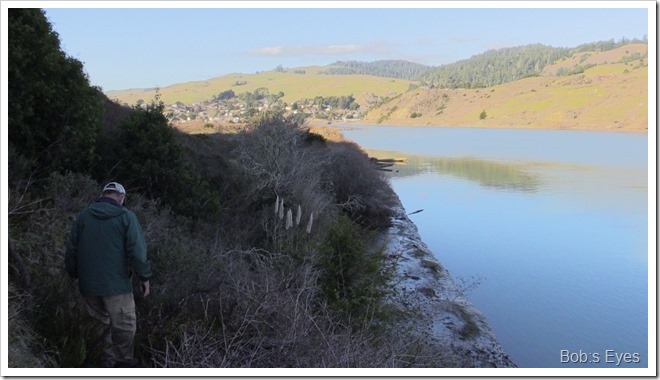 The tide had gone out while we were gone, so we did have to put our boats back in the water in some mud, but it wasn't too bad.
We headed on in for the day.
Monte Rio boat ramp
I stopped at Monte Rio to check out how muddy the Monte Rio boat ramp was as tomorrow, I'd like to kayak at Monte Rio.
This mallard duck was sitting in the mud on the boat ramp.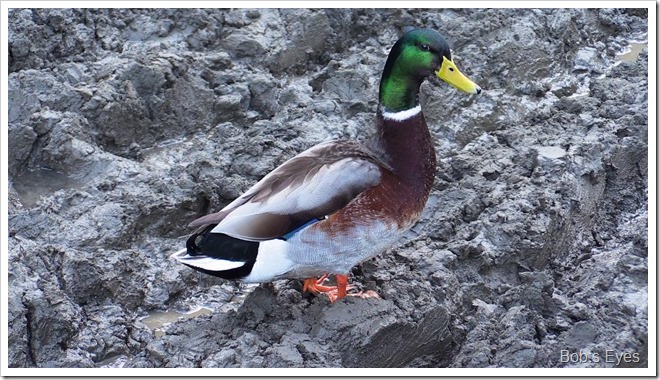 Steelhead fishermen
I heard some guys coming up the river in their fishing boat, so I walked down to check them out.
This is the gang I saw through the willow trees headed in for the day. Of course you know if you click on one of these pics you will get a much larger and better quality picture then the these ones you are viewing.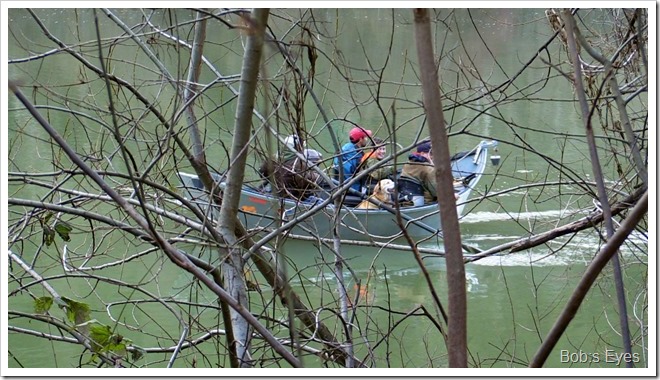 They were headed to the boat ramp, which as you can see is pretty muddy. Maybe I can put in on the left side where they are. I plan to try tomorrow, maybe getting a bit muddy.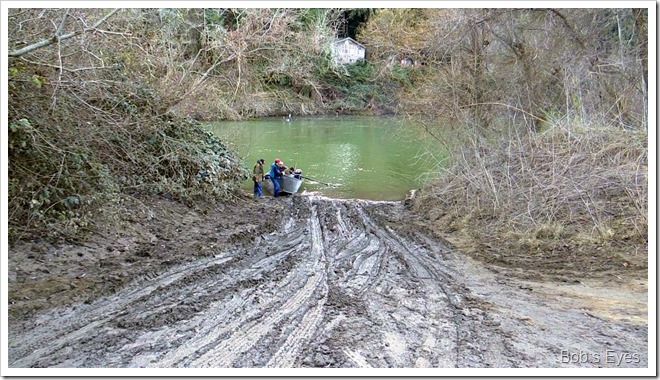 I talked to them a bit and it seems there are some steelhead coming up the river with some catching going on. They had caught two but had to put them back as you can't keep the native fish, only the hatchery fish.
I went on home from there and that was my day for another good one.
(Visited 121 times, 1 visits today)