Wednesday January 4, 2017 Jenner CA.
I should of put those rain pants on
It looked like the weather would be good to day at Jenner with no rain showing, so I headed on down that way. I put the boat in the water and paddled across to the Penny Island;s upper end channel where I found Steve in his boat taking it easy.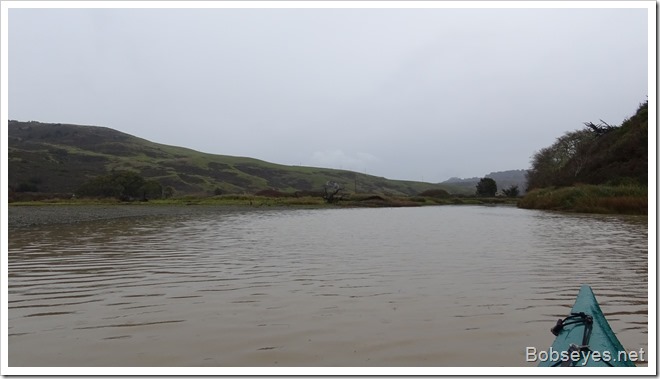 We were shooting the bull when John S. showed up in his kayak so we shot the bull some more.
Time to get the rain pants on
All this time, it was starting to drizzle lightly and I didn't bring my rain pants, so I thought I should go get them from my car and put them on. Sometimes that makes the drizzle stop. John left to go down the island backside and Steve and I headed back to my car where I put my rain pants on and it was still drizzling. Steve was already rigged for rain.
John ditched us
We headed down to the bottom end of Penny Island looking for John, but he had ditched us. :O) He tends to be a loner, somewhat.
It was drizzling or spitting rain and there was some cold air coming off the ocean, so we decided not to go down to the mouth area, but instead headed up the island's back channel. It's an overcast day and drizzling as we paddle along.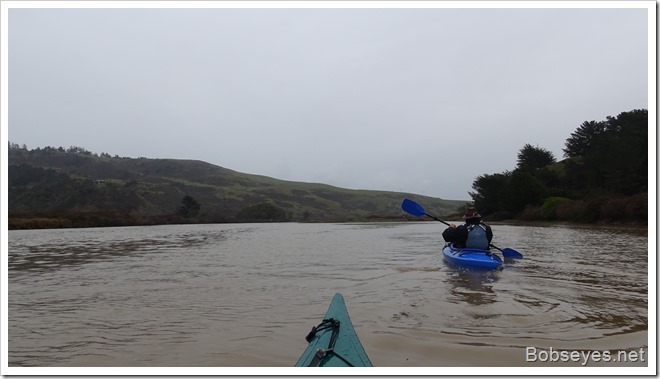 We can hear some geese going over up above. They don't sound like Canadian geese, but some other kind of goose.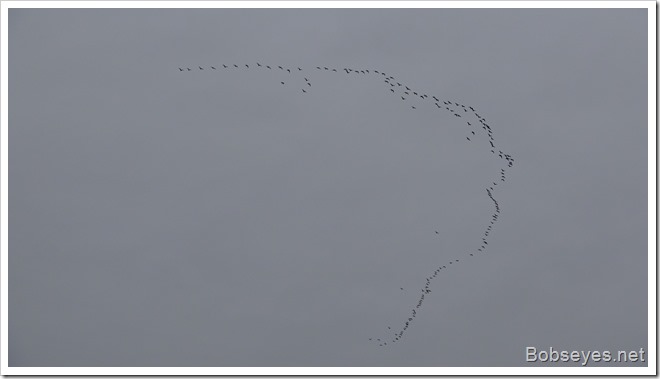 End channel and going ashore on the island
We Paddled over by Candee's place and sat for a bit, then headed to the upper end of Penny Island and entered the little channel there as Steve wanted to go ashore on the island for a break.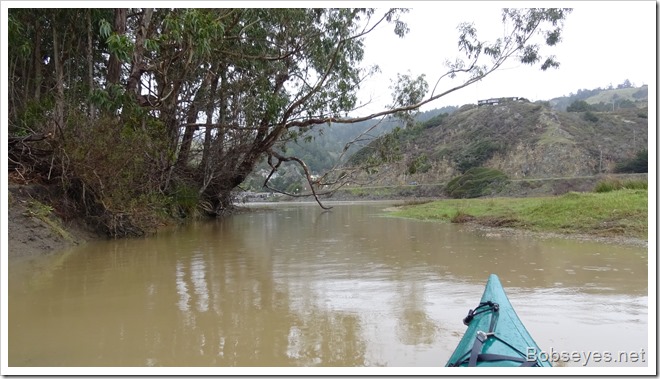 We're eyeing that little shore landing on the left under the trees to pull into.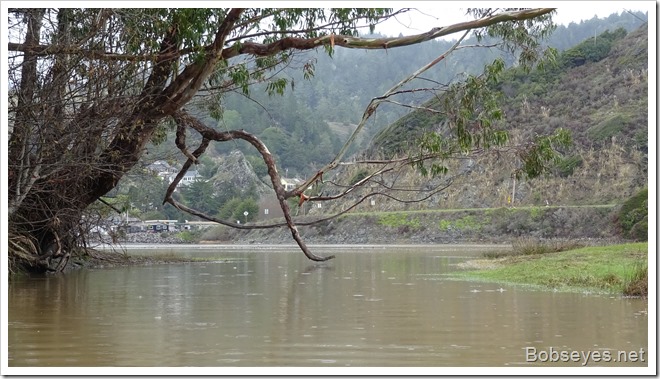 The old milk barn
We land and go ashore. We're headed to the old milk barn through these old trees. You can see the barn up ahead.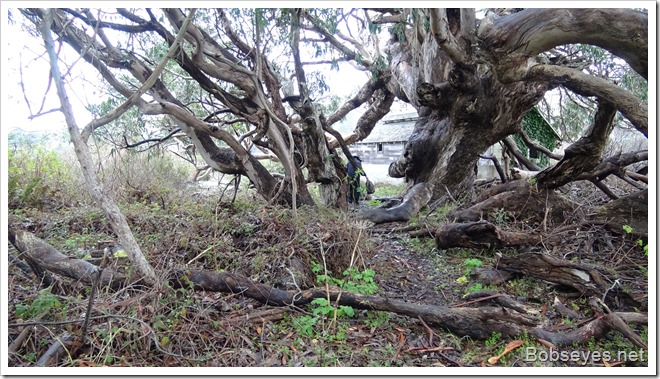 Here's the old milk barn which was used by the last Indian family to live on the island. I think they were still here in the 1960s, but not sure.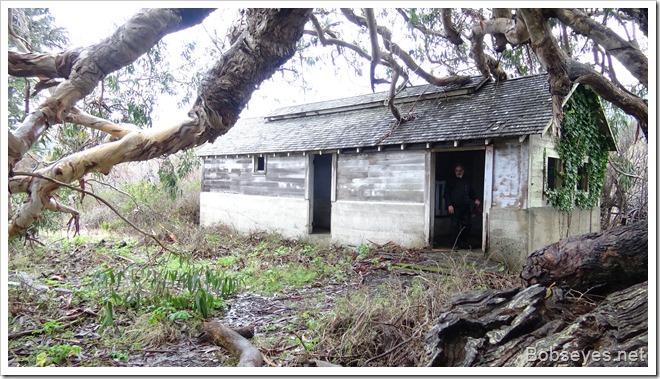 It's really a processing building
This is where things got milked. I say things as they had cows and goats. I think the shed was also used to process other things that they sold to the locals such as fish from the ocean, as they were known to go out on a reef just outside the mouth to fish. The also likely used the building to butcher animals too, so it's really more a processing building.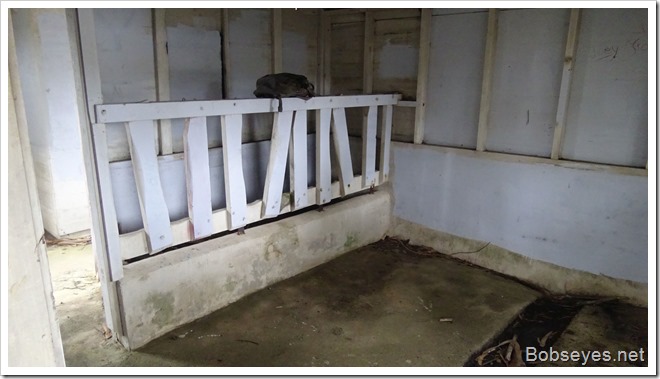 Here's another view of the old milk barn. It's the last standing building on the island.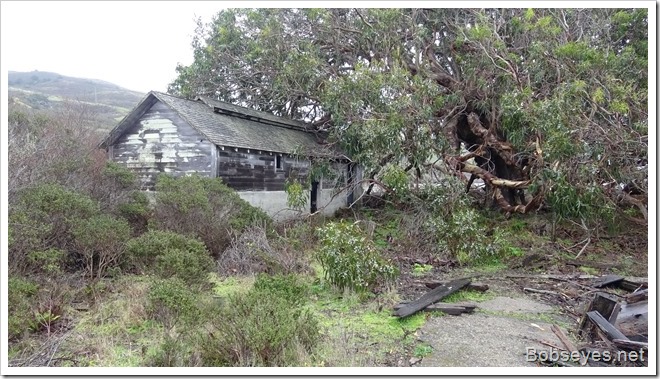 We spent a bit of time on the island and Steve had lunch, then we got back in our boats here.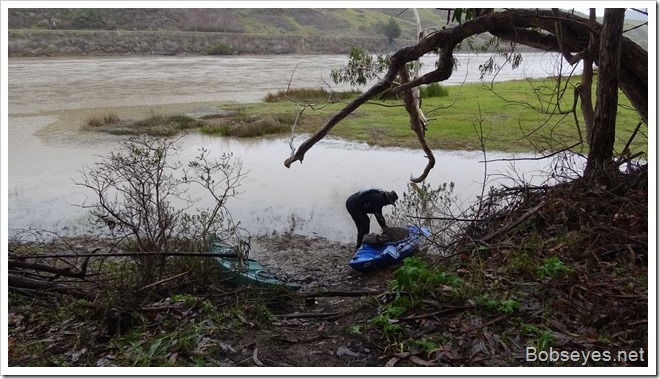 Headed on up the river in the drizzle
It was still drizzling but we were dressed for it now, so we headed on up the river to this spot I call Eagle's landing and stopped for a bit.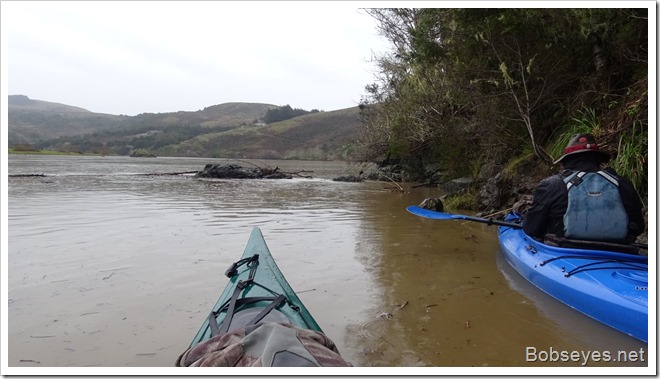 By the way, the river is up and muddy again from some more rain we just had, so debrie is drifting down the river.
We continued on up along the river's edge and stopped in this spot for a bit.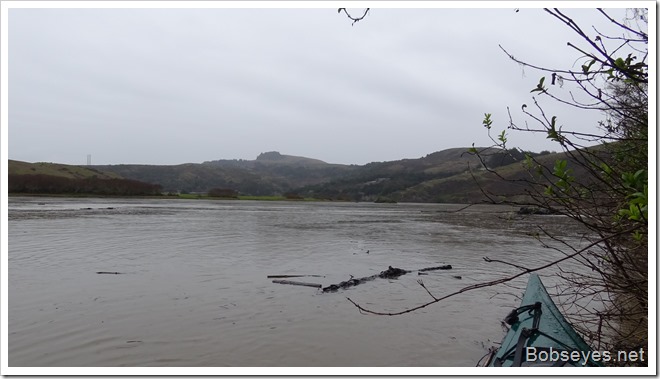 It sorta looks like a kayak up there floating
We saw what looked like it might be a kayak flouting up river so we continued on up to see and as we got closer it turned out to be a dock from bridge Heaven which moved down river just a bit, so we stopped at the place I call the Grotto for a bit.
Then we crossed over the river to the other side and saw these merganser ducks by Paddy's rock. The white ones with the black heads are the male ducks which come from somewhere and join the females around this time of year. Otherwise they don't seem to hang out together once they nest.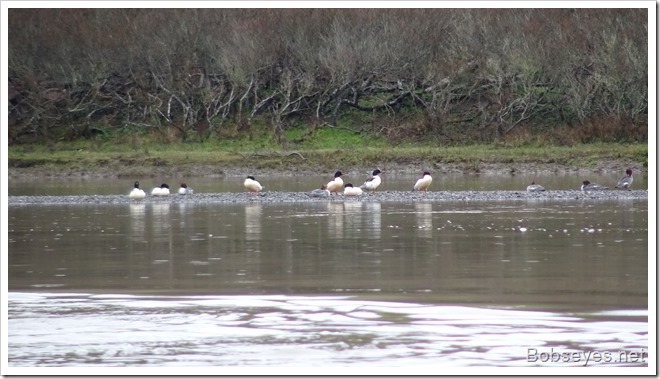 It drizzle all day
It never did stop drizzling. We headed on back to Jenner which looked like this.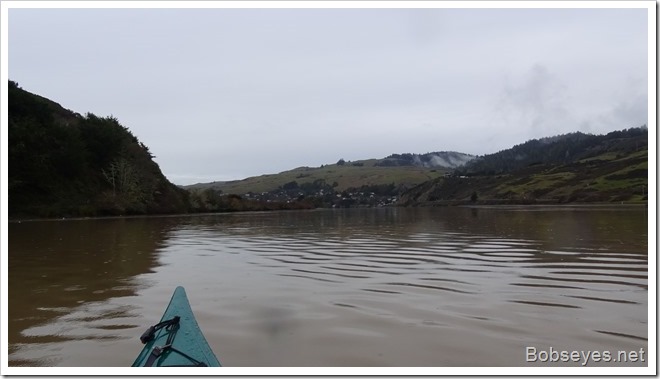 We hit the boat ramp and pulled our boats out of the water and went on home for the day.
It wasn't drizzling at my house, ,but I was beat, so that was my day.
Playing hacker blocker
In the evening I played hacker blocker with the hackers that have been trying to penetrate my site. They seem to be coming from countries all over the world to get something on my site that another hacker put there which I removed and isn't there now, so they can't access it, but they keep trying. I think I'm winning as they are doing it less. When I see them try to log into my site, I use my Wordfence protection software to block their IP networks so they are blocked from my site.
Anyway, I hope they go away soon as I'm tired of dealing with them. Right now they are all locked out and my site is secure. They basically use one's site to relay illegal type stuff to their friends or use it to email out lots of spam emails.
Anyway, that was my day.