Friday May 29, 2015 Jenner CA.
My DSL is down
I got up this morning and turned on my computer and I had no DSL connection to the internet. I called my provider and of course they wanted me to test this and that. I wasn't in a good mood and gave the guy a hard time saying a customer shouldn't have to test the phone companies line for them, but in the end, I apologized for being a hard nose and said I'd check out my modem when I got home this afternoon by borrowing my brothers modem and trying it out. Of course I've done this about twenty times over the last twenty years and it's always the phone line is bad.
Sounds like the Monte Rio boat ramp will remain open
As I was driving through Monte Rio this morning, I could see they were setting up the parking lot for the special event. I almost drove by, but at the last second I decided to go see if the boat ramp was open or closed? I found the boat ramp road open, so I drove down that way and got out at the ramp. Just as I got out a truck pulled up behind me.
A lady said she was with the Monte Rio Parks and recreation. She said her name was Linda, I think. Right away she said something about the beach that I didn't quite hear. I pointed to the closed ramp sign and said I was was concerned about the sign. She said they weren't going to close the boat ramp but it would be hard to use during the event. Before she could get that last part out, I said I'd be no where near the area during that time and she drove away. Good that she came by when she did, so I wouldn't have to second guess what was going on.
Ok, so it sounds like the boat ramp will remain open as it should, so I left and continued on down to Jenner to kayak for the day.
Pulled into Jenner
It was overcast and the fog was going in and out, but the wind was down so things looked real good for a nice day.
I put my boat in the water and paddled across the river to Penny Island and sat here for a spell.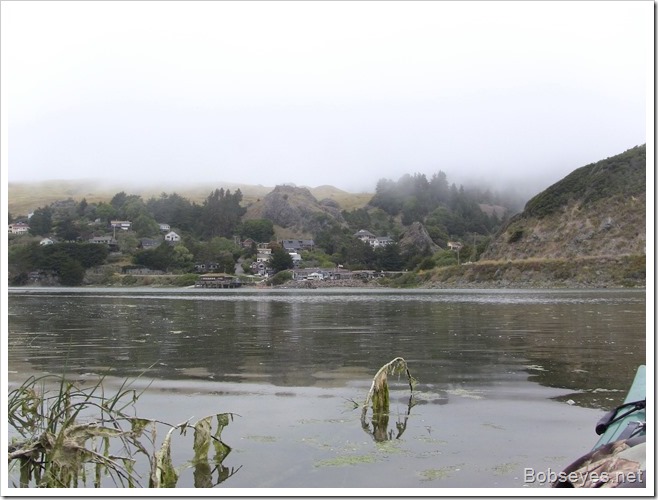 I decided to work my way up the river a bit, so headed that way. You can see the fog moving around as I paddled along.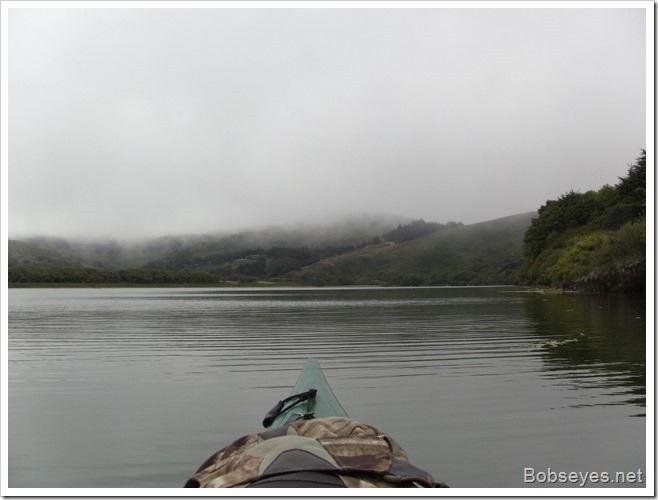 I went by this grebe which was doing some fishing.
Surf Scoters
When I got up to the Muskrat area, the surf scoters were on the rock again and they let me get pretty close without flying off.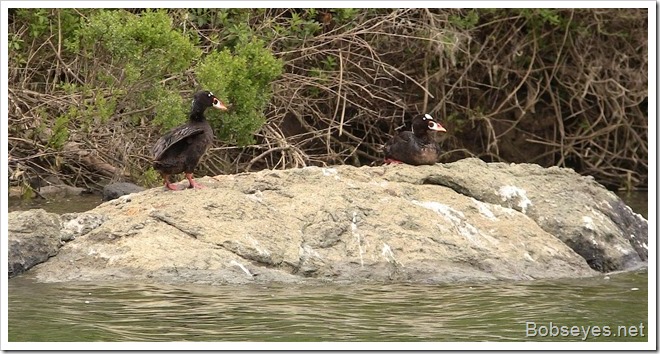 Call of the loon
There was also a loon swimming around and just taking it easy. It has a nice call and I was lucky enough to hear it a couple of times.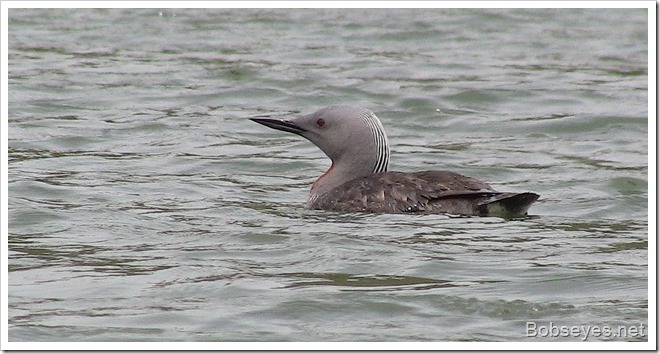 Across the river from where I was sitting, I could see a couple more surf scoters swimming around.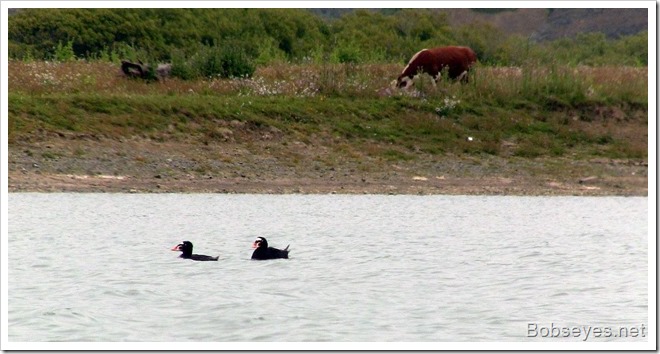 Looking for berries on Penny Island
I headed down the river through the back channel of Penny Island and decided to go to shore on the lower end and take a little walk and look for blackberries to eat. I landed in this spot.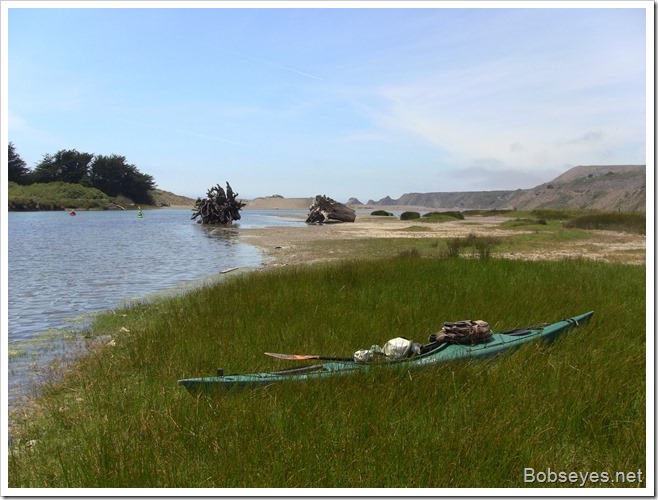 The island is real lush right now. I walked around and only found a few ripe black berries.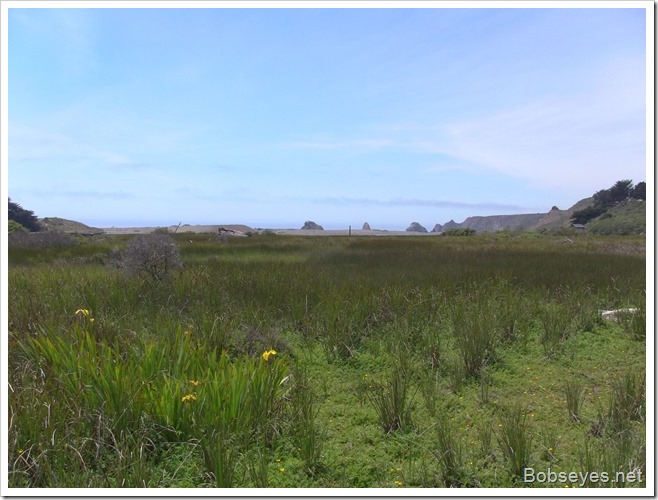 I came out at this spot near the lower end of the island where I walked through this grassy area.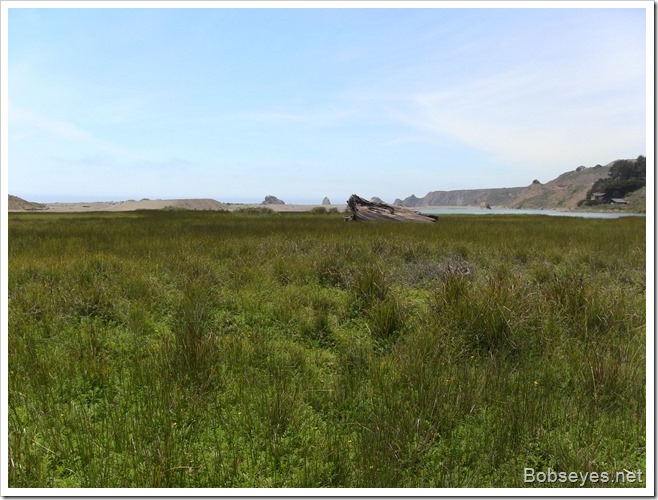 This deer caught my eye. It was just laying in the grass taking it easy watching me as I walked on by.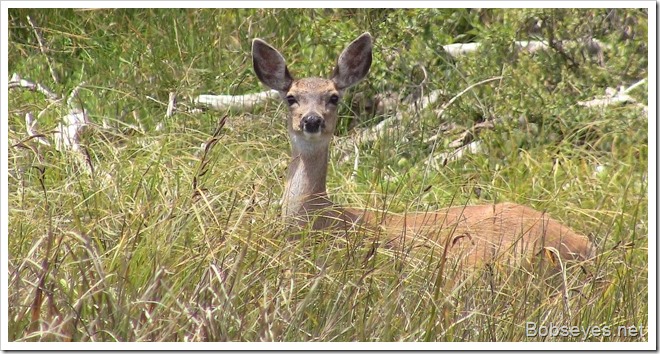 River's mouth looks mostly closed
I got back in my boat and headed on down to check out the river's mouth. I found the river's mouth mostly closed with about a foot of sand above the river's water level. High tides can still make it over the sand. It could stay closed or the high tides might open it again, only time will tell.
This is a picture of the river's mouth closed up with sand at the jetty.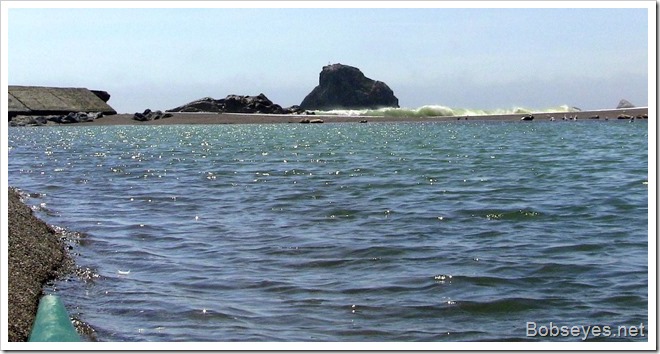 I hung around the mouth area for awhile then headed on back in for the day. I passed by this pair of mallard ducks and noticed they had one little ducky with them. Only one little ducky means it's a hard life for ducky's in this area.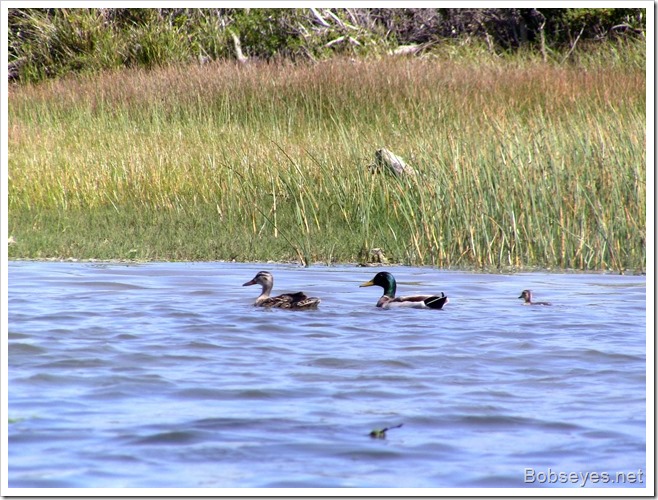 I continued to the boat ramp and went on home for the day.
Then darn modem is dead
I was going to get my brothers modem, but he wasn't home, so I just puttered around in the yard. Eventually, my brother came home and I went over to borrow his modem. I hooked his modem to my line and it worked, so my modem is bad and I will have to purchase a new one tomorrow. Until then, I talked my brother out of his modem so I can publish this blog tonight.
Nice day.
(Visited 141 times, 1 visits today)