Saturday June 27, 2015 Camp Aspen about a mile west of Point of Rocks, near Mountain City Nevada
Too much company
As you'll remember last night I had my van parked in a meadow which I found on my hike around it was just crammed full of marmot trails and who knows what under the high grasses. That should have been my clue, but no.  This place was owned by a a bunch of marmots and likely a bunch of other critters living  in it too. The grass gave them good cover and there was plenty to eat.
Anyway, just after I turned out the lights and went to bed, it started. I could hear critters running over my gas tank and engine and most everywhere. It was like they were curious of what this thing was parked in their domain.
Right away I knew I wasn't going to win this one, so I packed things up quickly and moved up by the main road where the road graders where parked and the grasses were lower. I wasn't fussy, I just pulled over by the road where it was flat near the graders hoping they wouldn't be working in the morning as it would be Saturday.
That did the job, no more noise in the night.
Named it Sock Spring
Eventually, the next morning I was on my way back to the spring where the road graders interrupted me the other day on the way up here. It's a spring that has been here as long as I've been coming  up here and is easy to drive right by, missing it. I was ready to redo the spring if it needed it, but right now there is lots of water flowing as it's early in the year, so I didn't do that. I did redo the spring about fifteen years ago.
The spring had an inch and a half metal pipe coming out of the hill and was hard to see, so I added this piece of two inch PVC pipe to help people find it, even though the PVC is sorta out of place here. The water is the important thing as anyone that hangs out in the desert knows.
Here's the spring with the added piece of pipe and a little rock work.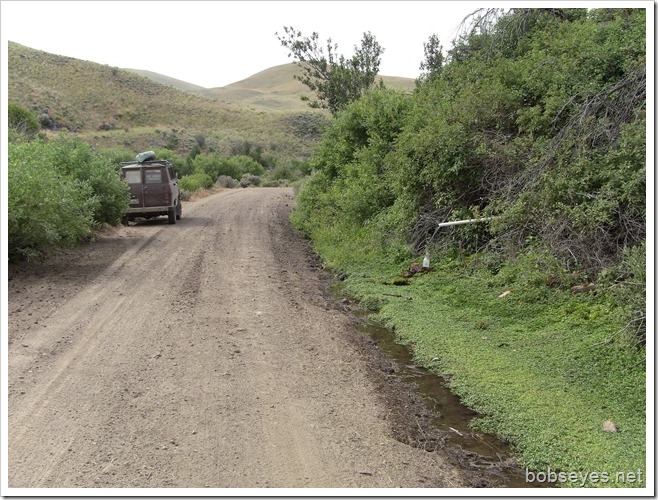 Here's what it looks like. All that green stuff is edible. It's watercress, but over the hill right  now.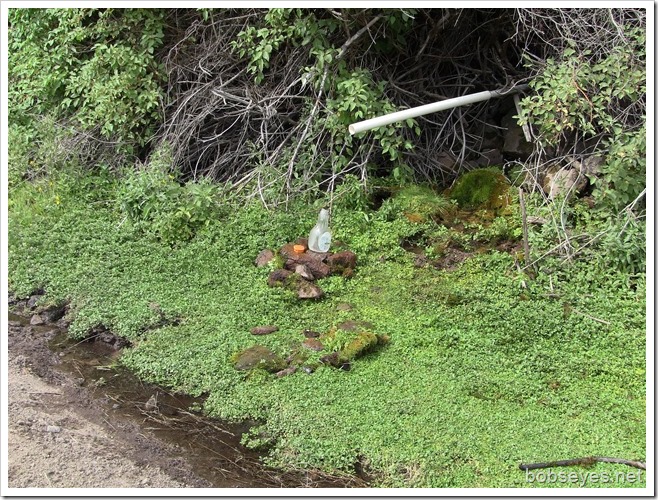 I was thinking it would be nice to really mark this spring somehow, but all I  had that I could think of, that I would part with, was one of my socks. So, I cut a branch and hung a sock on it and put it on the side of the road.
Headed back up to the Sunflower flat area
I was heading back up to the Sunflower flat area with nothing in particular on my mind to do. I was thinking of camping or stopping for lunch somewhere around the Point of Rocks area. As I looked at my map I could see Camp Aspen was just past the Point of Rocks place, so I drove on down there and found a place under the quaking aspens to at least have lunch and my noon siesta which I've gotten into the habit of doing when it's a bit on the warm side.
I pulled into the aspens and found a level spot.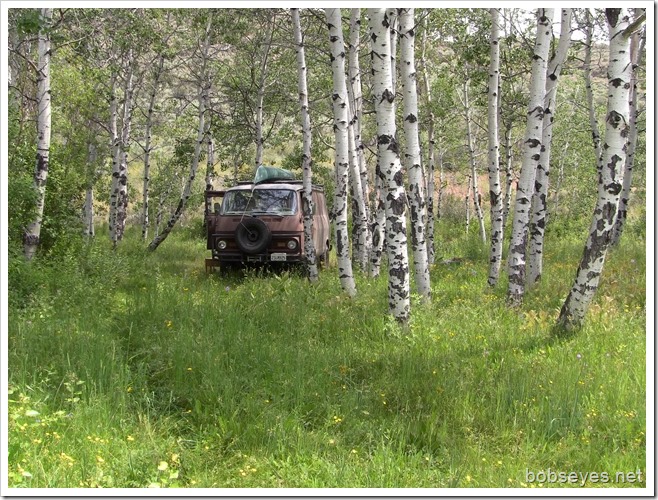 I'm finding this a pleasant spot. Todays been overcast with cool breezes. It showered very lightly and cooled down some more.
So now I'm planning to stay in this spot and just enjoy it. There's only been two rigs by today so far and if it wasn't for the county road grader guys, I haven't hardly seen a sole up here.
Here's another view of my camp spot for the night in the aspens.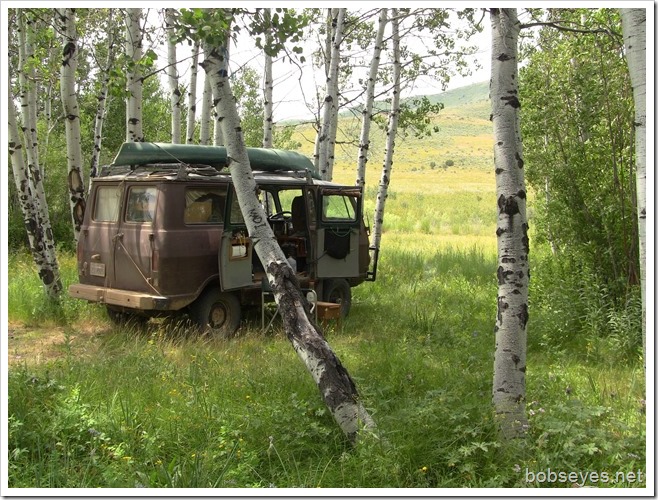 The desert dictates
When it's rather warm and you don't have an air conditioner, the desert sorta dictates the day. Get up early just after it gets light and either take it easy for a few hours, or go for a hike or a drive, but be settled with the van for a long nap from about noon to three when the sun is high in the sky. If you can find a cool place for that it helps, Then depending, wait around for it to cool down or drive off to find a camp spot for the night. Hikes just before dark are good too after the sun goes down.
Nevada High Desert University
I hadn't really planned it, but one of the things I've been doing is looking for fish areas in the high desert, mostly because I know a couple fishing buddies that might be interested in this high desert area. So that means I've been searching out any place that the map says there's fish in this area. This had been taking me off the beaten path a lot, but I did find fish, lots of fish.
Why is the desert a a good teacher
One of the reasons the desert is such a good university is most of the things can be seen here as there are no big trees such as in a forest to hide what is here which is a huge advantage sometimes.
The Russian River Water Shed where I live has a lot in common with this high desert. The Russian River water shed gets most of it's rain in the winter, same as the desert gets it's snow and rain in the winter months mostly, at least in this desert.
Fish trouble
But the Russian River Water Shed is having trouble with the fish population, but this desert is not. Why. :O)
Even though there is less water in the desert, where there is water, there are more fish. What better place to ponder that than right out here in the boonies of the high desert where the answer lays open for my viewing pleasure.
I'm still thinking on the subject. I find that I can only think about something so far, then it takes more time before more stuff jells in my mind and falls into place. :O) This spot is good for that as there's no one around and it's nice and peaceful with the wind blowing the quaking aspen trees. I can walk around daydreaming and if I accidentally walk out from under the quaking aspen trees, the sun quickly let's me know and I can wonder back under them and daydream some more. Not bad.
It's evening now and starting to cool down some more. Cool down evening is a nice part of being in the desert. It's all part of the experience, always some good with the bad.
Sunset for the day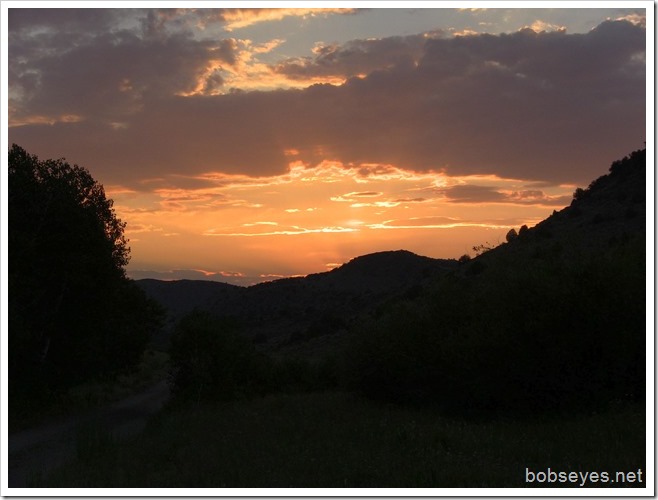 Nice end to a nice day.
(Visited 174 times, 1 visits today)