Sunday December 7, 2014 Jenner CA.
Let's start with a paddle to the open river's mouth
I arrived at Jenner just after eleven this morning to an overcast day. The wind was down and there wasn't anyone else on the water, so I put my boat in and crossed over the river to Penny Island to decide which way to go today? I didn't have any plans. It was going on high tide, so I thought I'd go down and check out the river's mouth area, so I headed down the side of Penny Island.
I stopped here for a bit to watch the coots feeding on the dying grasses which were under the water.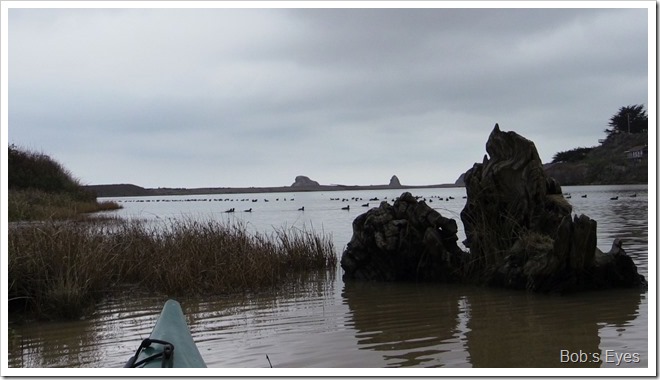 Watch that strong current into the ocean
Even though it was getting to high tide, there was still quite a bit of current due to the recent rains, so I was just drifting down toward the open mouth, which pours into the Pacific ocean. Heading towards the open mouth with all this current isn't a thing I take lightly, as taking pictures can side track one and I've been caught closer into the mouth than I've liked more than once and today, it was flowing fairly fast. I took some pictures then retreated to the other side of the river where I found a place to sit in my boat and watch for a bit.
River mouth moves north during the winter
This is the open river's mouth, looking out to the ocean. Note the mouth is shifting to the right, or north, to the other side of Haystack Rock, which it does during the winter when there is lots of water coming down.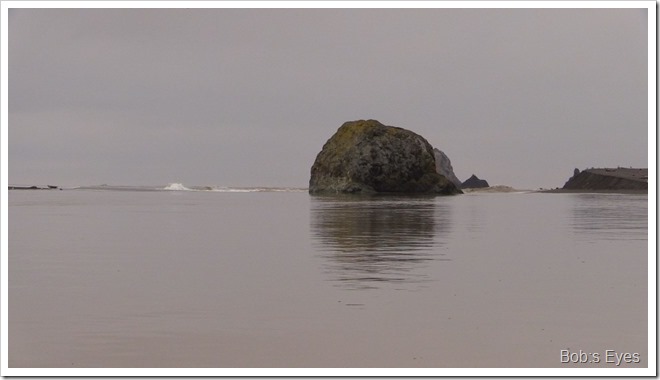 I hung around the area for a bit, but the current kept moving me around, so I headed back up the river.
Pelicans take a bath
On the way, some brown pelicans landed just in front of me and preceded to start taking baths in the fresh water.
Here's one of them, I was fairly close to this one.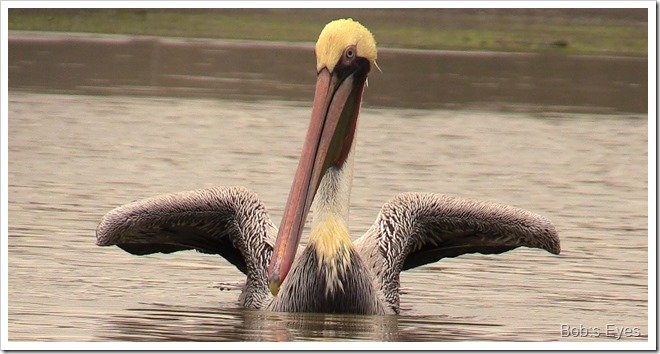 As you can see, they get into this bath thing and really go to it and then do a lot of preening afterwards.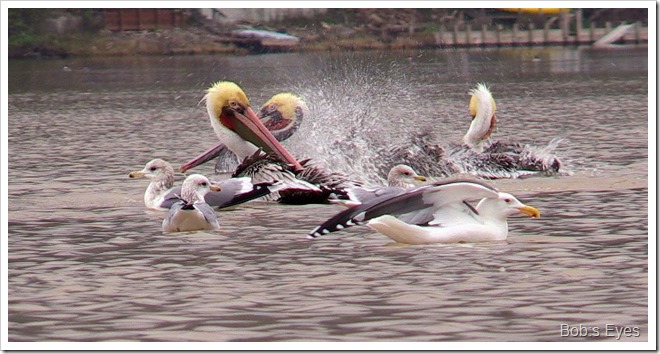 Headed to Muskrat
I left them at it and headed up the back channel of Penny Island headed for Muskrat nest beach. I worked my way slowly up the south side of the river, stopping often enjoying the day.
I didn't have any plans for Muskrat, but when I got there, I decided to go ashore and see if I could find a way to get to Buzzard Rock, which was just above the river in that spot.
I went ashore, tied my boat up and walked over to check out this muskrat nest. It's about six feet high and six feet wide at the base. There are lots of these in this area, easily over ten.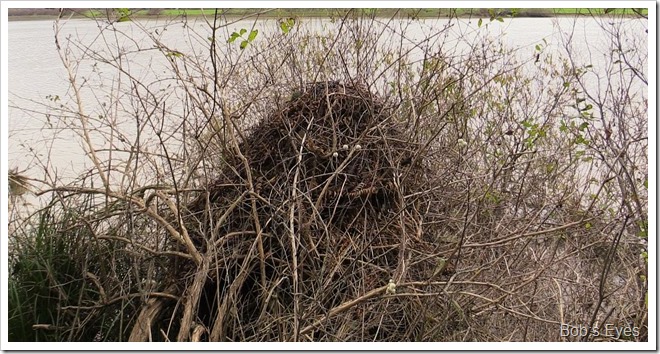 Headed for Buzzard Rock
To get to Buzzard Rock, I had to hike up the trail to get above it and this was my view down the river towards Jenner. Cloudy, but no rain.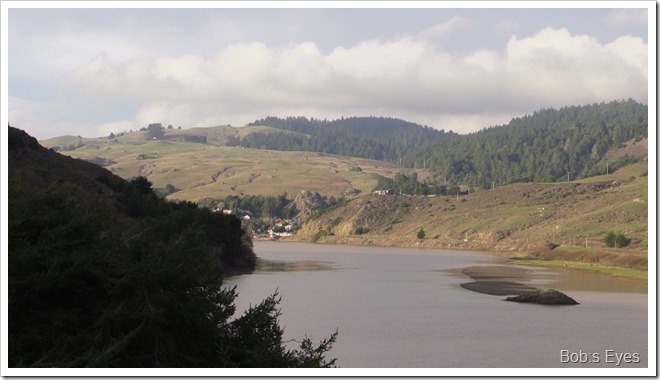 This was my view looking up the river. Buzzard rock is in the lower left of this picture and I'm hunting for a way to get down to it through all the brush, including poison oak, lots of it.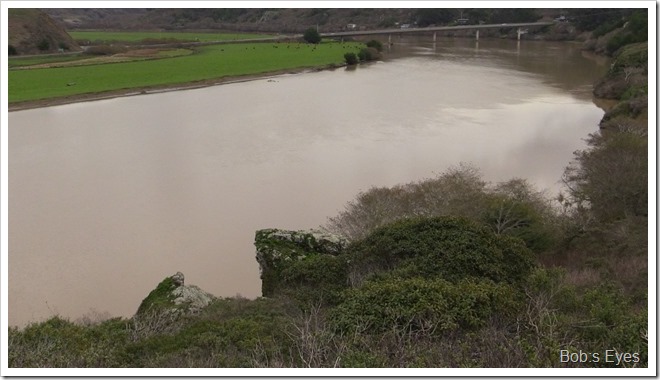 It took me awhile, but I found a way down to the rock and this is what it looked like as I approached.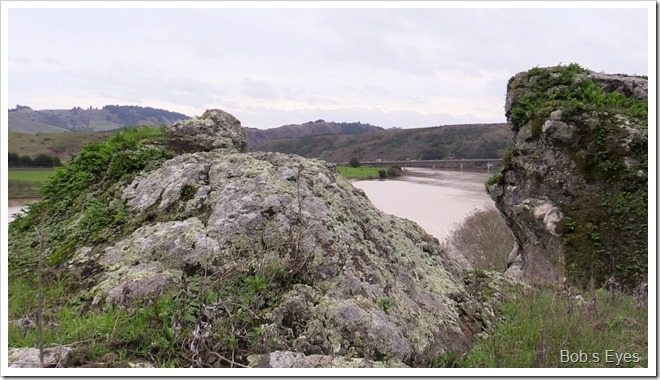 There were lots of these little green ferns just popping up and growing on the rocks.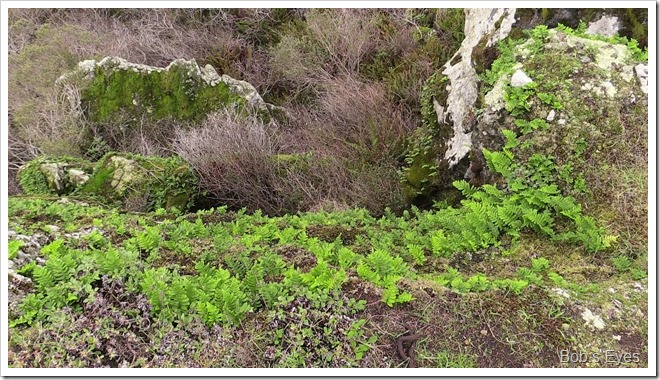 Some muddy stuff
I spent some time up on the rocks and then headed back down the trail to my boat at this spot. The tide had gone to low while I was up on the hill, so I had a bit of muddy stuff as I put my boat back in the water.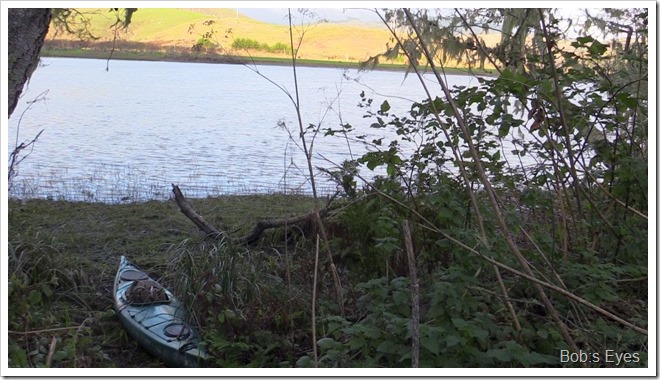 I crossed over the river to the north side and watched for birds along the shoreline and in the water, eventually making it almost back to Jenner in this picture, just before 5 PM.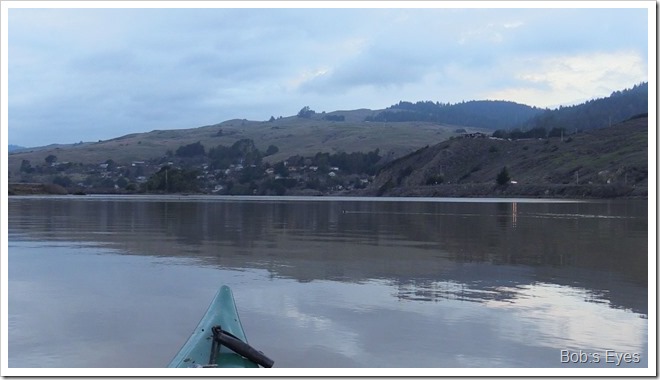 Nice out
It was so nice out, I didn't want to go in, even though I was pretty tired out, so I crossed over to Penny Island where I went by the old milk barn.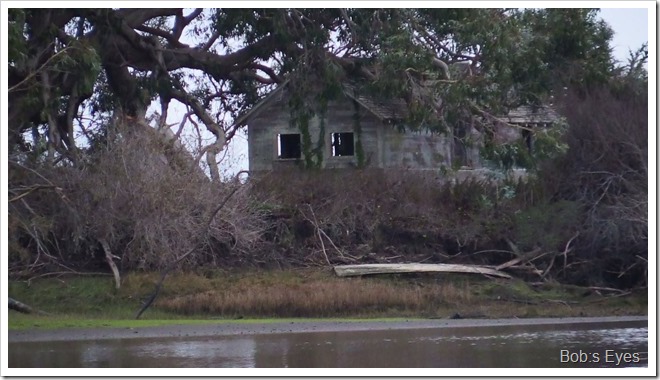 I took my time getting there, but I did finally make it to the boat ramp. It's hard to believe no one else was boating today. But I'm not complaining.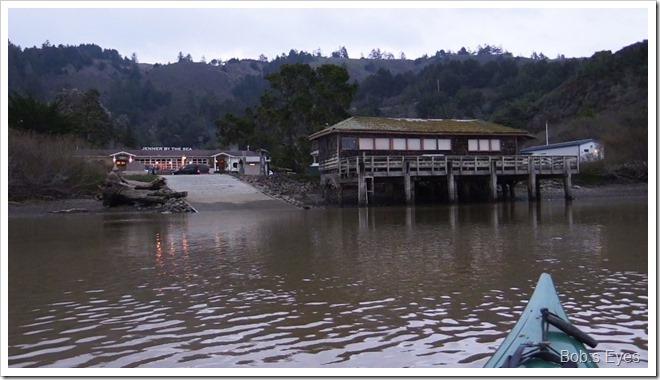 That was it for a very nice day on the river.
(Visited 169 times, 1 visits today)