Saturday January 23, 2016, Guerneville CA.
Today I had an aunt's memorial service to attend around two PM. That meant I needed to putter around the house for a couple hours. My aunt lived across the road from my house.
Storing beans
With all the beans and rice I bought a couple days ago, I needed something to put them in to keep the insects from getting into them.
I was thinking the plastic hydrolytic oil pails I had would be good for that. I just had to take the tops off and wash them out a bit. I also use these pails around the yard when I'm doing projects and I needed some for that purpose also.
I got out six buckets that were empty and cut the tabs that lock the tops on. After that I filled the buckets up with soapy water to remove any of the oil that was left in them. I got most of the oil out, but decided to leave them to soak for a couple days.
I then cleaned up the pail tops. I will have to cut the plastic tabs off of the lids to use these tops to seal the pales.
Here's the pails and my work area this morning.
Spring is coming
While I was washing out the pales, I noticed these plants getting ready to bloom. Turns out these are daffodil plants that are one of the first things to bloom around here in the spring. Despite what the calendar says, it looks like spring is getting ready to spring.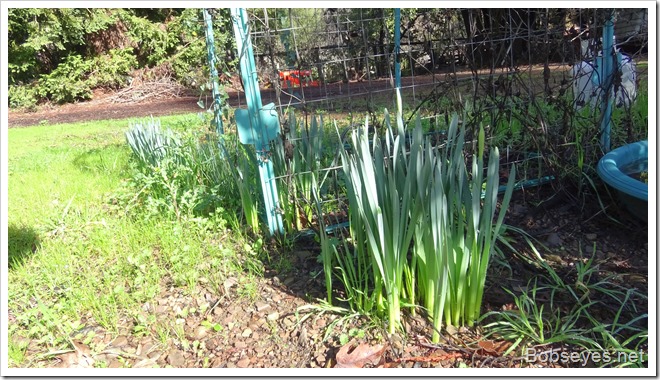 Church down the road
At about 1:30 I headed down the road a couple miles to the local church where my aunt was a member.
I got there a bit early before most people arrived. This is what the church looked like as I walked over the bridge over the creek to get to it. I had parked on the road, just so I could get out if I wanted to.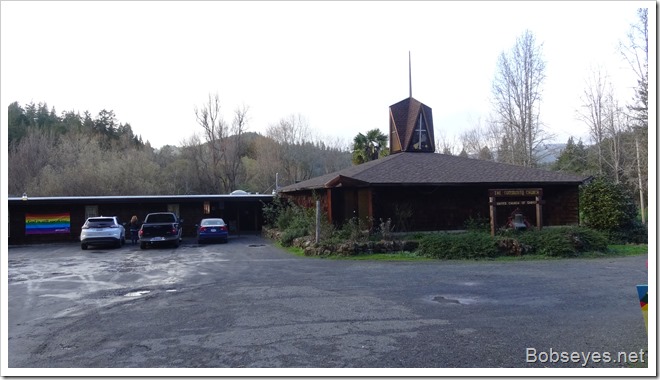 I sat here and watched. The lady pasture did a good job. She knew my aunt well and related some good stories about her. My aunt was especially noted for her race car like driving skills. :O)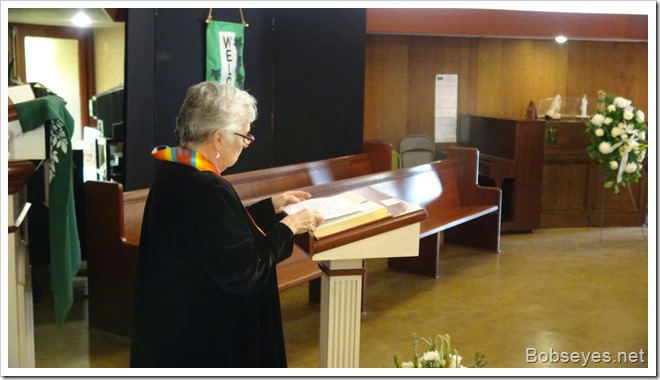 Remembering my aunt
I remember as a kid, she would drive with the gas pedal to the floor, then when she got it going too fast, she'd put the brake pedal to the floor. She repeatedly repeated that process and that's how she got down the road. Of course I'm a motion sick type of guy, so I quickly learned not to ride with her when I could avoid it.
This is what it looked like from my seat. Lots of our family and her church goer friends were there.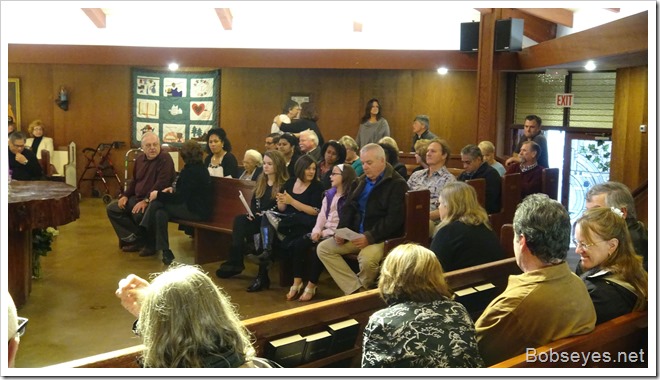 Cookies, tea and coffee
After that, we adjourned to another part of the church for cookies and coffee and tea. I chatted with several people, some I knew and some I didn't know.
I drooled over all the great looking cookies they had. They had lots of them left over at the end which I would of gotten into big time if it wasn't for the corn allergy problem I have. Darn. :O)
As it was, I stayed until most of the people left, then I went on home for the rest of the day and that was about it for another day.
Let's see, I have only one aunt left and she is pretty frail. All my uncles are now gone.
(Visited 132 times, 1 visits today)