Saturday September 12, 2015 Guerneville CA.
I had a social event today in the afternoon, so this morning I puttered around the yard.
First I used this apparatus to check the static water level of the well. I've been trying to get something to do a better job at this so I tried this set up. I think the well water level is at eighteen feet below the ground surface. I have a hard time trying to determine when the float is at water level even with this newer device. I have a small lead weight on the bottom of a float which I drop with a string.
I'm thinking I need to drop by the well driller's place after I get back off my next trip and see what they use to get this measurement as I'm not happy with this system of doing it. I want to check several wells in the area to get an idea of the ground water in the area.
Blackberry vines take over
Next I went over to where the main water line broke across the creek last winter to see what it was going to take to do the final repair on that one. I have a temporary hose across the creek now.
The place has overgrown with blackberry vines since last winter and looked like this.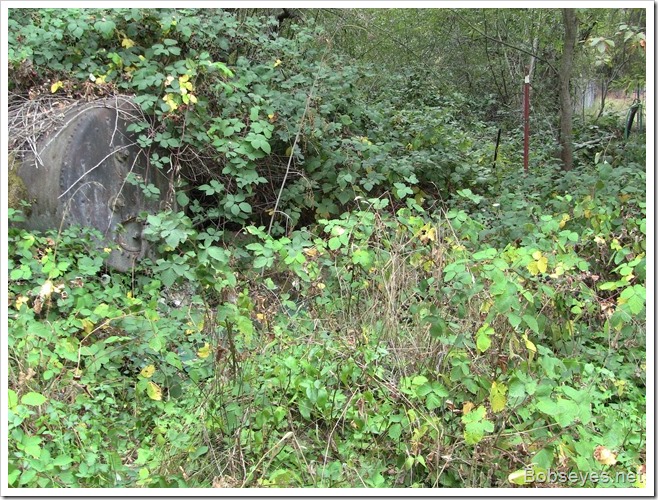 I cut a path to the creek which took quite awhile and wore me out. Some of those berry vines got me on the arms and a bit of blood was let.
Propane for tomatoes
I was just getting ready to leave for Ray's house down the road when my brother's girl friend came by looking for some propane to cook up a big pot of tomatoes. Her tank went empty after she got started. I found a tank that had some so hooked it up for her and went on down to Ray's place.
Social event
His wife had just retired and they were throwing a retirement party for her. I shot the bull with a lot of people there, some I hadn't seen in a good many years and some I met for the first time.
I spent the rest of the day visiting and got home just after dark for a nice day.
(Visited 310 times, 1 visits today)