Wednesday April 29, 2015 Jenner CA.
The sun was out and the wind was down as I put my boat in at Jenner today.
Jenner
Here's my view as I looked back at the boat ramp where I launched my boat.
Big stumps
I wasn't decided on which way to go today. I ended up paddling down the side of Penny Island to it's lower end. It looked like the wind was coming up down by the river's mouth, so I decided not to go down that way and was just taking it easy in my boat when I saw this truck go by with what I thought was some big stumps that they use for stream rebuilding for fish habitat.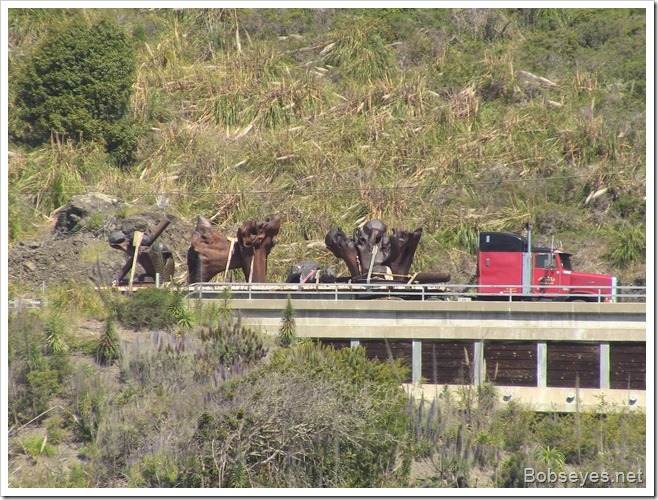 Looking closer, they look more like some art objects going somewhere.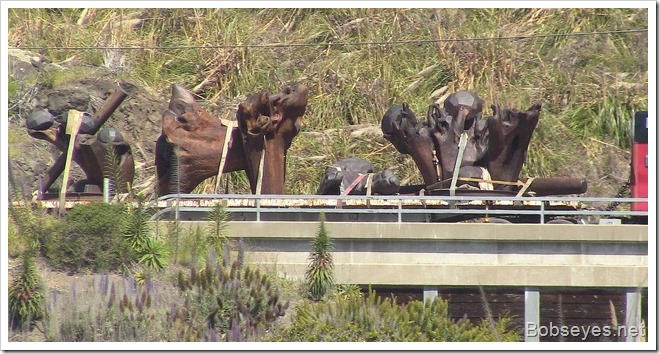 Checking out the wild berries
I paddled back to the little channel on the upper end of Penny Island which is usually out of the wind and decided I should go ashore on the island and check out if the wild berries are getting ripe yet, so I did.
Here's where I put ashore on the island.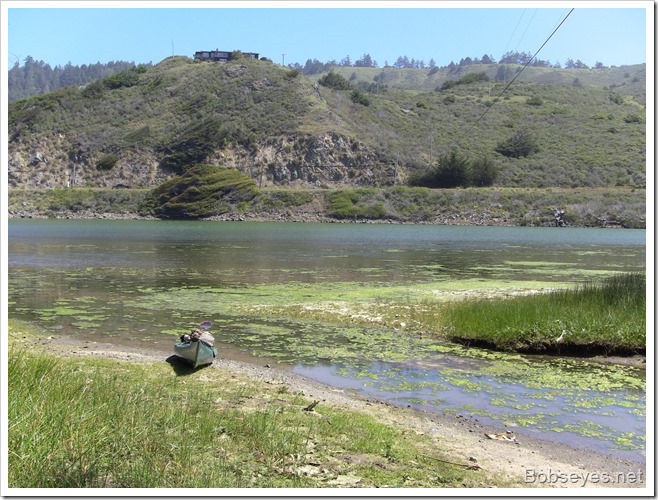 Old milk barn painted
I noticed something different as I walked by the old milk barn. The island is owned by the California State Parks and some one had painted over all the graffiti that was on the walls. Looks great for now.
The milking stall freshly painted, inside the old milk barn.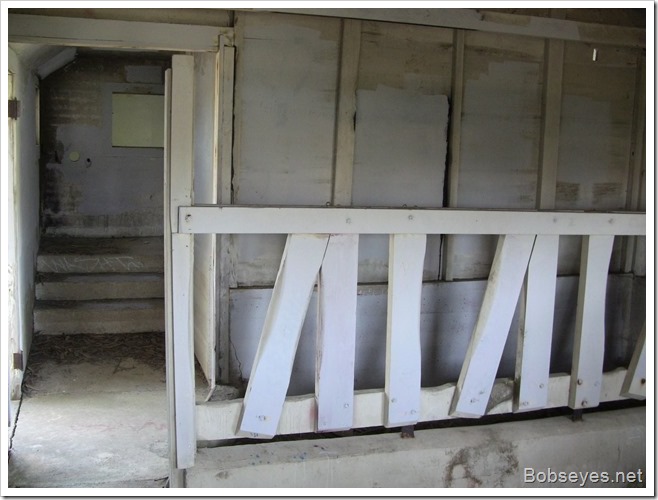 Berry bushes
From there, I walked along some overgrown paths to check out the wild berries. Too early yet, they are just starting to bloom so it'll be awhile.
Berry bushes looking back towards the old milk barn.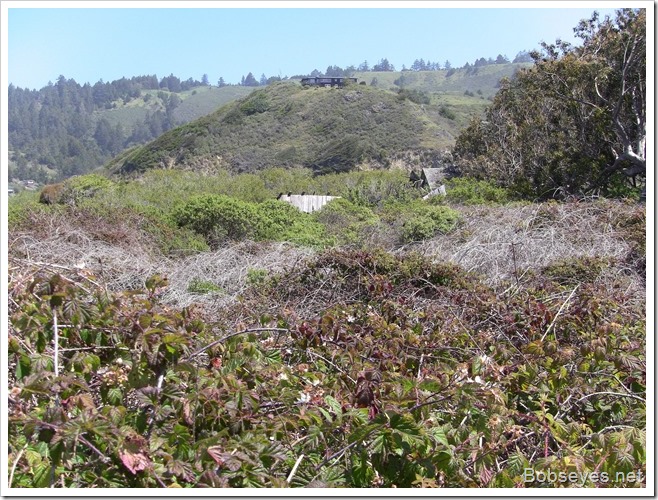 With no berries yet, I didn't stay long on the island and got back in my boat and headed on up the river.
I sat in this spot for a bit watching things and trying to stay out of the wind. The wind was up, but not really too bad, especially along the river's edges.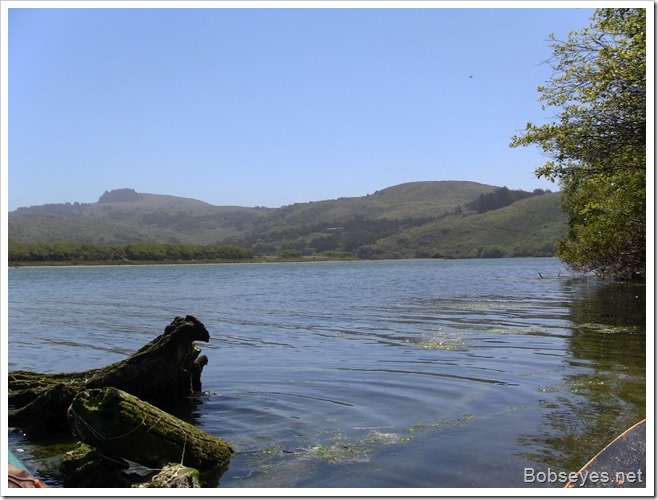 Watching the loon
This loon was out in the water just in front of me. It was just resting and watching me, as I was watching it. I waited until it got a bit closer then took some photos of it.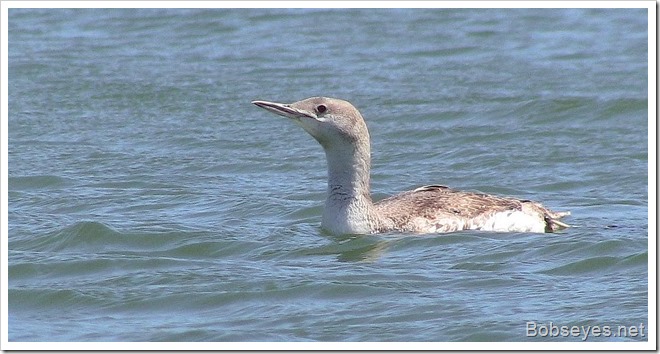 Headed up the river
I paddled on up the river to Muskrat Nest Beach and sat awhile and then turned and started back down the river.
As I was paddling along, these biologists were heading up the river to collect data from measuring devices on buoys. The biologists are just cranking up to start their summer activities so we'll be seeing more of them.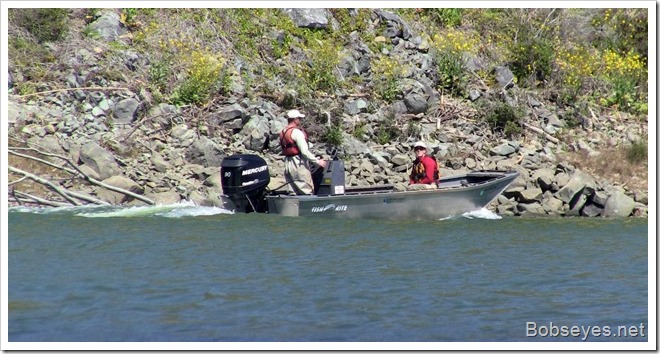 While I was pulled into a spot taking it easy this male mallard duck came by to check me out. It continued on it's way and I did the same.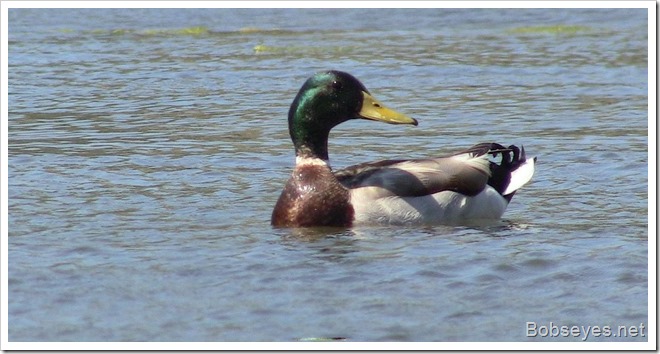 The wind dyed down
The wind had been dying down as I paddled back down the river so it was real nice out by now, but I was tired out, so headed on in for the day.
Avoiding boat ramp rage
There were three guys with kayaks on the boat ramp, so I waited for about a half hour across the river before heading over that way. I was hoping they'd be gone, but they were the type that think they are the only ones that need to use the boat ramp. Or maybe they don't think? I paddled over close to put some pressure on them, but kept my mouth shut, hoping they'd get a move on. I waited a bit, then landed to really put some pressure on them and went and got my car and started to back down, but stopped as their truck was still in the way. I got out and asked if they were close to leaving and they indicated they were, so I gave them a thumbs up and kept my cool. I'm trying a new approach so as not to upset myself. It works, but I wish people would just be more considerate. Oh well. :O)
Nice day out kayaking the estuary.