Thursday April 14, 2016 Guerneville CA.
Too windy for yakking
Checking in with the weather guy this morning, the wind was going to be up and it was cool out, so I decided not to kayak today.
Tried to contact Salmon Creek Ranch
Instead, I decided to stay home and maybe go to Salmon Creek Ranch to get some beef if I could contact them.
No luck contacting the ranch to pickup beef, but I left a message.
Is it strawberry time
Around noon, I was thinking strawberries and wondering if the berry patch in my brother's garden was getting any ripe berries yet?
Only way to find out was walk over there and check it out.
I had just walked through this little apple orchard when the wind blew a gust through and a lot of the white peddles blew off like rain coating me well. Lucky white peddles don't get one wet.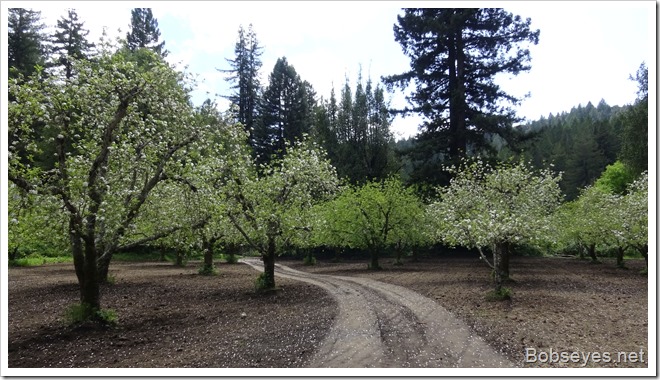 Just past that, I had to cross the creek on this bridge, looking up the creek. There's still some water in it, as it dries up in the summer.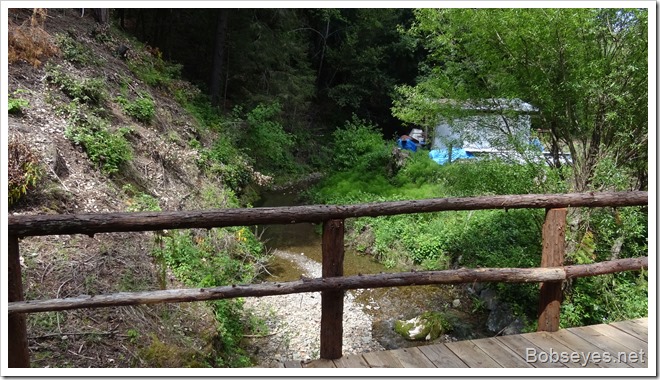 Armstrong Valley Farm garden
Just as I came off the bridge, my brother's garden comes into view.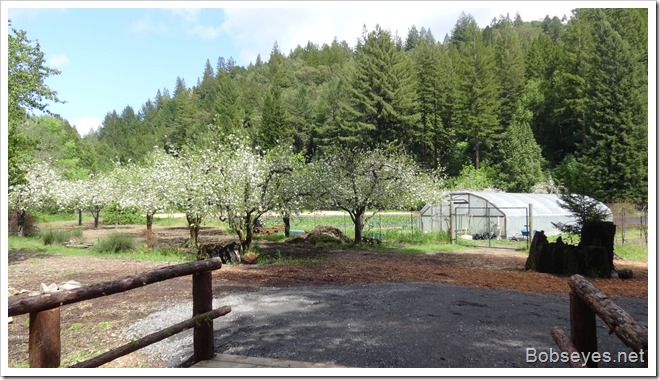 I went through the gate and stuck my head in the hot house. Lots of new seedlings getting ready to be planted.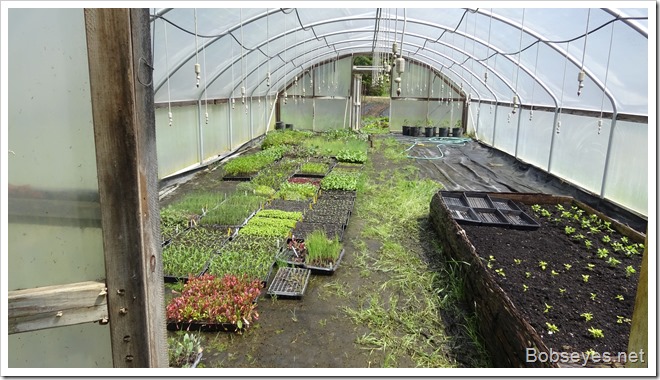 Just to the left of the green house, I looked down this road towards that green patch out there, the strawberry patch, that's what I was interested in.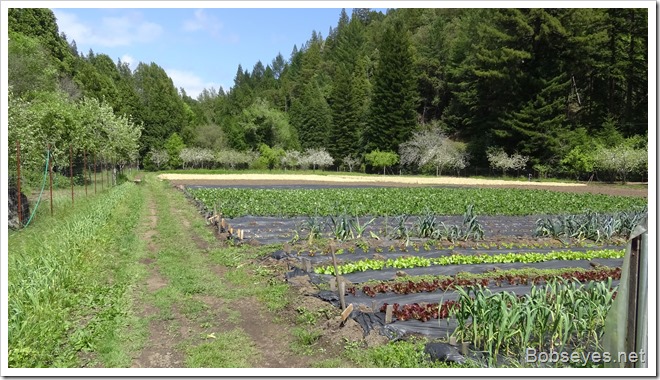 I walked past some of his lettuces that seemed to be growing well. Maybe some leeks there too.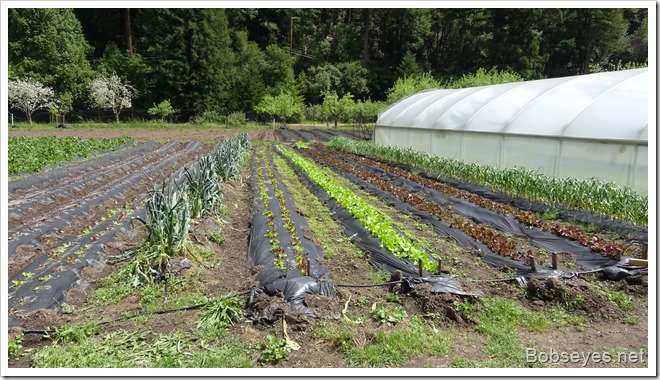 The strawberry patch
On to that green patch just up ahead.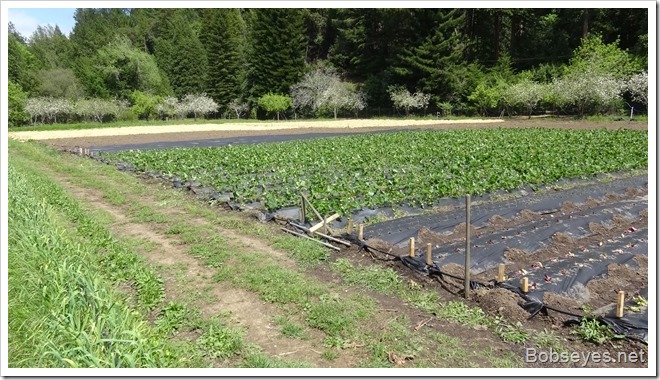 The strawberries
This is what I was looking for, some red strawberries, the first of the season. Only trouble was, I was just a tad early yet. I sampled a few of the berries and they were good, but not sugared up yet. A couple days of sun should take care of that and bring out the delicious strawberry flavor.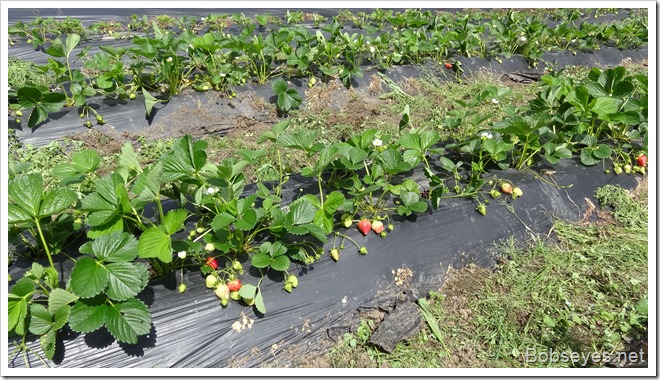 Still, a slightly red strawberry is better than none. I can wait.
Walked around the garden
I looked around the garden a bit. I walked down the road to the end by the apple trees down there. I think he had potatoes planted under the straw.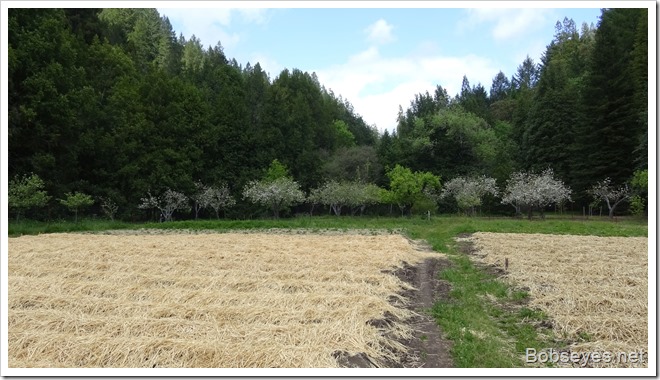 Once I made it to the end, I turned around and looked back. My house would be just to the right of the big redwood tree to the right of the greenhouse.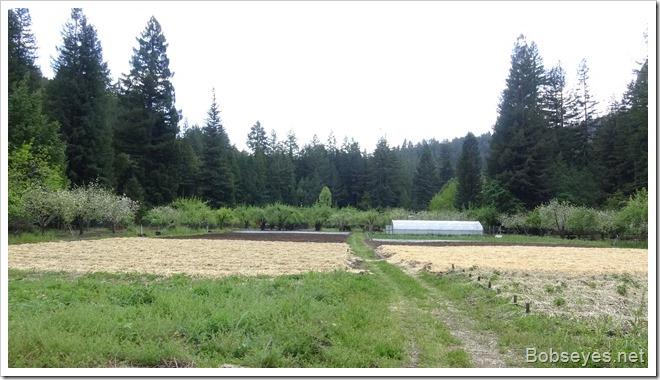 I walked back towards the greenhouse where he had more lettuce growing.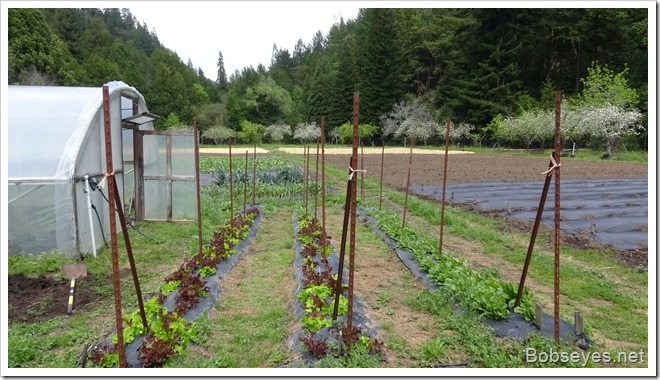 From there I went on home for a nap. I puttered around the yard a bit doing mostly nothing. I did notice this pink climber rose was blooming nicely.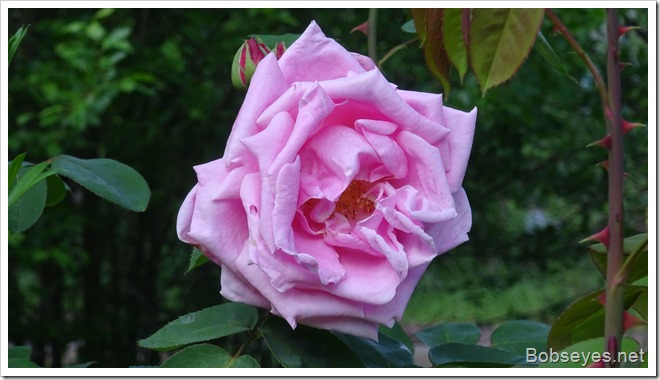 Planted some old potatoes
And I remembered I had a bag of sprouted potatoes I had to plant, so I got the bag and dumped them out here in my blueberry patch which is also my potato patch.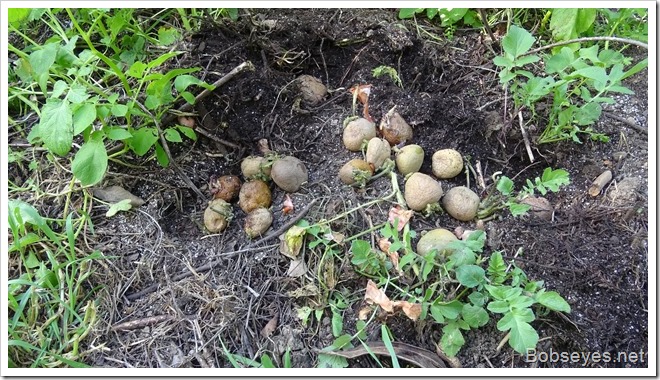 I took those old useless potatoes and dug them into the blueberry patch to grow into something edible. I did scatter them out before putting them into the ground.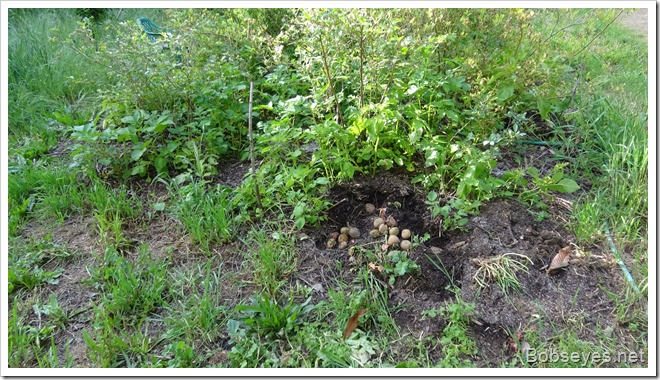 I tried the Salmon creek ranch again on the phone, but still no luck, so I sent them an email for pickup, maybe tomorrow?
Good thing I stayed home
The way the wind was blowing around in the yard I was thinking it was good I stayed home and was not out kayaking. Maybe tomorrow?
That was my day.
(Visited 241 times, 1 visits today)