Friday August 5, 2016 Guerneville CA.
Today's intentions
My intentions today were to go down to the local hardware store and get some longer bolts to mount my van's fan using the spacers I had. And then I was going to go kayaking for the rest of the day, but things don't always go as planned.
The local hardware store
I drove down to the local hardware store and had a look, but they didn't have any fine threaded five-sixteenth inch bolts, so I got the propane tanks filled I had brought along and took them home to get them out of the car as they are fairly dangerous to pack around in a car and it's also against the law.
Tried Home Depot
I then took off for the nearest Home Depot, but guess what, they didn't have any fine threaded stuff, only course and that wasn't going to work for me as the water pump is fine threaded.
These guys are supposed to have everything
So, from there I drove down to Freeman's who purports to have everything or you don't need it. They did have some fine threaded stuff, but not in the length I needed, five inches long.
Darn, I sure wasted my time looking for those bolts. I guess I'll just have to make some, so I bought four, six inch bolts with course threads that I can cut off and put some fine threads on them to make five inch bolts.
Nap time and some van work
Home I went and was thinking of kayaking still, but it was already late in the day and I needed a nap, so I went on home and took the nap.
Eventually I felt rested up and went out to see what I could do on the van.
I was working in here on the engine trying to get the fan installed properly, which needed some spacers to bring it closer to the radiator and under the fan shroud.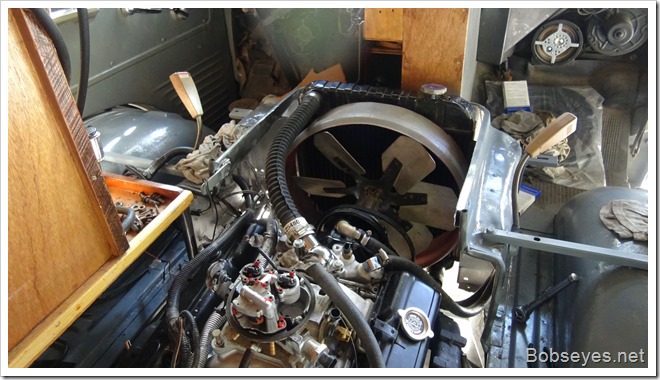 Threaded those darn bolts
I cut off the bolts I bought at the proper length and cut some fine threads on them, all four.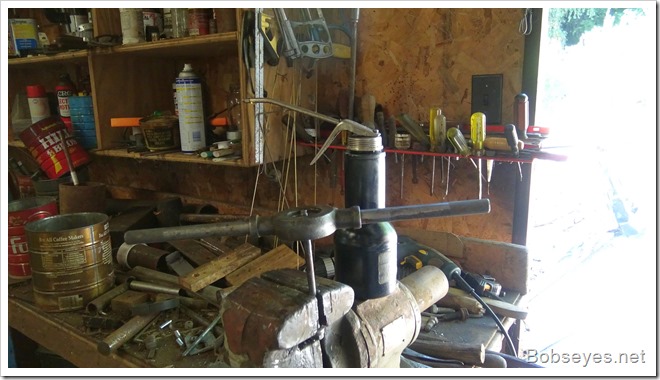 I got the fan spacers installed so now I can see how my fan is sitting inside the shroud.
Spacers installed so I can check out the fan blades.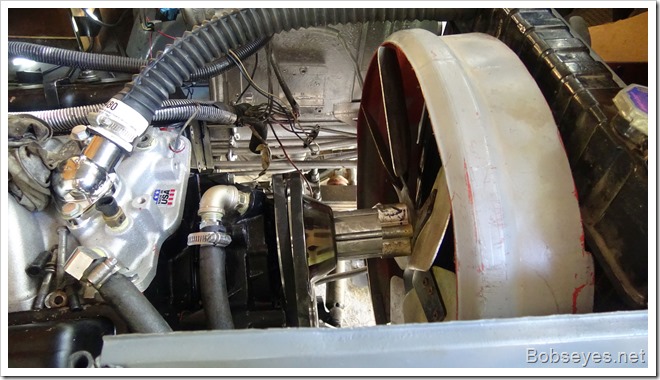 The fan shroud will have to be adjusted
The fan is a little too high and close to the shroud. It's also a little too far to the right so I'm going to have to readjust the fan shroud, which really shouldn't be too hard.
Here's the view of the fan and you can see it's a bit high and too close to the fan shroud.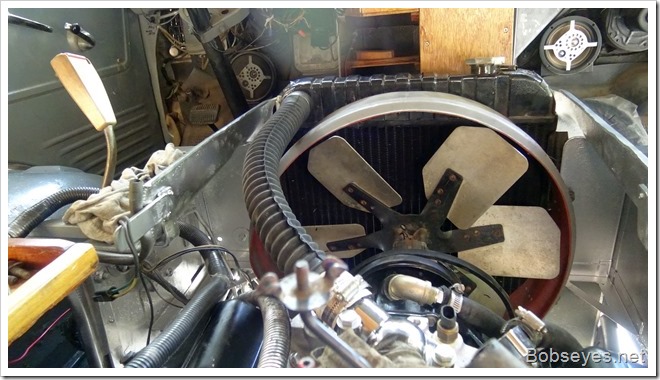 Worked on the throttle linkage
Since I could see I could get this to work, I left it for later and went under the van to continue working on the throttle linkage. My high low shifter for the transfer case just happens to be running over the throttle linkage and making hooking anything up there a bit of a pain. I spent the rest of the day messing around with that linkage trying to find a good solution to the problem as I don't really want to move the shift linkage as that would be a pain too.
Eventually I left that chore as it needs some more thought and besides it was starting to get dark.
That was my day.
(Visited 188 times, 1 visits today)