Thursday February 4, 2016 Jenner CA.
Steve showed up at my house this morning and we were supposed to do a shuttle from Monte Rio down to Jenner, but he changed his mind, so we went on down to Jenner to kayak for the day. The sun was out with a light wind as we put our boats in the water.
We paddled across the river to Penny Island and pulled into this little channel at the upper end and sat around and enjoyed the day in this spot for quite some time.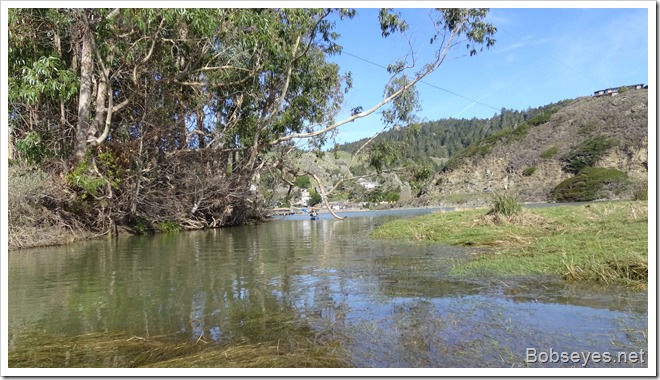 Walk on Penny Island
Eventually Steve wanted to go ashore on the island so we landed here and went for a walk.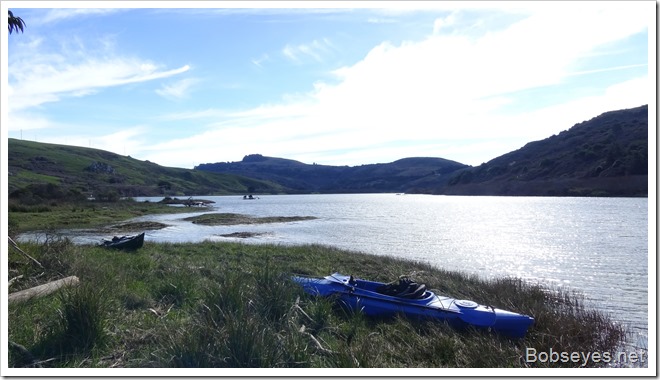 I'm following Steve through the brush on the island and he's lost the trail. We are headed for that big tree up ahead where the houses were.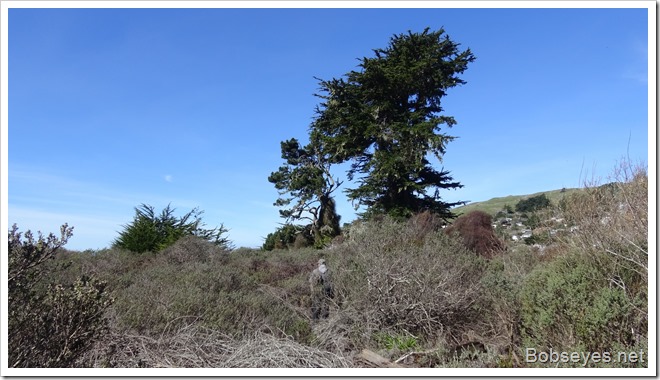 My view from the island of the town of Jenner across the river.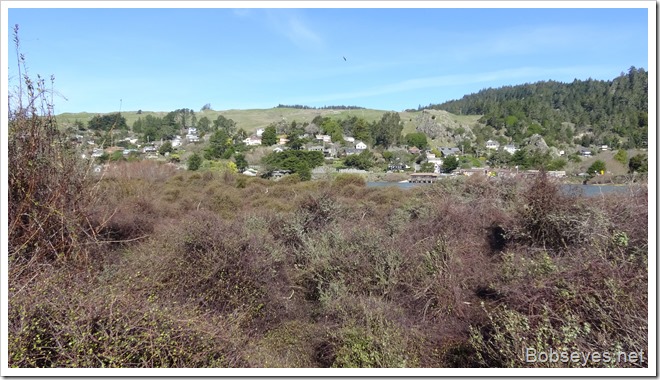 Daffodils mean spring
I ran into these daffodils by the old homestead.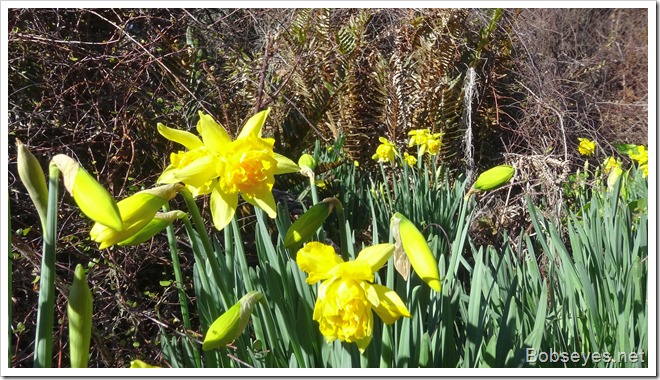 Eventually we left the island and went down the back channel headed towards the river's mouth area.
We went past these crows. I think they were just resting in the sun. They were being real quiet.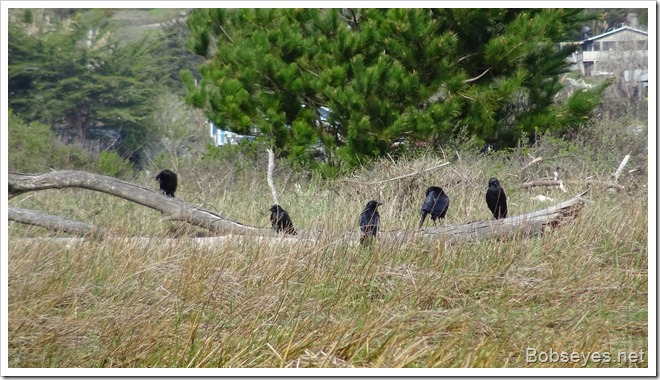 River's mouth area
The ocean was real rough and pounding the shoreline with much noise. There were a lot of birds and harbor seals in the area.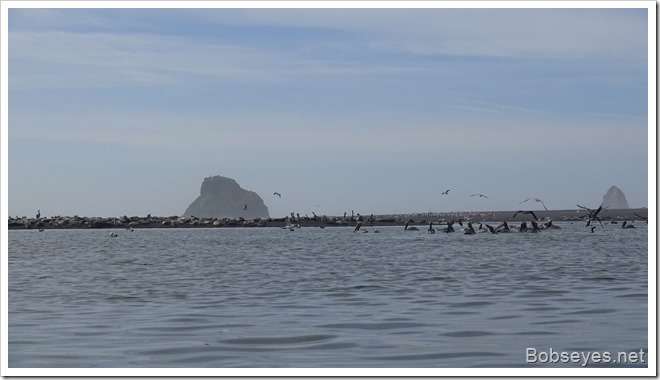 Lots of brown pelicans showed up today. They are bathing and preening.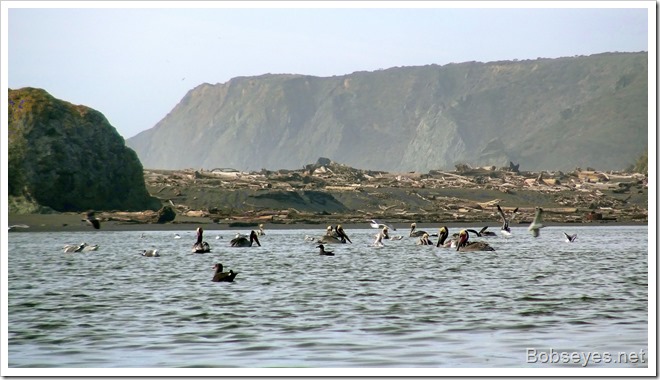 These brown pelicans were floating just inside the open river's mouth, looking out into the ocean.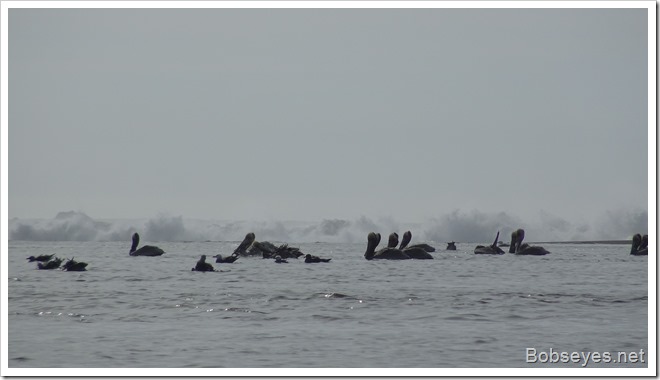 Back up the river
We stayed in the mouth area for some time, then headed back up the river and pulled back into the little channel on the upper end of the island again, where we were earlier and rested for a bit.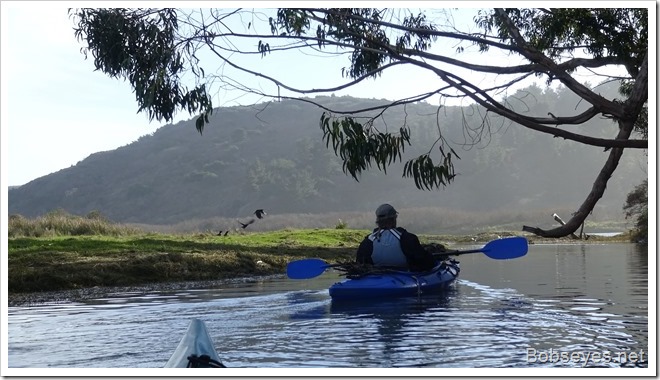 We headed on up the river as the sun started to go behind the hill to our southwest, so we crossed over the river to the north side where the sun was still shinning.
There were quite a few merganser ducks in this area today. Here's some of the males, the while ones with dark heads.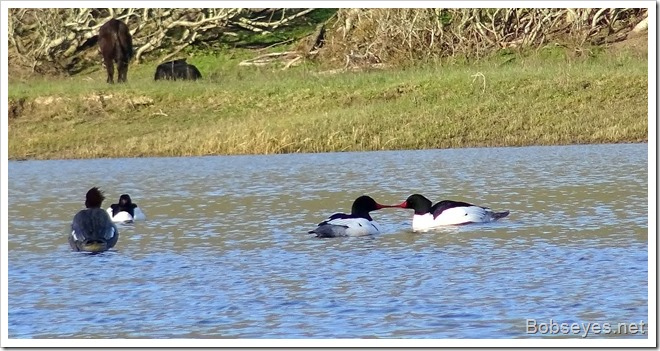 As we paddled down along the shoreline I could see a white bird up ahead which turned out to be a snowy egret just resting and preening. They always seem to get a little white feather on their bill when they preen. It may have some significance to preening as I see this in the great blue heron also.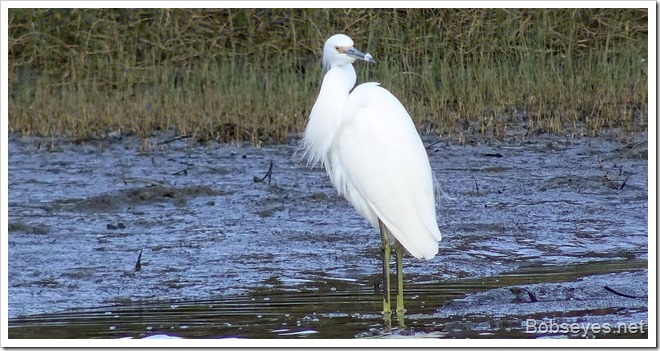 I went by the egret fairly close.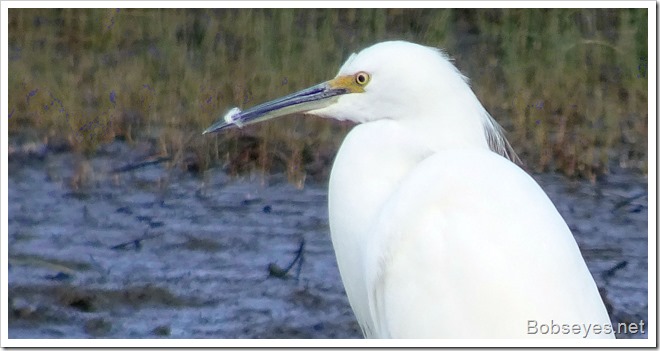 There was a great blue heron sitting just behind the egret that took to the air as I watched. It's rare that I get a clear photo of one of these big birds in flight.
We continued on down to the boat ramp and took our boats out for the day. It was almost five PM as I drove on home.
That was my day for a nice one.
(Visited 117 times, 1 visits today)