Saturday, Sunday October 15, 16,2016 Columbia Creek Nevada on the Maggie's Summit Road and Mountain City Nevada
Two posts today. Read the one below this one if you want to read them in order. Posted at Duck Valley Indian Reservation.
The guy said it was going to be windy and it was
I left camp just after nine this morning. As a truck stopped to let me pass on the road, I stopped and asked about a weather report. They said no big storms were predicted, but, there was going to be winds over a hundred miles an hour. I figured I better make a camp in lower country compared to high mountains, so I adjusted my plans.
Tuscarora
An hour or so after leaving camp, I turned onto the Tuscarora road that went to Tuscarora, a little place I hadn't checked out before, right up ahead. I could use their road as a short cut to where I was going so now was a good time to check it out.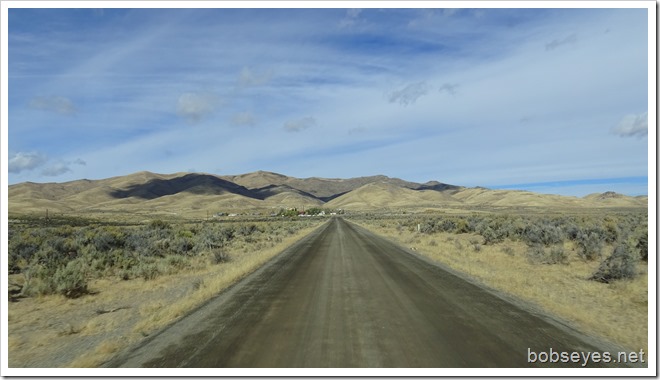 Tuscarora is an old mining town that has turned more into a small town to live in out here. I don't think there's much mining going on there anymore.
Here is my view as I got close to town.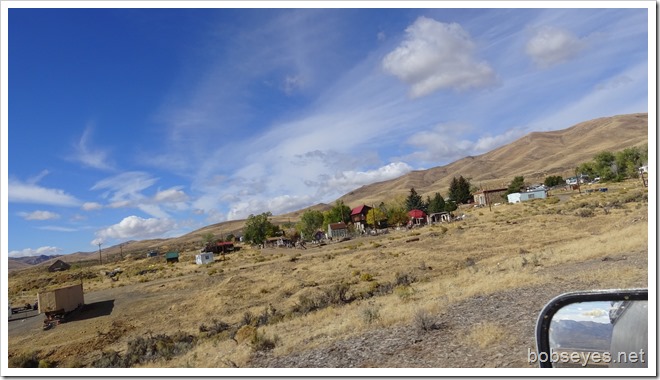 I exited town on this road that crosses over the valley to a road that is paved for a short distance, which heads north.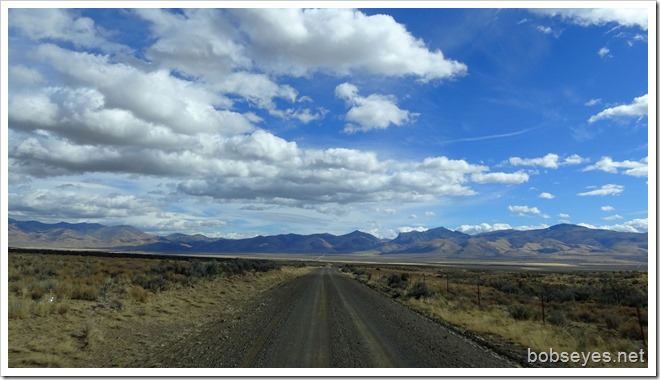 I went by this cattle working and loading area, part of the IL ranch. I'm headed just up the road to a big meadow.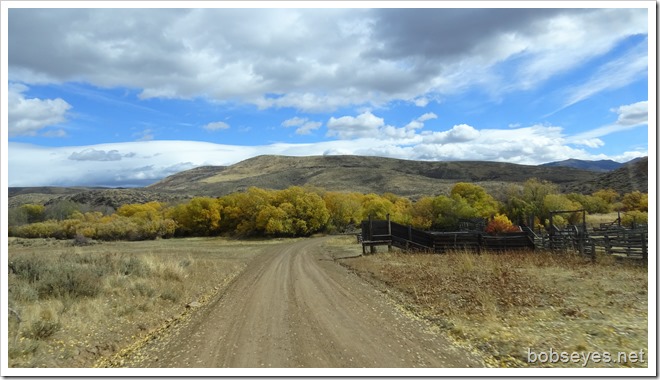 Going to camp in that meadow down there
I stopped along the road at this overlook spot. I plan to camp on the far side of that meadow in the center of the picture. Columbia creek comes down through the meadow and it's an old homestead.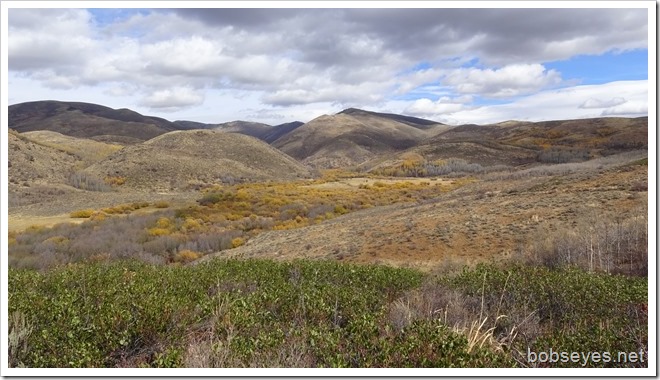 Camp spot
I checked out a couple of camp spots and finally chose this one. It's a bit out in the open which actually might be better than being in the trees with the high winds predicted.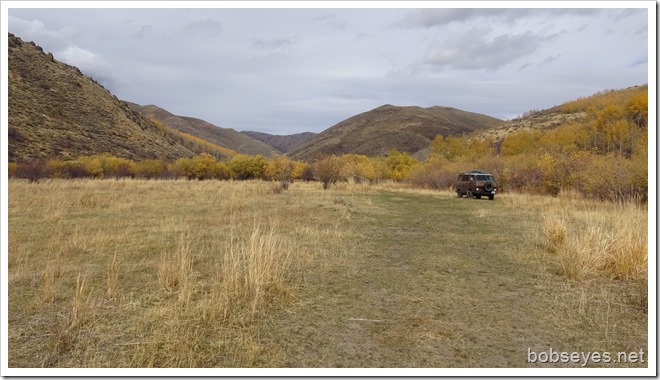 The winds started to pick up right after I made camp and they've been blowing since, rocking my van back and forth.
This is my view out the van's side doors and I plan to go for a little hike around those trees out there this evening. Columbia creek runs down through there with plenty of beaver dams too.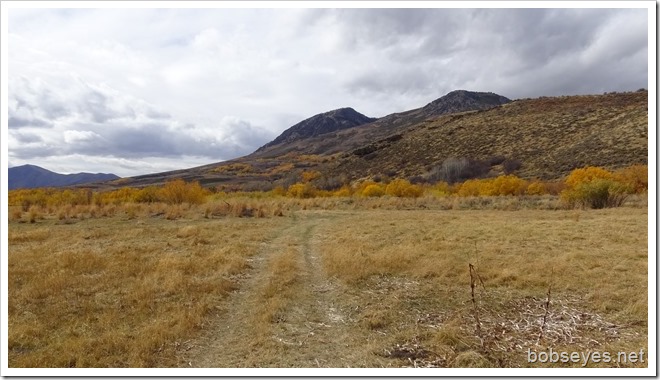 Walked around the area
I checked out the area of the old homestead and found this old horse drawn plow close by.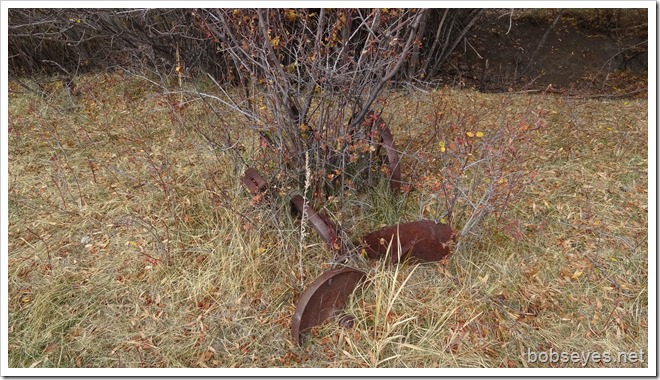 And this is what's left of what looks to be an old hay wagon of sorts. Time is slowly taking it.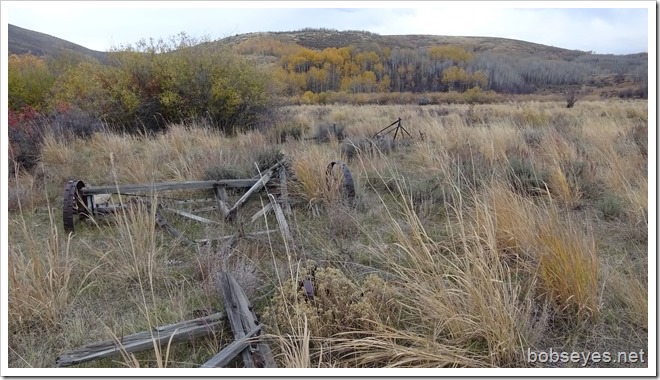 Water in the creek
I walked down along the creek which had some water in it.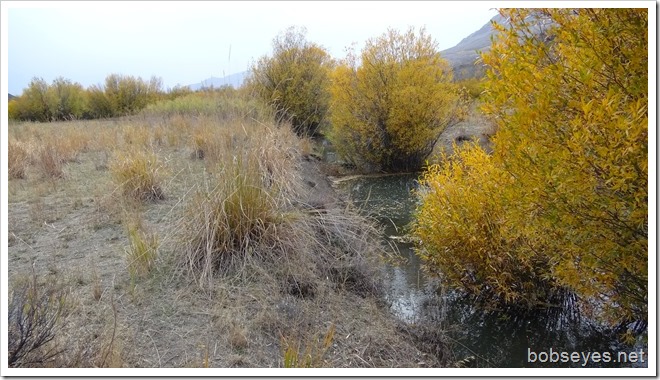 I could hear some water roaring, so I made my way to the sound and found where the main creek dropped a bit making the sound.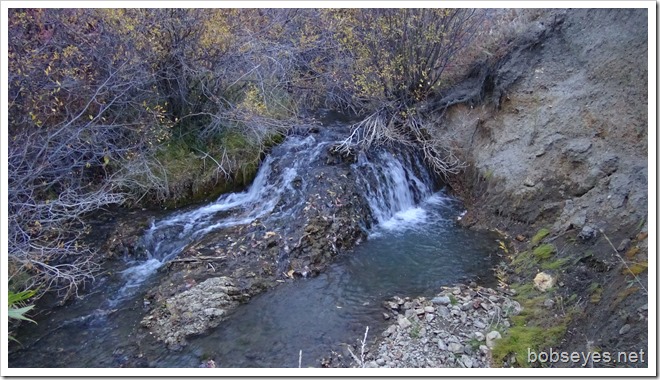 It started to spit rain a little as I made my way back to the van. The wind has picked up more rocking the van back and forth even harder but the rain has mostly quit so far.
Tomorrow I plan to head for Mountain City. I heard a new store has opened there so I will check it out and see if they have any public internet access or not. If they don't I will have to wait a day before continuing on to the Indian reservation as they have internet access, but their computer lab is only open on week days so I'll have to adjust my plans.
Nice day, even with the big winds.
---
---
Sunday October 16th
The rain changes plans
The wind and the rain stopped sometime late last night. This morning it was a bit overcast. Looking off from my camp site, I could see there was some snow in the mountains which wasn't a good sign.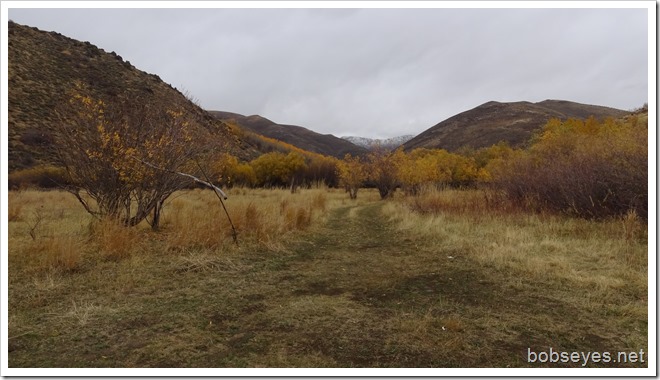 I wasn't sure what I wanted to do today, but eventually I decided to continue on over Maggie's Summit to the little town of Mountain City. The road over Maggie's Summit is well graveled. The road I came in on to get here is mostly dirt, so gets real snotty when it rains.
The big ranches I passed all had all their hay in and looked like they were ready for the winter.
One of the big ranches I went by on the way to Mountain City.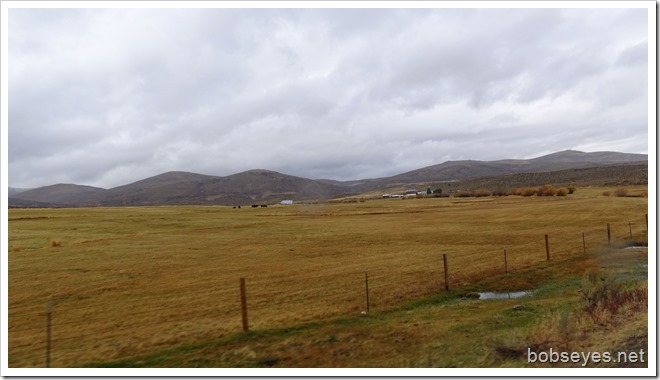 Rain starts again
It started to rain lightly and continued for the rest of the day and is still raining this evening.
I decided to check out one of the roads going east from Mountain City to see how they were. I went up into the hills on this road which wasn't bad as far as mud.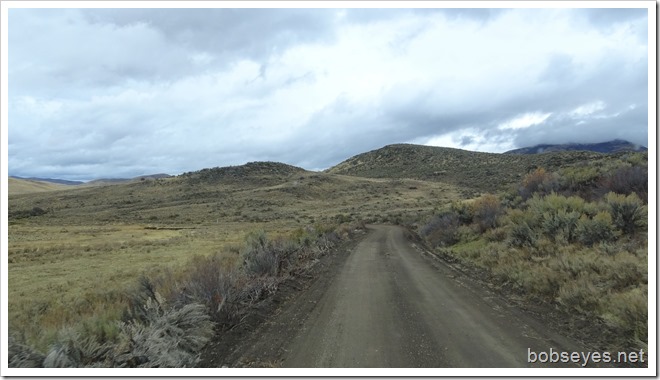 The higher up in the hills I got the muddier it got, so I was thinking things would be mostly muddy if I was to head to the Jarbidge area from here.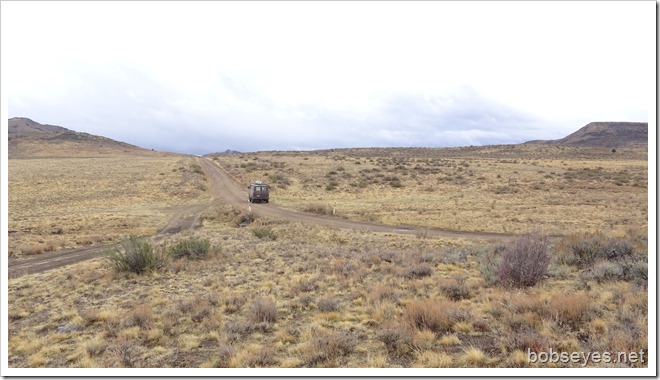 Store's reopening in Mountain City
I had just gone up there to see, so I retreated to Mountain City that looks like this. At first I thought the closed down store was selling big cement bricks, but looking closer, I saw that the pallets had boxes on them. It looks like someone may be opening up this old store again. The main reason all the stores have closed in Mountain City is all the store owners got too old to run them, so I heard there is some new blood in town.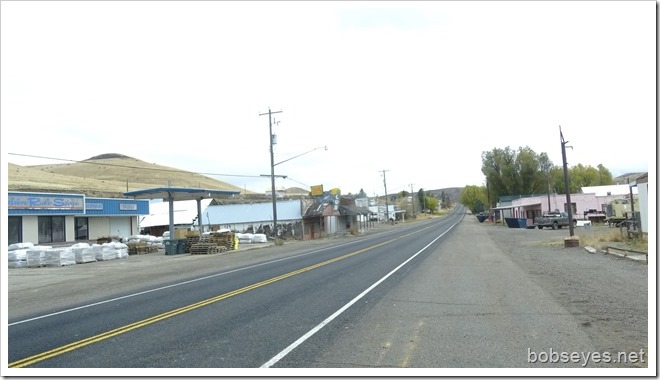 Headed to Duck Valley Indian Reservation
It was still early in the day, so I decided to go ahead and go to the Indian reservation as it's only twelve miles from Mountain City and has a store and gas. I thought I might stay the night there to wait for the internet lab to open as it's only open on weekdays. I gassed up and it was still raining. After some thought I decided to go back to Maggie's pass and maybe think about heading for home as the weather here looks like more of the same with some snow predicted. I got that from talking with people. No one really knew for sure what the weather was predicted to be. This area doesn't have very good communications being out in the desert and the mountains, so it's hard to find out what the weather report is. And all the Indians I talked with don't watch the weather report. They comment,….. what for? It's what it will be and I can't argue with that.
Back to the Maggie's Summit area
I finally decided to forget about waiting and getting on the internet and decided to head back to the Maggie's Summit area and camp for the night and see what tomorrow will bring.
One of the ranches I went by in the rain going back up to Maggie's Summit.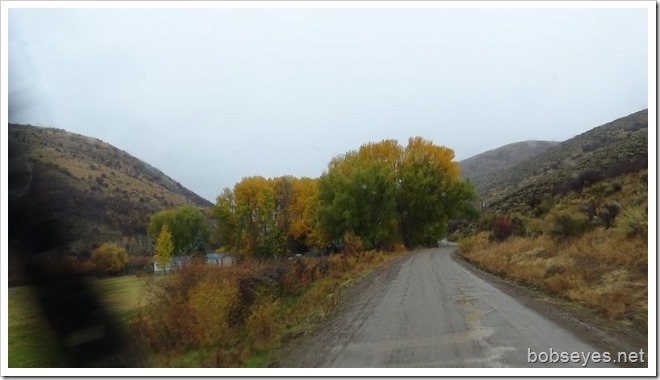 Guy says the road is snotty
Just past this ranch, I stopped to put my front hubs in so I could have four wheel drive if I needed it. While I was stopped a guy pulled up in a truck so I talked with him some. He said as far as he knew this wet stuff was to continue for the rest of the week and he advised I not continue over Maggie's Summit as the road on the other side is mostly dirt and is real snotty.
Made camp
He left and I made camp just a little further up the road to decide what to do tomorrow.
I think it's back to the reservation for me
After settling in to camp and reviewing my options, I think the best thing to do would be to go back to the Indian Reservation and post my blogs and check some weather reports so I can make some decisions on what to do. It's sorta looking like the best plan might be to head on home if the weather is going to continue to be wet. I'll have to take the main roads to stay out of the mud if I do.
Even with the wet, I still had a good day exploring around and checking things out.
Snow changes things fast
It started to snow around seven PM. Big wet flakes that mostly weren't sticking. I waited around until around eight PM when I decided I better beat feet back to the paved highway, about forty five minutes when it wasn't snowing.
No headlights
Only trouble was my head lights weren't coming on so I couldn't see much to drive.
I tried my flash light to get onto the main road, but with all the snow coming down, that didn't work very well.
I remembered the high low switch sometimes doesn't have a good connection, so I reached down and twisted the wire connector and the lights came on. I got on the road to a heavy wet snow, but it wasn't sticking to the road, yet.
Next problem was for some reason, my alternator wasn't charging fully, but it was charging a little at 12.3 volts and holding, so I was hoping I'd make it back to the road without having to change to the other battery. I could barely see the road and the snow didn't let up until I was to the paved highway. It's snowing a lot less here and raining some.
I'm parked in a road maintenance gravel place which is actually fairly peaceful with only a few cars going by.
I'll check on the charging thing in the morning. Without the headlights it seems to work good enough to keep moving at 13 volts. Something is weird for sure.
It's safer out here by the highway then way back on that gravel road where I'm sure a bunch of hunters are having a worry.
The rain continues to pitter patters on the roof.
---
---
Monday morning
It's turned cold around here
It was cold this morning when I woke up, so I turned the propane heater on before getting out of bed. The rain had stopped and I had a good night sleep.
Good thing I took off last night when I did as looking back up the road that way, I can see lots of snow on the mountains.
There was a 40 foot class A RV on the other side of the pass with several big trailers. Hunters like to live good. The best thing they can do is sit it out and wait for things to dry out and the snow melt which usually doesn't take too long in the desert. The road is too muddy for them to go out to the south.
Popped the hood
As for me, I popped the hood after I got it going and found the alternator main wire was starting to come loose a bit. Washboard roads tend to loosen everything. I tightened it up and it all looked good to go.
I'm at the Duck Valley Indian Reservation's computer lab
So, I continued with my plan to go back to the computer lab at the Indian reservation to check the weather and post some blogs and decide what to do.
There's a few more showers in the next couple days, but then the sun is supposed to shine.
New plan
The new plan is to go down the graveled road to the Willow Creek turn off road and go back to Willow Creek reservoir and camp for a day or two. By then the mining haul roads should be dried out that I need to take to get back to Winnemucca. I'd rather do that than take highway 80 back.
The nights look like it is turning cold, down to 24 degrees F. one night. I do have a propane heater so I should do all right, although I may have to stay in the van a lot with the heater on.
I will leave here soon after checking out some blogs I follow.
Things are looking good. Good thing I pulled out of the snow last night or I would have been up all night wondering if I would get snowed in.
Nice day so far.
(Visited 162 times, 1 visits today)