Friday November 4, 2015 Jenner CA.
I put my boat in the water at Jenner this morning to a calm sunny day. John, the kayak rental guy paddled up to the boat ramp as I was getting it going so we shot the bull for a bit. While doing that, Ray drives up in his truck and puts his boat in the water. About that time Dan shows up with his boat so we shot the bull some more.
Eventually, Ray and I leave Dan at the boat ramp and head on down towards the river's mouth area to see what's going on. You can see it's a real nice day.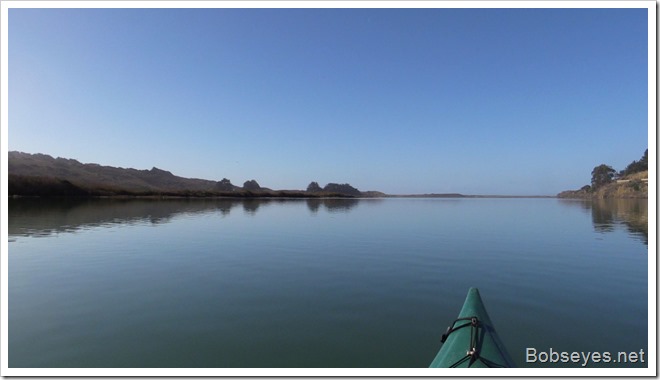 As we neared the mouth area, I could see John who leaves down by the mouth outside by his house, so I paddled over and shot the bull with him a bit while Ray continued to the mouth area. John's working on putting a new radiator in his car so I lessoned to his tail about that. He's still working on that, so I'm sure I'll hear more about that later.
I left John as he headed back in his garage to work and I headed over to where Ray was sitting in his boat in front of the closed river's mouth up ahead by where all the seagulls are flying around.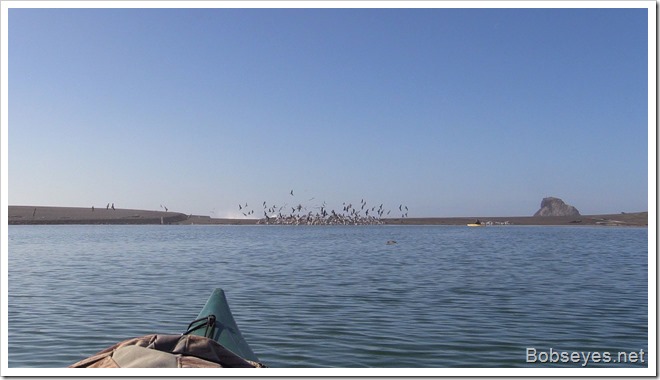 It was low tide, but some of the ocean waves were breaking over the sandy beach. Ray's in there by the birds. The ocean was rough and making a lot of noise pounding the beaches.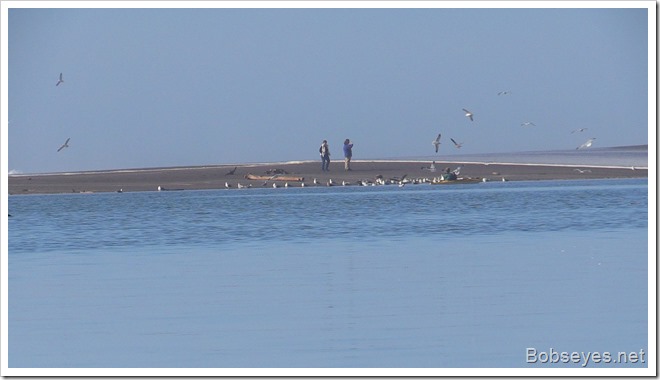 As the water level rises because of the closed mouth, wood laying around the shoreline starts floating and there was quite a lot of it floating in the water by the mouth.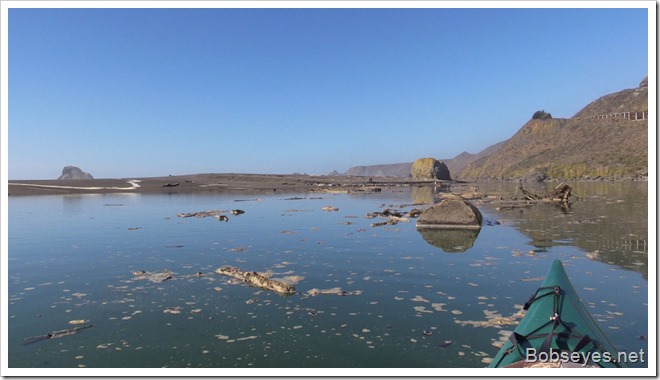 We hung around the mouth area for an hour or so, then decided to head on up the river a bit. We are just leaving the mouth area here, headed up the river.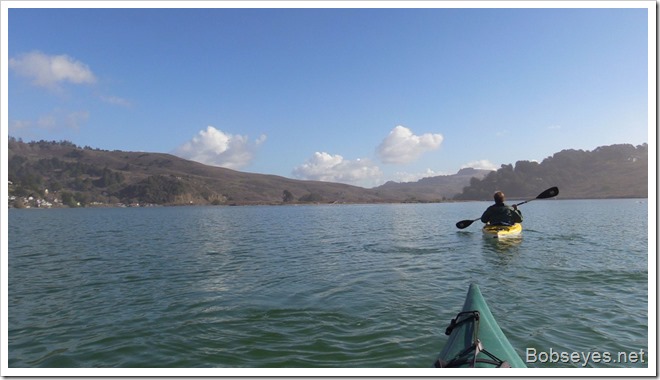 We passed by these birds in the water, a grebe and a couple of seagulls.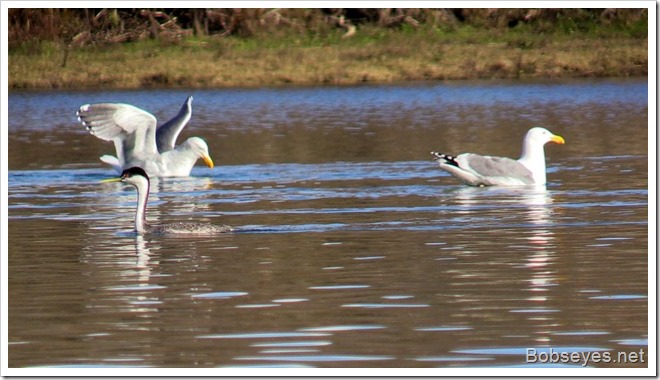 We paddled up the back channel of Penny Island taking our time.
When the mouth is closed, the up river seals lose their resting logs from being flooded so they come down river to just above Penny Island and use this big redwood log for a pull out to rest and get some sun.
Pops was there today, resting away as we passed on by.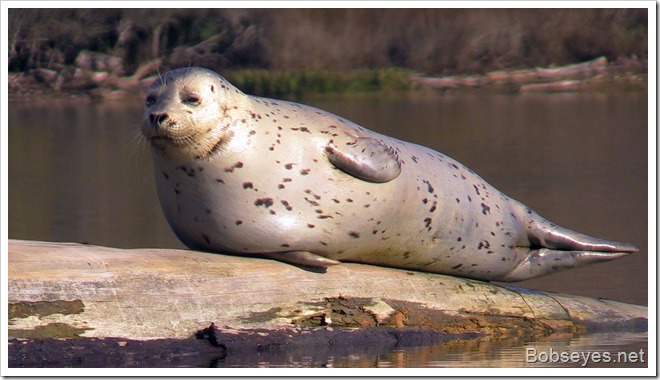 We paddled on past Pops along the south shoreline going up the river.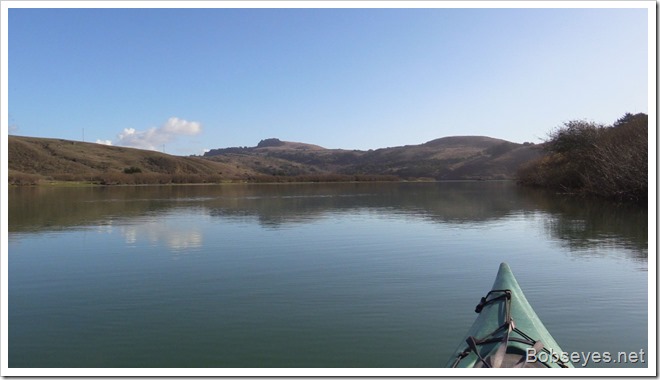 We were looking for a place to get out to take a little walk. With the mouth closed and the water level up, it's hard to find an easy place to get out and not get all wet.
We ended up at the muskrat nest area at this spot where we found a place to get to shore.
You can't get more exercise unless you exercise more
Just before we get to shore, Ray is telling me he isn't getting enough exercise and needs to get more. But when we get to shore he says he only feels like going for a short walk. I tell him that's contrary to what he just told me about getting more exercise.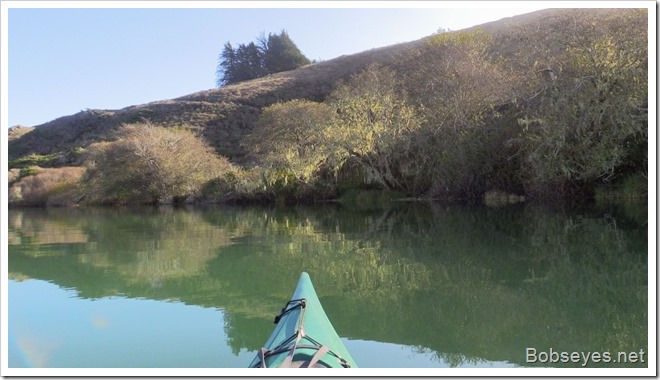 I left it at that and we went for a short walk up to Buzzard rock.
Here we are on top of Buzzard rock. Just sitting and enjoying the view and the day.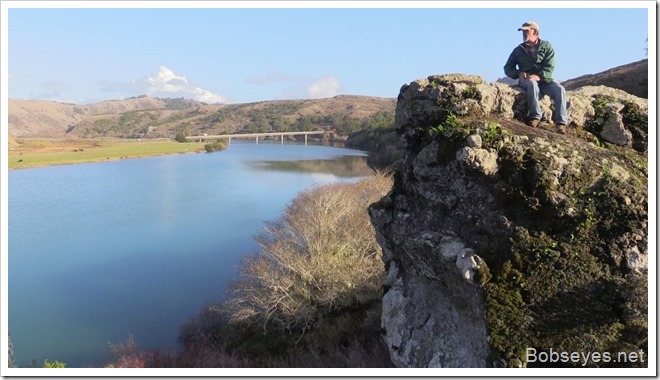 And here's the view down river towards the town of Jenner from the rock.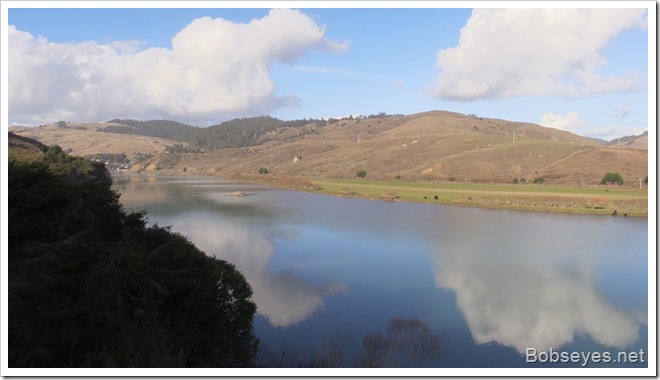 We didn't stay up on the rock too long and headed back to our boats and got back on the water, crossing over the river to the north side where we met up with Dan again as he came down the river from his paddle.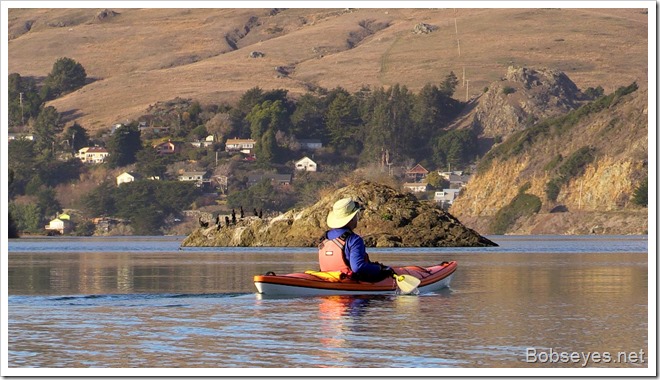 Dan was paddling faster then we were, so he left us in his dust as he headed back in for the day.
We went by this grebe which was diving and fishing.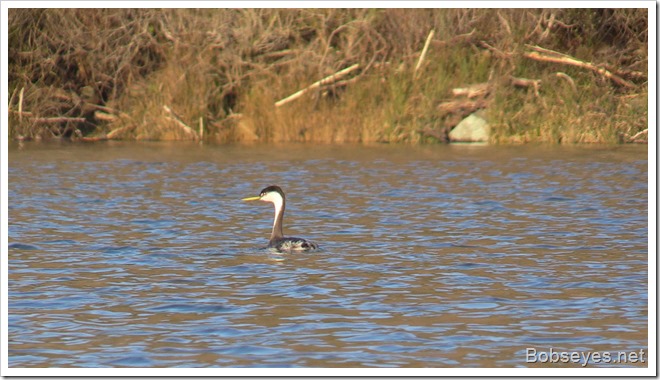 Here we are headed back in for the day, that's Ray off to the left.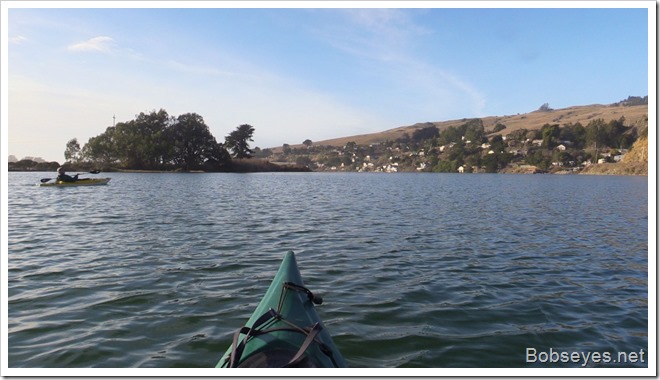 We hit the boat ramp and went on home for the day where I hit the couch for a bit and that was my day.