Tuesday and Wednesday August 6, 7, 2016 Jenner CA.
Brown pelican day Tuesday the sixth
Yesterday there were brown pelicans just about everywhere I went on the estuary. They were at the boat ramp as I put my boat in the water diving on small fish.
Here's some of the brown pelicans just after I put my boat in the water in front of the boat ramp.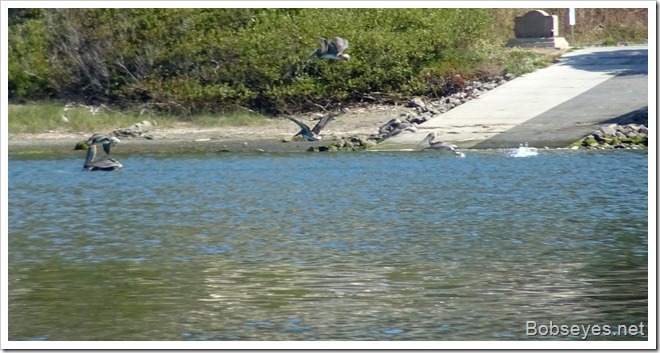 I paddled across the river among them and could see they were all over the place. I paddled up along Penny Island by all these birds.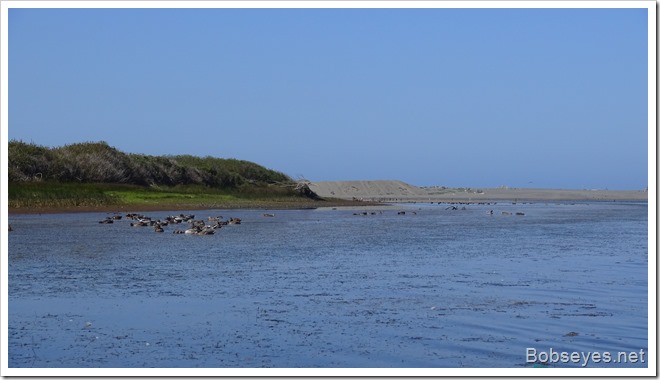 I went by these mallards feeding on the underwater weeds.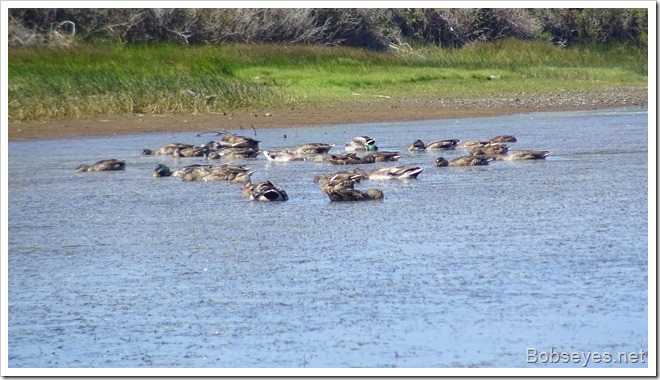 And by a lot of pelicans. This one drifted to about twenty feet from me and the sun was on it nice.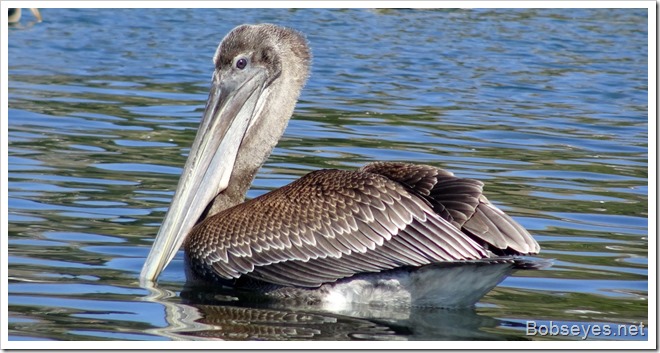 I went by these merganser ducks taking it easy on this log.
And these stately three.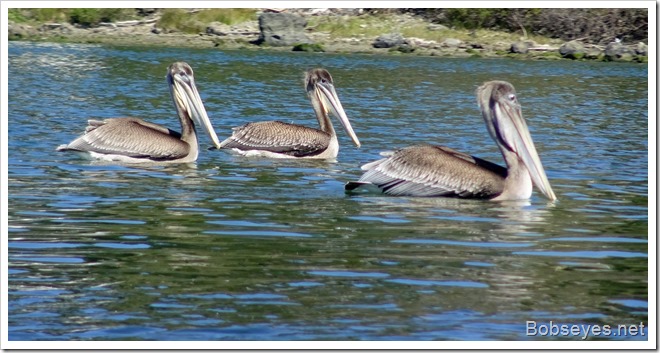 Down at the mouth
I was headed to the rivers mouth where I could see a bunch more pelicans down that way.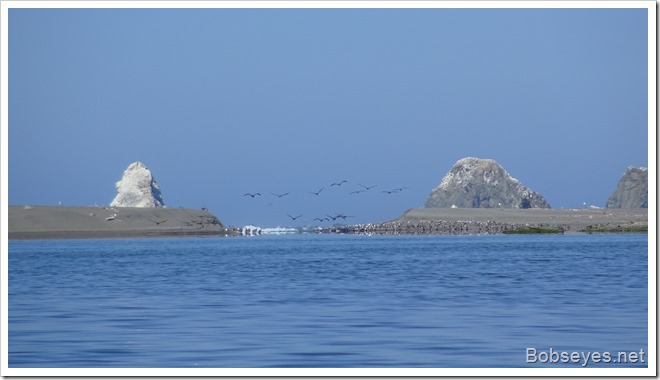 Lotsa birds
There were lots of birds resting on the right side of the open mouth.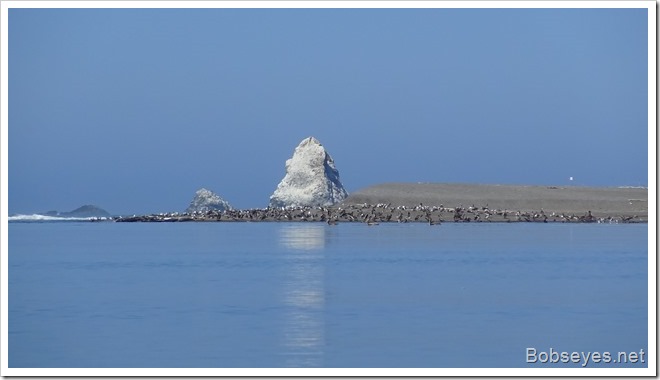 It going to high tide, so I sat in the foam where the ocean water was diving under the river water right in front of me where the pelicans are.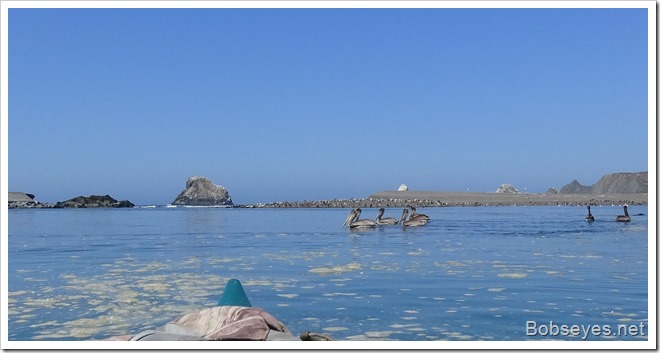 Some of the pelicans were fishing the waters while I watched there.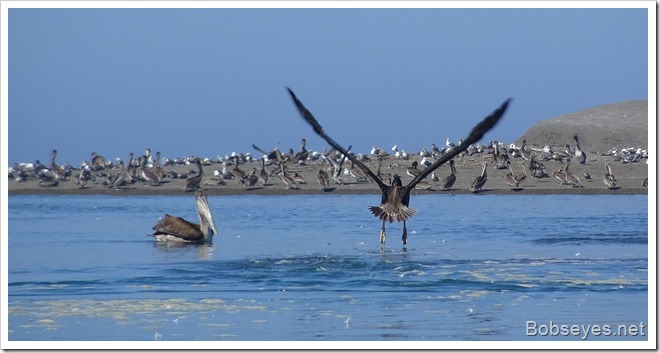 And there were some harbor seals swimming around in the water.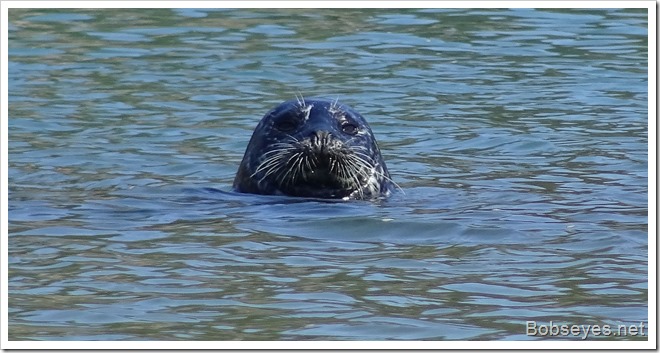 The big pelicans just glade along.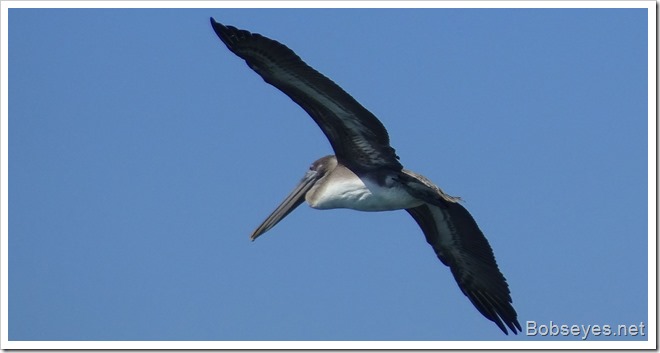 With fall coming on fast the oceans waves are getting bigger. This is looking out the open mouth with the seals on the right.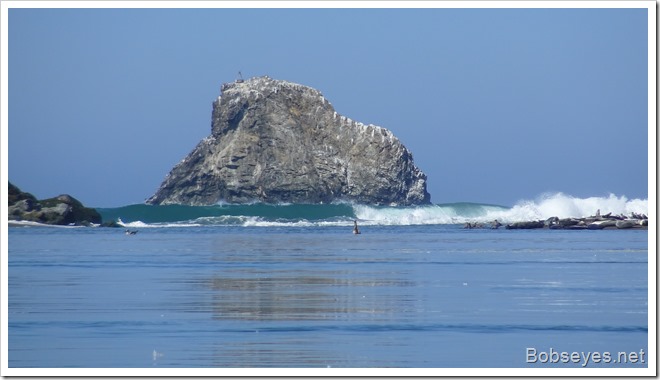 The all spooked
Something spooked all the birds so they all took off, before landing again. Some left the area, but most stayed.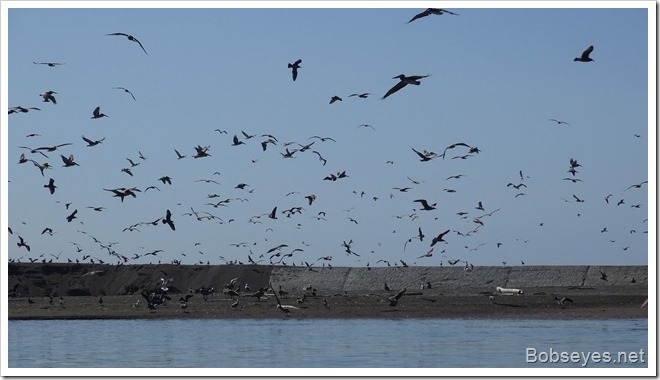 I headed on up the river above Penny Island where the pelicans were working that area too.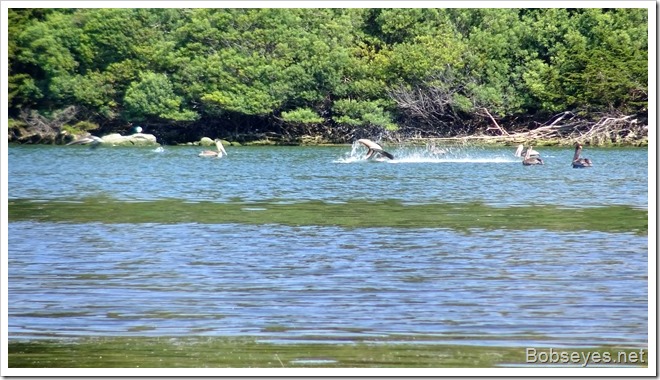 I thought this one was going to land on me, but they have a lot of control and glided on by.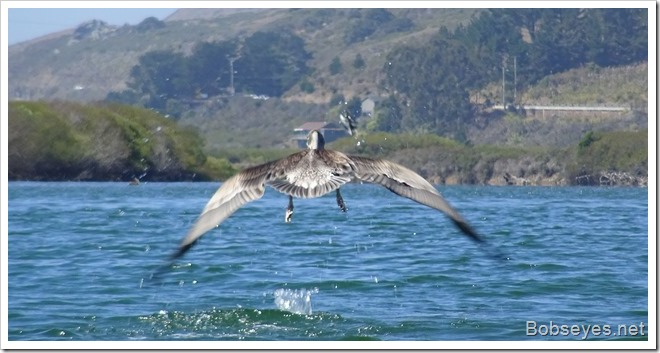 This was my view as I headed back to the boat ramp. Plenty of pelicans still fishing out there ahead.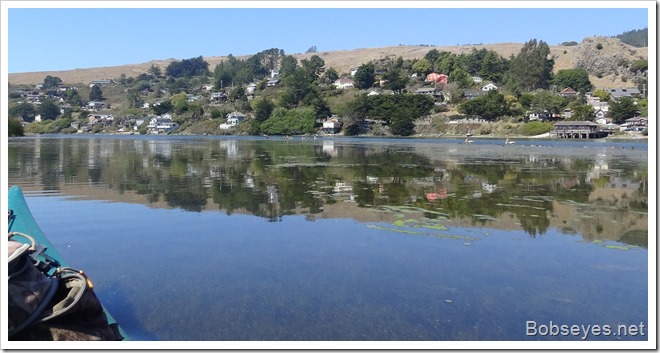 Worked on the van
I went on home and worked on my van after a good nap. I added the rest of the coolant to the radiator and tried to set the idle. The engine doesn't idle as good as it should, it sorta hunts which usually indicates an intake manifold leak, so I'll need to check for that.
I also sealed the bottom of the engine compartment. I used some silicone. Smeared a layer around where I need to seal and put plastic wrap on top of that to prevent the cover from sticking to it as I installed the cover on top of the wet silicone to make a good seal.
That was it for the day and I went to bed early.
---
Wednesday at Jenner
Today there weren't as many brown pelicans but there were still some.
I put my boat in the water and crossed over to Penny Island and went on down the side just like yesterday. The ducks were still feeding on the weeds there.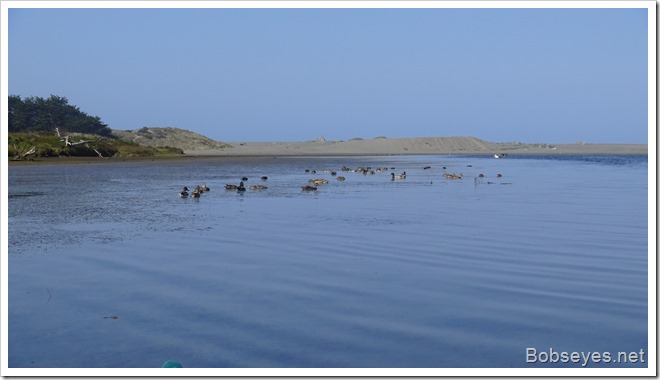 I crossed over the river and went over by John Lowery's house to give him some fresh peaches in appreciation for all the trash he picks up in this area. I found him home. He saw me and came out to talk while I sat in my boat. While we were talking this seagull brought this little crab to shore to eat right in front of us.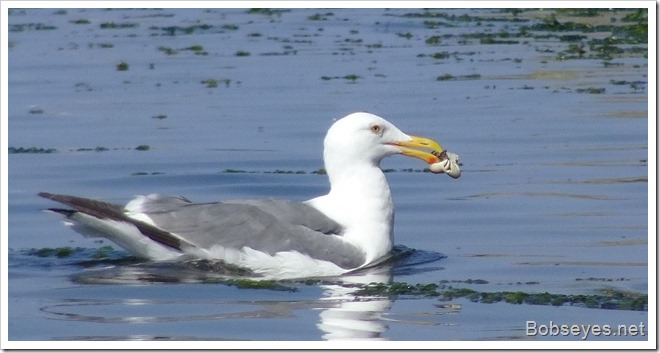 And it wasn't too long before we heard some screeching that interrupted our bull session. We looked up to see this osprey in the tree above us.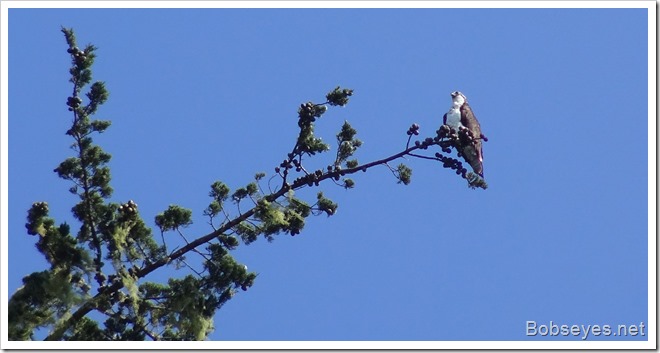 I left John as he headed out with his bag to pick up trash and I paddled over to the mouth area which looked like this today. Not near as many pelicans today, but some.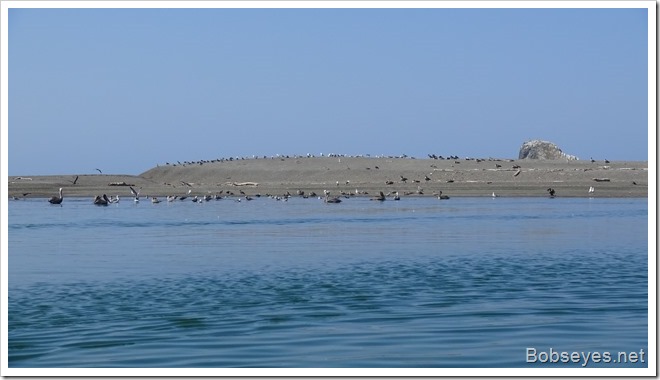 I sat in front of the open mouth where these seals were taking it easy.
From there I headed back up the river and found these merganser ducks and the pelicans fishing together. I watched them as I passed on by.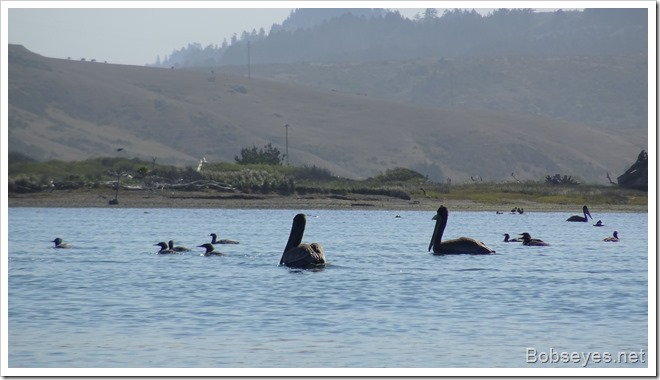 Fine looking pelican
I also went by this fine looking pelican. It's near the lower end of Penny Island, but the camera makes it look like it's down near the mouth.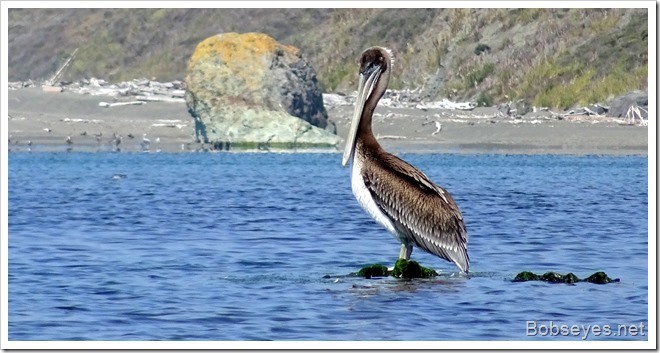 I continued to paddle up the river along Penny Island where I passed this egret flying by.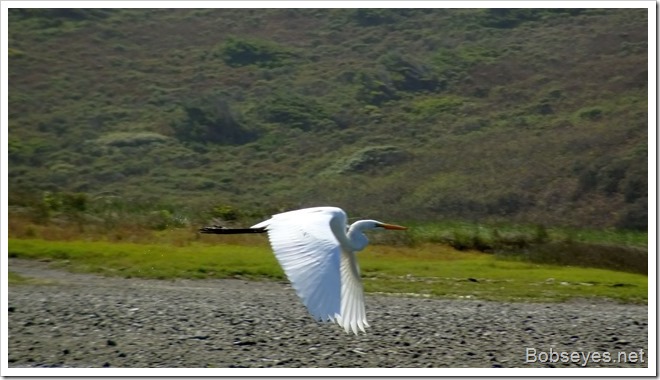 Chatted with the biologists
I worked my way slowly up to Eagle's landing when I heard a motor boat coming down the river. They waved when they went by and pulled into a buoy not far from me, so I paddled on over to have a chat. They haven't been checking the gear as often this year, so things are corroding and don't come apart as they should, so they got the big guy out and are cutting their sensor gear off, I think. Anyway, I chatted with them a bit and then headed on up the river.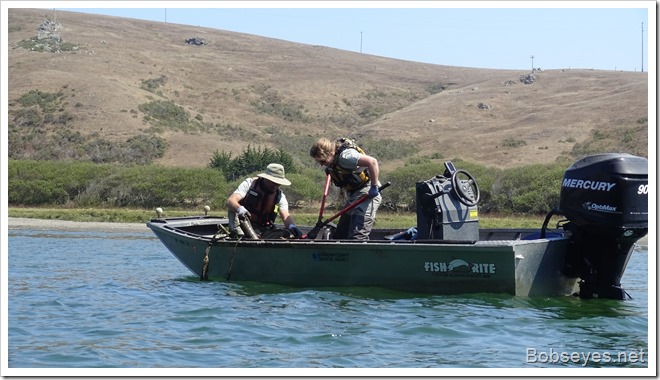 Dead deer gulch
I paddled up to this spot and pulled in under the trees and was taking it easy.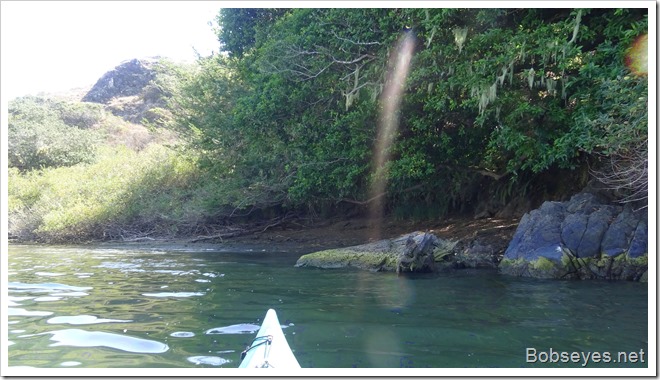 Fish on, salmon across the river
Eventually, I heard a big splash across the river from me and I saw some seals swimming fast along the shore on that side, then I saw the big fish for an instant, so off I went headed across to see if I could get some pictures of the seals eating a big salmon. I've seen signs of salmon coming into the river since early August, but this is the fist actual fish I've seen.
I paddled across and got fairly close. I saw the tail as the seals were sorta sharing it.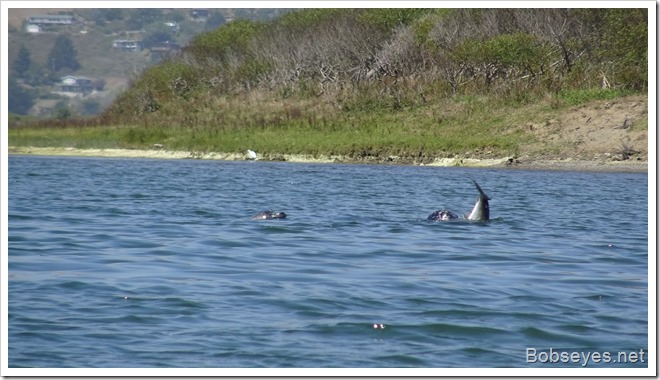 And they showed me the head.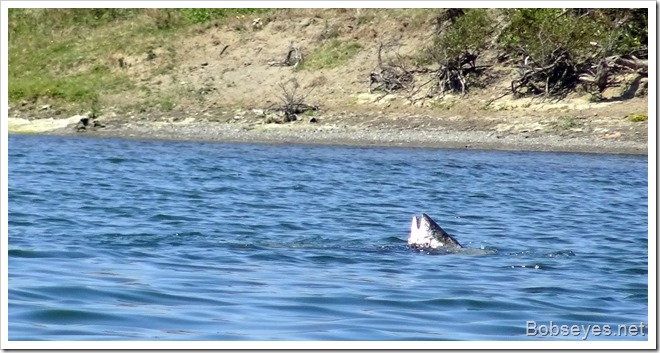 And then the big fish they were stripping. My guess is salmon. I'm not really sure, but they may have had two of them.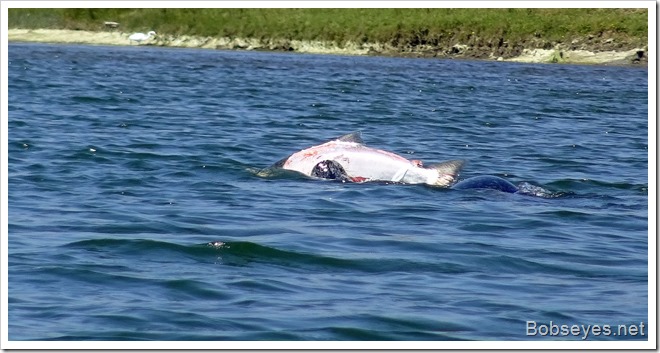 Here come the pelicans
I watched them until they had it all gobbled up and continued on down the river to Paddy's rock just up ahead when a bunch of pelicans flew in and started fishing around me.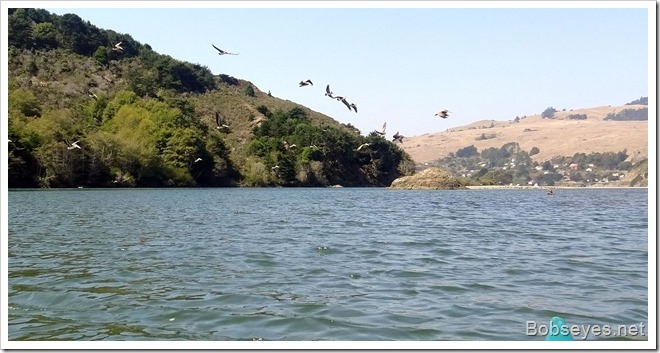 I passed more ducks and pelicans feeding on the way in.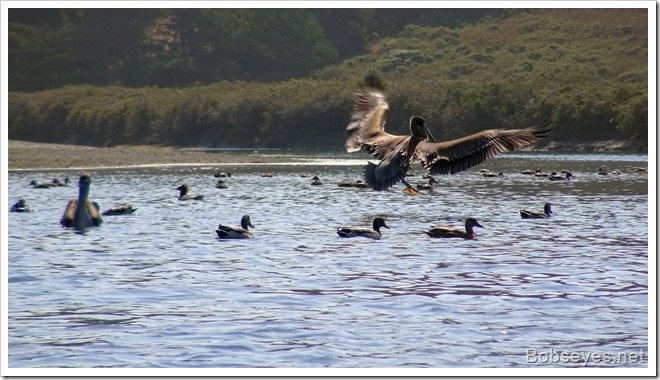 I made it to the boat ramp and went on home for the day.
Tried to find an intake manifold leak
After a short nap, I went out and tried to find the intake leak in the van engine, with no success. It's not too bad, so I think I can live with it for awhile.
I checked my silicone engine compartment seal I put on yesterday. It was dry, so I was able to peel the plastic wrap off and it looks good.
Thinking about adding an electric fan too
I also checked out the radiator measurements as I think I'll add an electric fan in the shroud as it would provide better engine cooling when going slow and I have plenty of room in there for one. I studied that enough to figure out what I need to find and order it.
That was it for another great day.