Thursday September 10, 2015 Jenner CA.
Today seemed like a good day to go down to Jenner to kayak as the weather guy said it was going to be hot today. Any excuse will do and who needs an excuse.
At the boat ramp some biologist types where getting water samples and doing some water testing with meters too, so I talked with them a bit before putting in my boat.
Blue Green Algae
One of the things we talked about was the blue green algae that is toxic and apparently in the river. He tested for it and said there was a little here at the ramp. So I asked him about it. He said it's not so bad in this stage, but when it becomes a moss, like a blue spot in some other green moss, it releases it's toxins which can kill if digested. Apparently, it goes for the liver, which is never good. So now that I know more about this algae I know I can deal with it, as I don't normally eat any of that moss stuff anyway. :O)
Fog rolling in
The fog was rolling in as I put my boat in the water. At least that's what it appeared to be doing as I crossed over to Penny Island and started up the river.
Things looked like this.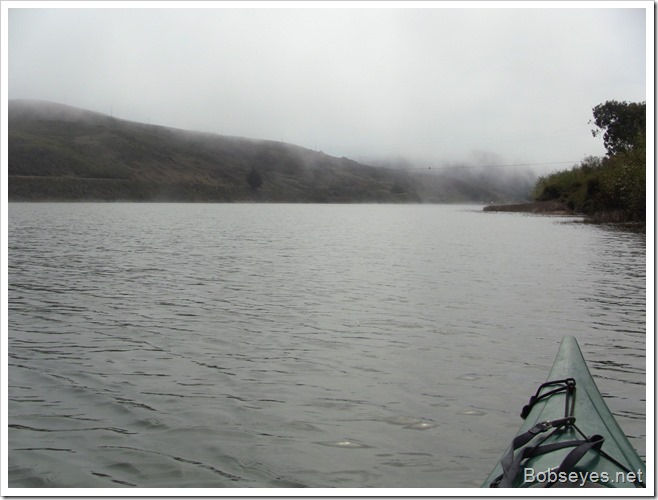 But in fact I was wrong, the fog seemed to be moving out and the sun came out with some clouds.
Birds by Paddy's rock
I could see some birds over by Paddy's rock so I paddled over that way to have a look. I passed by these geese and a couple cormorants, just resting on the gravel.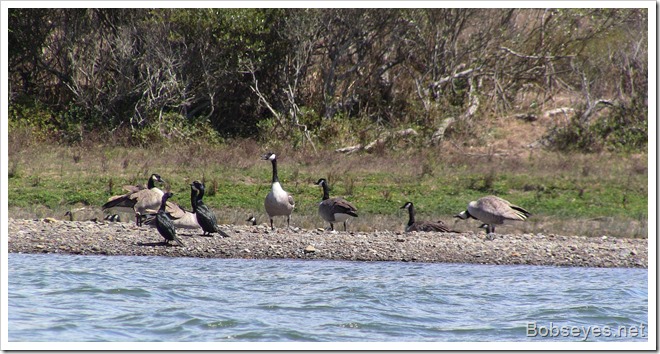 I also passed by these geese doing some resting too. Most of these types of birds eat heavily in the morning and rest and digest once they are full, so they find a place to roost for the rest of the day.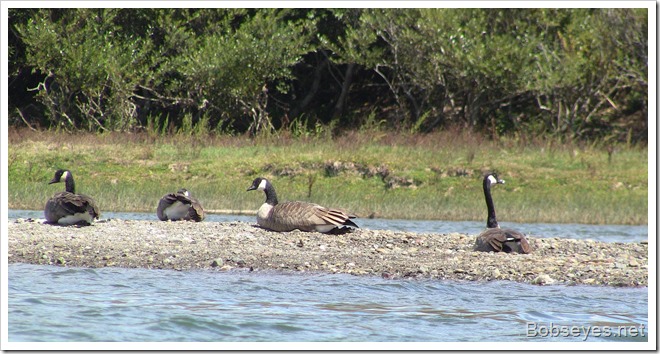 I paddle on up to the muskrat area and just a little beyond to dead deer gulch here and just sat and watched the day go by for a bit.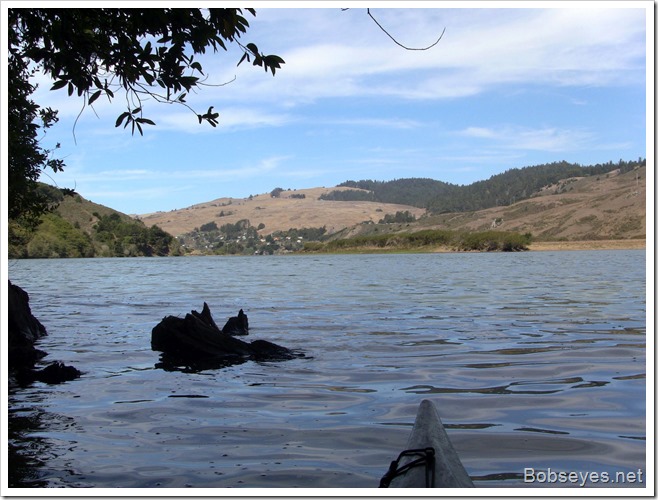 Eventually, I started back down the river trying to make up my mind whether to go down to the river's mouth area or not?
I was going down the north side of Penny Island when these mallard ducks caught my eye. They are feeding on something under the water and were rather busy at it.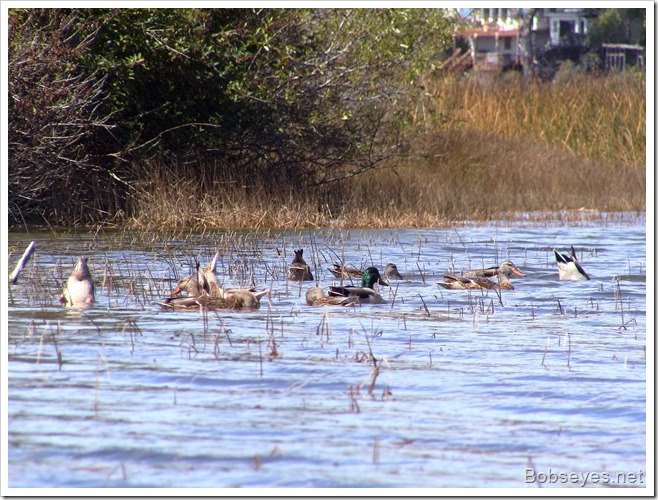 Headed down to the River's mouth area
Since I had nothing better to do, I decided to go down and check out the mouth, so continued on down the side of Penny Island and on across the open water to the perched river's mouth.
I'm just entering the mouth area here and paddled just up ahead to the sand on the left and sat and watched all the goings on and there were a lot of goings on. The sand is closing the river's mouth, except for higher tides can still get over it, at least the waves. And some might even call it closed.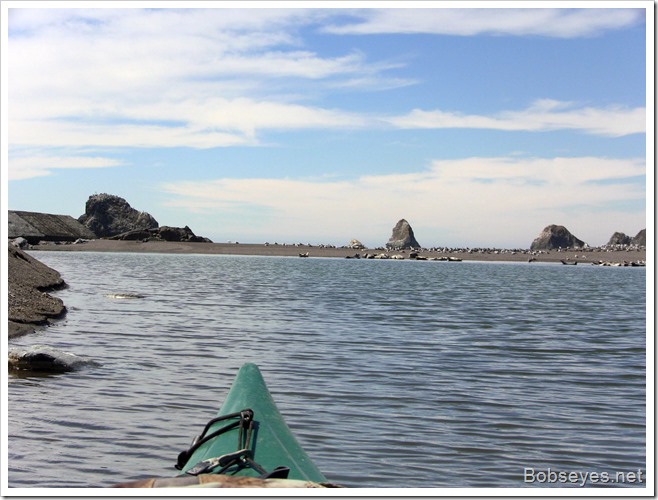 These seals were just across from me and lots of birds too.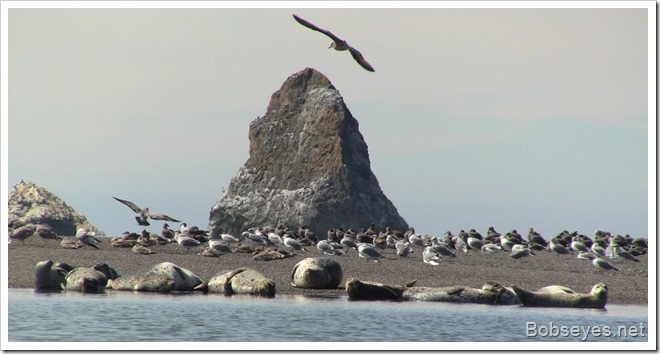 Am I one of them
More harbor seals and more birds to watch. I was thinking, I'm sitting around down here just like all the rest of the guys. Outsiders might think I'm messing with the critters but in fact aren't I one of them as I do this almost as often as they do. :O)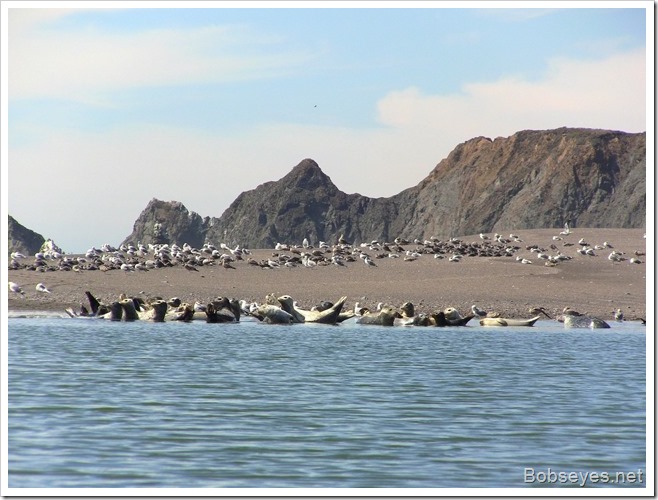 There were some brown pelicans both on land and in the water. Here's some of the ones in the water. They were just resting.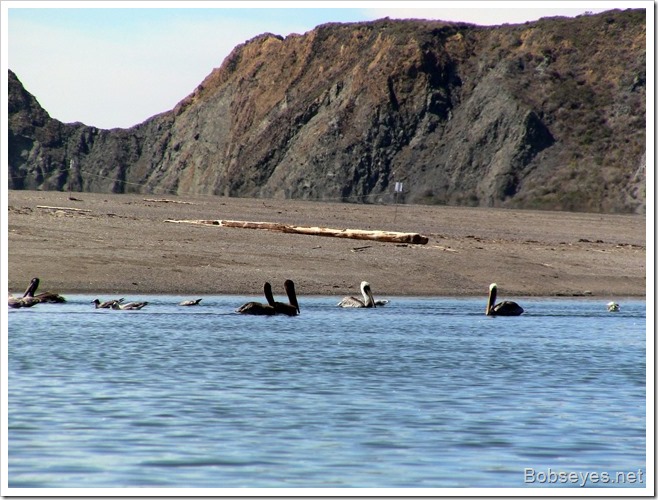 After a good long while, I turned and headed back up the river and this was my view as I turned. Nice day eh.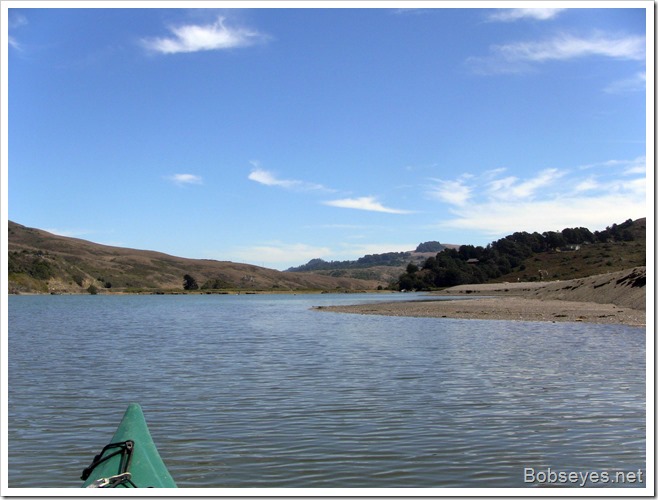 As I started back, I saw a dozen or so brown pelicans heading up the river and thought, they'd be back soon as they were looking for fish to dive on. I got the camera ready as I expected some of them to come flying right over my head. I shot a bunch of pictures of them flying over and here are a couple of my better ones.
Brown pelican flying over my head.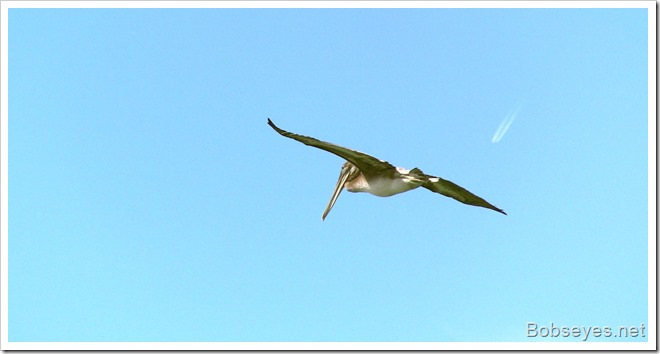 And another decent picture of one of these big birds flying on over my head as I watched.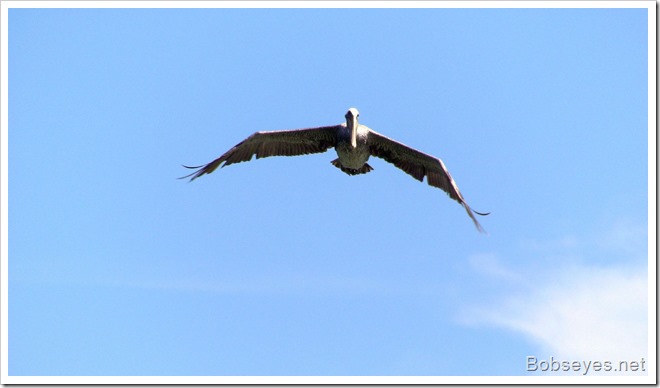 I continued to head on in for the day and noticed my loon buddy up ahead, so I went on by it, fairly close as I know it had gotten used to me passing. I was able to get to within ten feet of it and not alarming it as it's been getting used to me going by daily.
My loon buddy at about ten feet.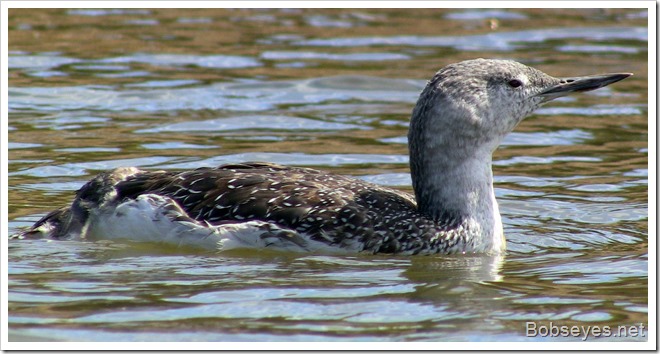 I paddled on over to the boat ramp and went on home for the day.
I decided a good nap was in order until the sun was lower in the sky. At that time, around six, I went out in the yard and cut blackberry vines and sat around and enjoyed the evening until dark, at which time I remembered I had a loaf of bread rising in the oven that I'd forgotten about and now was creeping out of the pan. I cooked it anyway and yummmmm.
Another day, just mostly enjoying the passage of time.
(Visited 135 times, 1 visits today)