Monday July 6, 2015 Jenner CA.
A picture of me
When I ran into Dennis and his wife paddling yesterday, Dennis took my picture and gave me permission to use it. It shows me with my camera in my hand and doing my thing in my boat. Since this is Bob's eyes you rarely will see me as that's not what I see. I will put this in my sidebar eventually just so I'm not so anonymous. Thanks Dennis, good photo.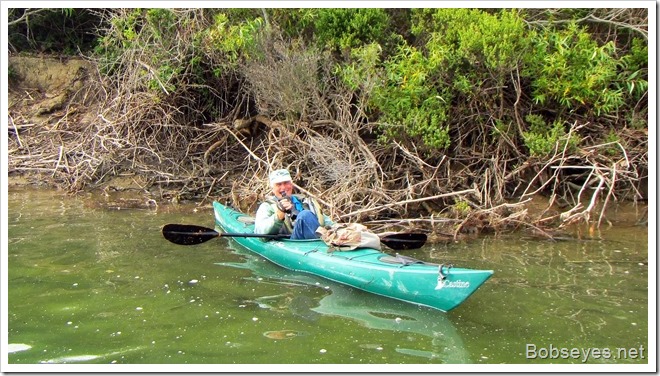 Kayaking at Jenner
I saw some biologists across the river as I put my boat in the water this morning. I paddled over to see what they were doing. They were pulling in a big net to try and catch some little steelhead, which are trout, so they can put some tracking tags on them. But they didn't catch any steelhead fish, so they said they were going up to Paddy's rock, so I said I'd see them there and we all headed up river. They have motors so go faster than I do.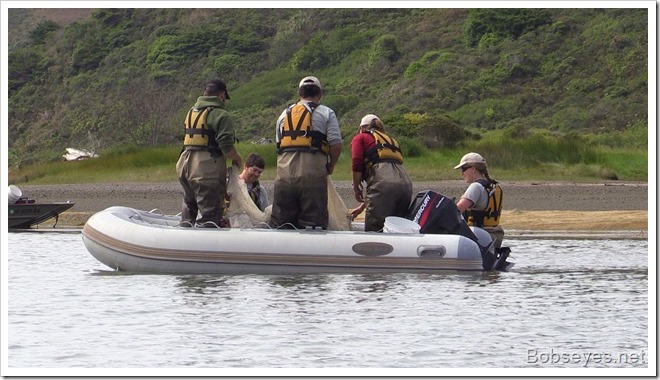 I passed by these white pelicans as I paddled up the river.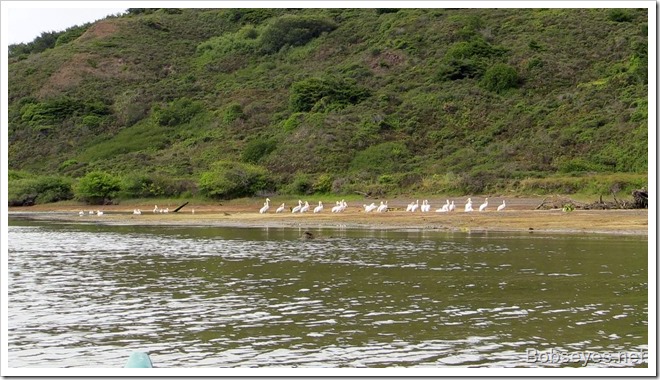 What's that?
I could see the biologists working by Paddy's rock and was headed over to see what they were doing when my eye caught an orange movement just under this rock. I stopped to investigate, but only saw some holes under the rock. This was interesting, but I wanted to get over to see what the biologists were catching so I had to leave it and hoped to come back later.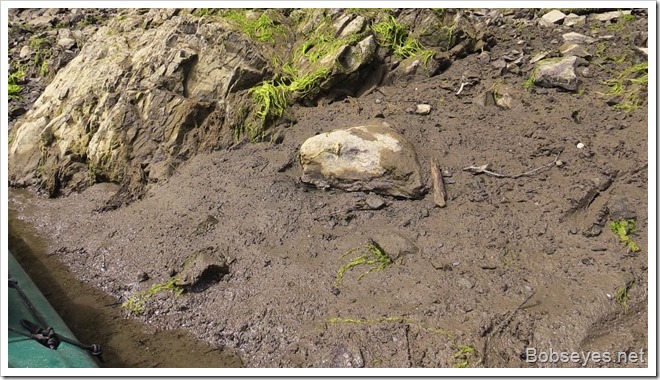 The fish netting at Paddy's rock
Biologists were pulling in their net as I caught up with them at Paddy's rock.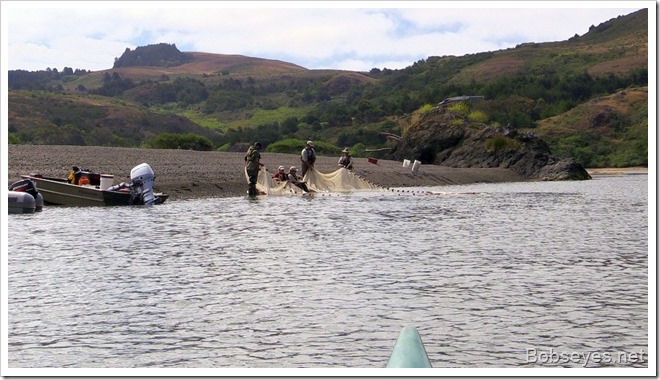 They had a net full of fish, but no steelhead to tag. They were catching some kind of smelt and they looked yummy, about six or seven inches long and similar to the surf fish we used to catch with a net at Goat Rock. They dumped a lot of them out. Eric showed one of them to me and I should've gotten a picture, but I didn't . They are salt water type fish and there seems to be a lot of them in here right now.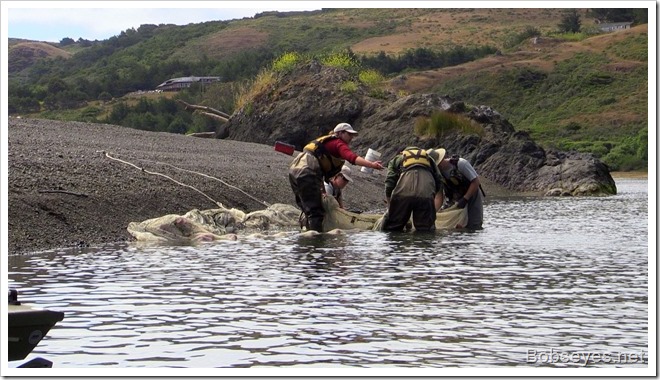 Since they caught all those fish and no steelhead, the biologists moved up the river further and left me behind, so I sat here a moment deciding what to do the rest of the day. Just over to the left is were I saw the thing under the rock.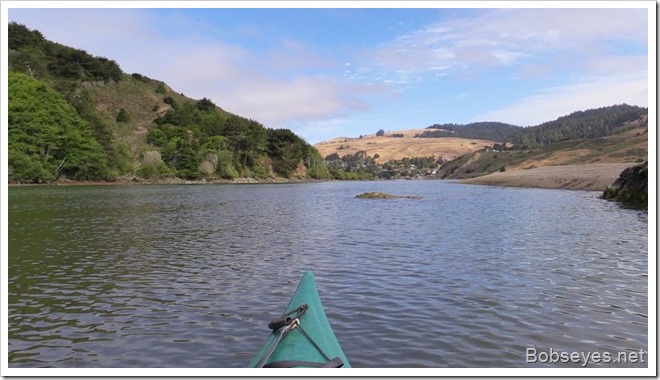 Checking out the thing under the rock
I paddled back over there and sat in my boat by the rock until I finally saw some movement there. It turned out to be some kind of little crab.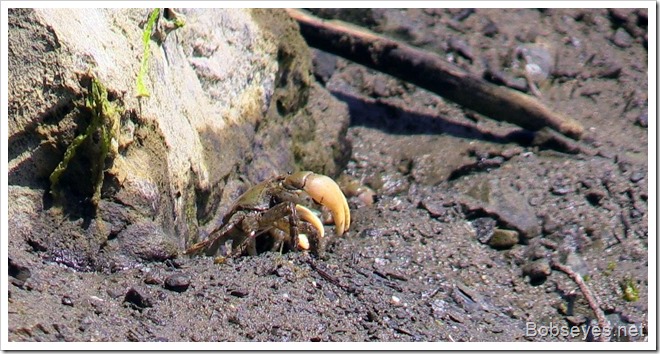 I sat and watched for quite awhile waiting to see if there were any more of these crab under the rock or along the shoreline.
Here's a little closer shot of that crab. This is the first time I've seen this type of crab in the estuary.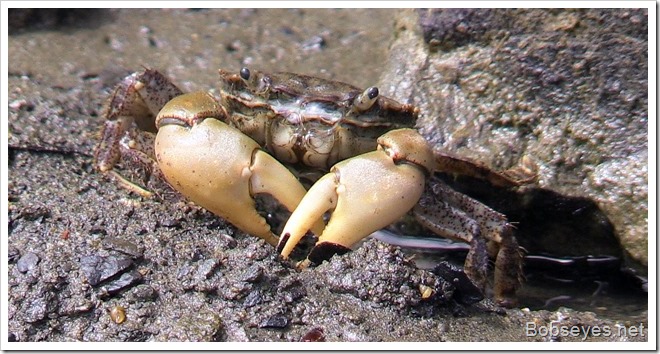 After watching for quite some time, more crab emerged. I'm not sure but there are four or five of them that showed up under the rock. They were all skittish except for the big one at the left.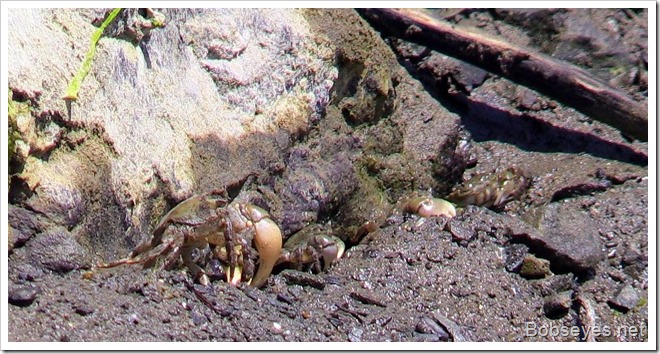 Eventually the tide came in and covered up the rock so I left, headed down the river where I could see the geese on the gravel across the river.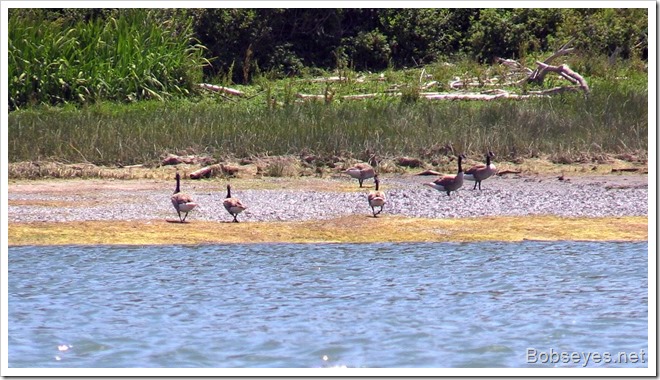 I paddled into these big redwood logs were I have a spot I sit a lot and watch and enjoy.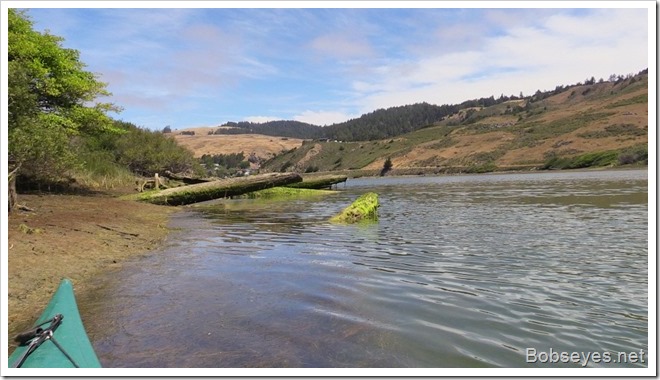 I went past the pelicans again and as I did some of them settled down for some sleep as I watched.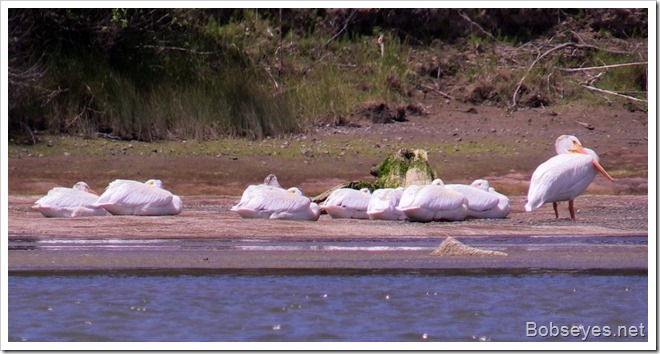 I decided to go in for the day and this is what the estuary looked like as I headed for the boat ramp.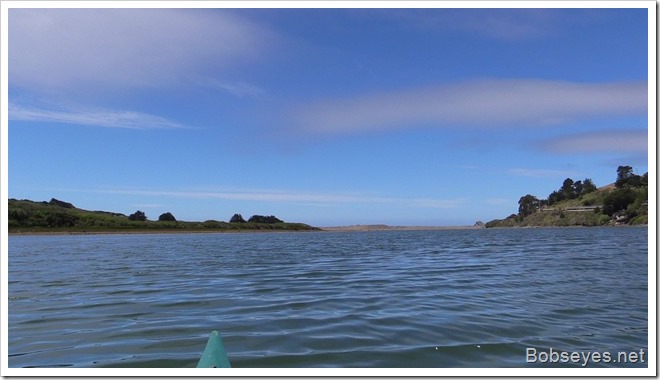 Headed to the radiator guys shop
I pulled my boat out and went on home a bit early today. I needed to take my van over to the radiator guy so he could have a look at the cooling system so he could see what's going on with it.
So I drove over to the shop and talked with Dave at Dutton Radiator Service. He gave me some suggestions which I listened to, but he could tell I wasn't sold on some of his ideas and he rightly determined that I was real hard headed which I didn't deny. :O) But I did tell him I heard and noted all of what he said and would work on those items once we put a newer radiator in it. He was pretty sure the old radiator is somewhat plugged up, which we'll find out about when he gets it to test out it's flow. Plugged up or not, I'm getting a newer type core and then I'm thinking of making a fan shroud which the van had a long time ago, but is gone now.
Now I need to take the radiator out of the van so I can get it back to the radiator guy. I worked on taking the radiator out a a bit when I got home which I will finish taking out tomorrow.
That was my day.
(Visited 132 times, 1 visits today)