Tuesday May 17, 2016 Jenner CA.
Looks like the lady lost her RV
As I was pulling into Jenner this morning I noticed the ladies RV that parks down this way and works in the café had a fire in her RV last night and it was totaled out. Hope she got out ok. I got a picture later from the water.
The day is looking good But
I put my boat in the water and went to park in my usual place and I noticed someone had installed No Parking signs so I couldn't park there anymore. The parking lot down here is rather small and in general Jenner has a serious parking problem, so why would they make this a no parking area? I moved to another spot and went kayaking a little perturbed about the new no parking signs.
I used to be able to park along the road here when the parking lot is full which is most of the time.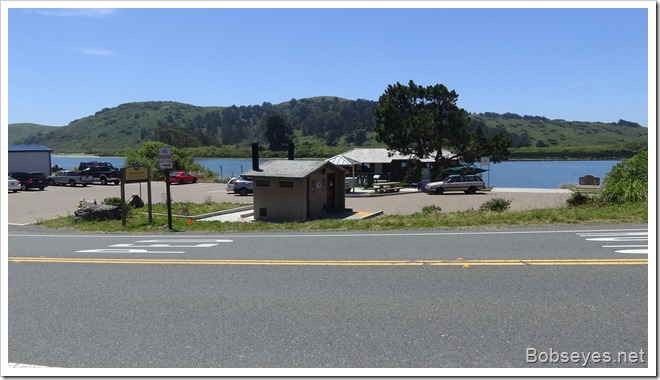 But now they have a nasty no parking sign blocking all the parking for some reason? I can't see any safety problems with parking here, so what's up?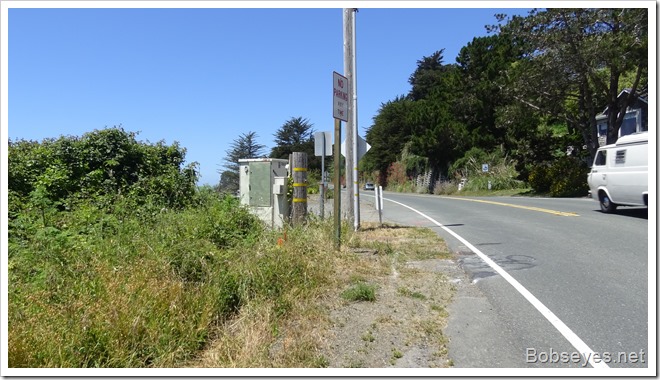 I put my boat in the water to a sunny day with light winds and paddled across to Penny Island to decide which way to go today.
Headed to the open river's mouth area
I decided to go on down to the open river's mouth, so headed down along the shore of the island here.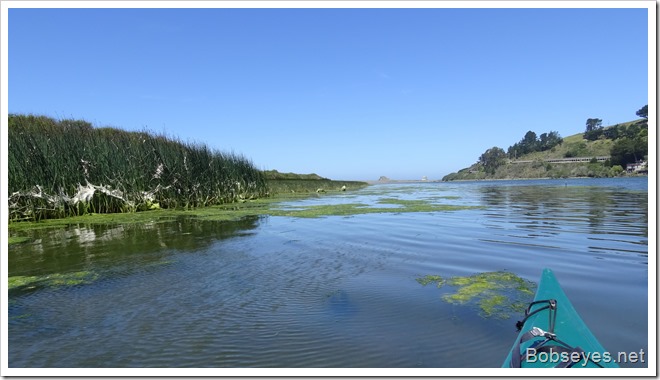 I spotted this little shore bird, maybe a yellow legs as it's legs are yellow. I watched it feed for a bit before continuing on down the river.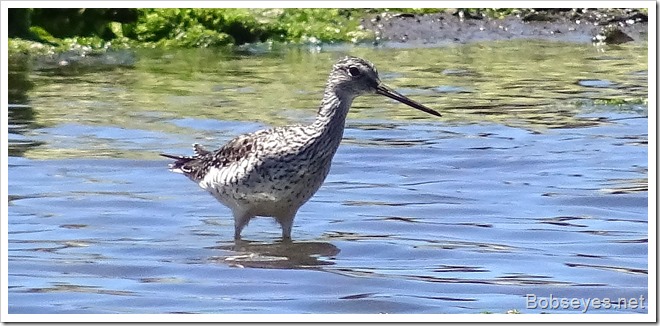 This was the view as I approached the lower end of Penny island. The tide was out a bit, so the shoreline was exposed a bit showing the green stuff that was growing down here. Mostly some kind of moss and some type of kelp.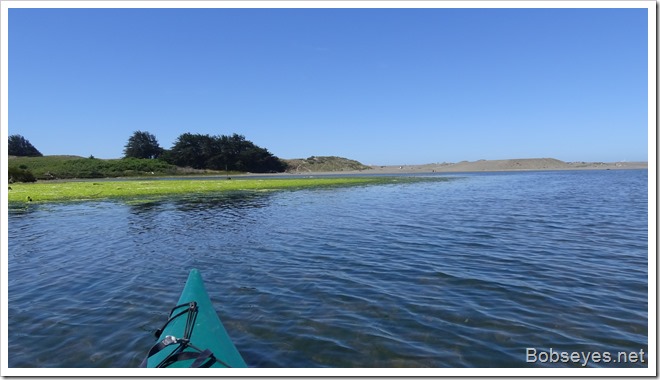 These terns were resting on the lower end of Penny Island as I passed on by.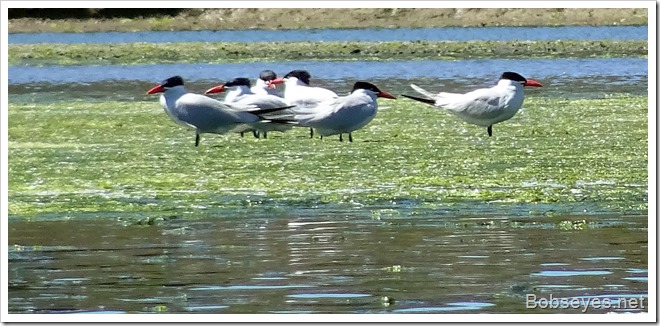 I paddled by this male mallard duck sitting on this stump.
Frolicking harbor seals
Near the lower end of Penny Island I joined a bunch of harbor seals hanging out in the water.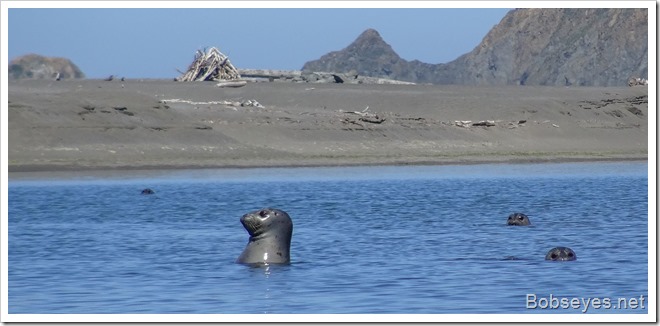 Dead seal pup
Eventually, I continued on down towards the open river's mouth and noticed some turkey vultures eating something so I paddled a bit closer to have a look. It appeared to be a dead harbor seal, looks like a pup didn't make it.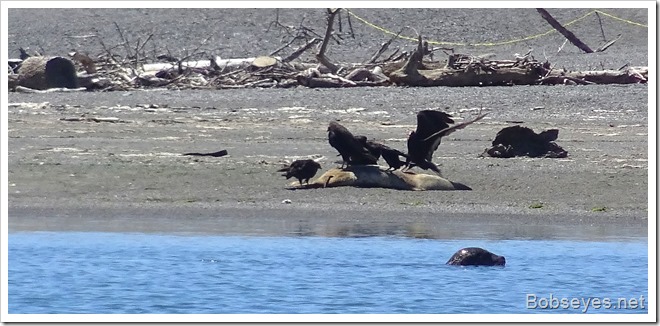 I paddled on down to the river's open mouth, but it was full of harbor seals resting on the beach so I couldn't get too close, but this is what the open mouth looked like full of seals.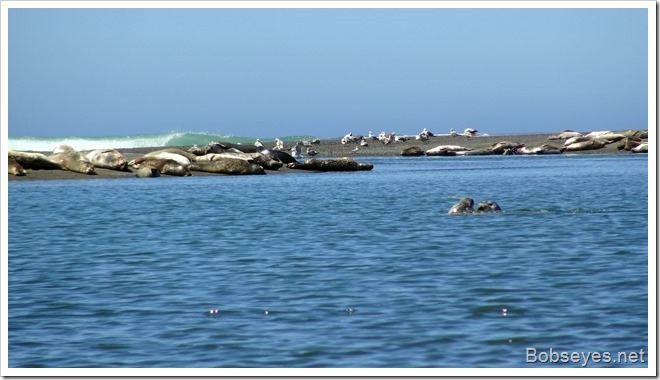 Surf Scooters
I hung around the mouth area for about an hour or so, then headed back up the river. I passed by this surf scooter all by itself. The surf scooter's are fairly new down here. A few of them showed up last year and a few have returned this year and are hanging out around the mouth area.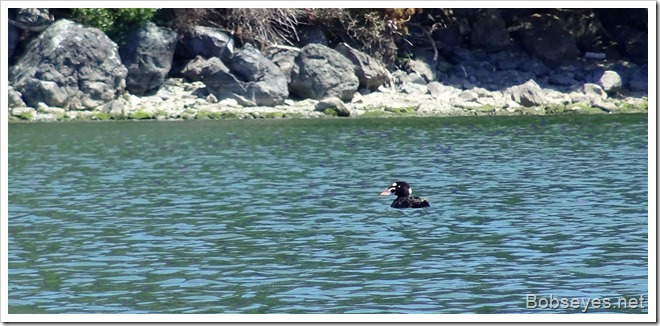 I headed back over to Penny Island and paddled up along it's side.
Headed back to Penny Island.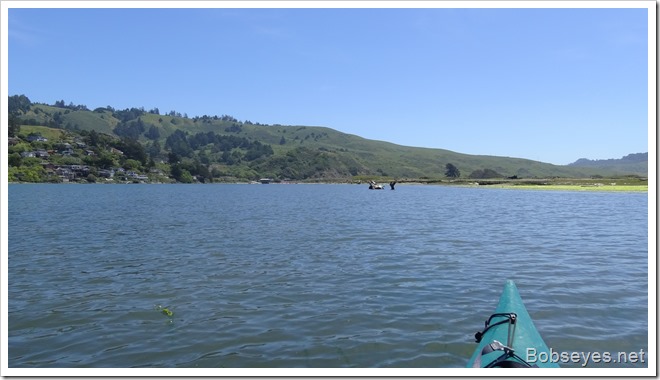 Burned up RV
I paddled up to the upper end of Penny Island where I could see the ladies RV that burned up last night. It really burned up and this is all that is left of it.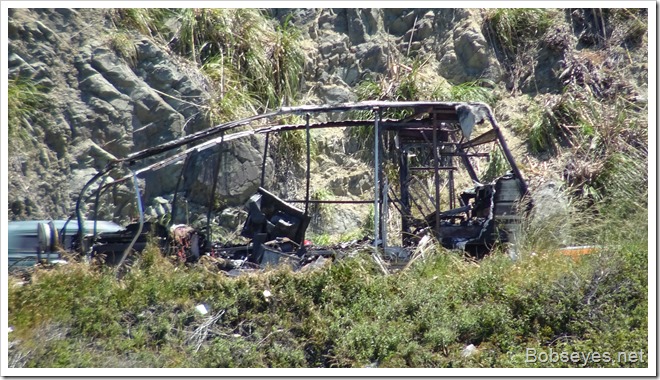 From there I went back to the boat ramp and pulled my boat out for the day.
Talked with the ladies in the visitor center
But before I left, I went into the visitor center to ask them about the new no parking signs and they hadn't noticed. They also couldn't see why someone would make this no parking. They kiddingly suggested they make a Bob's parking spot, but I declined and said I didn't want any special treatment. One of the ladies said she'd call CAL Trans and see what was up.
I went on home for a nap.
Headed to Gardener's Aid for belts
After a bit, I headed on over to Santa Rosa to Gardener's Aid to visit my friend Bill who had ordered me some better belts for my weed mower as the Napa belts I was using just weren't cutting it and were wearing out fast.
Blue berries are getting ripe
I returned home for another short nap, then went out in the yard where I noticed my blue berries were starting to ripen, but the birds where eating them as fast as they turned blue.
I installed this cover that I made for the patch last year. I wanted to make some kind of structure to hold it all up, but I didn't get that done and just draped it over the bushes for now.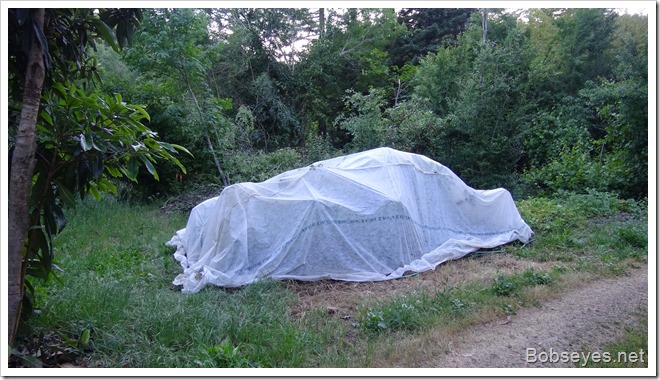 Installed a new belt
Eventually I got the mower out and changed the belt to one of the newer red ones that I got from Gardener's Aid.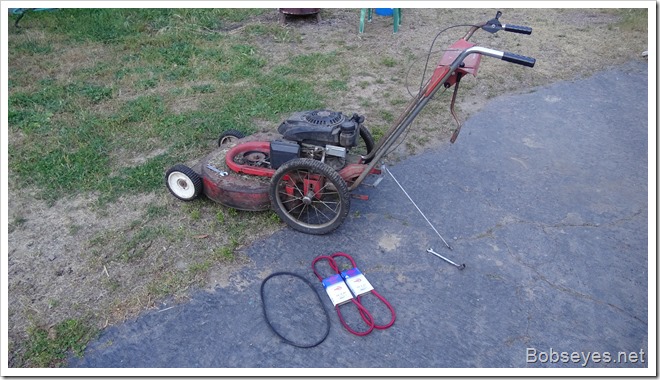 I wasn't planning to do any mowing this evening, but eventually I gassed the mower and mowed some weeds until the mower finally ran out of gas. By that time I was beat and hot as it was a warm day.
I spent the rest of the evening sitting around the yard and that was it for me today.
Nice day.
(Visited 232 times, 1 visits today)