Tuesday October 6, 2015 Jenner CA.
Salmon are running
As I launched my boat this morning at Jenner, I was keeping an eye open for any seals eating big fish in front of the visitor center, but didn't see any. I paddled across the river to Penny Island watching for seagulls sitting on the water as they can be a sign the seals are eating a big fish. I saw a couple seagulls and watched them for a bit, but I didn't see any seals with big fish, so headed down along the island where I went by this little pie billed grebe.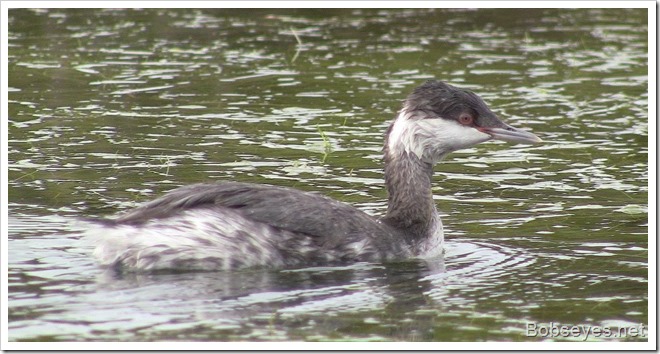 I think that's an eagle down there
As I looked down along the shore of the island I thought there might be a bald headed eagle sitting on a limb out in the water, but I couldn't quite make it out, so I paddled on down that way until I could make it out. I know to get a picture as soon as I see something just in case it moves in the next instant and that's just what happened. I shot a couple of pictures and then moved closer and the bird took off. Here's the eagle just before it took off.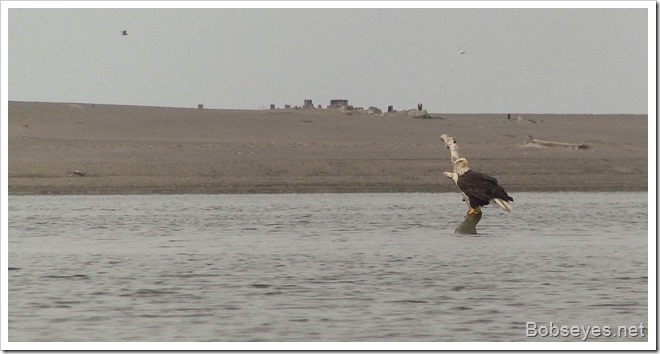 As I got closer to where the eagle had been a cormorant landed in the same spot and started sunning itself.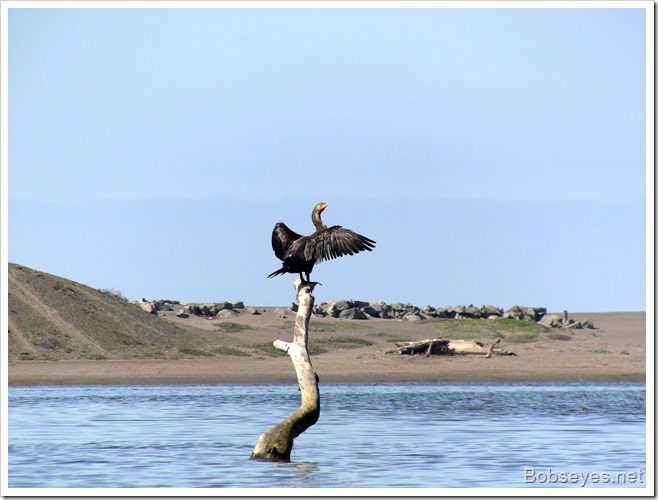 River's mouth is open
I continued paddling on down to the open river's mouth and took up my spot and watched for a bit. There were lots of brown pelicans across from me.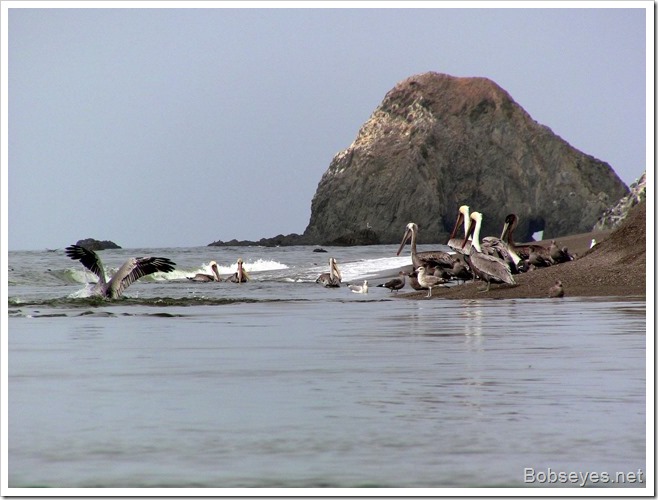 The pelican's seem to be always doing something with that big bill of theirs. Some preening going on here.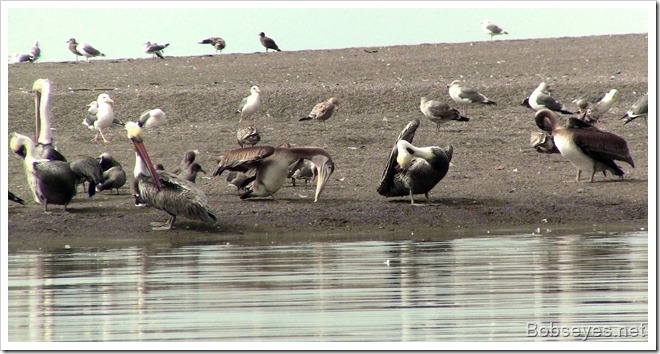 River's end
I paddled on down past the open mouth to the end of the river and turned and sat and watched and this was my view looking back up the river.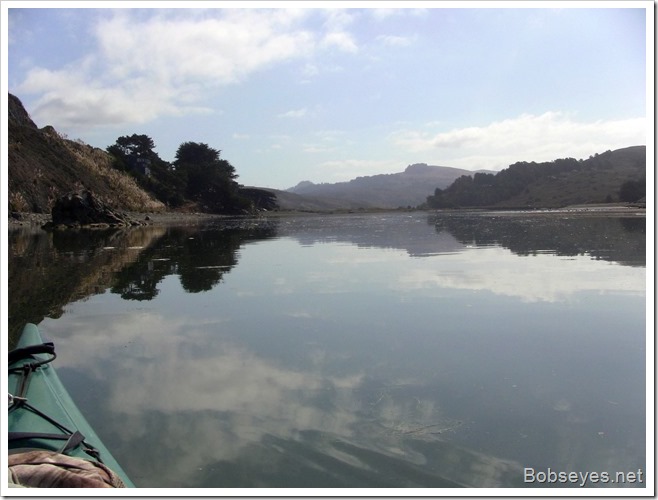 Seals chewing up some salmon
After awhile I headed back over to the lower end of Penny island when I noticed a seagull sitting in the water so I paddled a bit closer and sat and watched and waited to see if a harbor seal was going to pop up eating a big fish. The seals do most of their eating under the water.
I was rewarded with this scene.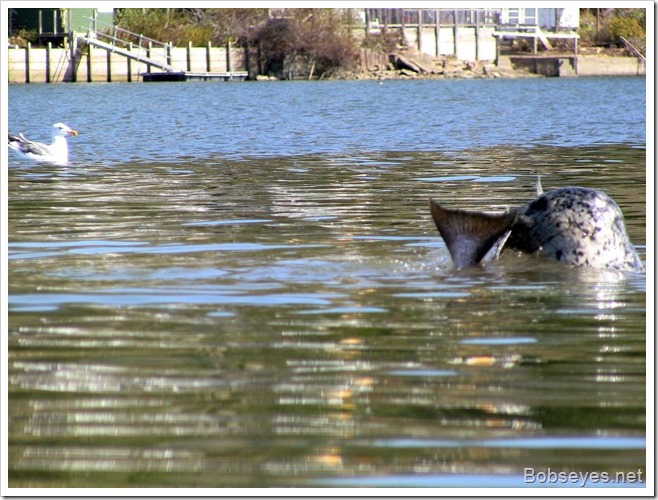 The seagull's were doing well diving for scraps off the big fish.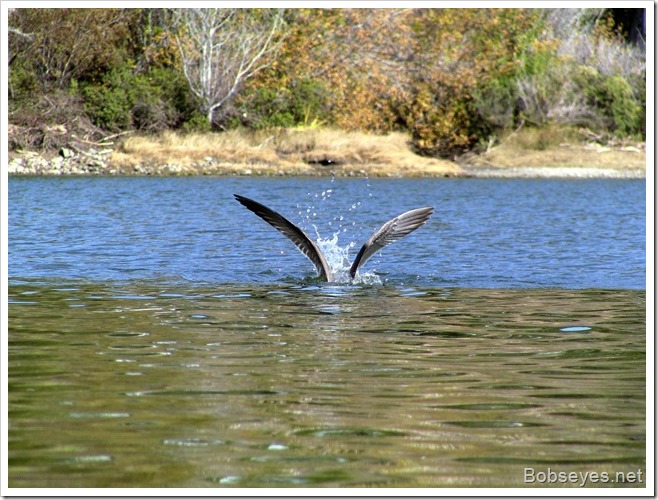 I noticed this harbor seal doing something on it's back and thought it's flipper was neat looking with it's claws.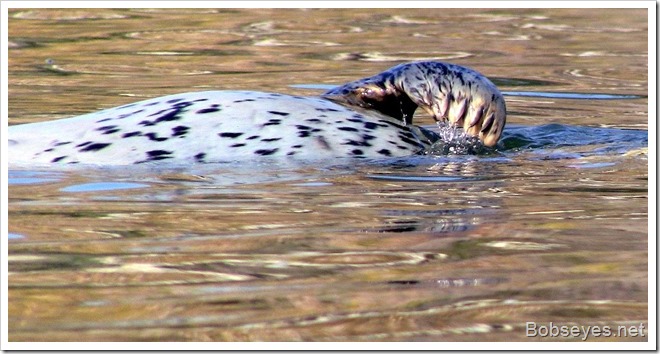 A seagull and a seal splashing away during the fish eating process.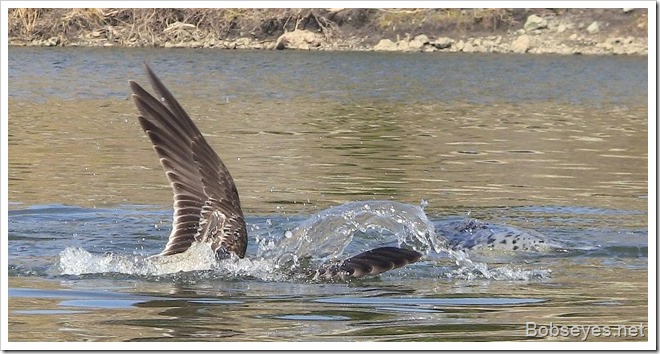 Jets and smoke
While I was watching the seals all of a sudden I noticed this and heard and saw a swarm of jets just coming out of making this circle thing, so I watched.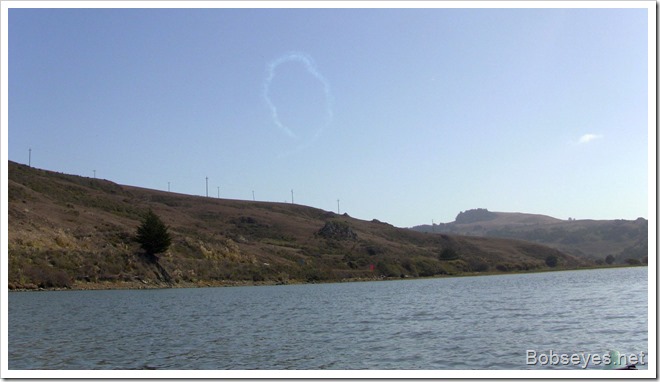 I lost the jets for a bit but all of sudden they were back laying down or is that laying up some more smoke.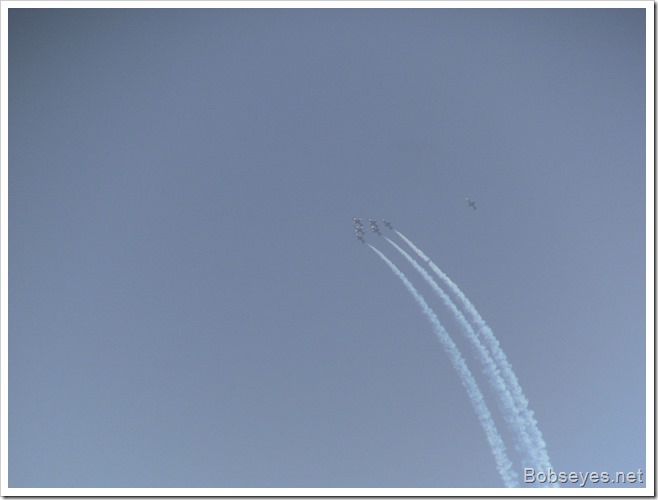 This is the finished product. Not sure what it is, maybe C O looking from the other side. I'm sure the whole bay area could see this.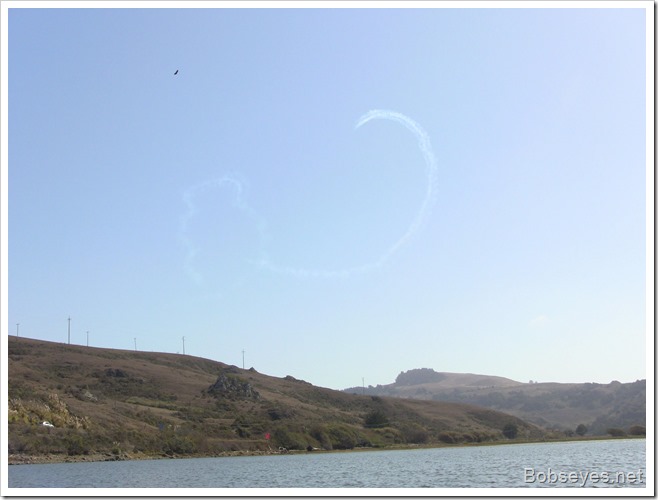 More chowing down on salmon
Just after the jets left, I saw this in front of the visitor center, a seal with a big fish.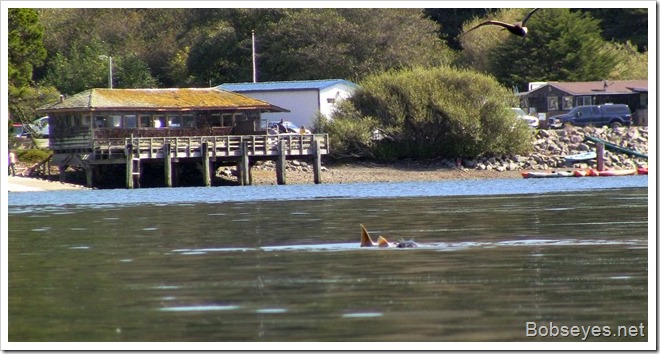 I watched as several seals worked on the fish and the seagull got some too.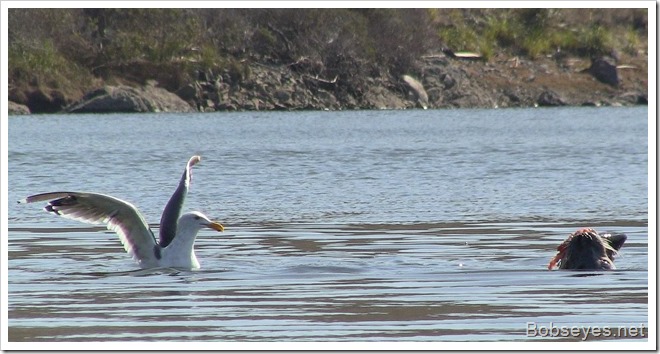 You figure it out. :O) Seal eats fish.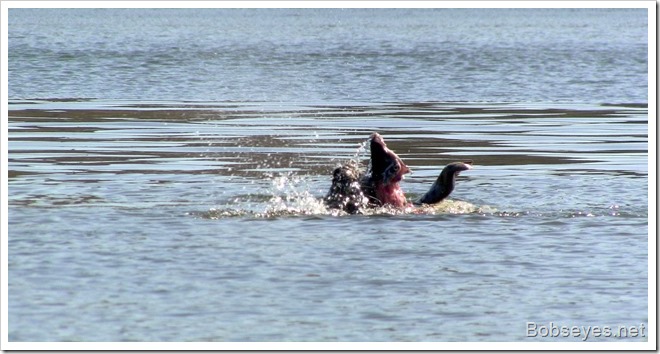 Checking water levels on some wells
I went on home early today as I wanted to check the water level on some of the water wells around the properties to see what the water is doing. Our new well is dry, so I was interested to see how the level of it compared to some of he other wells. I was surprised to find all the wells water levels all about at the same level, twenty nine feet.
That might be an important finding as it indicates there might still be water coming into our dry well. If the pump was a bit deeper, it might still pump some water, so I checked out what I need to do to put the pump a bit deeper as it just might make a difference. Tomorrow I will put the pump back in the hole and put it all the way to the bottom of the well, about another nine feet, so that might help. Either way, it will tell me if there is still water coming into the hole or not.
That about wrapped up my day for another good one.
(Visited 192 times, 1 visits today)