Wednesday July 14, 2016 Jenner CA.
Programing the fuel injector
I started to write a blog for yesterday, but realized I didn't have it together for ordering the reprograming of my injector computer for the van so I had to give that up and do some research and get the info I needed to supply to the Howell people to reprogram it so I never got around to writing a blog for yesterday.
Today I needed to call Howell Engine Developments to get my TBI unit reprogrammed for the new V8 engine I'm getting. The van had a straight six cylinder engine so I will need to get a new chip programed for the new V8 engine. I called and was lucky to get Troy just before he was taking off to lunch. I explained the problem. He said programing a new chip would be a hundred bucks, Ok, do it. Then he said did you know you will need new larger injector pods for the TBI? No, do you have them and how much. One hundred dollars a piece, I need two, so I ordered them. Then I explained about the TBI screw going down into my old engine and putting a hole in the top of the piston and the TBI screw was now pretty mangled, could you send me a new one? Sure, no charge.
Troy fixed me up and I paid for it. He said it would ship out today, so I got that done, Only three hundred dollars and maybe some shipping.
Time to kayak
Now that those parts were ordered I could go out and play so I headed down to Jenner to kayak for the day.
I could see it was a bit foggy as I pulled onto the Jenner boat ramp and unloaded my boat.
I paddled across the river and stopped in this spot for a bit looking back to the town of Jenner. A bit foggy as you can see.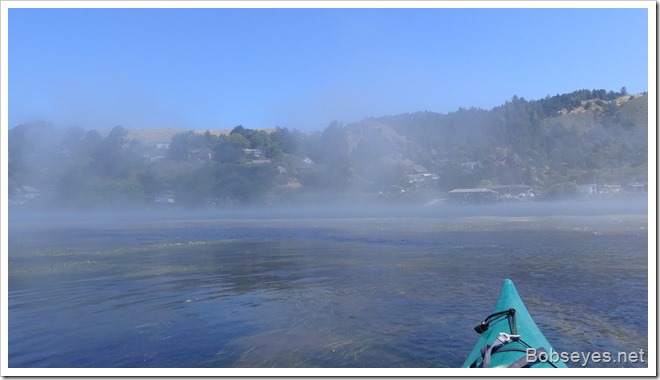 Less fog up river
I decided to head on up the river as with there was heavier fog down by the mouth and I wouldn't be able to see much.
I paddled up along the side of Penny Island, headed out of the fog. There's some crows feeding on the shore and a great blue heron fishing in the water in this picture.
Here's some of the crows that were finding something to eat, but I know not what.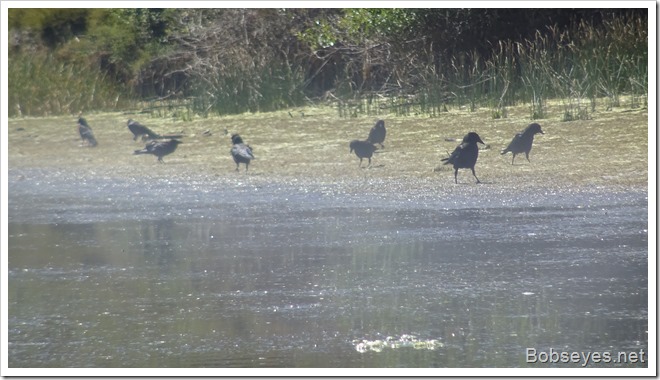 The great blue heron eats fish of course.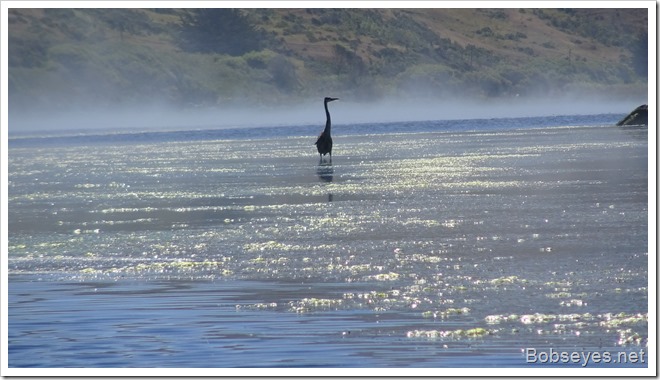 American white pelicans
Just as I cleared the upper end of Penny Island some white pelicans flew in and landed on the gravel.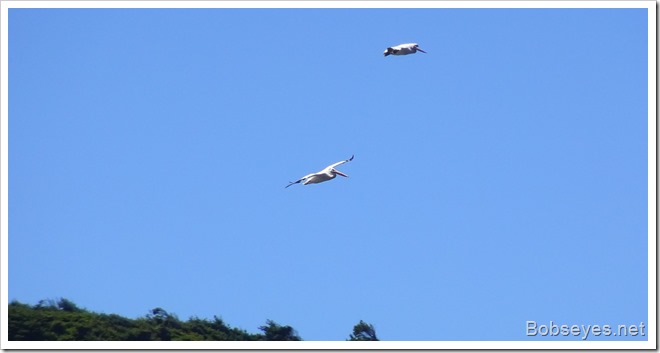 Here they are landing.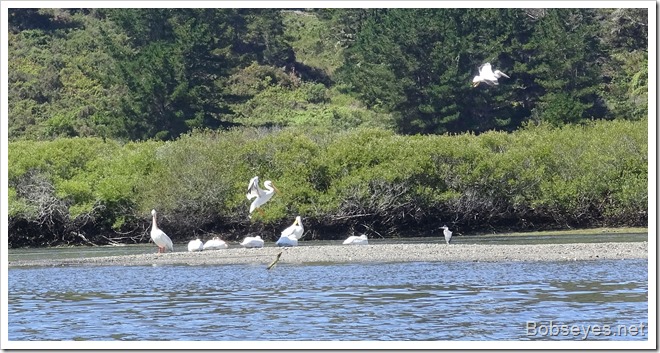 I watched the pelicans for a bit then continued on up the river along the south shore line and stopped at this spot which I call Otter's log.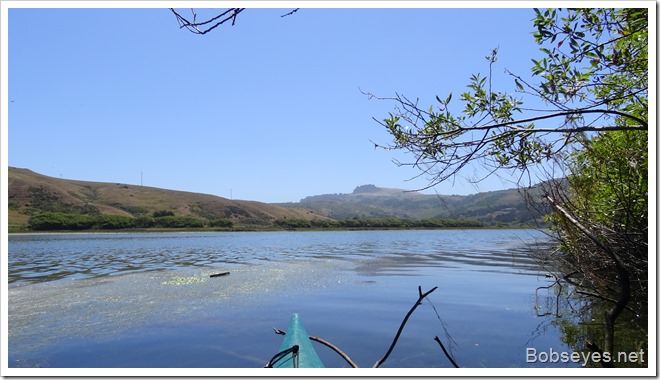 Then I moved up to this spot which I call the Redwood log graveyard. I pulled into the logs just up ahead on the right and sat for quite a spell.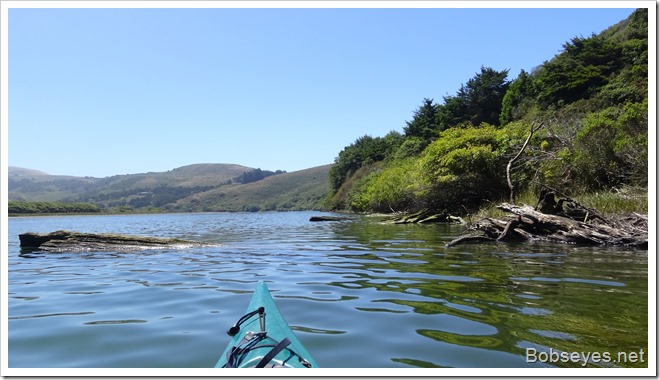 Heron lands in the trees
I was paddling by this spot I call eagle's landing when I saw a great blue heron fly in and land in the trees, but I didn't see exactly where it landed.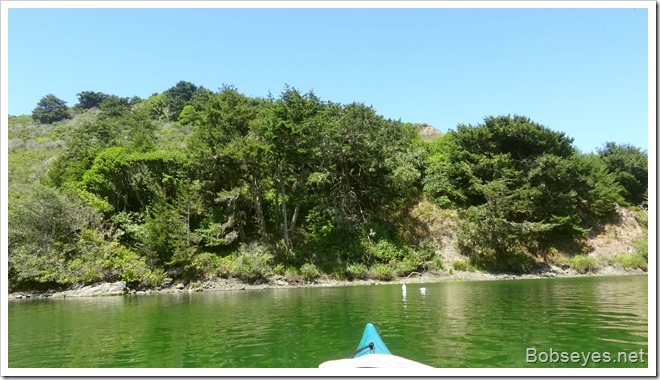 I spotted the great blue heron resting in the trees after a bit of looking.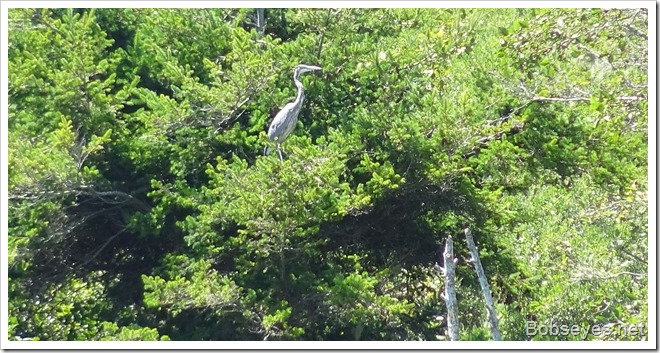 I slowly made my way up the river to this spot just below the bridge.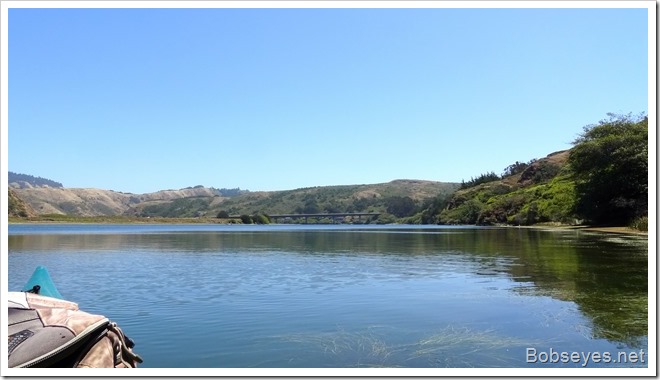 After a good break there, I turned and started back down the river looking like this.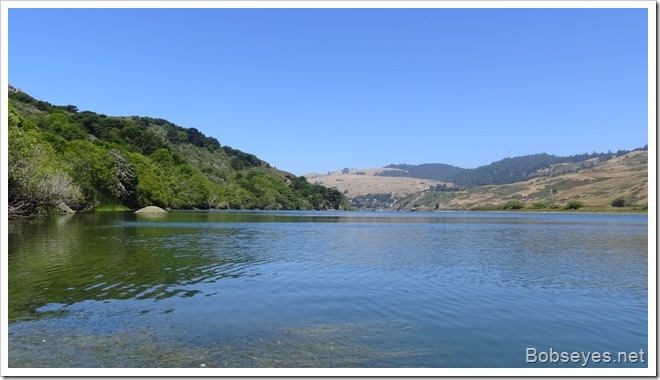 As I approached the town of Jenner I could see the while pelicans were still there. There's also a great blue heron and a seagull on the redwood log on the right and if you really look close, you'll see a bunch of white banded cattle up in the grassy hillside above the town of Jenner.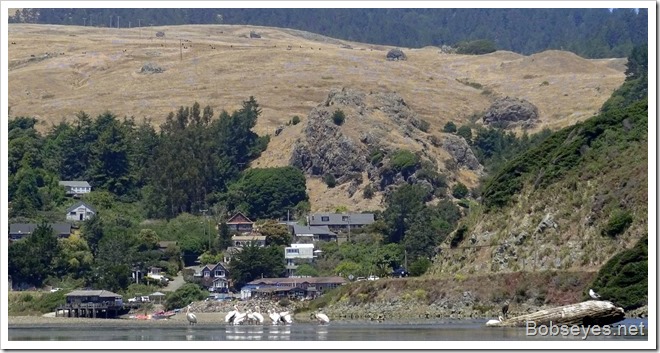 Here's the gang of pelicans as I went on by them. Most of them were preening away.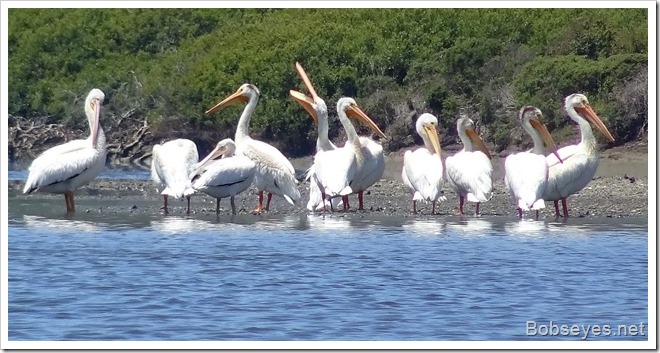 Time for a nap
I continued on to the boat ramp and took my boat out and went on home for the day. I had planned to do some work on my van, but the cough got me instead.
Working on the van
I did finally get started on the van.
Hooking up a one wire alternator
I realized I didn't know how to hook up my one wire alternator that I got for the van as I'm modernizing my old external regulator one as long as I'm putting a new engine in.
I did some checking online as I didn't know how to hook up the field plug that has two wires. Turns out all I needed to hook up was the one output wire and I didn't need to hook any wires to the field plug. So that problem is taken care of.
Working on the engine compartment
I did some work on the engine compartment getting it ready to cut in half. Being old, it was bent up a bit around the top, so I spent some time bending it back into shape with a pair of channel lock pliers.
I checked everything out and draw the lines where I want to cut it and did some planning on how I'm going to install the seals and the latches. Its' ready to cut out now starting with the saws all, but I left the cutting for another time as it was getting dark.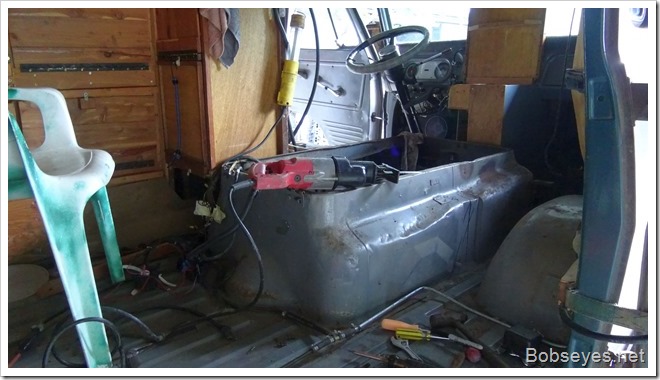 That was my day for a nice one.
(Visited 144 times, 1 visits today)