Tuesday April 26, 2016 Jenner CA.
Time for a paddle
The weather guys said the wind was going to be around sixteen miles an hour late in the day and I can handle that so I was off to Jenner to kayak for the day. I'm still not sleeping real good, so on the way down my eyes were wanting to close, so I pulled over and let them close for a bit before proceeding to Jenner.
There was some wind at Jenner and it was overcast as I put my boat in the water and paddled across the river to Penny island to this spot where I usually go to decide what to do and which way to go for the day.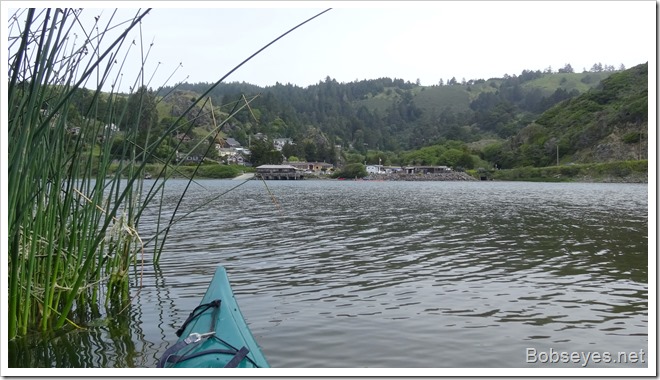 It wasn't too windy yet, so I decided to head down along Penny Island towards it's lower end to see how things looked down that way.
The wind picked up a bit as I paddled along, but still not too bad as I neared the lower end of the island here.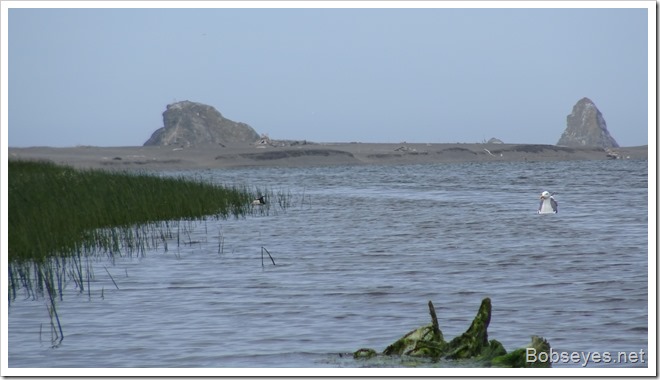 Too many critters
However as I rounded the end of the island I could see there were far too many critters yelling and hollering and having a good time down that way.
This is only about a quarter of the critters. It looked like a bunch of school kids having an outing.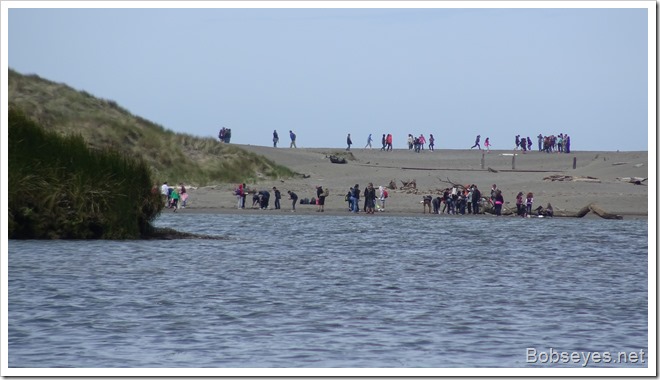 A walk on Penny Island
I decided not to go down by the river's month, but instead I paddled into the island's back channel and let the wind carry me back up the river to the upper end of the island where I went ashore here.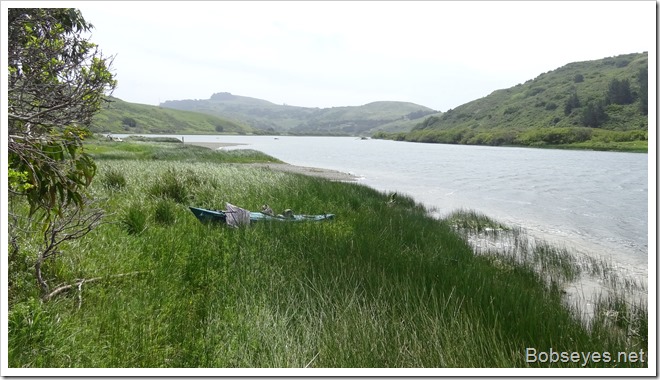 With the wind picking up, I decided it would be a good time to check Penny Island for any fruit that might be getting ripe yet as I haven't been on the island in quite some time.
Mattress bushes
I walked over to this spot where the mattress bushes are to have a look as I know there are some berries here and some other fruit trees too. This is looking across the river to the town of Jenner. Those wirery bushes are called mattress bushes or wire bushes.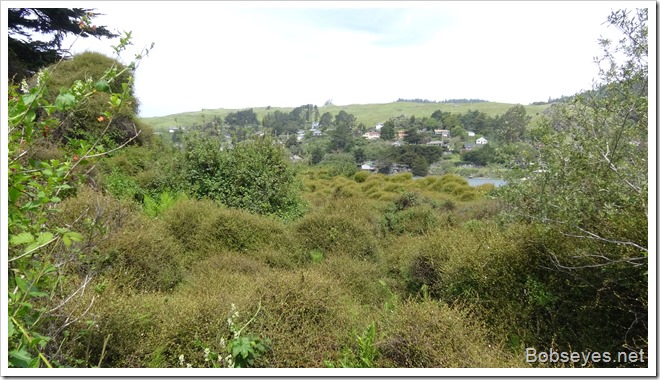 Salmon berries
I worked my way into the mattress brush and found some salmon berries ripe, so I sampled some of them.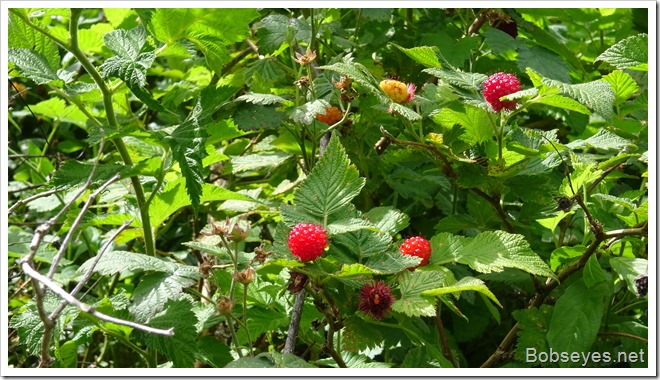 They are sorta a weird tasting berry and can sometimes be a bit on the tart side, but always look real good.
Plums too
I checked the plum tree there and found them to be a little on the green side which didn't stop me from sampling them as you never know how something will taste until you try them. Sometimes you get lucky and they are not real bitter. These ones are still too bitter to eat and need just a bit more time. Some green plums are not bitter and are eatable in this state so I always check them out just in case. In the wild, if you wait until fruit gets just right,you likely won't get any of it as the wild life will eat it first.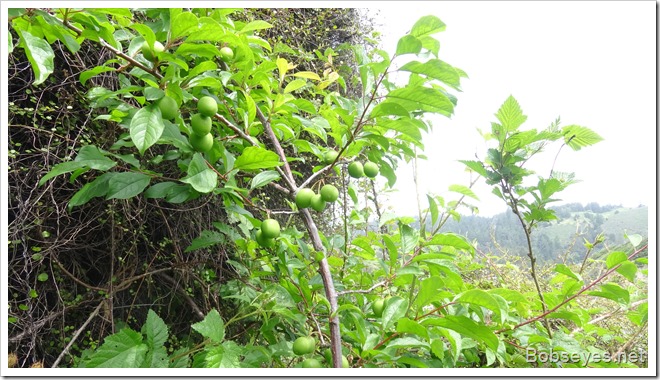 No cherries
I checked the cherry tree, but there were no cherries on the tree, so I went under it here to the old house site.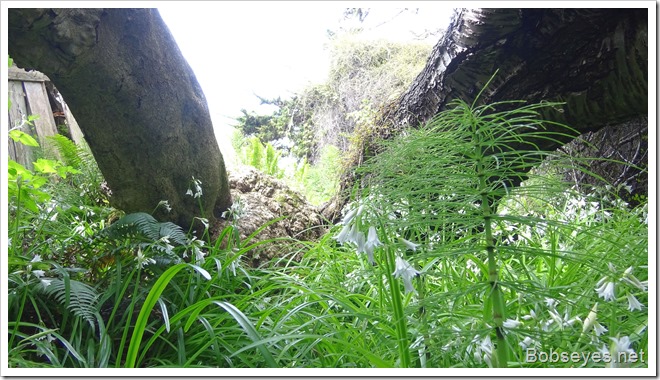 There's not much left of the old house.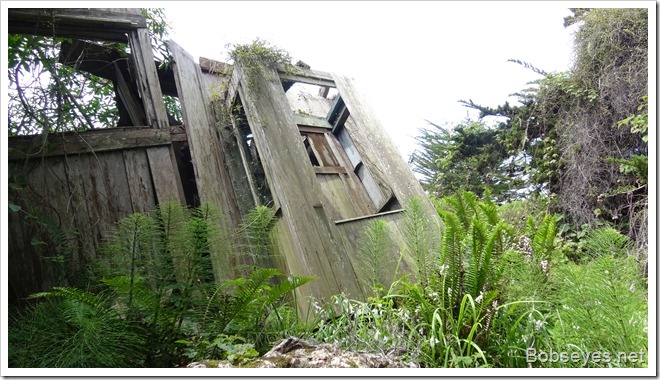 Old buildings
I checked this spot for little black berries, but it's too early for them in this spot. This is an old barn looking over to the old milk barn in the background.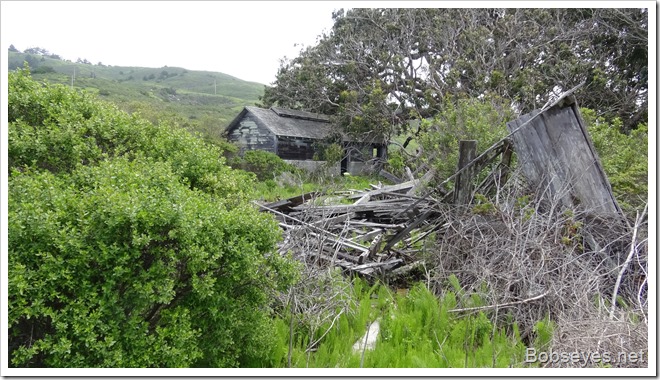 I didn't see Candee
I worked my way through the brush to the south side of the island to look for black berries. I looked across the channel to Candee's houses to see if Candee was waving, but I didn't see her. Candee is up and said to look for her wave. She comments on the blog sometimes. She owns the little wooden house there and the big pumpkin one in the trees, up the hill from it.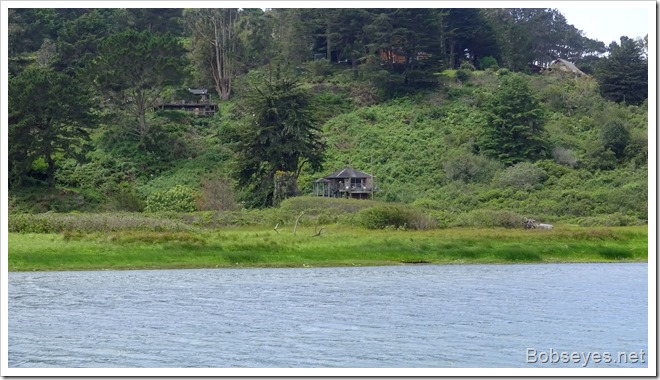 I looked for berries down on this part of the island.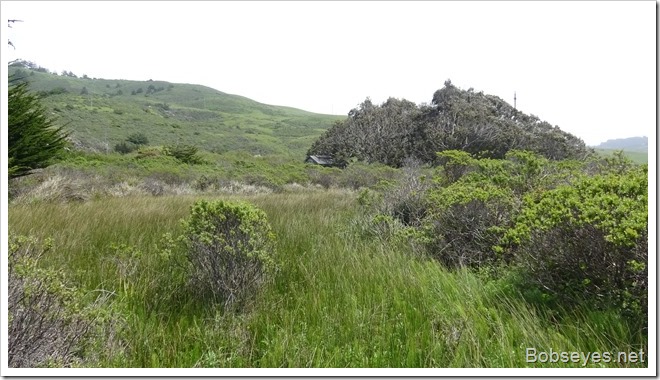 Black berries aren't ripe enough to eat
I did find some wild black berries, but they weren't ripe enough even for me.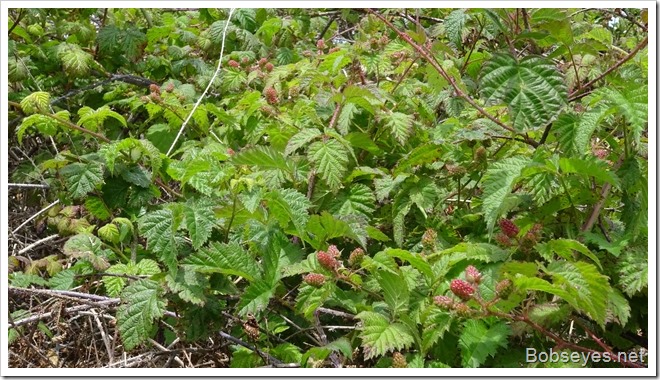 I made my way back to my boat and put it in the water and paddled up the river about a quarter mile as the wind picked up some more. It looked like it was about twenty five miles an hour now, still doable.
White caps
I decided to head on in for the day, so I paddled back down along the north side of Penny Island and crossed over through the white caps here.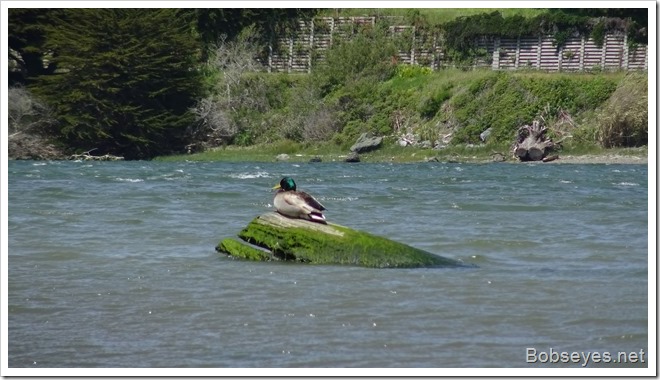 I didn't get wet
I made it across the river without getting wet, but when I landed on the ramp, I hit it hard to push my boat up on the ramp to get out of the waves that were breaking on it, but I misjudged and didn't get my boat up high enough to get out of the waves. I got out quick, but some waves broke over the side of the boat, but I was already out. It wouldn't be a big deal if I got wet anyway, just a little water.
I went on home and just sat around the yard the rest of the day, taking it easy. No work today.
Nice day even with the wind.
(Visited 127 times, 1 visits today)