Thursday November 3, 2016 Guerneville CA.
An appointment messes up my day
Today I had a dentist appointment at 1 PM so my day is messed up. I was to get a cleaning and a prep for some extensive work that needs to be done.
Van's engine idle problem
First off I called back east to my van's TBI kit builder to ask some questions about what I needed to do to make the new engine idle smoother. After a five minute hold Troy came on the line. I asked him some questions and the main thing he advised was for me to set the timing at 12 BTC instead of the 8 I had it set at. He gave me a couple other things to check and said he could tell me more if I had the engine scanned, which I don't have an easy way to do.
I'll set the timing and idle and reset the computer and see what happens.
Armstrong Valley Farm
So I had some time to kill in the morning so I took a walk over to my brother Tom's garden to see what was going on.
I went past some of his chickens.
Lots of onions
I saw Tom and his helper over there planting something so I went over to see what. They were planting onions, lots of them.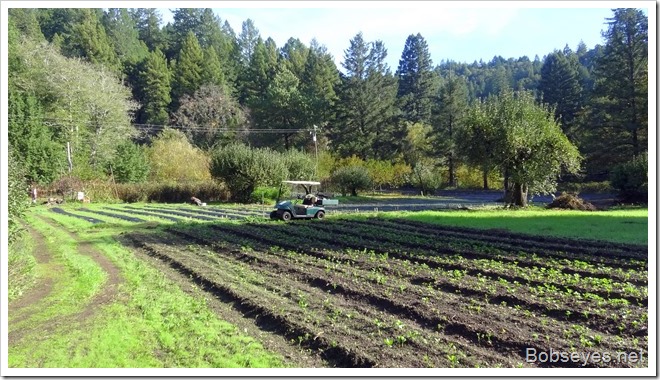 I walked around the garden a bit checking this and that out. I looked for a winter apple on the trees, but found none. Too bad as they are usually very tasty.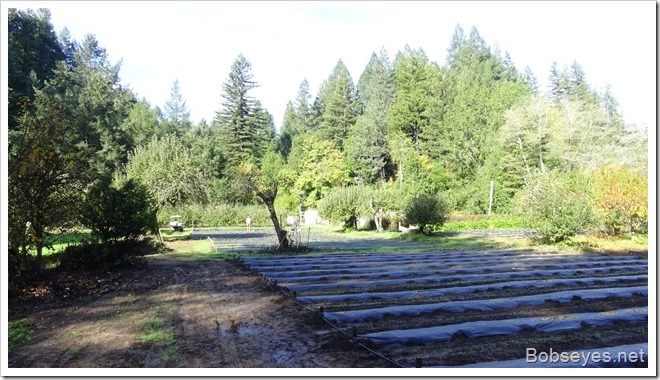 I moseyed on home and had a nap just to kill some time until appointment time.
The dentist
Everything went well at the dentists, well everything except my bank account is going to take a beating, but at least that should put all my teeth into good shape for my older age.
My well driller
Next, I drove the short distance to Fisch Brother's Drilling to let them know I will be around the next couple months and am ready to get another well drilled. Gee, I just realized I had a bunch of drilling to be done, between the dentist and the well driller. Things need to be done.
I usually go into the well drillers office and plop down in one of the office chairs and we shoot the bull for an hour or so and that's what we did. They said they'd be drilling in about a month.
No shopping for me
I was thinking of doing some shopping, but unless I really need something bad, I can usually find an excuse not to shop, which I did and went on home for the day and that was pretty much my day.