Thursday July 9, 2015 Jenner CA.
It's raining
I woke to a light rain this morning. Weatherman said the low would move out of our area by 1:30PM so no more showers after that,…………….. right.
It showered all the way down to Jenner this morning, but when I got to Jenner it pretty much had stopped.
Ken gets his beaver lesson
Ken the kayaker caught me on the boat ramp as I was putting my boat in the water. He's sort of an activist at Jenner, so I hit him with both barrels of my beaver back on the Russian River. He seemed to take to the idea. Maybe I'll get something going on this eventually.
I left him on the shore and paddled across the river and headed on up to a pretty windless river.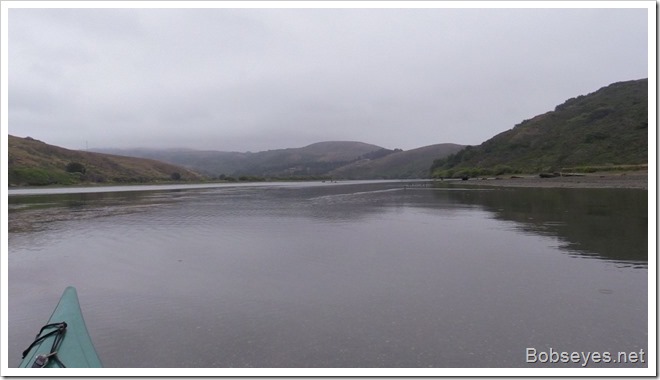 I passed by these merganser ducks taking it easy.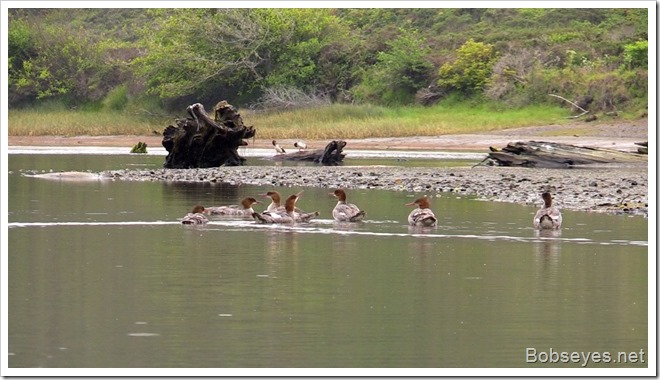 Showers start
Just as I got up to otters log, it started to shower. I had my rain jacket on, but not the rain pants. I was looking for a place to pull under some trees, but with the low tide, all the shore water was out away from the trees so there weren't any to pull under. However, the light rain was warm and pretty much windless, so it was quite pleasant..
I was looking for a tree to pull under here at Eagle's landing, but there weren't any. It was raining lightly.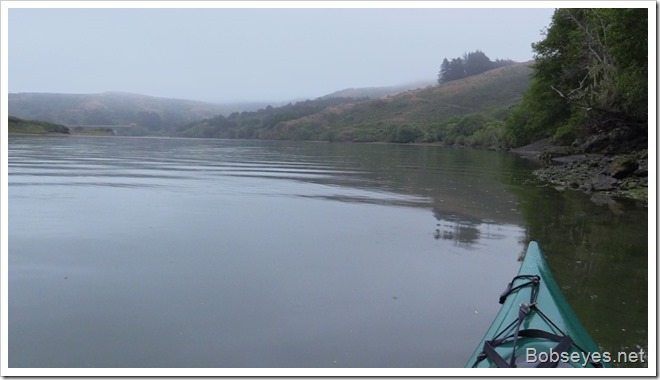 It continued to rain lightly as I continued on up the river to Muskrat nest beach. It didn't look like it was going to let up for awhile so I turned and started heading back down the river and stopped here for awhile just enjoying the rain.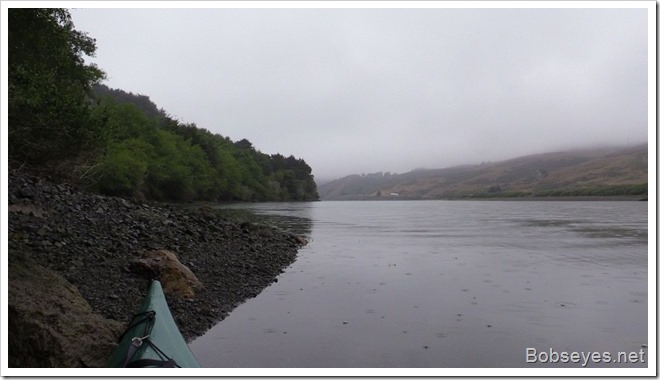 The rain stops
Around 1:30 the rain let up just as the weatherman said it would as I paddled up along Penny Island heading down to the river's mouth area.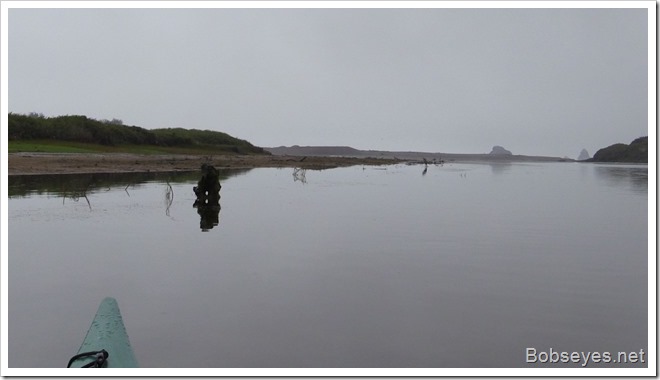 With the low tide, the pipers were working over the shoreline feeding.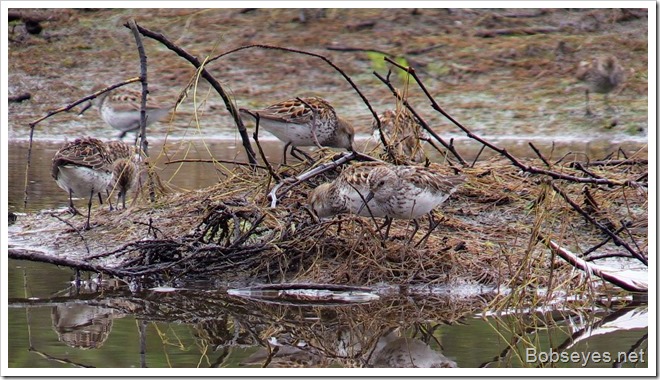 There were a bunch of white pelicans on the lower end of Penny Island. They have their wings out drying them after the showers.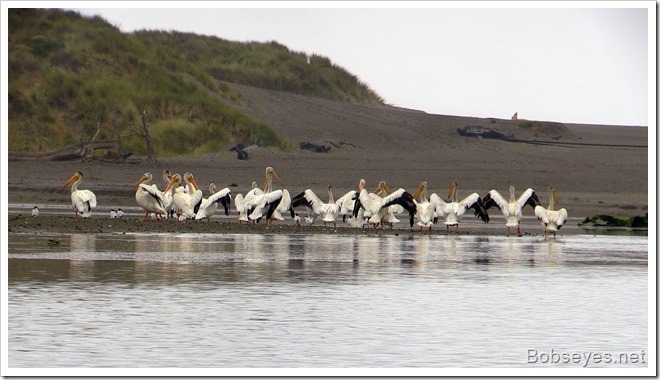 The river's mouth is wide open
The river's mouth was wide open with lots of harbor seals resting on the sandy beaches on both sides of it.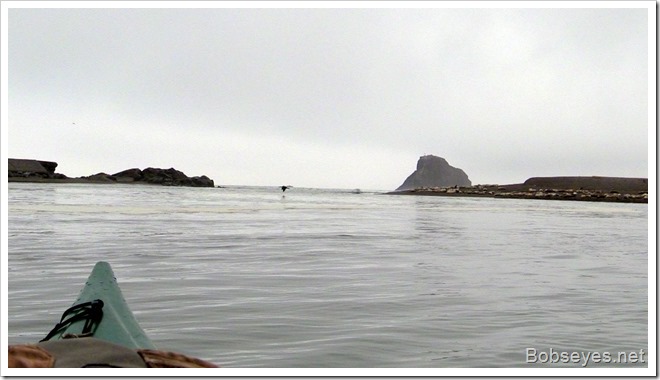 The tide was changing and foam was coming into the mouth and into the river. I sat in the foam and watched the colder denser ocean water dive under me here.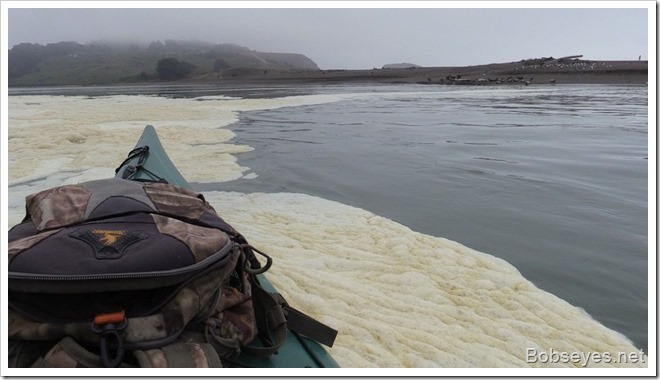 There were some brown pelicans preening by some of the harbor seals.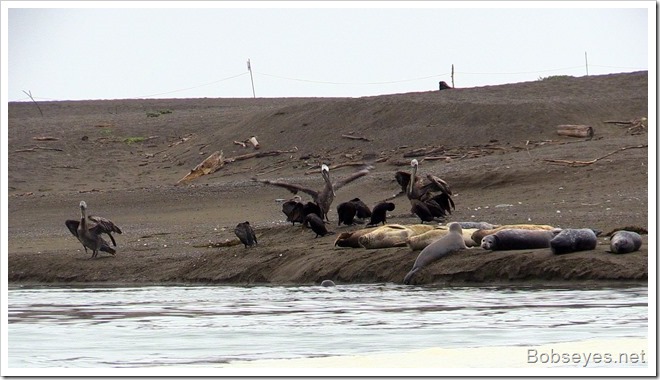 Steve shows up
Eventually, I worked my way back to the boat ramp where I saw Steve putting in his boat.
I decided to join Steve and stay out for a couple more hours. He had been picking up parts for my van earlier in the day so just arrived at Jenner.
Harbor seal with a big fish
We paddled across the river to Penny Island and were sitting there when I noticed a harbor seal surfacing in front of us and acting like it had a big fish of some kind. Watching it, it did have a big chunk of fish in it's mouth.
This was the best photo I could get of the harbor seal with the big fish. There's not any big fish runs right now, so I don't have any idea what kind of fish it was eating. Actually I was surprised to see a harbor seal with a big fish this time of year.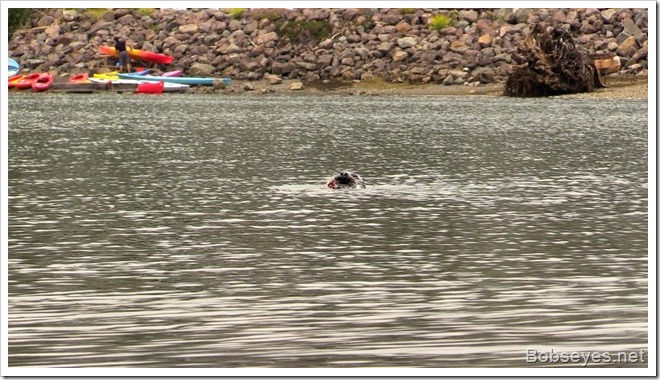 Steve and the pelicans
We headed on up the river and Steve wanted his picture taken in front of this flock of white pelicans. I counted about eighty of them in this flock. The most I've seen down here so far.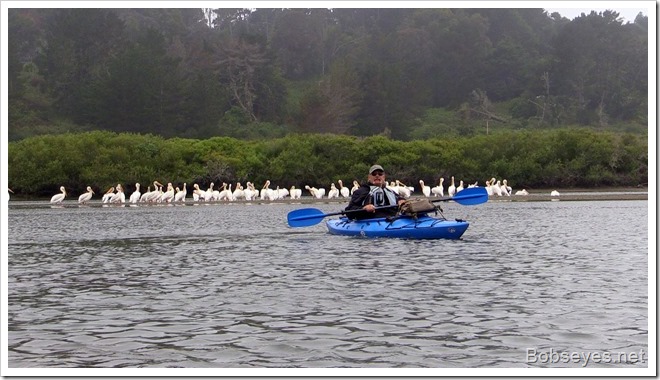 Steve and I paddled on up to Otter's log and sat. It started to shower again even though the weather guy said the low moved out of our area earlier. But it was still real nice.
Heading in for the day
Eventually, it was almost five PM, so I headed on in for the day while Steve headed down river towards the river's mouth.
Here I am heading on in for the day around five PM to a real nice river. Just a few real light sprinkles falling as I crossed over to the boat ramp.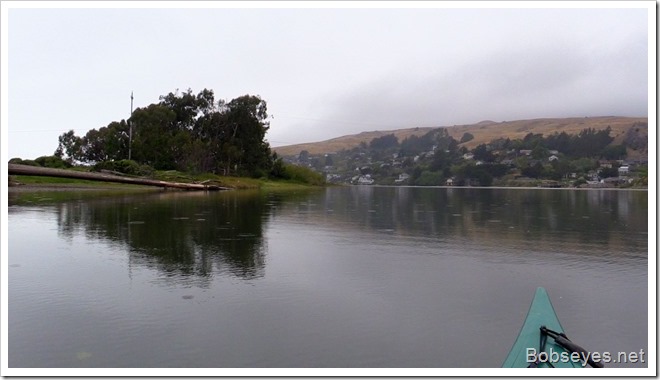 Enjoying a rainy evening
I took my boat out of the water and went on home for the day. It was still showering lightly when I got home so I got something to eat and just puttered around the rest of the day doing mostly nothing. It continued to rain lightly all evening so I sat out in the car port and enjoyed it.
Nice day out paddling in the light rains.
(Visited 140 times, 1 visits today)