Monday January 12, 2015 Jenner CA.
I got up this morning and checked my email as usual and found a message from my VA nurse saying they'd been trying to call me last Friday and the phone just rings and rings.
I'm not a phone type of guy
I admit I'm not much of a phone guy. I don't have a message machine as I don't use the phone enough to have to be checking it all the time and I'm out getting exercise all day kayaking, so mostly, there is no one to answer the darn thing. Usually when I answer the thing, it's someone trying to sell me something or some sort of survey and I don't waste my time doing surveys for someone I don't know on the other end who wants to waste my time.
My nurse gave me a number to call Kevin to make an appointment. I tried calling him several times and didn't leave a message because I would be out kayaking all day. I'd try again when I got home.
I was off to Jenner to kayak for the day
I arrived to a nice day, with a breeze and a bit overcast and a bit chilly, but it looked like the sun would break through soon and it did and things warmed up.
I headed across the river to Penny Island and sat for a bit before continuing on up the river on the south side.
This was my view as I headed on up the river.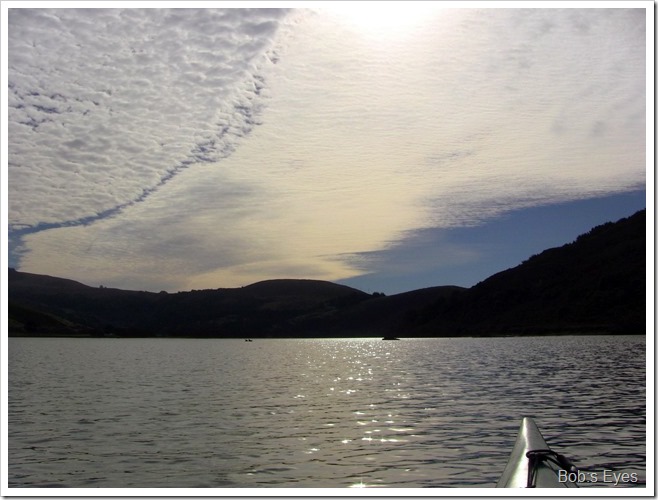 As I paddled along, the breeze died down to mostly calm which was real nice.
I went by this merganser duck resting on the shoreline just below Paddy's rock.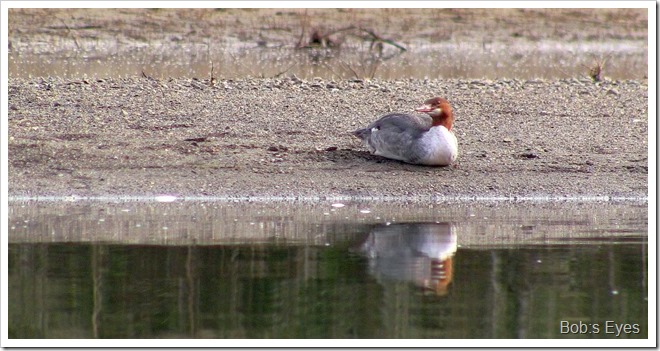 I went on past Paddy's rock and sat in this area for a bit enjoying the day.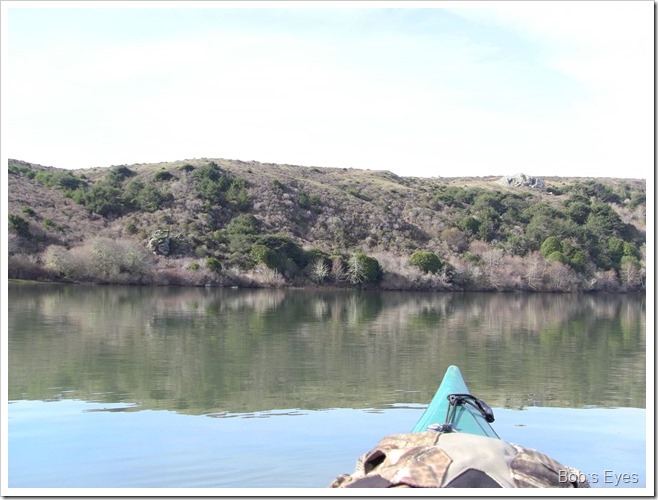 Eventually, I paddled across the river to this area which I call Muskrat as there are a bunch of muskrat nests here in the trees.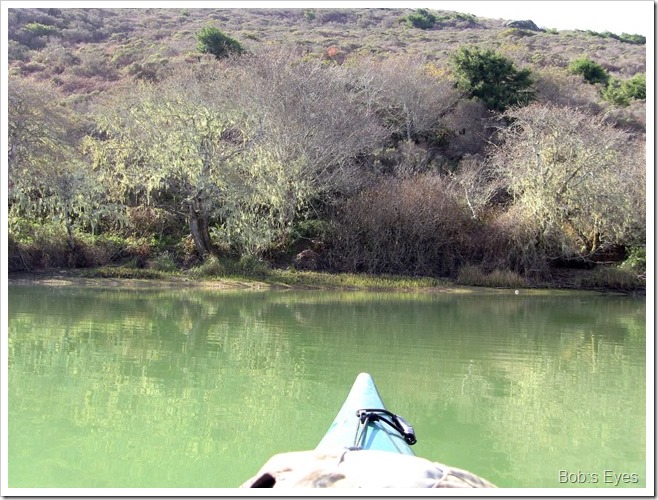 When I left that area, I headed back down the river going past these cormorants getting some sunshine on a rock. They got a bit nervous and a couple of them flew off as I passed.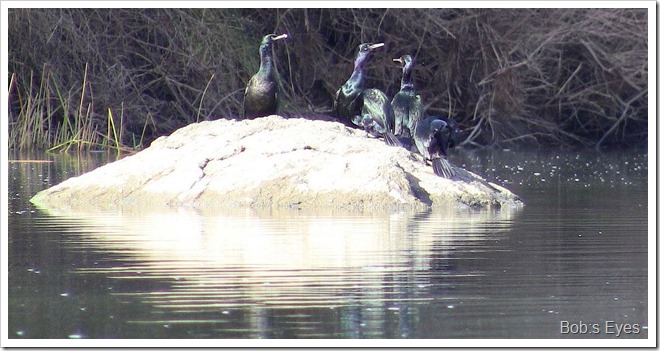 As you can see, the breeze mostly died down and the sun came out nicely for a real nice day taking it easy on the river.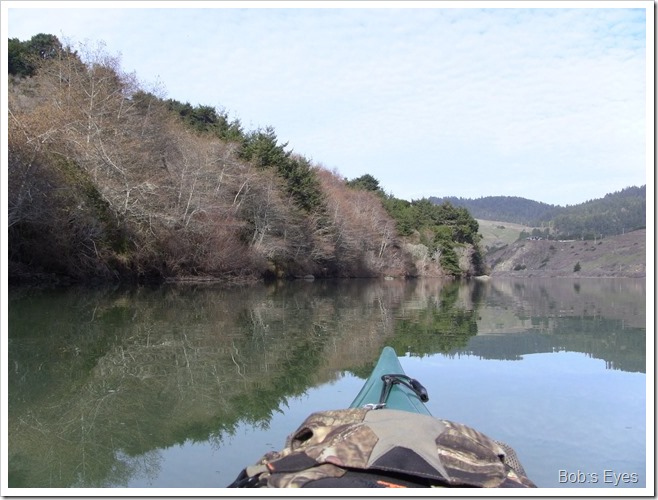 These two female bufflehead ducks swam by me as I went.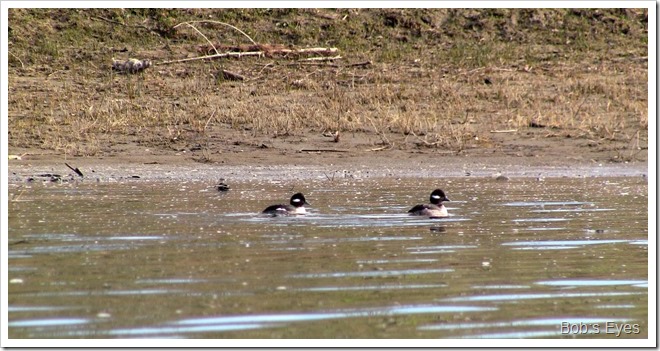 I headed on down the river at a very slow pace stopping along the way as I do, headed for the river's mouth area.
I passed by these seagulls and a pelican or two. The breeze had picked up just a little down in this area. The birds seemed to be bathing.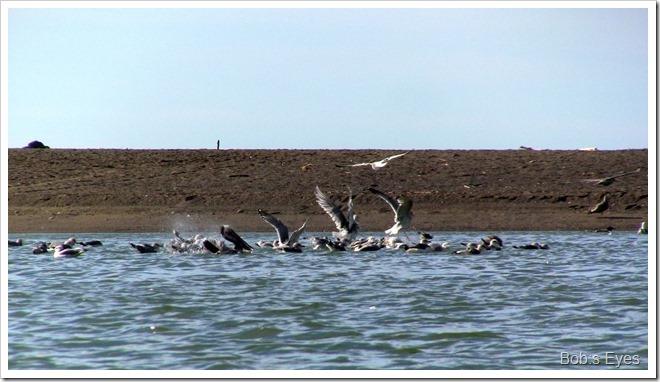 High tide at the river's mouth
The high tide was just starting so I was able to paddle right into the river's open mouth as the ocean water was just starting to come into the river so there wasn't any outgoing current to be concerned about taking me out into the ocean.
This is a picture of the open river's mouth looking out into the Pacific ocean..There are some seagulls and harbor seals resting on the sandy beach. I saw a couple surfers heading south. to the left. to get to some better waves than the crashers to the right. The waves change with the tides, so the surfers have to move to get the best ones. They seem to like the rollers the best.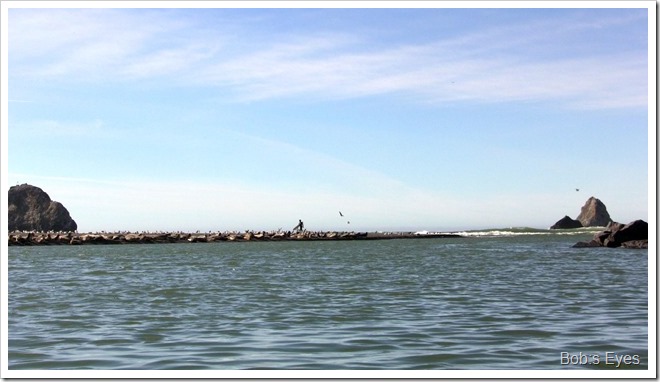 Here's some of the harbor seals and birds resting on a sandbar at the open mouth.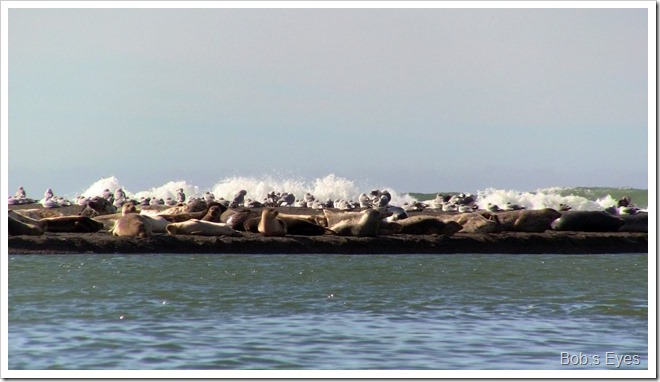 I decided not to stay out too long today, so I could go home and do the phone thing to get a doctors appointment, so I headed on back in for the day.
I passed this little goldeneye duck on the way.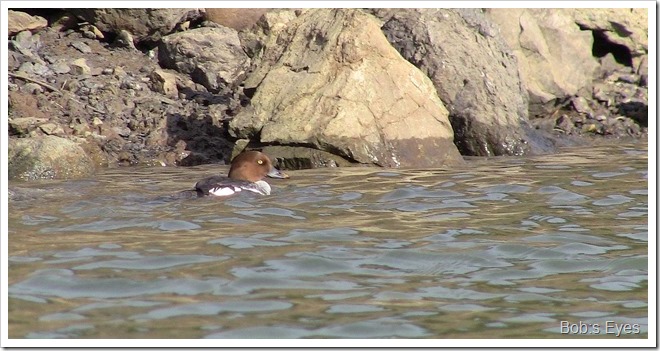 Another eagle encounter
I was paddling along almost to the boat ramp, past some houses when I looked up and a seagull was flying towards me about fifty feet off the water. I watched as it dropped a big fish in the water and I thought that was strange.
The fish was large enough that the seagull couldn't swallow it right away. A bald headed eagle swooped in just after the seagull dropped the fish and headed for the seagull. I watched as they both flew a circle away from me.The smaller seagull could outfly the bigger eagle and soon the seagull came back and landed on this house roof looking for it's fish which was now gone. Better to lose a fish than one's life.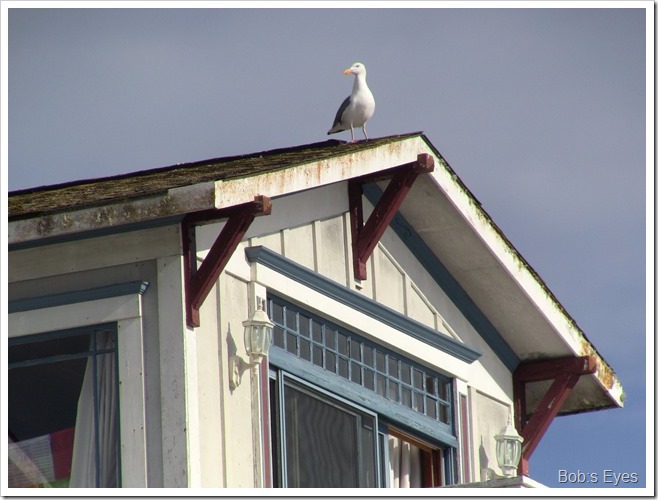 Still trying to make that doc appointment
I pulled my boat out for the day and went on home where I placed a call at 2:30PM to make an appointment with my doctor to proceed with this BBQ wire thing. Of course, Kevin didn't answer the phone, so I left a message saying I'd hang by the phone for the rest of the day and hit the couch for a nap.
I had a good nap, but Kevin didn't call. Darn.
I'm thinking I should just send another email to my other nurse and ask her to make an appointment for me as we seem to have a problem making one with the phones.
Another nice day on the river.