Monday May 23, 2016 Jenner CA.
A good day to kayak at Jenner
Today looked like a good day to go down to Jenner to yak as the wind didn't look like it was going to be too strong, so off I went and arrived around 11AM in the morning, a good time to start for me.
I paddled across the river to Penny Island and decided to head down towards the river's mouth to check it out. As I passed by the lower end of Penny Island this egret flew in and landed close to me and started preening.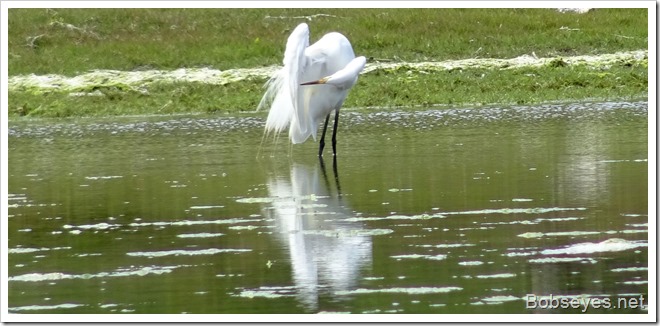 Headed to the open river's mouth area
I left it preening and started across the river to the mouth area and things looked like this as I paddled along.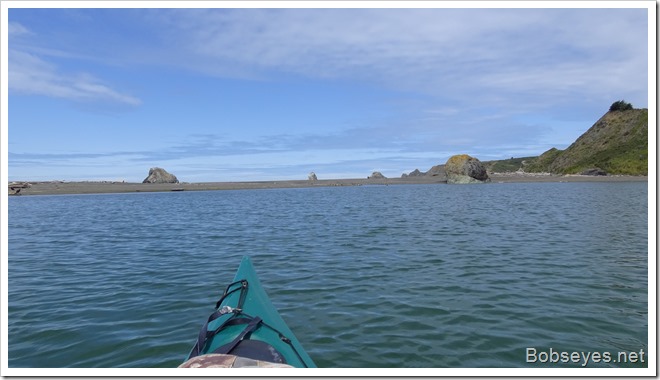 I went by these turkey vultures feeding on another harbor seal. Looks like they almost have it down to skin and bones.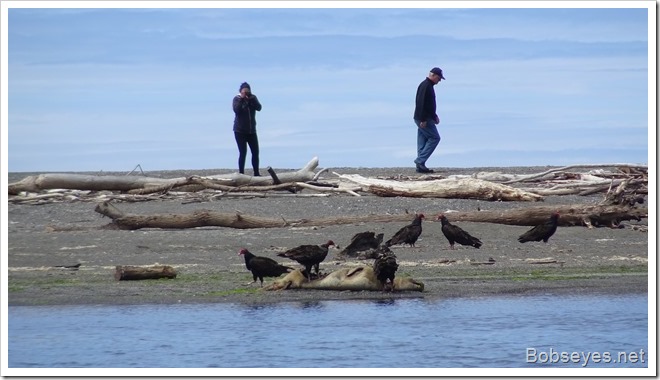 Mouth has moved back south
I paddled over to the base of Haystack rock which was just in front of the open river's mouth which looked like this. The mouth has moved south back by the end of the jetty which stops it from moving any further south. You can see the end of the jetty coming in from the left side. That's Goat rock in the background.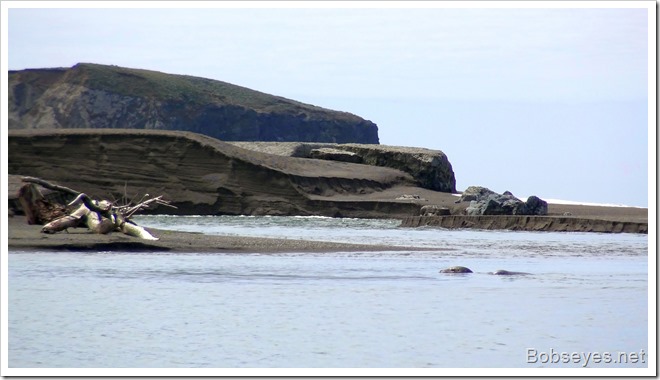 Screeching osprey
There didn't seem to be a lot going on by the mouth, so I didn't stay too long and started back up the river where I heard an osprey screeching in the trees and I finally spotted it.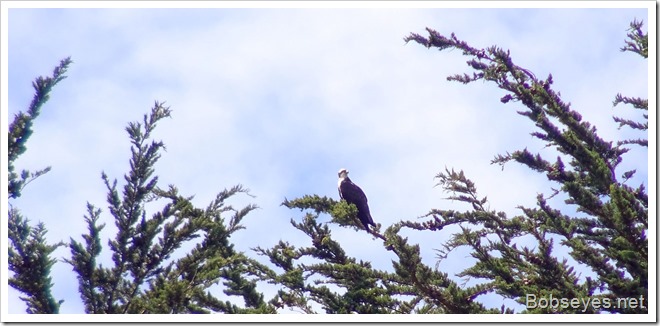 I watched another osprey land on Penny island here.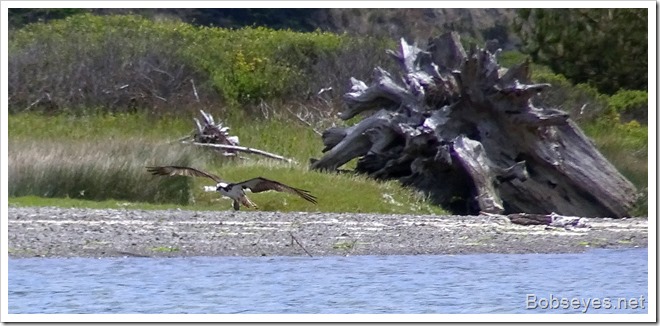 Baby deer watches
I decided to land on Penny Island and look for some berries to eat. As I was looking for a place to land here, I spotted that baby deer in the grasses watching me to see what I was going to do. It bounded off as I pulled into shore with my boat.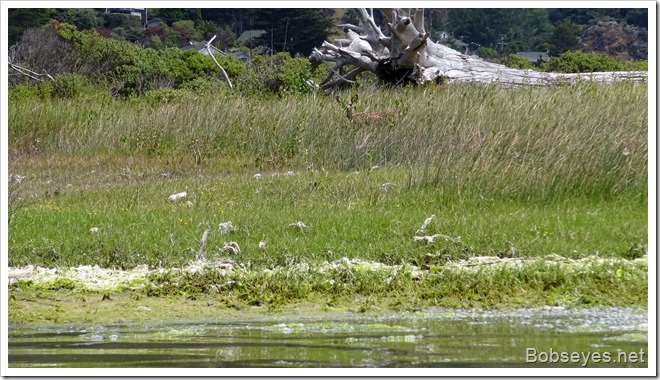 Penny Island walk
Once I got to shore, I pulled my boat up a ways as the high tide was still coming in. Things are nice and green on Penny Island.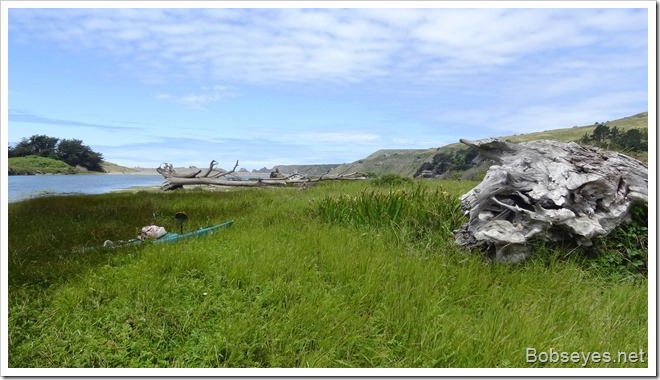 I found mostly salmon berries ripe on this part of the island so I ate some of them. I didn't find many small black berries on this part of the island.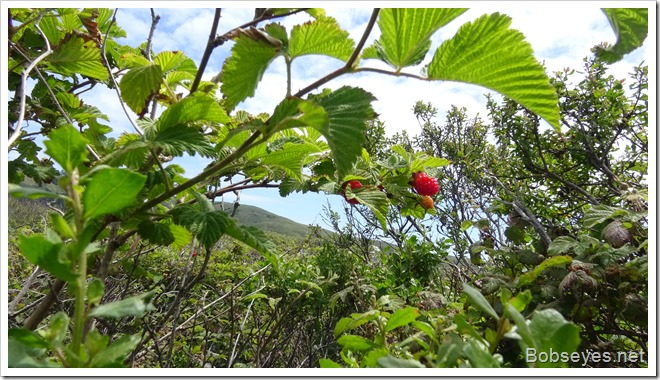 On the way back to my boat I walked past this old redwood stump which always reminds me of a huge animal skull of some kind.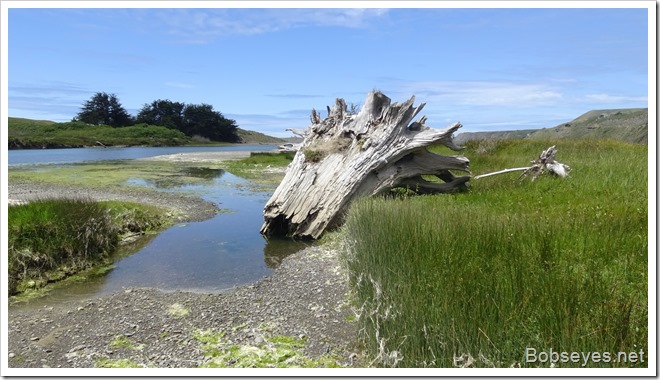 Poor loon
I got back in my boat and paddled up the island back channel and was thinking of going to shore here at swamp rock and look for more berries. I watched as this loon hobbled up on the shore and sat, just as I approached. Loons don't have the type of legs that walk on land very well, so watching it on land finding a place to sit is rather pathetic as they move very badly on land and just as this one settled it saw me and got up and moved back into the water.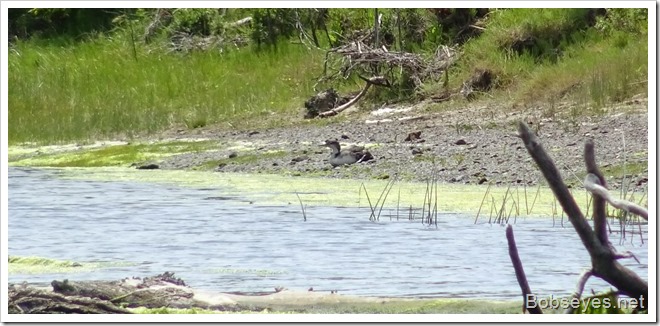 Swamp Rock Trailhead for berries
I landed here at Swamp rock trailhead and went to shore and walked around this field looking for little blackberries to eat.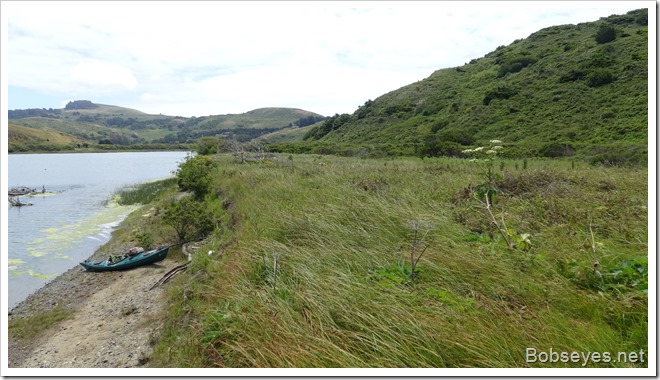 I did find some and ate a bunch.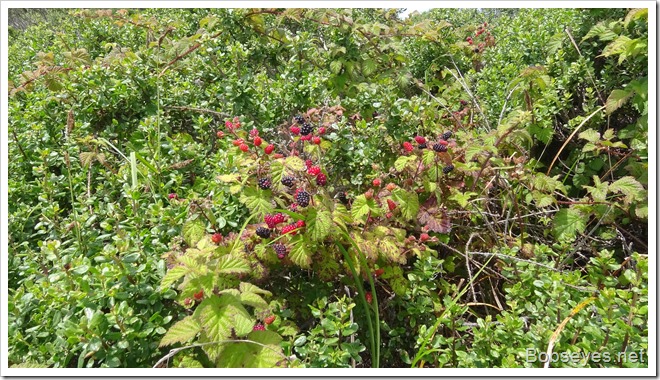 I walked up the Poison Oak Alley trail that goes up along the river to the thimble berry patch I know is up there, but found only berries that weren't ripe yet.
Green thimble berries.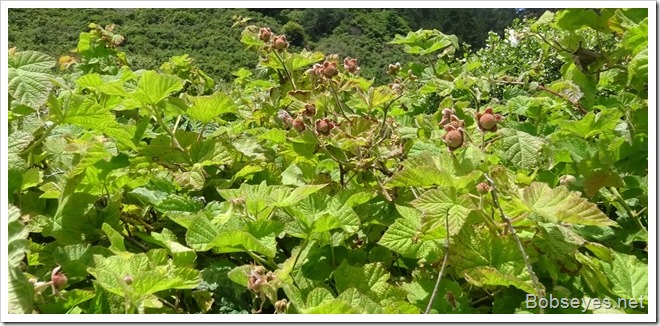 I ate quite a few blackberries before getting back in my boat. I decided to head on back to the boat ramp for the day.
Burned up phone lines
I went past these two phone repair trucks. When the ladies RV burned the other day, it was under the phone wires and apparently melted them so those sections need to be replaced. I bet that is a big repair bill as there's several big phone lines that go by here.
I went on in to the boat ramp and pulled my boat out of the water.
Helped Charlie do some wiring
On the way home , I stopped in Monte Rio to help Charlie wire in a light switch. I sat in a chair and supervised while he did the work.
I visited for a couple hours, then went on home where I puttered around in the yard not doing much of anything except enjoying the passage of time.
And that was my day.
(Visited 121 times, 1 visits today)