Monday June 20, 2016 Jenner CA.
Nice day for a paddle
It seemed like a good day to go down to Jenner and go kayaking, so that's what I did. The wind was down and the sun was out as I put my boat in the water and paddled to this spot across the river at Penny Island where I sat for a good while just enjoying the day.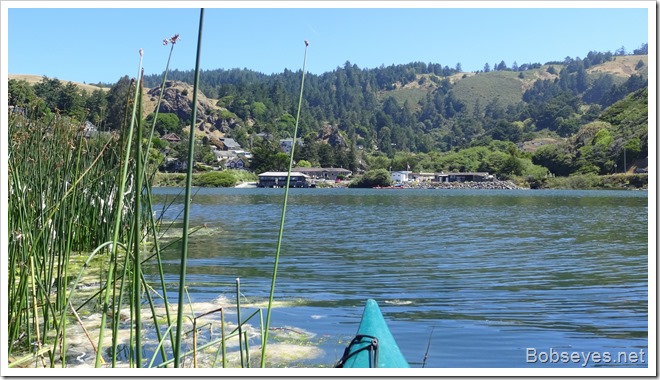 I did notice the biologists trucks and trailers parked in the parking lot so I knew they were here doing something. I could see them down near the mouth area as I crossed over the river.
I decided to go up to the little channel on the upper end of the island, so went up along the island here, the channel is just up ahead.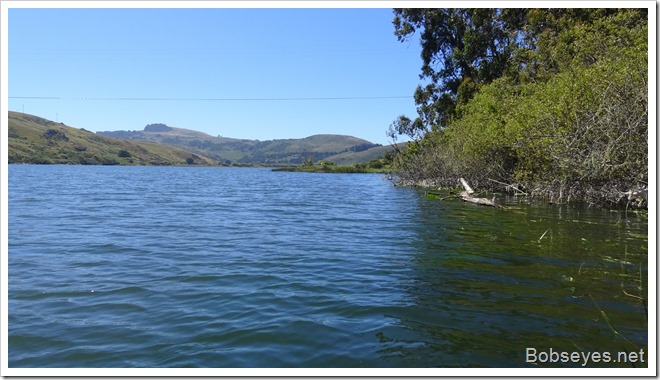 It was so nice in the channel I sat there for an hour or so just taking it easy and watching for things.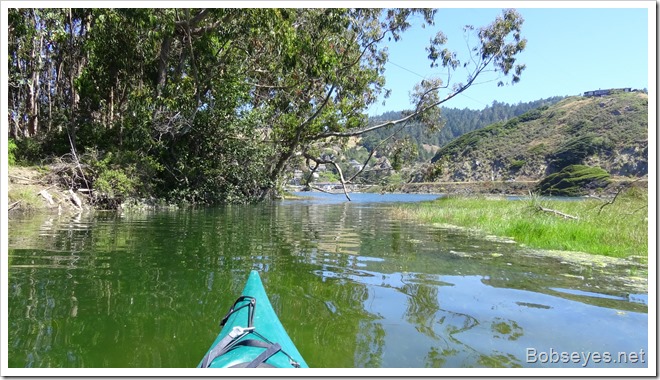 Landed for a walk
With the river's mouth being closed the water level is up which makes it real easy to land on Penny Island here which I did.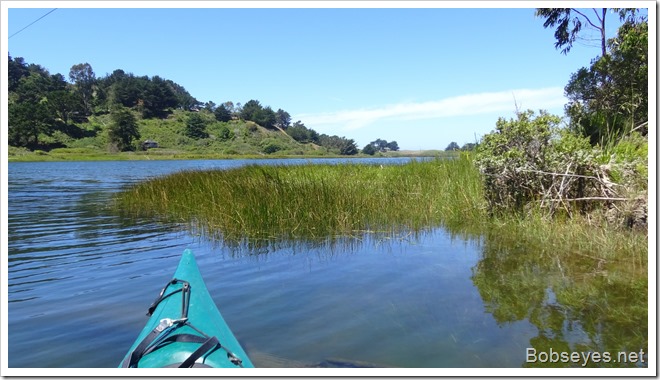 I went ashore for a walk and to look for some berries to eat. The island trails are thick with brush. Here's one of the trails I walked through looking for berries.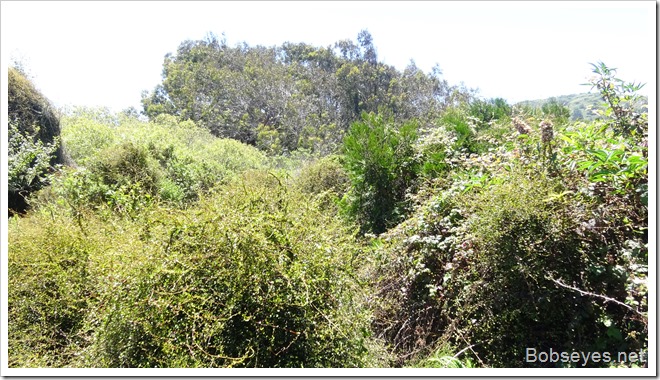 I found some small blackberries to eat, but not many as they are on their way out for the year.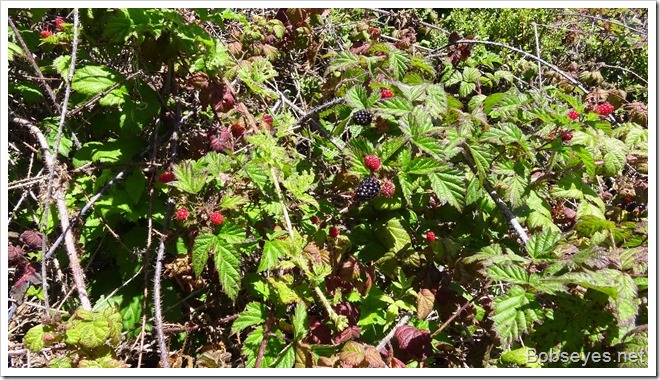 I got back in my boat here on the upper end of the island, looking down the island back channel.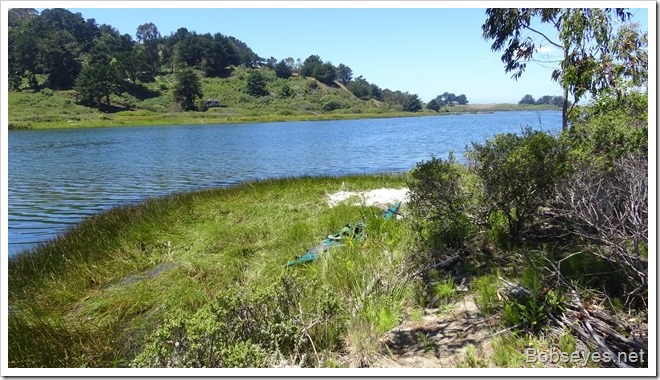 And paddled around the upper end of the island not going anywhere. With the water level up, some of the island is flooded and so I paddled around this part of the upper island.
I paddled to the upper part of the island and looked back and this is what it looked like looking back at Penny Island down the back channel.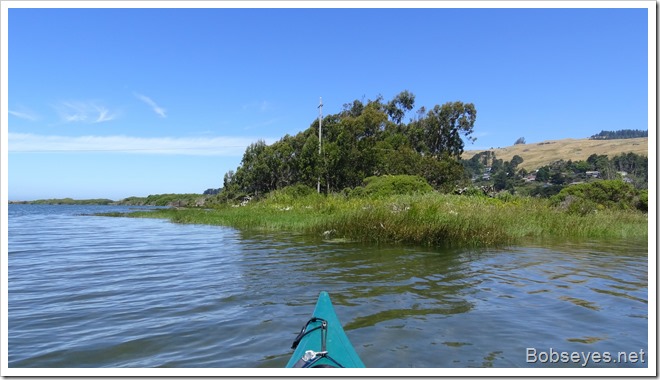 Biologists show up for some seine netting
I was sitting back in the channel when I noticed the biologists boats heading up river by the boat ramp. They turned and came over by me, so I pulled over to talk with the guys in the rubber boat. Turns out they were going to take samples with the seine net right in front of me.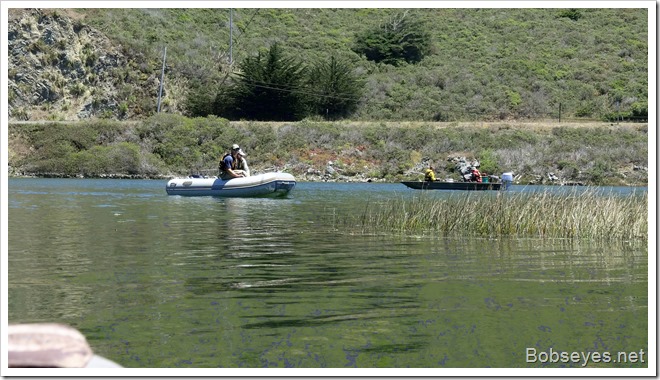 I took some video of them putting the net out and pulling it in that I may get together and post eventually.
Here they are doing their netting thing for samples of what's in the water, as I watched.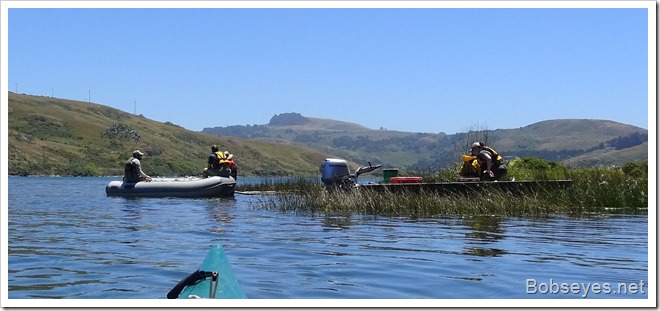 They were just pulling the seine net in in this picture.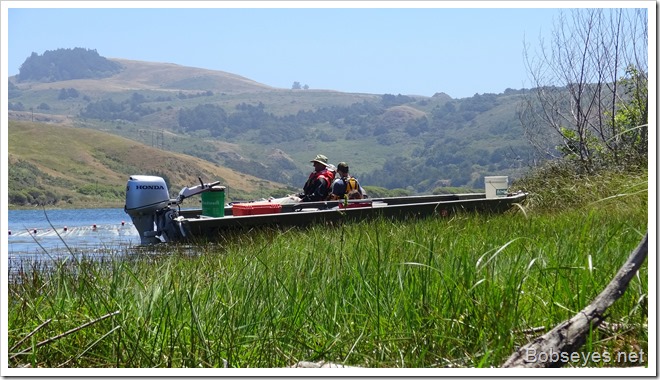 I left them at it after two pulls and went down along the north side of Penny Island where I ran into this female mallard with her little ones that are about half grown. They were feeding along these reeds.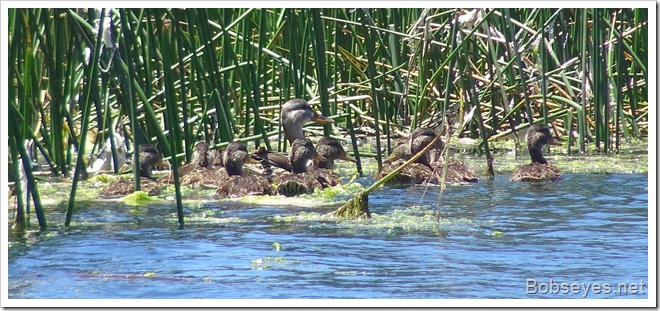 Winds come up
I was thinking of going on down to the river's mouth area, but as I paddled along, the wind came up, so I stopped here and eventually turned and went in for the day.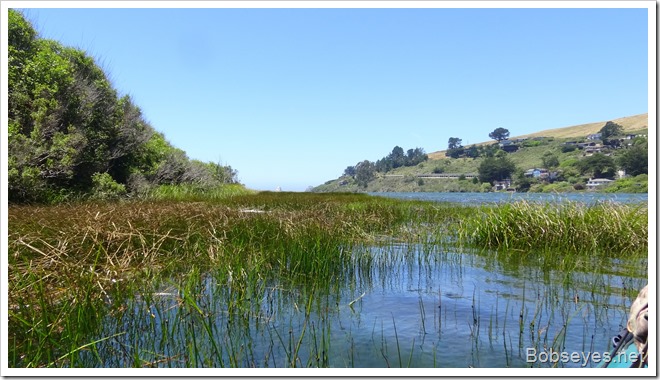 I went on home.
Checking on my new van springs
I've been wondering where my new van springs are as I should of heard from the spring guys letting me know they had come in, but no call yet, so I gave them a call. I tried to call several times, but couldn't get through to anyone as their phones seemed to be jammed up.
I waited an hour and tried again and finally got someone. They said they'd find out exactly when the springs would come in and get back to me by tomorrow morning so I wait. I'd like to get them installed before the 4th so I can be off on another adventure, so we'll see if that works out or not.
That was my day for a nice one.