Sunday October 18 2015 Monte Rio CA.
Lets start with the nice paddle
The plan today was to go to Monte Rio and paddle on up the river to the summer Vacation Beach dam and back.
I got down there about eleven and put my boat in at the boat ramp below the bridge.
With the river's mouth closed. down at Jenner. the water is backed up all the way to the Vacation Beach dam so the river is like a lake.
Here I'm just starting out just below the Monte Rio Bridge. Usually there is a shallow spot here that I have to portage to get through, but not today with the mouth closed.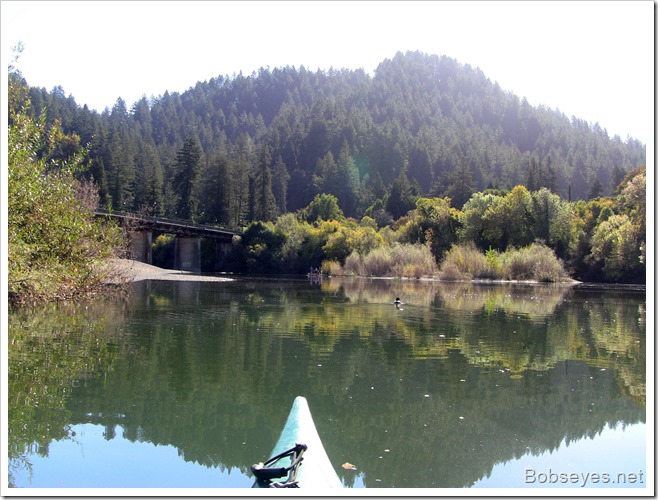 The breeze was down as I started off so there were lots of reflections in the water.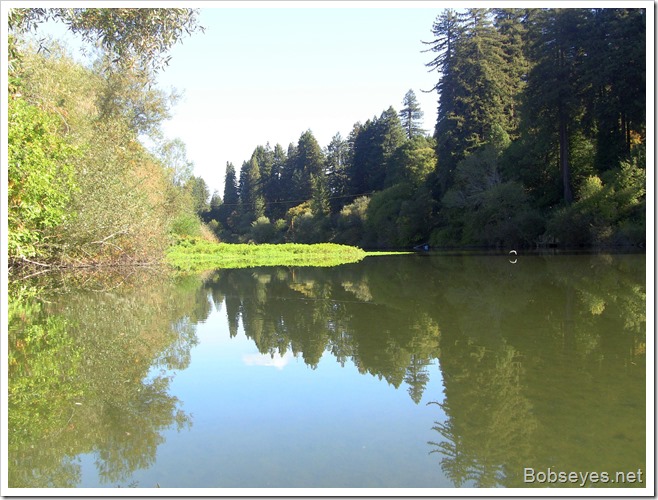 I spotted this great blue heron in the weeds fishing. I say fishing but they get bugs and crawdads too.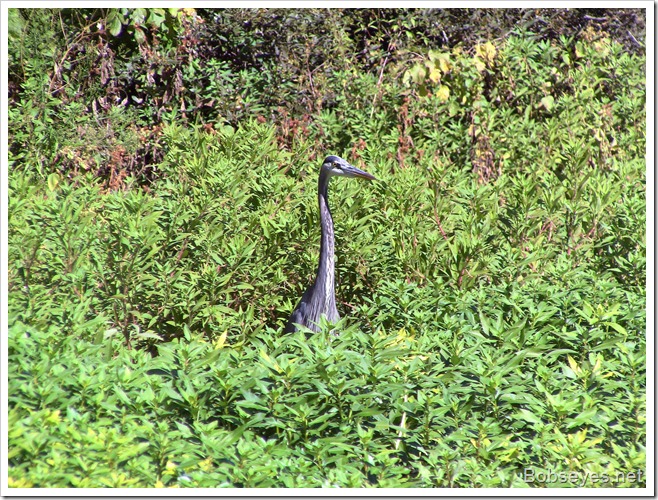 I was surprised to see this excavator doing some repairs on the river bank here as it didn't' look bad to me, but I guess the property owners where nervous so were having the work done.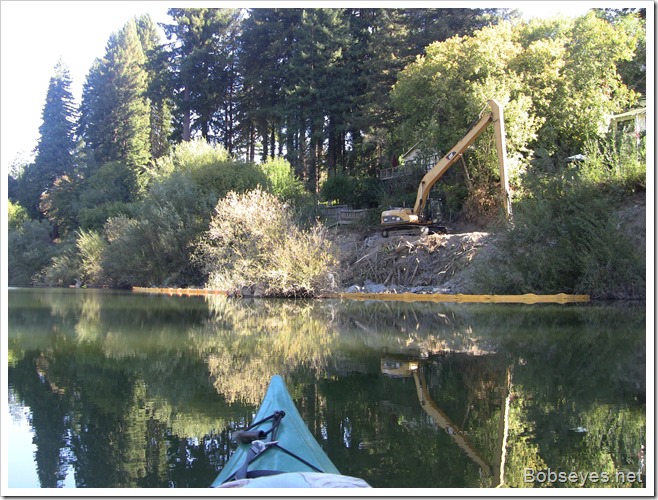 I continued on up the river .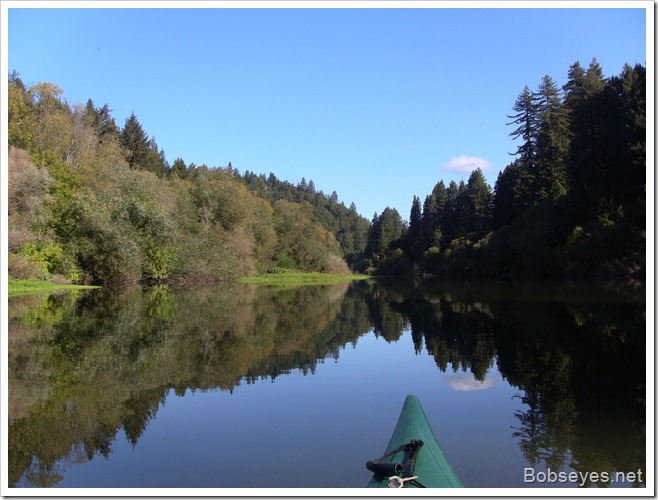 I went around the golf course turn and ran into a man and a woman and had quite a philosophical chat with them. When I left I heard the guy say awesome, meaning he thought we had a good chat. :O)
Continuing on, I paddled up this section and saw some birds on the redwood logs on the right, up ahead.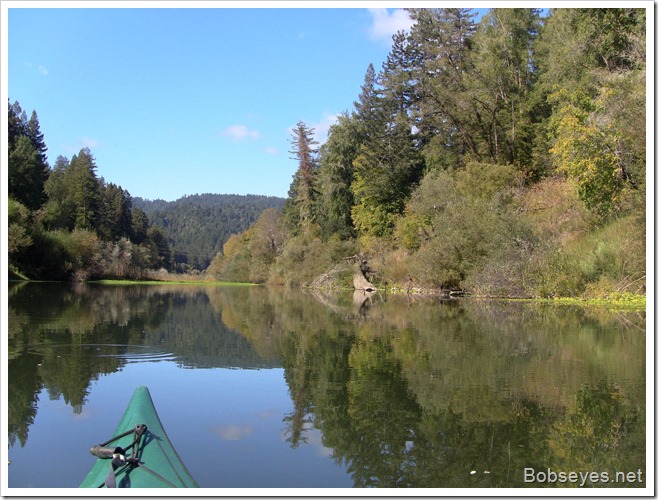 This is one of the cormorants I saw.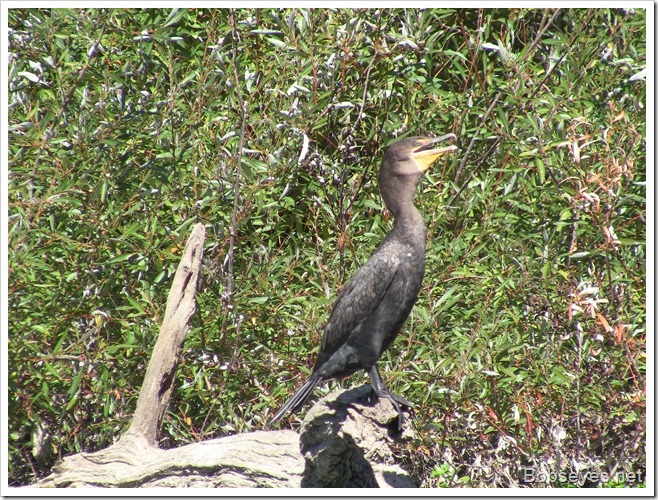 And above it in the trees was this great blue heron resting.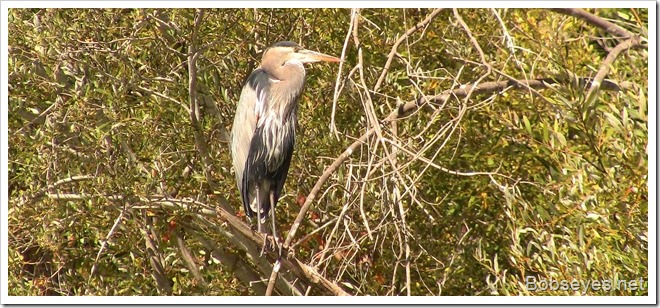 Just to the right of them I spied this green heron in the brush keeping it's eyes on me.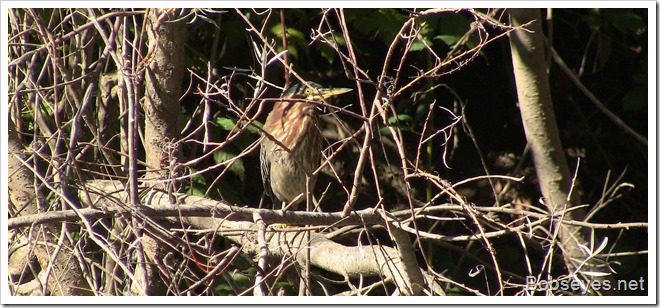 Summer dam
I made it up to the Vacation Beach summer dam which has been removed for the winter storms. The county hasn't gotten around to taking the temporary bridge out yet, but they will soon. Note the great blue heron on the gravel in front of me.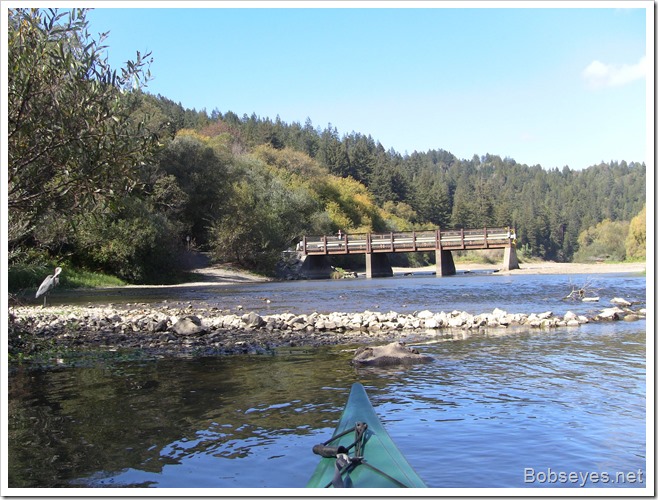 It stayed as paddled a bit closer.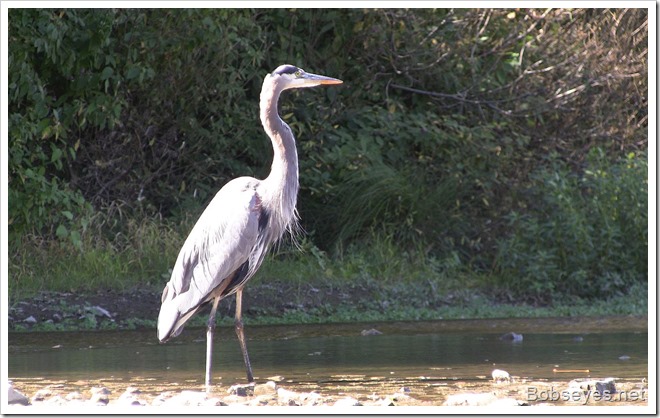 Turtles
I hang at the summer dam for a bit then started back down the river where I went by this area where I saw some turtles sunning.
Here's one of the turtles.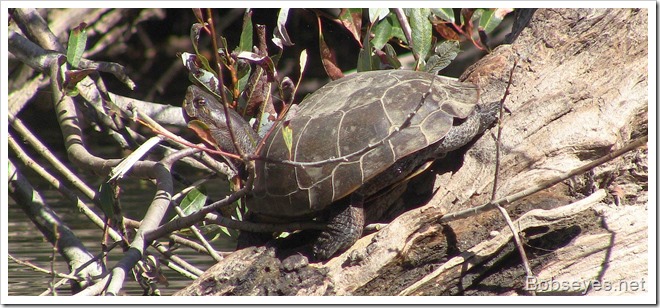 And a couple more of the turtles I passed. Some of the turtles splashed into the water as I approached, but not all of them.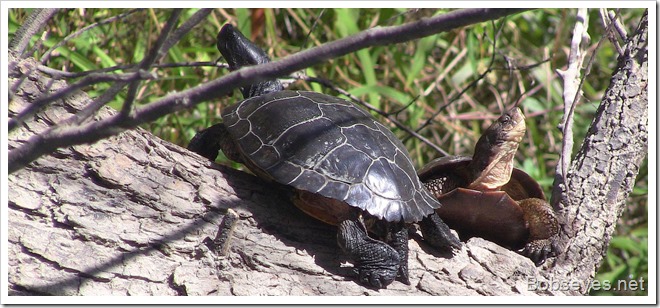 Otter's hole
I paddled on down and noticed this otters hole in an area I've known they hang out a lot. It's nice and sandy and the sun gets into this spot the first thing in the morning.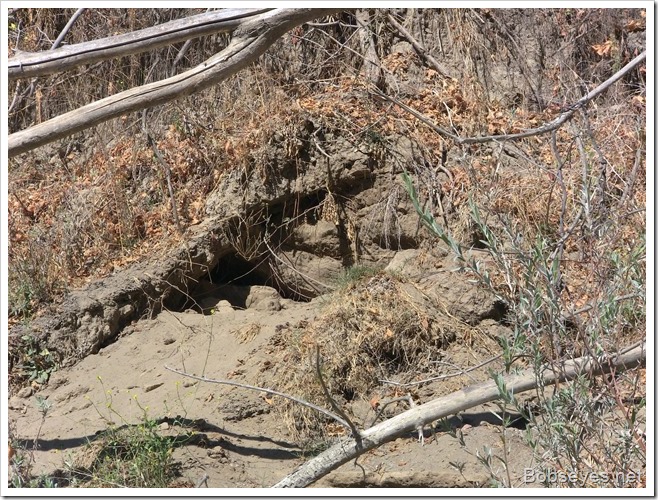 I made it back to the Monte Rio bridge and went under it to the boat ramp.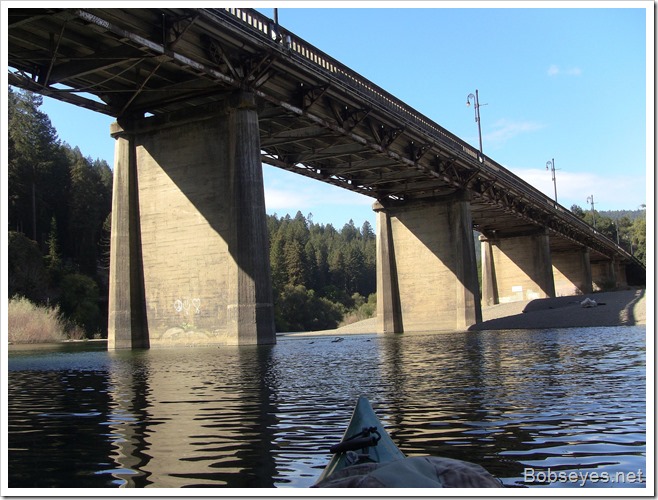 I went on home and was going to take it easy the rest of the day,…………….but.
Disaster strikes
I needed to figure out what pipe supplies I needed to work on the pipe project and went over to do some measuring. I was working on that and noticed I needed to dig out around the pipe that goes over to my house and my brothers house and was digging it a bit when I hit the pipe lightly with my pick.
The pipe shattered as it was a thin walled plastic pipe. First I cussed out my passed on uncles for buying such cheap pipe as this is what happens to it when it gets old.
I thought the water would only come out a little and I could repair it, but my ditch filled up with water, so now I couldn't do anything to repair it and it was only a couple hours until it got dark. I realized later that three pressure tanks of water emptying, were why so much water came out of the pipe.
I decided there was nothing I could do today and my brother's house and my house would have no water until I could fix it tomorrow, so I went over to tell my brother about it, who had just gotten home and wanted a shower.
We decided to try and put a hose between my passed on uncles house, which my brother had just purchased, which had a well. We needed to run a hose between the house's outside faucets to get some water, but everything we did just didn't seem to work for some reason. We just couldn't seem to get much pressure from the garden hose we used.
After much maneuvering, we did finally get it working just before dark. Good enough for a shower anyway and after all the hustling, we both needed one badly now.
Tomorrow, after a paddle, I need to get some pipe supplies and then think about getting this all fixed up the next day. Maybe that will give the ditch some time to dry out a bit.
That was my day.