Saturday August 20, 2016 Guerneville CA.
Engine wiring hooked up
Today was a van work day. I wanted to get the engine wiring all hooked up.
My work area started out like this. I was working on running the wiring harnesses around the engine to the different places wires had to go.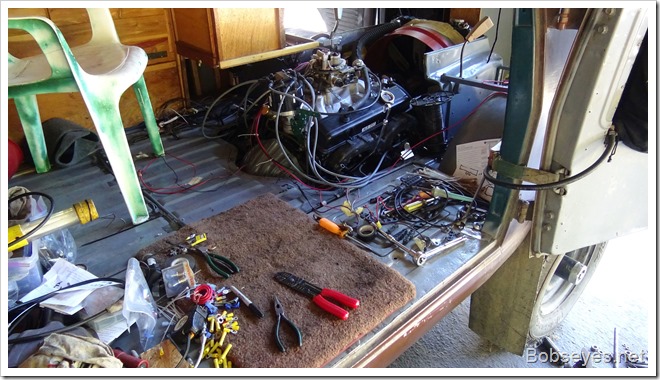 Hooking up wires
I needed to get the red wires in a harness and hooked up and I needed to get the big wires to the starter hooked up too.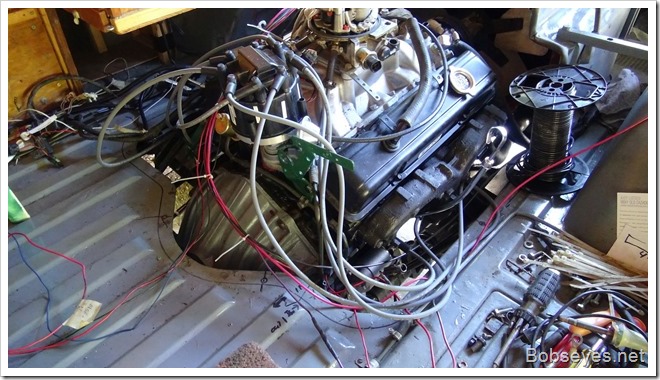 Work area
The winch has to get hooked into the starter wires too as that's where it gets it's power. After working on it for a bit this is what my work area looked like as I worked on getting the wiring harnesses hooked up.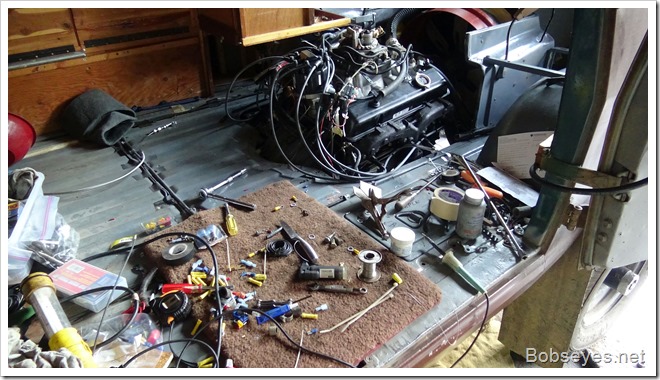 Main harness is hooked up
It's hard to see, but I have the main wiring harness hooked up coming around the left back side of the engine and down to the starter on the right side. I also have the fuel pump fuses and relay hooked up on the back right of the engine.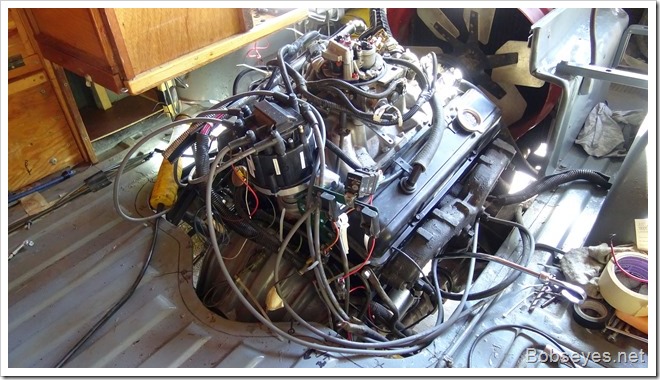 Starter and winch wires aren't easy
I had a hard time hooking up the big wires on the starter, especially from the winch as the new compound type starter doesn't have room to mount the wires like the old one did. I found a place to ground things on the right back of the engine head and made it all work.
Haven't had time to work on the spark plug wires
Here's the engine with the main wiring harness hooked up. I still need to hook up some stuff on the TBI computer, but it is minor. And I still need to try to get the spark plug wires under some kind of control.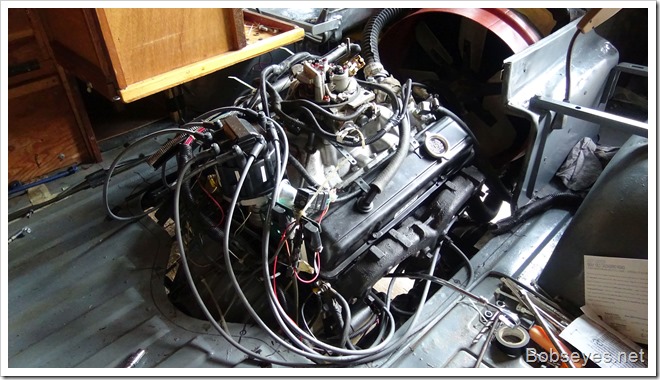 Just keep plugging along
Of course I didn't get as much done today as I thought I would have, but what I got done was good. I only have a little more wiring to do.
I also need to get the new throttle cable installed and get those plug wires under control.
I'm sure there are a few other things I've forgotten, but I'll get to them. Tomorrow might be start up day, maybe?